Big news off the track the other week when it was announced that Wil Hahn, former factory rider and 250SX East Champion, decided to leave the Team Manager role that he has held at Monster Energy/Star Racing Yamaha squad for a number of years. Wilbur and the team enjoyed a lot of success while he was there, but now Hahn is moving to the Troy Lee Designs/Red Bull/GasGas team. We caught up with him for a PulpMX Renthal Reaction Podcast and here's what Wil had to say.
Racer X: The news is now official. You left the Monster Star Yamaha guys. You're going to TLD. Rider coach/trainer for Troy Lee Designs/Red Bull GasGas. Let's start with why the decision?
Wil Hahn: I just want to make one thing clear. It was 100 percent my decision. What it boiled down to was I didn't want to make the move to Florida. Just being honest. Also on top of this, Justin Barcia was very vocal about wanting me to be a part of his program, even from the days at Yamaha. Also, (TLD Manager) Tyler Keefe, no one really knows this, but he has tried to hire me every year since I quit racing. He has always kept communication open. He's like, "Dude, I need you over here." I finally answered the call. It was one of those things where I'm like; I think I need to make a change because I'm not willing to make the move. I wanted to stay in California. I'm getting married at the end of the year. She's from here. Her family is here. Her dad lives across the street from me. There's a lot of things that go into us wanting to stay here [in California], when it came down to it. With all that said, I do owe a lot to Star. They helped me build a hell of a resume. I would love to claim that I did it, but without the team it's obvious that it wouldn't be possible. They treated me great. They understood. Obviously, they weren't happy that I was leaving, but they understood the reasoning behind it and Bobby (Regan, Star team owner) and all the guys really respected it. Again, I want to thank them just for obviously letting me go pursue this dream I have and future here. It's really cool. Again, I owe a lot to Justin [Barcia], as well as Tyler [Keefe].
If the Star team doesn't move to Florida and the GOAT Farm, you're still doing this, just to work with TK and Barcia?
I don't know. Obviously, Justin was very persuasive and very persistent, and so was Tyler. So, I don't know. It would have been a little bit tougher a decision. Like I said, I wasn't unhappy where I was at. I did enjoy my role and like I said they treated me well. Now seeing this and kind of being around Justin the last couple days and stuff like that, it's definitely opened my eyes to where I do really enjoy this role.
It's going to be a little bit less stressful of a position for you? Maybe a little bit more fun, your job with the TLD GasGas as opposed to the Star manager stuff?Yeah, I would think so. The last five years I still woke up early and trained. I don't know why. There's no purpose. I wasn't training for anything, but I still enjoyed it. So, this is a bonus, the fact that part of my job description is to work out and to be fit and to be a role model. It's just honestly a bonus for me.
Are you going to be test riding at all for the team?
No. I don't know that I would ever say no if they needed it, I want to help in any way or form I can. I would never tell anybody absolutely no, but my focus is this [training]. The less I ride, honestly, the more it's easier for me not to ride! That being because it's hard to show up when I haven't been riding for two months and then expect to give good feedback. The other problem in that is, unfortunately my track record is I do crash occasionally. So, if I end up hurting myself doing that and then I can't do my real job, it kind of defeats the purpose, in my eyes.
From what I understand, for the TLD guys, you're going to be a bit of a riding coach also. I don't know so much with Justin. You'll probably help a little bit there. With Mosiman and Pierce Brown, and whatever other kids they hire over the years, you're going to do a little bit of that along with the training?
Yeah, a hundred percent. Trainer and also let's go work on technique, let's figure out how you can be better here, or how you can be better there. It's honestly exciting and I've been nervous at the same time because it's just foreign to me. I've trained my whole life and I've raced my whole life, but I didn't necessarily train anybody. So, I don't want to walk in and act like I know everything. So, I'm trying to be a sponge and at the same time learn the guys, and also be open-minded to everything because as we all know, evolution, everything changes so frequently. Oh, this is good for you, but then this is bad, or whatever. But try not to get too lost in that and not make it overly complicated. Ride your dirt bike. We work hard and we go have fun doing it.
Were you dreading the phone call to Bobby Regan when you first decided to take the job?
I'm not going to lie. It is really hard. We all sat down at a race. I wanted to tell him face to face. I owed that to them. They've done enough for me. It was hard. Whether you like it or not, this is a business but at the same time when you spend as much time as we spend with each other at work – you're there late every night. It ends up being seven days a week. So, to separate that business and friendship, it's tough. So, it was a very, very hard conversation, no doubt.
Will you be at all the races with this role?
Yeah. I don't really see how I can't be, to do the job right. I feel like maybe that's one of my hang-ups. I do pride myself and when I do something, I'm all in. I don't know any other way to do that. To be at the races, I think that's the most important day. Yeah, the practice track is great, but race day is when most of the stuff happens. At least until everyone is comfortable enough and maybe I take a weekend off here and there for personal time or if I want to go do a mountain bike race or something like that, but for the time being I need to be there.
You know this, but I think six months down the line if we call you and ask you about this job, you're going to tell us how hard Barcia works, because he really does. By all accounts, the dude puts in the miles on the road bike, does the gym work, rides his balls off. The Yamaha guys have nothing but good things to say about him there, even though it didn't all go super smooth. The guy is a worker, man. You're going to fit in with him. If you don't know that already, he's going to be on it every day.
I already see it. The overall excitement to go there and go work is even better. That's what's so refreshing to be around and different, because I'm not around the riders every day at my old role. It wasn't like I was spending every moment with them, so it's just different. Justin and I were teammates for four years [with GEICO Honda]. He was a lot younger then and I was around him a lot. He brought that energy then, too. Honestly, he hasn't changed in that department and it's awesome. It's really cool to be around. You can't go to the track without laughing.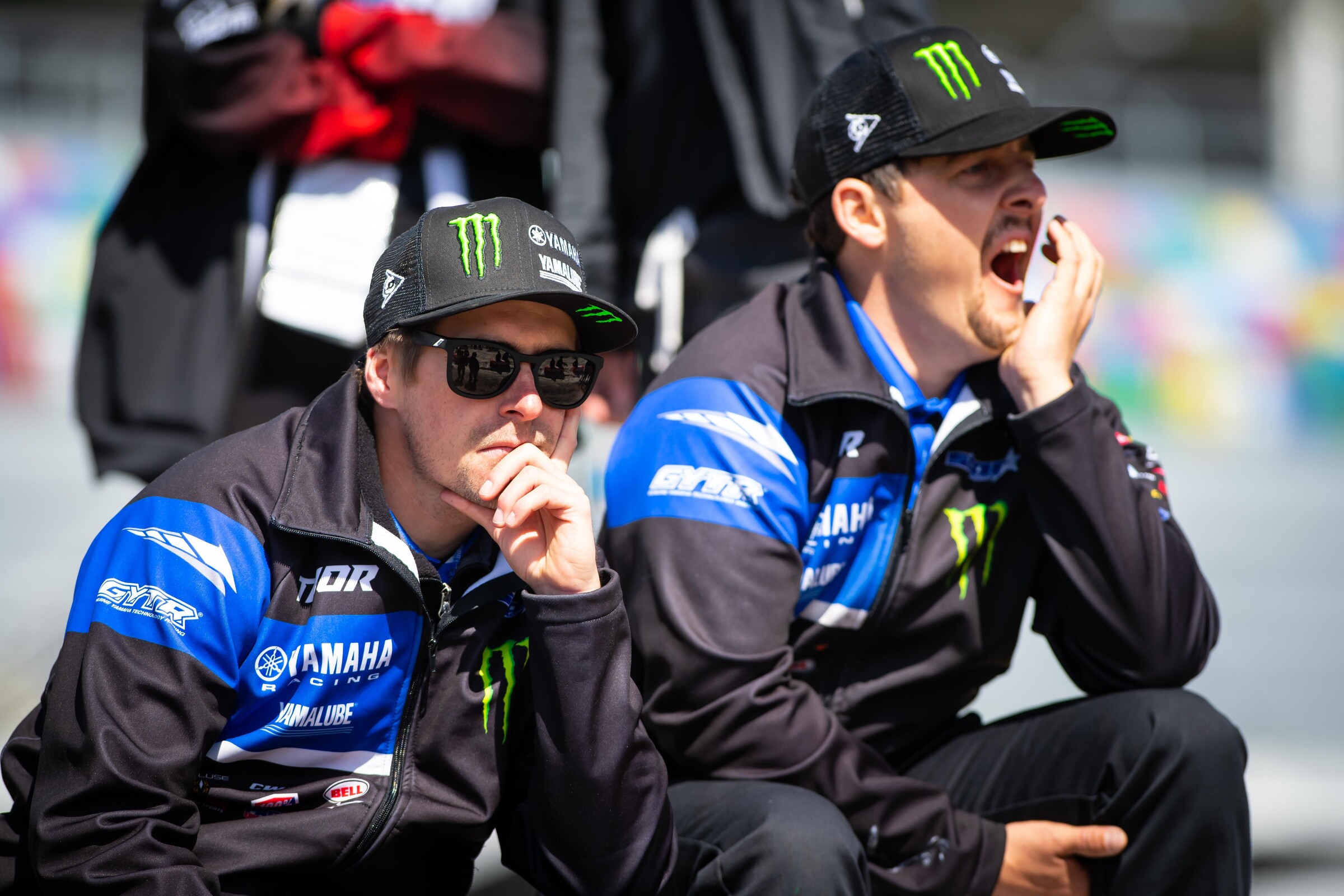 One of the reasons that people would know that this is your choice and it's perfectly fine between you and Star guys is that they hired your replacement while you were still there. Seth Rarick is over there managing the 250 team, your old job. He was kind of shadowing you, kind of working under you at a few races. How do you think Seth is going to do?
He's got a bright future. I told him that. I don't think he believes me still. He was already better than me at a few things. He's very organized. He obviously is a lot like me where his heart is 100 percent in it. He has a strong work ethic. I don't know what I expected, but he surpassed it. I think that says a lot for his character. He's ready to meet this thing head-on and he's all in. It was really cool. Like I said, I'm really happy for him because anybody that knows the guy, he's just a really good dude.
What did you experience and learn over there at Star Yamaha, with all the championships and all the wins and everything else, that maybe you want to bring to TLD GasGas? In an organizational way, is there an attitude? What kind of stuff did you want to do?
I think the thing is with this, it's just hard work. I don't think it's anything crazy or secret, and that's just the bottom line. Everyone is going to say that it sounds like a cliché type answer, but it's the honest-to-God truth. Everyone over at Star, plain and simple, they work their asses off to go win races. Not to say that any other team doesn't. Everyone obviously wants to. I just think that with their work ethic, there's no stones unturned.
Listen to the full PulpMX Renthal Reaction podcast below.