Pala, CA
Fox Raceway 1
Lucas Oil AMA Pro Motocross Championship
The 250 class of the Lucas Oil AMA Pro Motocross Championship always presents a variety of riders at different stages of development. From yesterday's media conference, we plucked three different riders to get an understanding of varied expectations for the summer. With Max Vohland you get a fresh-faced rookie, with RJ Hampshire a rider who is trying to rebound after a series of injuries, and with Hunter Lawrence a rider who comes in with momentum after a strong Monster Energy AMA Supercross campaign. Here are their key thoughts before round one this Saturday.
Racer X: Monster Energy Supercross, you didn't get all the races in due to a hip injury. Are you in recovery mode or are you 100 percent ready for motocross?
Max Vohland: Honestly, the injury wasn't that bad. It sounds bad on paper, but I was up and walking within two weeks and riding in three, so I've had some extra time to get ready and I feel 100 percent ready for the season. I've been pretty fast when I've been riding recently. The team is stoked, and my dad is stoked, and I'm stoked, so we're shooting probably around the top five. That would be a great goal and it would be better if we're even above that. Of course, top ten if that doesn't happen.
How much more confident are you going into this series compared to supercross six months ago?
Yeah, supercross, I had the time, but I was also just getting onto the 250 [Vohland raced a 125 as an amateur in 2020] so I was still getting used to the bike, even. I was still a little behind the 8 ball when it came to that. Motocross, that's what I grew up doing, and of course my dad has so much experience racing it, and also in the GPs and all that. And I've had more time to get used to the bike. I feel great, I'm riding awesome. We will see how it goes.
You had the chance to race some EMX125 in Europe last year. That's something most of your competitors didn't get to do. What kind of experience did you get from doing that you can relate to your professional motocross debut?
Yeah of course it ended up being a mudder, Matterley Basin in March, but it was gnarly. All of the practice tracks we rode over there were gnarly. Extremely gnarly. I still haven't found a [practice] track here that's as gnarly as anything I've seen over there yet. Hopefully, that will give me a bit of a bar for how the tracks will shape up in the races here. Of course, being part of the GPs, it's pretty high-level racing over there. They really take care of the riders well, and in that [EMX125] program you have all the fans there, so it felt pretty much like being in a national, pretty much. I was getting my feet wet, so I think I know better what to expect to come starting this weekend.
I was out at Glen Helen a few weeks ago and saw Cooper Webb kind of pushing you around a little bit, and you two were playing cat and mouse a bit. Talk about riding with Cooper and what it will be like to have him as a teammate this season.
[Laughs] Yeah, of course I had all the motocross prep, and he took some extra time off after supercross before outdoor season. So, he was kind of throwing me out there so he could chase me around, but just riding with a champion and being around a champion, you learn so much without even having to ask him. Of course, he's a good rider and he doesn't give up, that's for sure! I'd push hard, and I would think I was on the verge of breaking him, and he would come back, two laps later! I learned that these guys definitely don't quit.
RJ Hampshire | Rockstar Energy Husqvarna
Racer X: You started off the nationals very strong last year, you were winning motos and then you won an overall at RedBud, you were third in points for most of the season. Then you got hurt at the end, so anyone looking at the standings might not realize how close to the front you were. Do you look at that and think you should be able to contend for the #1 plate this summer?
RJ Hampshire: Yeah. I started the series off strong, Loretta's was good, I had a rough weekend at Indiana, but I was able to bounce right back after that. I felt like I had pretty good speed. J-Mart [Jeremy Martin] and I had a little moment in Minnesota, and man it was just downhill after that. I feel like I've made good progress on the bike again, feeling really good again. So yeah, I feel like I should be one of the guys up there battling and challenging for this championship.
You were injured in supercross. How much time have you had back on the bike?
It's probably been four or five weeks. I started riding after the supercross season ended. I don't feel like I'm behind, by no means.
I know you had high expectations when you switched to this team. You've said maybe you haven't been able to show it with the results that you've wanted. This is the end of your second year with the team. Do you feel almost some extra pressure to finally show what you can do?
Yeah. Man, I do the right things, I put in the work, I do what I'm supposed to. I do what they want me to do. I just haven't had the results to back it up. Of course, last year was by far a huge jump in motocross, we were battling for wins right off the bat, but that injury hurt us pretty bad. But yeah, there's a lot of questions that still need to be answered. The team invested a lot in me, and I feel that. It's cool to be that guy who can deliver, but I've just got to stay strong for the whole season.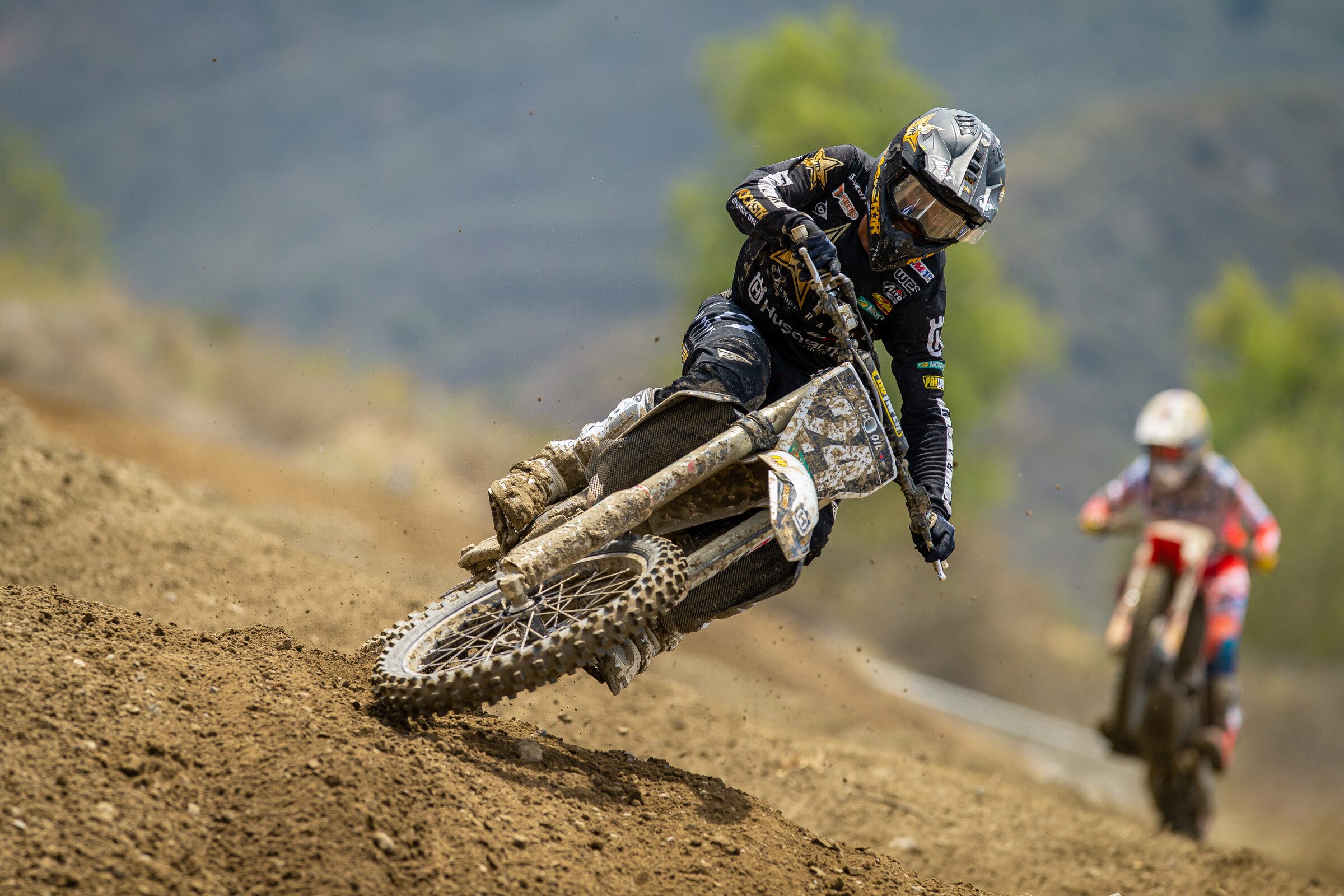 Racer X: You had injuries last year, you were hindered by that shoulder all year long. You were very good in 2019, you won some motos. Do you feel like you're back to where you were then, in race winning form, or do you feel you're even ahead of where you were going into that season?
Hunter Lawrence: One hundred percent. Yeah, this is the healthiest, body wise, and physically strong and mentally ready I've ever been. Obviously this supercross season was really good, we made a lot of progress, shoulder is good, and my body is good. Mate, I'm just excited to go racing.
How much of a benefit is it to have that momentum from such a good supercross season coming into outdoors?
Yes and no. It is [a help] if you're someone who really relies on confidence to do well, which, I don't think I am. I could suck in qualifying but deep down I know I'm a racer, so I don't think that makes or breaks me. But obviously it helps having a good season, just knowing how strong I felt. The majority of my passes were made late in the race, which just proves I'm race ready and fit and strong late in the race. Yeah, I'm looking forward to racing and showcasing that here as well.
The big talk the last few seasons has been the Star Racing Yamaha and what it will take to battle those bikes. How much better is your bike this year? Do you think it will be an improvement over what we've seen from the GEICO Honda program to the factory program?
Yeah…a shit ton mate!
Below is the full 250 Class press conference: