Chris Blose Provides Update Following Atlanta 3 Supercross Crash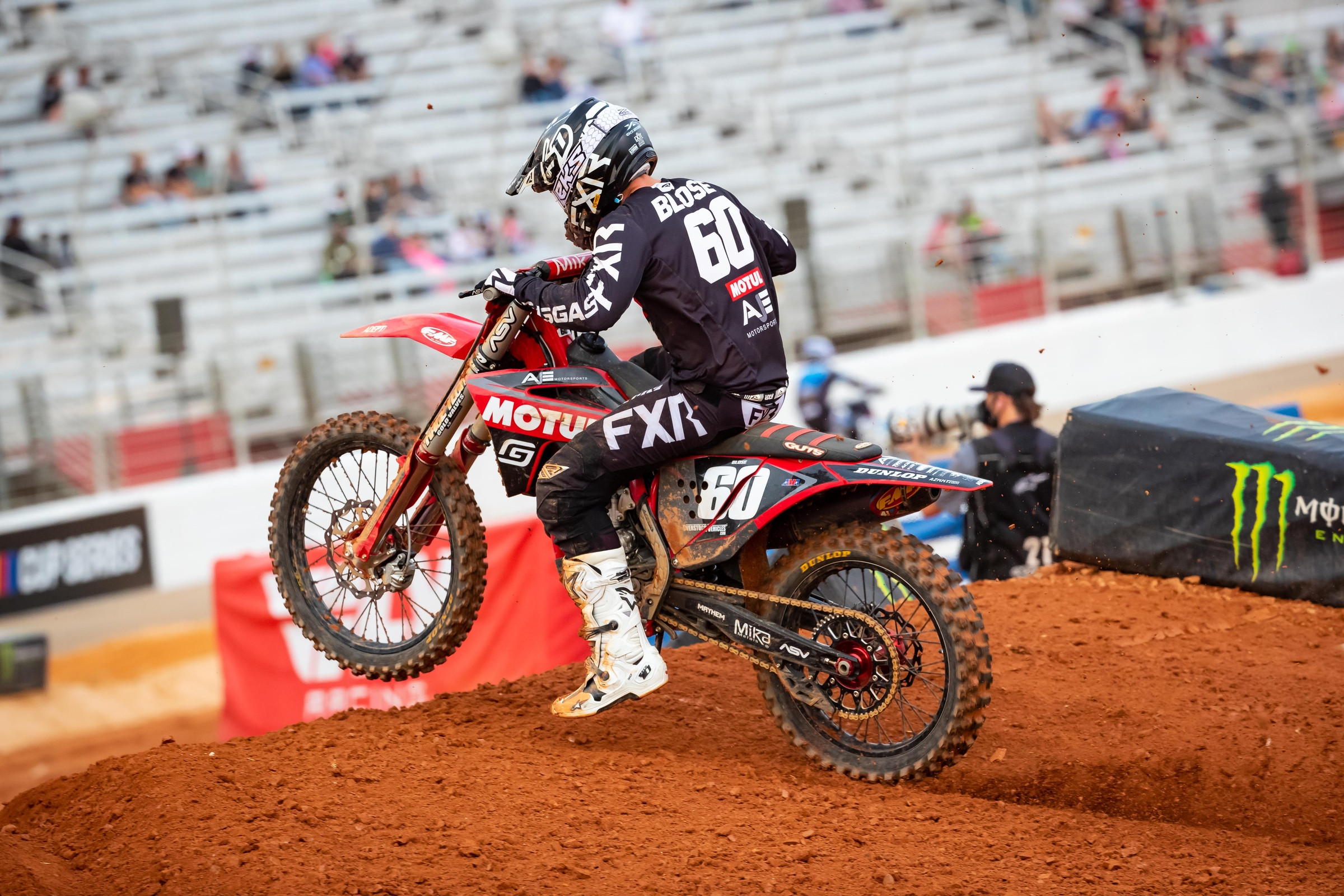 Atlanta, GA
Atlanta 3 (West)
Monster Energy AMA Supercross Championship
At the start of the Atlanta 3 Supercross 250SX main event, AJE Motorsports/Motul GasGas' Chris Blose suffered a bad crash. While riders were shuffling for positioning in the first rhythm section, Cameron McAdoo clipped a Tuff Block and swerved right, going underneath of Blose, who was in the air doubling through the section. Blose had nowhere to go and in an instant his rear wheel clipped McAdoo's back and head, sending the GasGas rider briefly onto his front wheel and then face first into the next jump. The race was red flagged as Blose was tended to by the Alpinestars Medical Crew. He was lifted onto a backboard and eventually transported to a local hospital via helicopter for further evaluation.
Blose's wife Brittany posted to social media to provide a quick update on Chris:
"At the moment,
We do not know much about Chris condition and status.
We know he was air vac to the nearest hospital.
He is awake and that's all that matters at the moment. Updates will come once we get all this figured out!
Any positive vibes would be great! It's been a rough week for us.
Xoxo"
Then, Brittany provided more information later on in the evening:
"Update!!!
Chris is awake, can feel everything, and possibly a broken thumb or two.
Waiting on scans and etc. for full extent of body and head injuries.
Out of anyone, he is one that can take a hit and live to tell the damn story. Plus he's not too happy at the moment on the sequence of events.
Good news- chris said he didn't hurt as bad as his Phoenix crash last year...that's a plus!!!!"
[Note: Brittany is referring to the crash Blose suffered during the 2020 Phoenix Supercross Triple Crown that resulted in four fractured ribs, a dislocated wrist, a fracture in his femur, and a small laceration in his liver.]
Blose then took to Instagram and said the following on Sunday evening:
"Update: First of all, I just want to say thank you everybody for reaching out to check on my well being. Good news is I am back home after a big crash that wasn't even my fault. After taking a helicopter to the hospital and getting scans to my head, neck and chest everything turned out to be ok with those. I got lucky enough to only get a broken thumb and fractured a couple ribs. I can't thank everyone enough for the love and support through this time. I'll keep everyone in the loop as I find out if surgery is needed. Thanks again!"
Through eight rounds of the 250SX West Region Championship, Blose sits 11th in points with a season-best seventh at the Arlington 3 Supercross.