Atlanta, GA
Atlanta 1 (West)
Monster Energy AMA Supercross Championship
Monster Energy/Star Yamaha Racing's Aaron Plessinger has been on a second-half surge in the 2021 Monster Energy AMA Supercross Championship. In his third year in the 450SX class, Plessinger has really hit his stride with a podium at the Daytona Supercross and three heat-race victories in the last four rounds. All of that momentum nearly came together for AP at the Atlanta 1 Supercross on Saturday as he holeshot and pulled a big lead early in the main event. Unfortunately, a small bobble on the seventh lap caused him to tip over and lose the race lead. Despite that, the success for Plessinger has left him in his nearly constant chipper mood but with added confidence.
He spoke with the media on Sunday via Zoom to talk about that recent success.
Racer X: Let's start with that main event. What happened there mid-race? Just kind of take me through the whole thing.
Aaron Plessinger: It was a really good race. The starts were dialed all day. I think once I got out front and started pulling away from them boys, I kind of tried to back it down a little bit, tried to chill out. But once I did that, I lost a little bit of my groove. Started over-jumping and under-jumping stuff. Then just lost the front in that little set right there. Overall, I was happy with how everything played out beforehand. I showed them I can be a force to be reckoned with. We got Tuesday and we got Saturday to do it again. With these starts I think anything is possible.
Is this a coincidence that the riding is getting better, and the starts are getting better? Or is it just the classic when the confidence goes and you start to get excited about a good result, suddenly the starts come along almost magically at the same time?
I think it goes hand in hand. We were working on starts a little bit these last two weeks. I found a little bit of something that I was doing. I think confidence plays into that as well. Qualifying third really helped that out. Then that heat race start really helped that out as well. I think that with confidence and a little body positioning work, I believe that hit the nail on the head.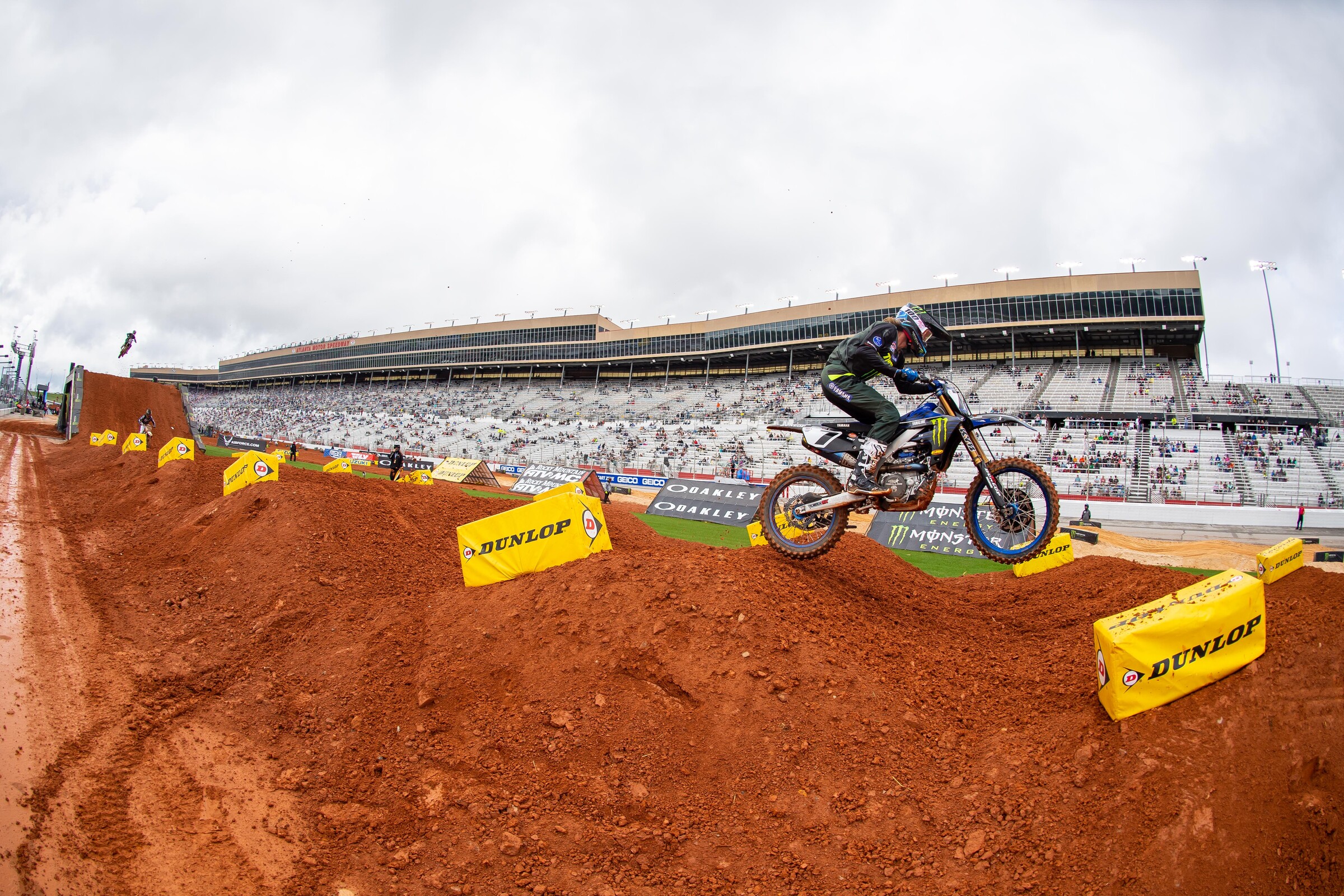 What's dad life like now that you've got the other kid? How's everything going with that process so far?
[Laughs] It's been pretty wild. She is awake quite a bit! She's been doing good. She's sleeping, eating, everything normal. Fortunate for that. It's been fun. Been hard to keep the two-year-old from jumping on her and trying to bump heads with her. [Laughs] But overall, it's been awesome. It's a cool experience. I'm looking forward to getting back home and hanging out.
Do you think that has anything to do with the confidence and the success on the track, or is it just coincidence of both happening together?
[Laughs] Maybe. You could say that. I think my wife would appreciate you saying that! [Laughs] I think maybe a little bit of both.
With so few laps on the track [due to two of the three practice sessions being cancelled] how does it feel to get such a short time? You had a one-lap track preview, and then suddenly you're leading the race, you're leading the main. Do you try to remember all the possibilities in your mind, where the sketchy sections are and try to go through those a little more carefully? Or do you just power through them?
You can't really take your time too much. You've kind of just got to power through them. Like I was saying earlier, when I tried to back it down and smooth it out, that's when stuff started going wrong. So, I think I should have just kept it at 100 percent and kept charging and try to pull away from those guys a little bit more. It was hard. It was definitely hard. I got pumped up, for sure. I would imagine that played along with not getting as much time as we usually do on the track. Sometimes it was hard to remember some of the sections, but after a couple laps you get it down.
How do you keep your cool after that happens, because you actually rode pretty well after that? What's going through your head as you're resuming the race?
[Laughs] After the crash I was saying a couple things I can't say on here. I just kind of tried to keep it cool. I was struggling in some sections. I kind of felt bad for Joey [Savatgy] because I was riding a wide bike out there. [Laughs] I was just trying to keep the best position possible and not freak out too bad.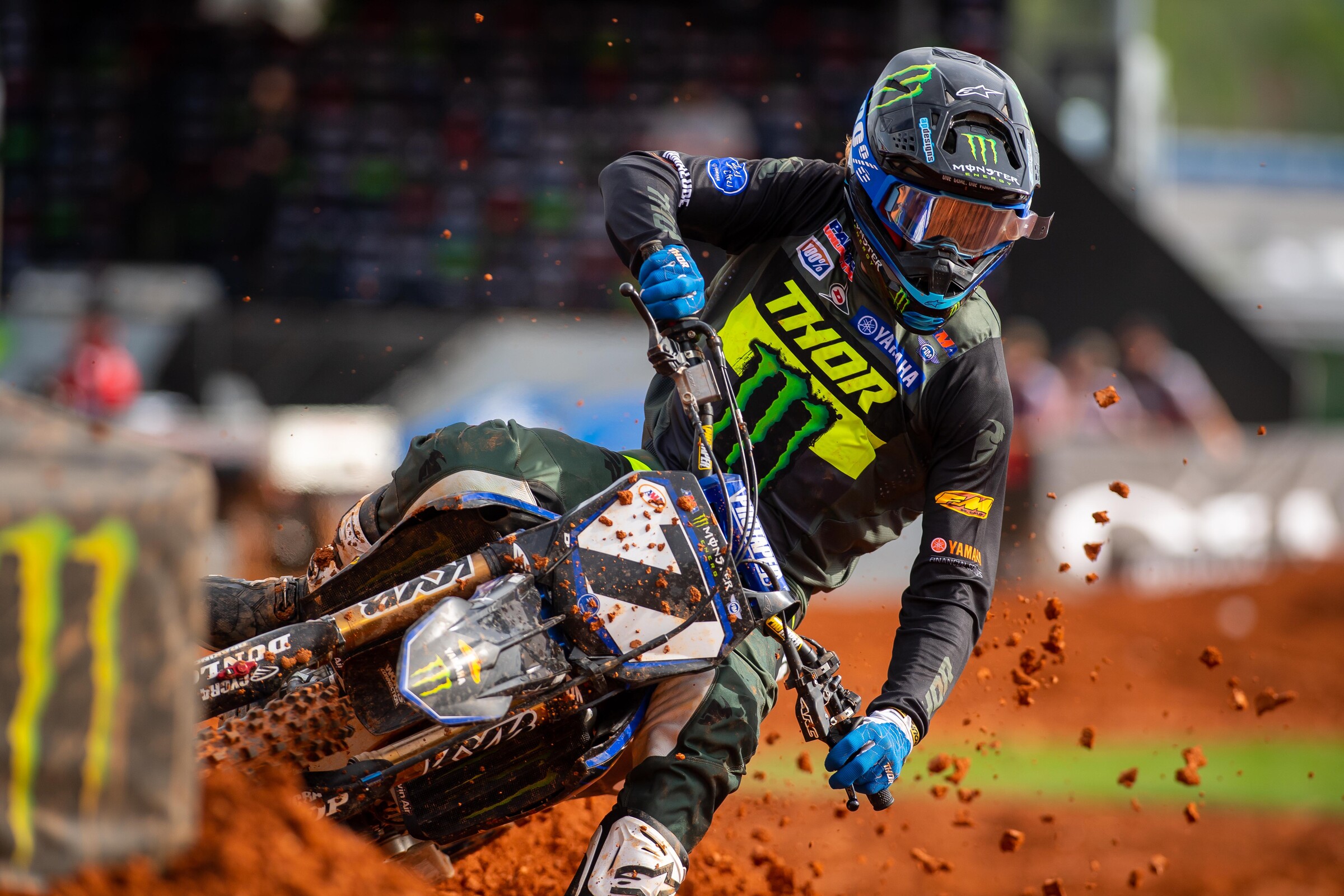 Seeing as how you were a 450 rookie on a Yamaha in the not-so-distant past, do you see some of the challenges that are facing a guy like Dylan Ferrandis this season and are you able to give feedback to your team that unfortunately might be helping some of your competitors?
Maybe sort of. Two years ago, it was a completely different team, and we weren't doing so hot. I've let them [Star Racing] give me all the insight on what to do. I haven't really said much there. This team has been really helpful. I'm kind of letting them take the reigns and tell me what I need to do. I give feedback all the time, but I don't know that it helps anyone of my teammates! [Laughs]
That being said, is there anything that you can do on your motorcycle now that you couldn't do on the Yamaha 12 months ago?
Lead a 450 main event or get in the top 10! [Laughs] The results have shown. I feel 110 times better than the last two years. I'm sitting fifth in points and I was sitting I think 11th last year at this time. I think once we hit Utah, I don't know if I broke the top 10 or not. I think this year is going a hell of a lot better than the last two years have.
There wasn't a huge crowd, but it sounded pretty huge each lap when you went by the finish line jump. I feel like since that epic podium interview you had at Daytona; it's really picked up. You've always done a good job of being yourself and being pretty loose, but I think Daytona really put it on display. Have you noticed that? Maybe even through social media or just with the limited crowd we do hear at the races, have you noticed that you're becoming a bit of a fan favorite? They were getting pretty loud when you were leading.
Yeah. The fan response from Daytona has been unreal. They obviously liked when I said, "Do it for Dale." They've been backing me ever since. I kind of grew up down this way for a couple years of my amateur life. I made a lot of friends down here. I know I could hear them. I could hear where they were sitting. It was pretty loud when I was leading the race. To answer your question, yes. The fan feedback has been unreal ever since Daytona.
Watch the full Atlanta 1 Supercross roundtable press conference below: