Atlanta, GA
Atlanta 1 (West)
Monster Energy AMA Supercross Championship
Monster Energy AMA Supercross is coming off the longest scheduled break in years. We spoke with some of the top trainers to see how the hiatus affects training schedules, and how the different schedule this year has changed things up in general.
How are you handling the two-weekend break in the series? Outdoor testing? Rest? Catching back up on riding or testing you missed during a residency?
Seth Rarick: The break has been nice for just about everyone. Obviously, it's a long season and a little reset is always nice. We've taken advantage of the downtime by riding some motocross and getting a head start on some settings for the summer, and also riding supercross and focusing on areas where each guy needs to improve. Addressing the weak points is the best way to put it.
Blake Savage: A two weekend break doesn't come often so I can imagine most racers and team staff look forward to this. It is two weekends but almost three weeks in total, so this is a time to catch up with family or shut off your mind engine that has been solely focused on one thing—work and racing. It is going to play in your favor or potentially work against you. A rider who's been on his A game and riding the momentum wave, that is not really going to work into your benefit because of a disrupted flow of racing. Not always though. A rider who feels like he has some weak areas could absolutely use a two-week break to assess where he can be better and begin to work on that. It's a time to work on fitness or catch up on rest. It can help reset an athlete mentally that is feeling the week-to-week grind of a series and come back more refreshed and motivated again. Or a team can utilize the time to test and make improvements with the bike. It all depends on the individual athlete and how they can take advantage of the time.
Aldon Baker: We're using the time to actually do some outdoor testing and balancing it with some recovery to be ready for the last five supercross races.
Gareth Swanepoel: We have been doing some outdoors just to change it up and to get some testing in. I also believe riding outdoors can help when they get back to supercross.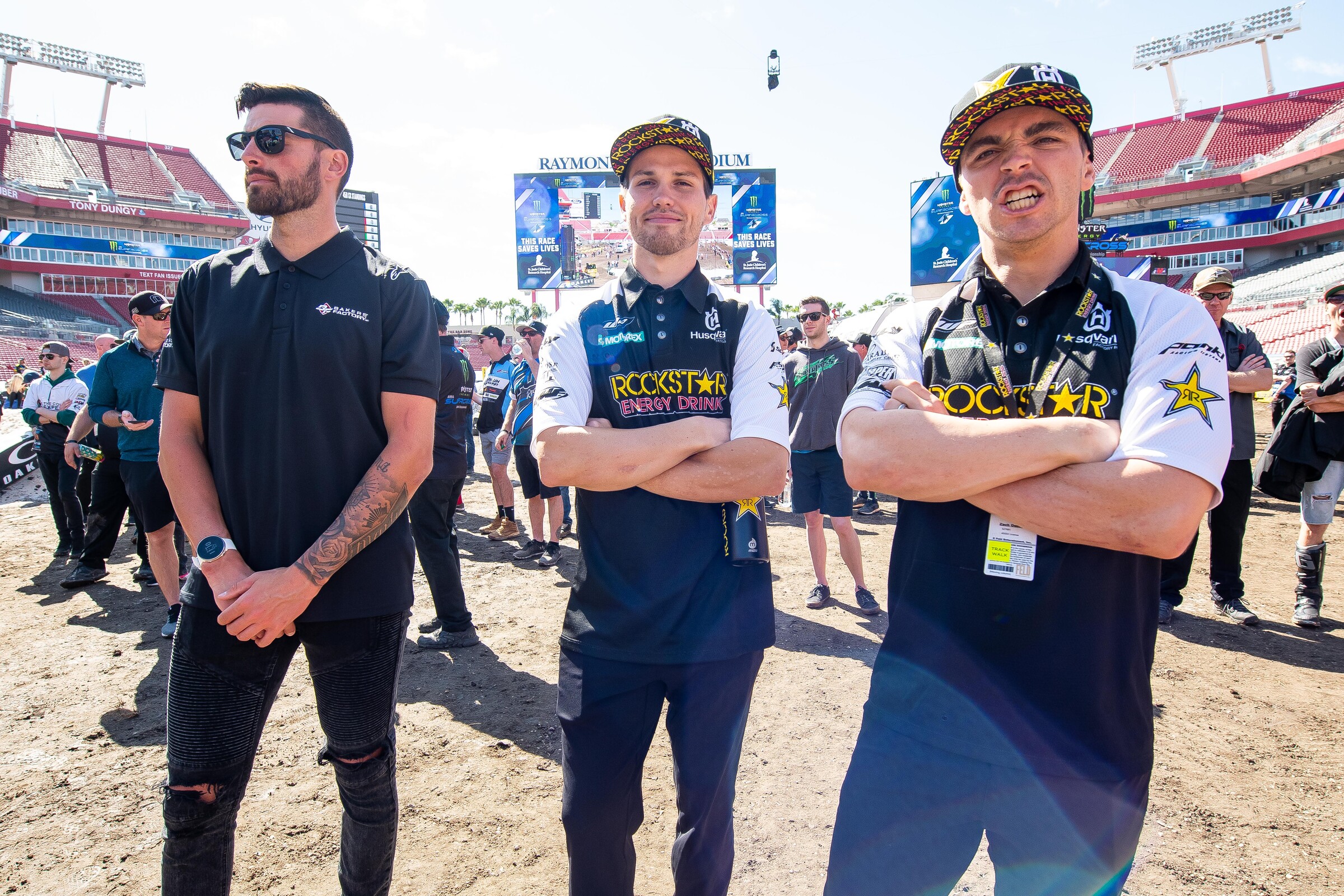 How have these three-in-a-week races impacted the training schedule? We've had more races in less time, but also less riding during the week. How different is it than a normal season? Has it been a challenge to make the necessary adjustments for the guys?
Rarick: The residencies have been pretty cool; everyone seems to enjoy them. It doesn't change a whole lot training-wise, just keeping it mellow during the weeks that the guys are at the races. To be honest, I'd like to see more of them in the future.
Savage: As a trainer it has been all about adapting and making the best decisions for the athlete to be best prepared for the next race. Everyone is going to have their way of going about it. Overall, the training and riding load on the rider has been less physically, but there's more mental stress with the frequency of racing. Because of the COVID-19 testing protocols of needing a certain amount of time to get testing done and approved, the travel to the next race comes a little sooner than normal. For some weeks you may have a day less of doing practice. You're using your time in the gym differently and on the bicycle maintaining an aerobic base. It may seem there is not a whole lot between races with two-three days you can do to try and improve but if you have to the tools and are clever enough you can definitely use it between to sharpen the axe.
Baker: It actually balances out. There's less riding during the race bubbles but more racing. There's not really much adjusting to be done considering the options were limited.
Swanepoel: It's definitely made it a bit different. We actually ride a lot less with only riding one time in the week (the Tuesday race) as to two times a week like we would normally do if we were racing on the weekends like we used to. It's been a challenge with staying in a hotel for 10 days and not quite having a routine. The boys still do a bit of training but it's mostly recovery stuff.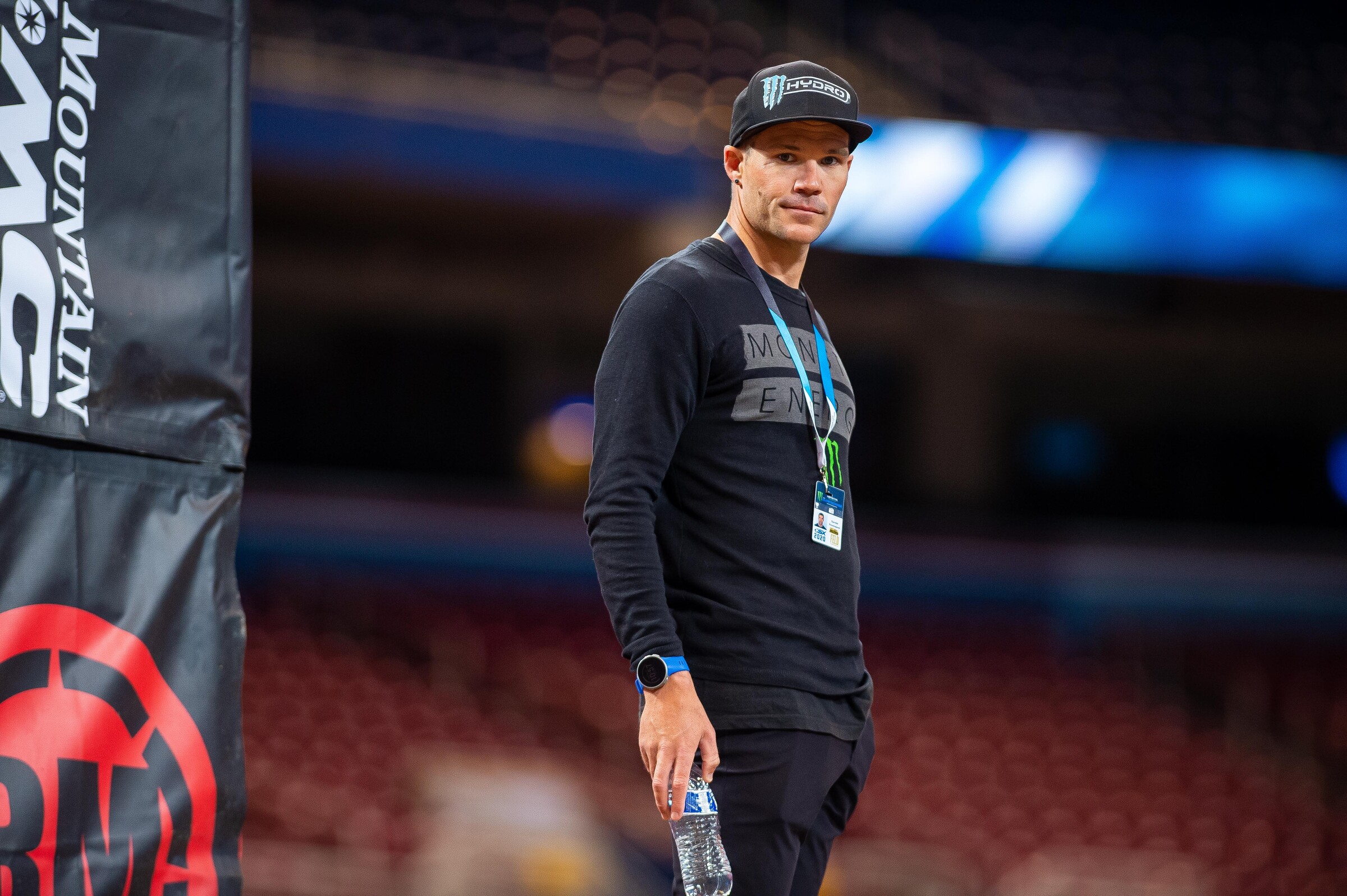 What's the outdoor testing and training program like right now? There's a longer break than usual between supercross and outdoors this year. Does that help?
Rarick: We just started on motocross during this break but only for a few days before jumping back to supercross. There is a much longer break this year between the series, which I think is the way it should be. Going 17 almost in a row to a brutal outdoor schedule is really hard on the guys. More time in between will help immensely on the testing and setup side of things.
Savage: For outdoor testing that will be a decision you make when the time comes. Are you in the hunt for a championship and don't want to disrupt your focus on going after that? Or does your bike manufacturer have a new model bike that needs some testing and development done? This year is unique though with there being more time between, which I think is a healthy thing for everyone. It gives everyone a bigger window to prepare after the final supercross races. For some racers they are looking forward to a different style of riding for a few days and some want to stay focused on the goal that's right in front of them.
Baker: Yes, this helps a lot. It can keep our focus on supercross, and we still have decent time to get prepared for motocross.
Swanepoel: Well, as far as the East Coast guys, they have had a long break and have managed to get some good prep for the outdoors. The extra time is certainly going to help with the West Coast and the 450 guys. They have just ridden a few days of outdoors this last week and a bit this week [last week].