Indianapolis, IN
Indianapolis 3 (East)
Monster Energy AMA Supercross Championship
In this deep 450SX field, it's still hard to know where everyone ranks, and Marvin Musquin is probably the hardest rider to classify of all. Coming into round six on Saturday, Musquin had been down on the ground in four-straight races, and in three-straight he was dead last on the first lap. In the one race where he didn't crash, he finished on the podium.
Marvin wanted to just stay off the ground at round six in Indianapolis, and the Red Bull KTM rider's strategy paid off when he maneuvered to fifth, then found himself on the podium when Justin Barcia and Eli Tomac got tangled with lapped rider Vince Friese. Marvin went around them to net third for the night.
Steve Matthes rang up Marvin after the race.
Racer X: Marvin Musquin, I made a joke that you've crashed more this year than the rest of your supercross career combined.
Marvin Musquin: Man, you're funny! [Laughs]
So good job here, you're back where you belong.
Yeah, I needed it. I mean, I was fifth and obviously I got lucky with two guys crashing in front of me, but I just wanted to be consistent! I was aggressive and wanted to make it happen the last two races because the speed was good. My position off the start was not good, but I made it happen and then ended up going down. Very disappointing, I love Indianapolis, Lucas Oil Stadium I've won a few times and I wanted to do good. Maybe too good, and it didn't pay off. Tonight, the first lap I wanted to stay on two wheels so I was a little timid, I lost a few spots. Then I was battling with Malcolm [Stewart] and Adam [Cianciarulo] and I got up to fifth, then obviously [Justin] Barcia and [Eli] Tomac crashed and I got third, so it's cool.
But that's almost the way it works, right? You deserved some luck. You haven't gotten the results you deserved.
Yeah but I thought the wheel was going to turn a little faster than that! But it didn't. This year is super tough, those guys are riding super well, and like a top ten is crazy! So you've got to position yourself good and I didn't do that the last few rounds. Today was better, I was playing it more safe the first few laps, and there was time to make passes after that and come back to fifth. So that was okay.
Did you like the track tonight?
I did. More bowl turns, more rhythms, more technical. I know a lot of people were maybe complaining about the whoops because there was a tight corner before and a tight corner after, but it made it technical and it bit a lot of people tonight. And me too, in the heat! It was technical, it wasn't a crazy whoop section at high speed, but it was technical and there was different options, and I guess that's what you like to see. The right hander after that you could go double in or single. So we had options. It got super choppy and rutted, but it was a little drier too, because it was the third race in this stadium.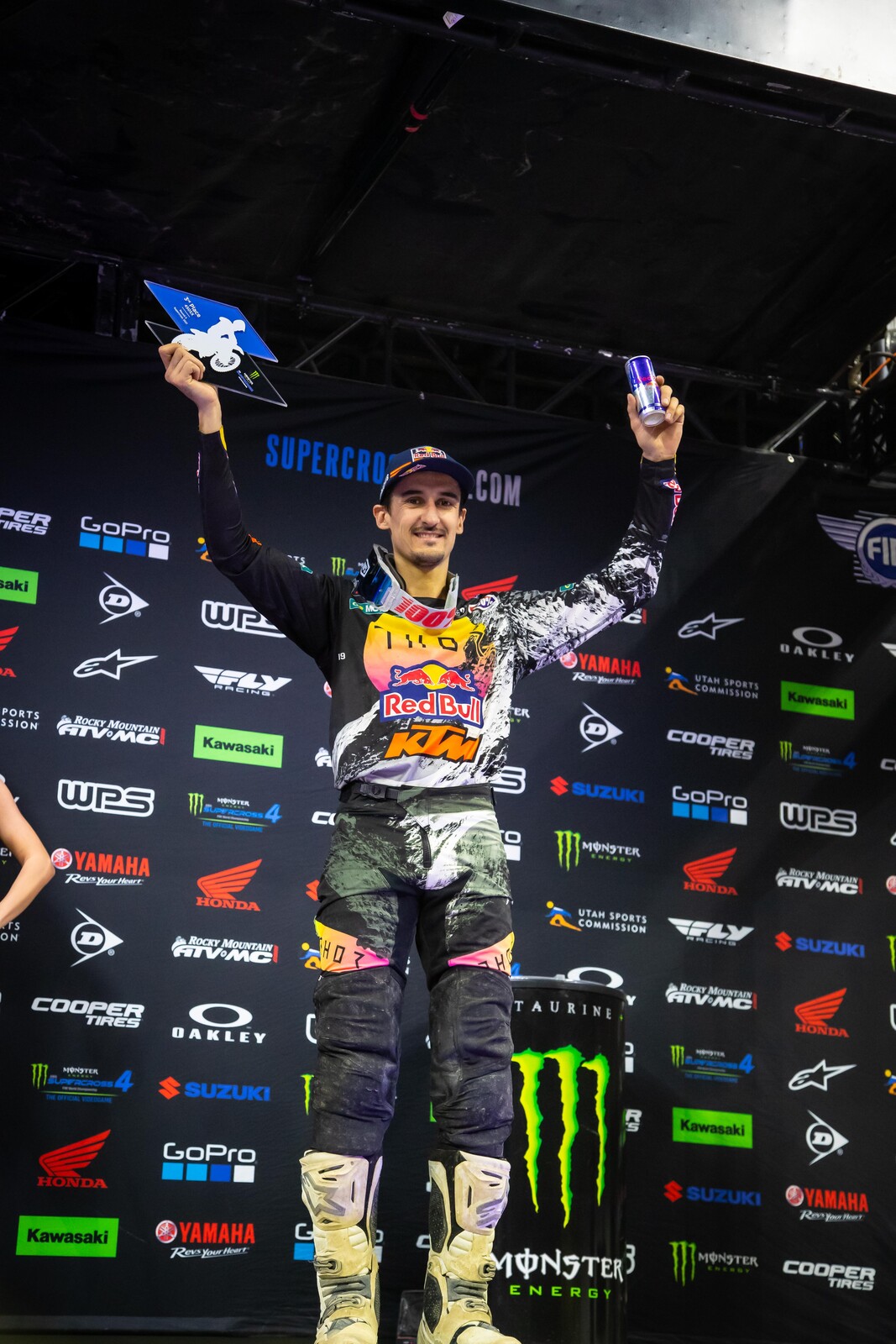 You made the podium at round one. Did you almost surprise yourself there, because it was your first supercross race in over a year? Then you almost get a reminder after that, like "Oh yeah, supercross can be really hard."
Yeah I did! I was surprised. I don't think that my speed was there right away at the first round, but I was able to take third. After that, every Saturday, every race is different, but you have to get the start and I didn't do that the last few rounds. It killed me. When you see Kenny [Roczen], he's riding well plus he's putting himself in a great position. Cooper [Webb] too. I want to be up there and battling but everybody wants to do that, so it's tough.
Yeah you usually start well, but today they've been hit or miss a little bit.
Yeah. I mean, when you don't qualify great and then you have a bad gate pick, it kills you. Some of the starts, like Houston was super short, so if you're on the outside, you're done. Here at Indy the starts have been pretty long so that's okay if you have to do it from the outside. Tonight I was outside the box and I made a decent start, I got pushed wide by AC coming I into the rhythm, but I was right there so it was better.