Indianapolis, IN
Indianapolis 1 (East)
Monster Energy AMA Supercross Championship
Tuesday night's Indianapolis 2 Supercross saw career best finishes for several riders in the 250SX main event. One of those riders was Team BWR (Brian White Racing) Honda's Wilson Fleming. With a career best 11th-place finish, Fleming is continuing to work on taking bigger strides towards his 2021 goals. Could top 10 be right around the corner? We called up Wilson yesterday to hear his thoughts on the way things are going for him through five rounds.
Racer X: I wanted to start off by saying congratulations. Career best, 11th, Indy 2. That had to feel pretty good.
Wilson Fleming: It did, for sure. It was cool. It was a little bit of a rough night. I had a little tip-over in the heat race. I think I was in fourth or fifth, so I had to go to the LCQ which is always eventful. Just kind of snuck it in there. To back it up with an 11th place was awesome. I feel like my riding has been getting better. I've been feeling stronger on the bike, and the bike is working well so I'm happy with that obviously. The field is a little bit thin—some might say very thin. I just want to say it's not really anything that someone like myself can control, so when people are talking about it and they're kind of giving crap to Grant Harlan who got fifth, but he got lapped. That dude just got fifth place in a 250 supercross main event, and you're kind of giving him crap. He's not asking for it. There's been 10 to 12 guys that have gotten hurt since round one and nobody can control that. So, for guys like us, being healthy and staying on the bike throughout all the races is a massive part of supercross. If you can do that, you should get rewarded. I feel like that's kind of what you're seeing.
I was actually going to ask you about all the crashing that we've seen in this 250SX East class. It's kind of a lot of the factory guys, but also like you said, [TJ] Albright going home and [Dylan] Woodcock got messed up a little bit. [Max] Miller with the big crash on Tuesday. What do you think it is about these rounds so far that's kind of contributing to all the crashing we're seeing?
That's a good question. It's kind of difficult to put a definite answer on that, but I feel like with Houston the track was pretty soft and got pretty rutted and the whoops were really chewed up by the heat races and the LCQ's, and especially for the main event. Obviously, Indianapolis is kind of known to get super soft and rutted. So, with the speeds that everyone is trying to go, and everyone is kind of pushing the limit and riding on the edge, one small millimeter or inch on the wrong side of a rut can send you landing on a tuff block, and from there you're kind of just a passenger. You saw [Josh] Osby go down in the main event like that. [Kevin] Moranz went down in the main event like that. Jett [Lawrence] had a massive crash landing on a tuff block. So, I think it's a combination of the speeds that these guys are trying to go, and then you add in the soft track with all the ruts. For myself, I am kind of having the mentality that I want to take it down a few percentages and be there for the long run, because I'd much rather be there at the last race and have a good finish than start out strong and unfortunately have a crash and miss those rounds. I just think it's a lot of these tracks. I know that Dirt Wurx does a good job at cleaning it up, but when you have so many guys doing so many laps, it's impossible to stay on it.
I wanted to ask you about the dirt at Indy as well because a lot of guys were saying that normally Indy breaks down everywhere, but we're kind of not seeing it break down a lot in the turns and the tops of the jumps. It's kind of like more in the transitions that it's really breaking down. Is that almost sketchier then because you guys are clipping pegs in transition, but then getting shot to the moon? The corners kind of get you set up a lot better, but then the track is still really rutty.
For sure. This is actually my first time racing Indy. I was hurt in 2019 the last time they had it here. So, I ride on that BWR team and Carlen Gardner rides the 450 class, so we're always talking after practice. He rides the 450B practice, which is the last practice before they go out and clean up the track. So, I kind of get to see and hear how bad it is for him. My practice compared to his, it's like two completely different tracks. It's not terrible for my practice, but it's definitely gnarly. Like you said, and Carlen mentioned this, at the bottoms and in-between the jumps is foot-peg-deep ruts, but then they go away at the top of the jump, so the rut ends and the kicker kind of ends so you kind of just have to look ahead, pick a rut, and really just hope for the best. It's terrifying. You're riding 15 minutes and it takes a lot of mental strength too because you're landing off every jump. So, you're in the air every jump. Not only do you have to take a deep breath, but you have to look ahead and say, "Okay, I'm going to hit this rut." And you're doing that probably eight or nine times throughout a lap for 20 laps. It's crazy. With the turns, it's a little bit looser it seems like on top. It just kind of depends how they prep it with the skid steer. Like you said, it's kind of two different types of soil. You get the hard pack, slick stuff where I washed the front out, and then you get the super gnarly, foot-peg-deep ruts. So, it's weird.
You also mentioned it's the second year for you on the BWR team. How is everything going with that program? Are you gelling with the team well?
Yeah. The team is really, really awesome. For myself, having done a full privateer deal the two years prior to that, it was like waking up on Christmas morning and seeing presents under the tree. I had a mechanic. I had a race bike that was a strict race bike. I didn't practice on it. They would have graphics, tires. It's not by any means a big budget team. They can do all the stuff. They kind of work within their means, but the guys over there are all really, really awesome. They're all educated. They all kind of see what type of rider you are. For them, they see my potential and they want me to ride to that potential. They're not coming back to the rig like, "Why didn't you get fifth place there?" For them, if they see that I'm 11th, 10th, 9th-place guy, then that's kind of where they want me to be. If it doesn't happen, then it's not a big deal. The bike awesome. Brian [White] is really, really talented with suspension and motor work. So, this is actually one of the fastest 250s I've ever rode. It's also one of the best handling bikes. I know Honda kind of gets some crap because it corners really well and it handles well, but it kind of comes stock with a little bit less power. But he does some stuff in that engine. I know it's not a lot, but he makes it very, very fast. We use Bryan McDonald over at Performance to Win. He films us with the iPad and then he kind of compares us to people. On straight-line stuff, our bike is just as fast as some of the factory bikes. So, to see that is really cool. I'm more than happy with what they do for me. More than anything I'm just grateful because it takes a lot of the pressure off myself.
Now that we're five rounds in, how are you measuring your season so far? Are you happy with the results you've gotten? Do you wish you would have had more, maybe getting in those first two mains? Are you satisfied or looking for a little more still?
Like you said, I wish I kind of made those first two main events. There were some unfortunate series of events that happened there that kept me out of them. But at the same time, I'm not going to dwell on the past. To have a career-best 11th, I try to filter out all the talk of the thin field and stuff. I'm not shouting to the world on Instagram that it's 11th against the strongest field ever, but like you said, it's a career-best for me and I'm happy with it. I think that there's a group of guys—kind of me, Moranz, [Logan] Karnow, and [Joshua] Varize that are all pretty close. I think that if I can get a little bit of a better start in the main event that I should be able to run with them. I think a top 10 is definitely within means.
I was going to ask too about with the field being decimated, has it changed your goals at all? Did you have a set position you thought for yourself coming into the season, and now that there's kind of less guys that you're going to be facing off against, do you add five more spots to that goal, or are you still just kind of remaining measured with it?
No, for sure. Coming into the season, I've always kind of been like a fringe main event guy. So, the first goal was to get into the main event. It's hard not to compare yourself to some of these guys you've been riding with for several years but seeing it at the first round I thought for sure I'd be a lock to get into the main event. I kind of didn't really stay in the moment. I was thinking about what I was going to get in the main event, but I hadn't even got there yet. So, kind of stepped back from that, from trying to go that direction and just take every lap by lap. So, getting into these mains at first. Like I said, I try not to, but I can compare myself to guys that I know I'm somewhere in speed to and see where they're finishing and then kind of base a goal off of that. So, at first it was get into the main event, and then now this is my third main event of the season so it's kind of past that point of getting into a main. It's more of what we want to finish in the main event and lap times and all that stuff. I think my first finish was a 15th and then I had a 17th at Indy 1 and an 11th on Tuesday. So, you obviously want to get better and keep progressing, so going forward I think I do want to step that goal up and try and finish in that top ten.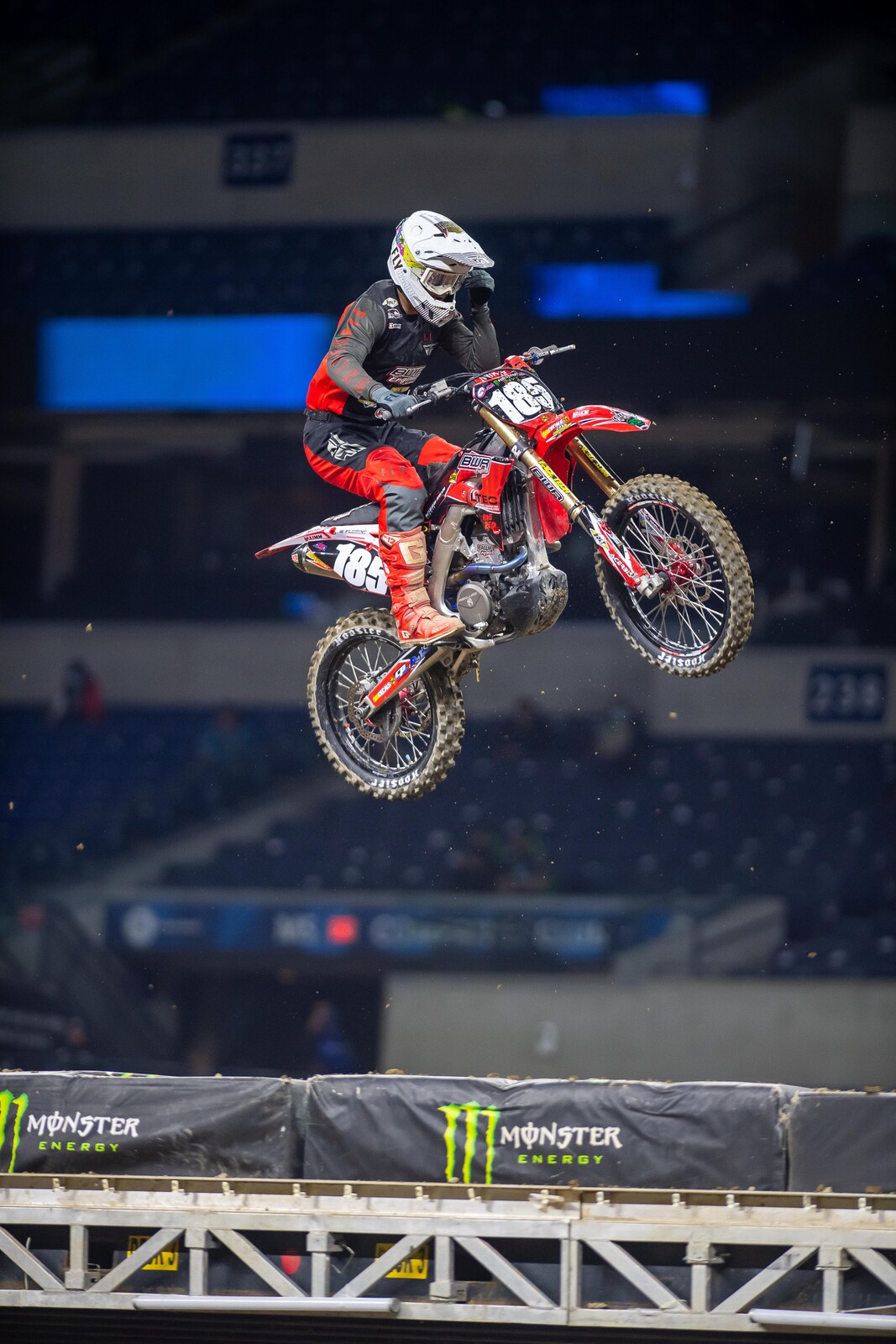 I believe you were a GPF [Georgia Practice Facility] guy, right? I saw you're training with Brad [Jerominski] at WW now. Why the change, and how has that been going?
It was a few factors. I spent three years, almost four years, at MTF [Millsaps Training Facility] and then I moved over to GPF and was working with a trainer, Dylan Turner. Then Dylan stopped doing that, so I kind of did some stuff with Josh Woods there. That season I was working with Josh; I broke my femur. I spent a lot of time at my girlfriend's house in Jacksonville. That's how I actually met Brad was at WW Ranch. I went out to go hang out with Nick [Tomasunas], who races MX Simulator. Me and Brad were talking there and he kind of told me what was going to happen with WW and his training. So, for me, it was a perfect world because I would always have to find a place in Cairo so I could stay out there and train throughout the week. Staying in Jacksonville, my girlfriend and I were able to get an apartment. So, training at WW with Brad is the perfect combination for me because I can go home every night and sleep in my own bed. The facility and the people there are just amazing. Junior [Scarborough], who owns WW, is a really, really good guy. They had Brad [Stone] from 402Trails come out and build them a little hybrid amateur supercross, and that's what I've been riding and training on. It's just been a great time, especially the area. You kind of get out of that Cairo… For the people that don't know, Cairo is kind of a little town in the middle of Georgia that doesn't have a lot going on, compared to Jacksonville, Florida—one of the biggest cities in the country. So, it's a good switch up.
Who would you like to thank for getting you to the races this year?
For sure the team BWR Honda guys, Brian [White], Carlen [Gardner], my mechanic Tyler [Brenneman]. They've been some of the biggest supporters that I've had throughout racing dirt bikes in general. So massive thank you to them. Also Brad and Junior [Scarborough] over at WW and Club 57 training. Can't forget my guy Kurtis [Manderscheid] over there. All of the sponsors that support the team and everyone that allows us to go racing. Just a massive thank you to those guys.