Indianapolis, IN
Indianapolis 2 (East)
Monster Energy AMA Supercross Championship
Justin Barcia really needed a podium finish at the Indianapolis 2 Supercross. After winning the opening round of Monster Energy AMA Supercross, he logged 9-4-13 finishes at the next three events, taking on the look of the "one hit wonder" that he said he did not want to be after round one.
He righted the ship at round five thanks to a holeshot in the main, and a spirited effort to hold off Eli Tomac down the stretch to hold onto second.
Barcia talked about it with the media in a Wednesday night call.
Racer X: Justin, you're all adapting to the new schedule and this condensed schedule. But youmentioned on the podium searching for settings. What is this like, trying to get this done in the middle of a snowstorm in Indianapolis with only free practice and practice to figure out these settings before you guys line up where it counts?
Justin Barcia: For sure. It's difficult. Obviously, new team and they're new to the 450 class, so it's definitely hard. Everything is new. The dirt here is a lot different than Houston, so we're trying to figure it out. It's not easy not being able to test. We didn't have these conditions in the off-season testing and stuff, so it's definitely searching around. We've taken some good stabs at it. I would say we haven't nailed it yet. I would have definitely liked to have had a little more in that main event, it was a good race, but definitely could have been better. We're definitely searching. No stress, though. It's a really consistent bike. It doesn't do anything too crazy. It's just like I'm looking for a little bit more. It's definitely hard. We're here during the week, but there's not much to do for riding or testing or anything like that. It's just kind of like show up for practice and try to take a stab at it.. I would say before in the past I was probably really far away from something, and now this is not even five percent. So we're just trying to find that little percentage, because the field is so stacked that everyone is going so fast. We just need that little percentage to be up there to win.
You won the opening round, had some trouble since then. Last night you were able to get the holeshot, and get good track position. Was that good for you to be able to re-measure where you're at compared to Kenny and the guys right at the front?
Yeah, for sure. Definitely the last round before this was just a tough race. I over-rode, went down and didn't put myself in a good position. The two races before that I had really good charges through the pack, so I've known the whole time my speed has been great. Just been struggling a little bit, searching and trying to find that groove again. Last night I would say definitely felt a bit off, a little tight, and didn't feel super comfortable. To pull a second was kind of confidence-boosting, for sure. Definitely feel like I'm on the right track. Starts were better. Everything's kind of falling into place again. Definitely don't want to be the guy who wins the first race and that's it. I wasn't in a great spot points-wise, so I knew I had to do something, and last night was a good statement to say I'm here for the long run. So I feel great. It was a difficult race for sure. Kenny rode a really good race and I didn't have anything for him. Eli pressured me really hard. Like Eli said, he had those two spots, before the triple and after. I made it hard for him, obviously. I covered the spots. I knew he was there. Like he said, if he would have sent it in there it probably would have took us both out or something. So there's a lot of respect in the 450 class right now. We all race hard and we want to win, but at the end of the day we've both matured a lot since we were young kids and just have some respect for each other, but also want to win. It'll be a lot more good racing.
Monster Energy Kawasaki's Eli Tomac had to fight his way through the field to get into podium position, and then he tried several pass attempts on Barcia to no avail. He spoke about that after the race.
Racer X: Eli, we saw Ken get away there. He was stretching out the gap and you got shuffled back in the first turn. How does that affect your mentality? Are you able to just focus on putting in your laps and try and work your way through as high as you can get?
Eli Tomac: Yeah, it's not easy! You've got to hope for a mistake or something. I know how these races have been going, so when you see the guy that's ahead of you in points run away it's like, "Oh man, we've got to get going." Did what we could, though. Came up okay. I think I was eighth or ninth or somewhere around there by the finish line the first lap. I was somewhat happy on the comeback, but obviously the guys that we don't want to finish in front of us finished in front of us.
You and Justin were going at it for quite a long time. Watching that corner, there was a lot of chance for contact and you guys kept it really clean out there.
Yeah, I felt like the two good passing places were probably after the finish line and then after that triple. I just was never close enough to feel like I could have made a real pass without causing basically big contact or a mess. I passed my teammate there early in the race, but I could never get the right angle and the right run in that area. So that was it. There was a lot of times where we got next to each other, but I would be stuck on the outside and could never finish anything. It was back and forth and close attempts, but never could get it done.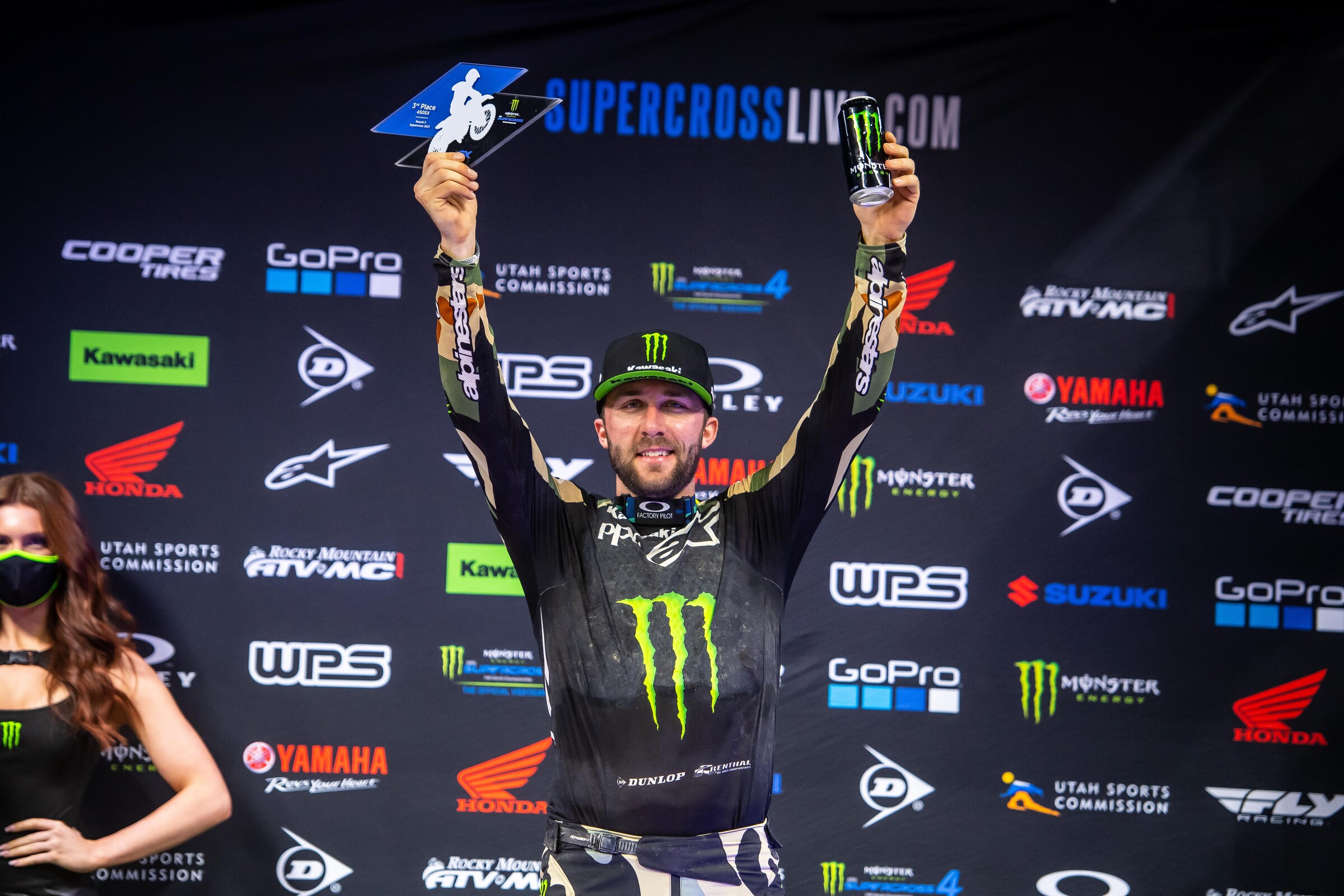 You occasionally see alliances. Some of the guys will have a 250 guy that they lean on for info. We've seen that with Colt Nichols and Justin Bogle. Are there any guys out there that you lean on, or are you just watching as much as you can on the big screen, to try and get tips on the track before you guys head out?
Tomac: I'm always watching. All of us are watching the whole time. You try to pick up on things, but it's hard to say. It's tough. You'll catch some things. Sometimes it works, sometimes it doesn't. [As far as 250 riders] I personally don't know many of the [250] guys out there right now, so no.
Barcia: Yeah, it's hard for sure. Just like Eli said, you watch as much as you can but also focus on yourself and know you've done all you can do throughout the day, watching video and stuff like that. I'd love to lean on Michael [Mosiman] for instance, but he's out there on the track and then he obviously goes to the podium so it's not like I can be like, "Hey, Mike, how was the track?" So that pretty much just doesn't work. I haven't had a 250 teammate in a long time, so this is kind of new for me. It's hard. The track honestly changes so much from the 250s to the 450s, it's insane. I remember being on 250s and loving the track and it's so smooth and has a few good lines and a few bumps. Then the 450 main now, it's like a full-blown outdoor, with braking bumps, and the tracks have been gnarly. So no one to really lean on too much. Just have to go from experience and make sure you check out the track good on the sight lap and see what's going on.
Watch the full press conference from the 2021 Indianapolis 2 Supercross below: