Indianapolis, IN
Indianapolis 2 (East)
Monster Energy AMA Supercross Championship
With back-to-back wins for the first time since his ill-fated 2017 season, the Ken Roczen of 2021 is beginning to draw comparisons to the performances from his prime, pre-injury years. Kenny can't make those comparisons, though, because today he's a much different person with a different perspective on racing and life. His new thinking is working so far, holding a 13-point lead after five races, despite a few setbacks that have cost him points already. But today's Ken takes the lows in stride, as well as the highs.
He spoke to the media in a press conference on Wednesday night.
Racer X: Kenny, you mentioned on the podium, you won back to back, and it's been a while since you've had that. Take me through where you're at right now. You can feel the confidence. It is a long season. There's still a lot of variables coming, but at this moment, everything is working out very, very well for you. What does it feel like to get back to backs?
Ken Roczen: It's amazing. I don't know if surprised is the right word to say, but I am a little bit just because the competition is stiff out there. Everybody's going so good right now and I just focused really hard on the start and got that as well, and a combination with just riding really well. Really picked the track apart and had some good lines. I just had fun out there. I'm still over the moon about it, but at the same time I've learned from the past and I'm just keeping it super mellow. When I show up on Saturday I'm going to try to do the same thing again, but I don't let this high get too high on me. Of course, it was a great night. It was a really fun race, just because I was able to really ride my own race once I had a little bit of a gap. Sometimes that makes the race feel long, but I didn't really have any issues. I had a couple of, I shouldn't say close calls but obviously I punted [Vince] Friese out of the way. I seem to find that guy every single weekend on the track. Almost went down there with him. There were a couple of sketchy moments in there, just with other riders being off the wrong side of the track and cutting over and whatnot, but we made it happen.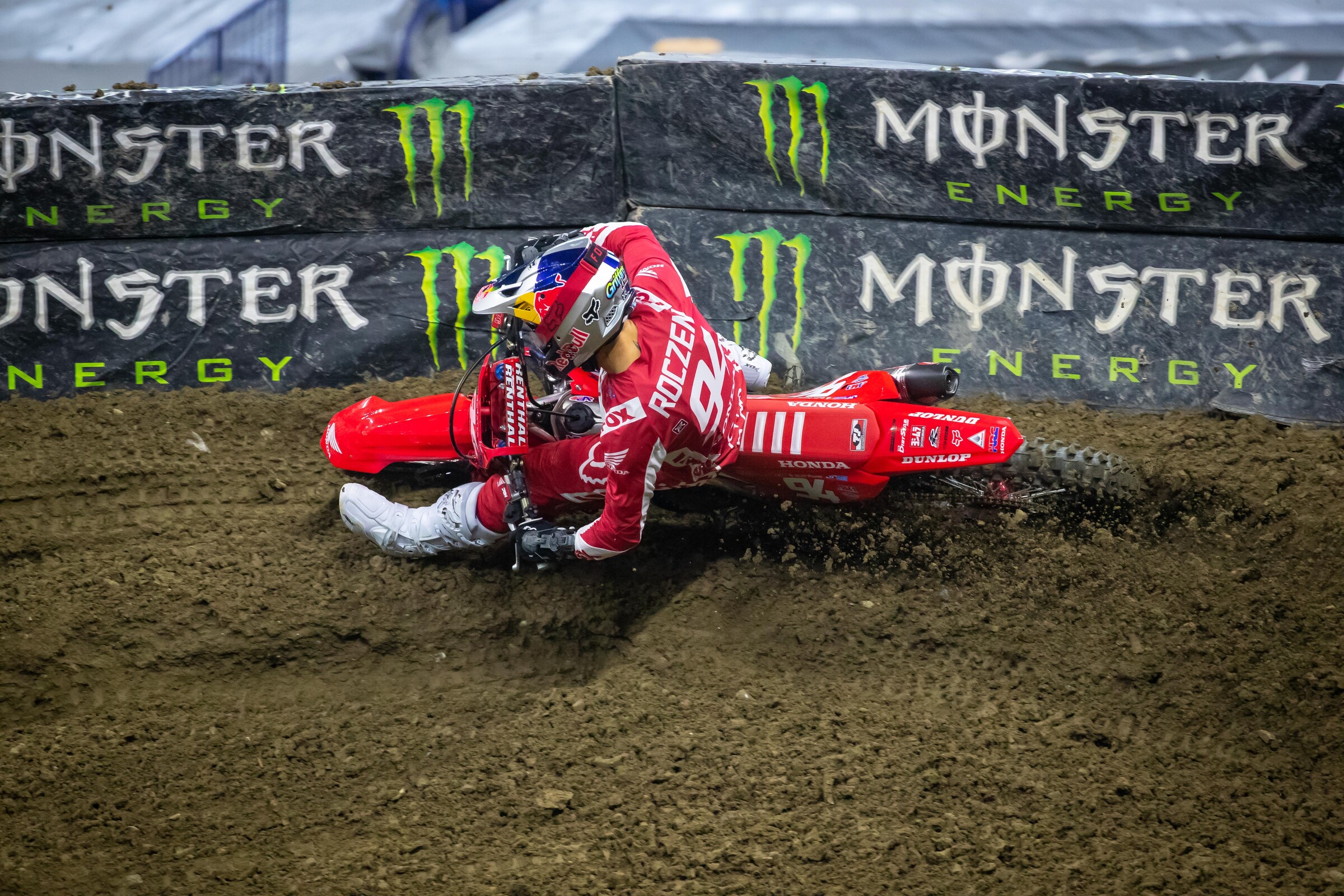 Your bike this year looks really good. It seems to fit you a little bit better. Is there something about the bike and the geometry, the chassis, the engine, that's just better for you? Is there something that stands out?
Yeah, for sure. The geometry obviously is different compared to last year's bike. Last year's bike was a really difficult bike to set up. It bit you on the ass real quick. This bike is a lot more consistent. The weight distribution on the bike is working a lot better, and combined with some of the other changes that they did, it's just a lot more consistent in different types of dirt. I just seem to ride it much better and I'm a lot more comfortable on it. The motor is quite a bit different. It has a lot of torque, kind of like that mellow bump off the bottom that I really like. So we made huge improvements there. In general though, it's definitely a combination of the bike and me, but even last year a bunch of times I could make the bike look good, but sometimes the bike was also riding me and I feel like this year we have that a bit more under control.
After these two wins and especially your riding style lately, it seems like everybody is starting to make those comparisons of late 2016, early 2017 Ken. The bike looks amazing. Do you even feel better than you did back then, before all of the issues that had happened?
It's really difficult to compare. Even though I was great in '16 and '17, I'm mentally in a completely different spot. Back then, I feel like I rode the highs a lot more than I do now. I'm just quite a bit older and a lot has happened in-between there and then. So it's really hard for me to compare that kind of stuff. I feel like back then the field—don't get me wrong, it was really stacked, but also there weren't as many [good riders] as there are now. I'm more comfortable than even back then. I don't know how to explain it. I'm just more mature mentally, when it comes to the racing side of things and my program is way different. I'm just really comfortable and open-minded. I'm listening to everything, and also the critique. I'm picking everything apart when I watch the race. I would just say completely different timeframes, is basically it.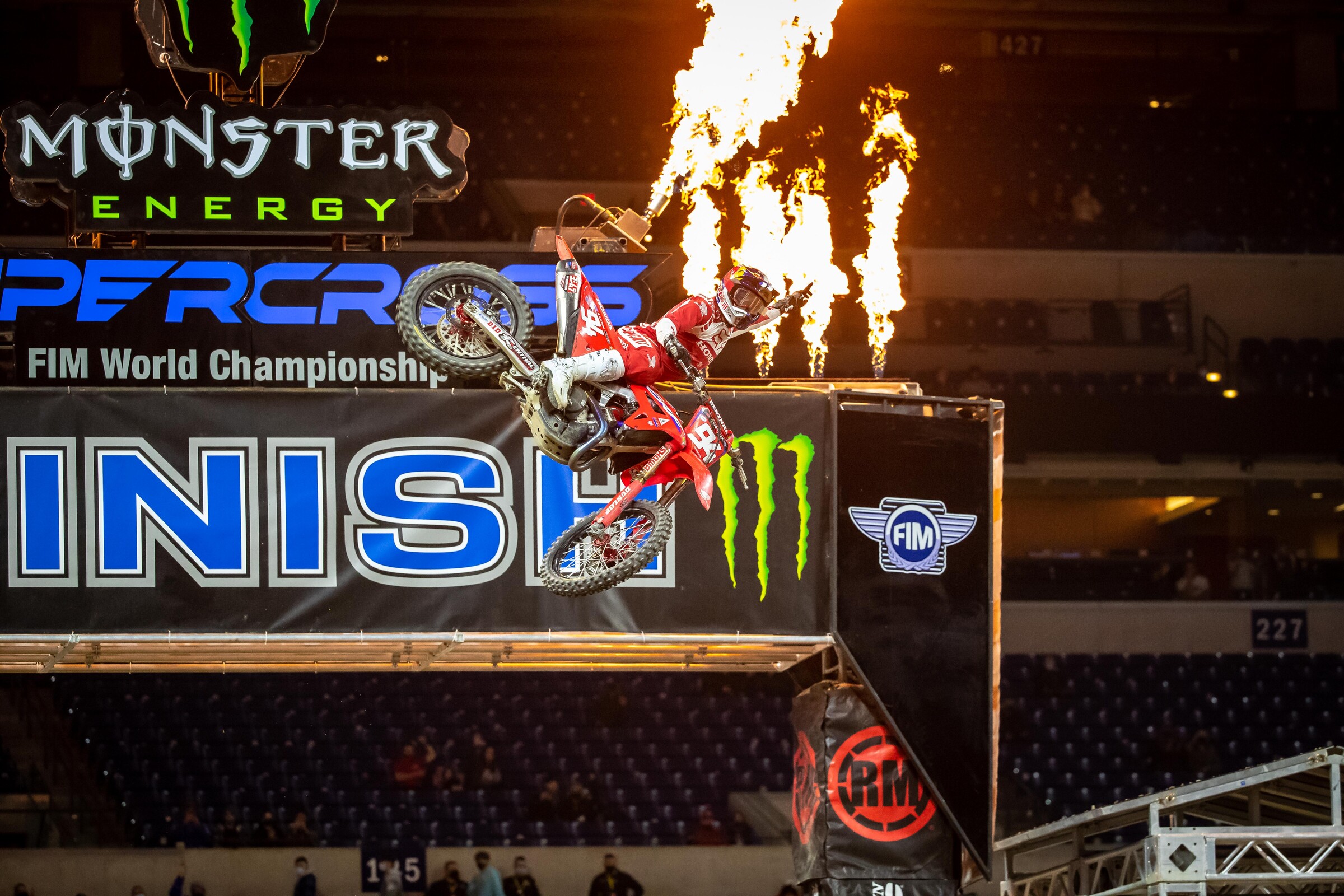 Jett Lawrence had a tough night. Did you have any dealings with him or any advice for him regarding his evening and racing? Or were you just focused on yourself and your own racing?
I try to help out where I can. Obviously you never want to see your teammate going down a couple of times like that. I told him after the heat race, he went down, and just obviously in pain. I told him to man the &%%$ up. You can still turn this night around. We've all been there. We've all had rough nights. He can go out there and really turn it around, even in pain. We've seen it happen multiple times. But at the same time, it has to be in a safe matter. He went out for the last chance qualifier and obviously made it through. I haven't really heard exactly why, but he ended up deciding not to race. If he had gotten a blow to the head, which I'm not 100 percent sure if he did or not, but I just know his collarbone was hurting or his shoulder was hurting. So I just try to support him. Even though you're down right now, but we've seen it happen. So I just want to keep his spirits up, because it seemed like he was pretty down and disappointed and obviously in pain. I try to help where I can, and sometimes you need a little bit of a kick in the ass. That's what I try to be there for him. He's young and at the same time he needs to settle down every now and then. When you're second in qualifying you don't need to go out there and just absolutely send it into the whoops, and then things like that happen. It's just unnecessary. I've been there. I've ridden hard when you first come into this and you always want more. In the end, he decided not to race and I'm proud of him for that. It takes some balls to just pull out of there [the race. I think it's good for him. He has a long racing career and a lot of races ahead of him. So I think it would be better for him to just recover for Saturday and try again and be a little bit calmer, a little bit more focused and less crashing.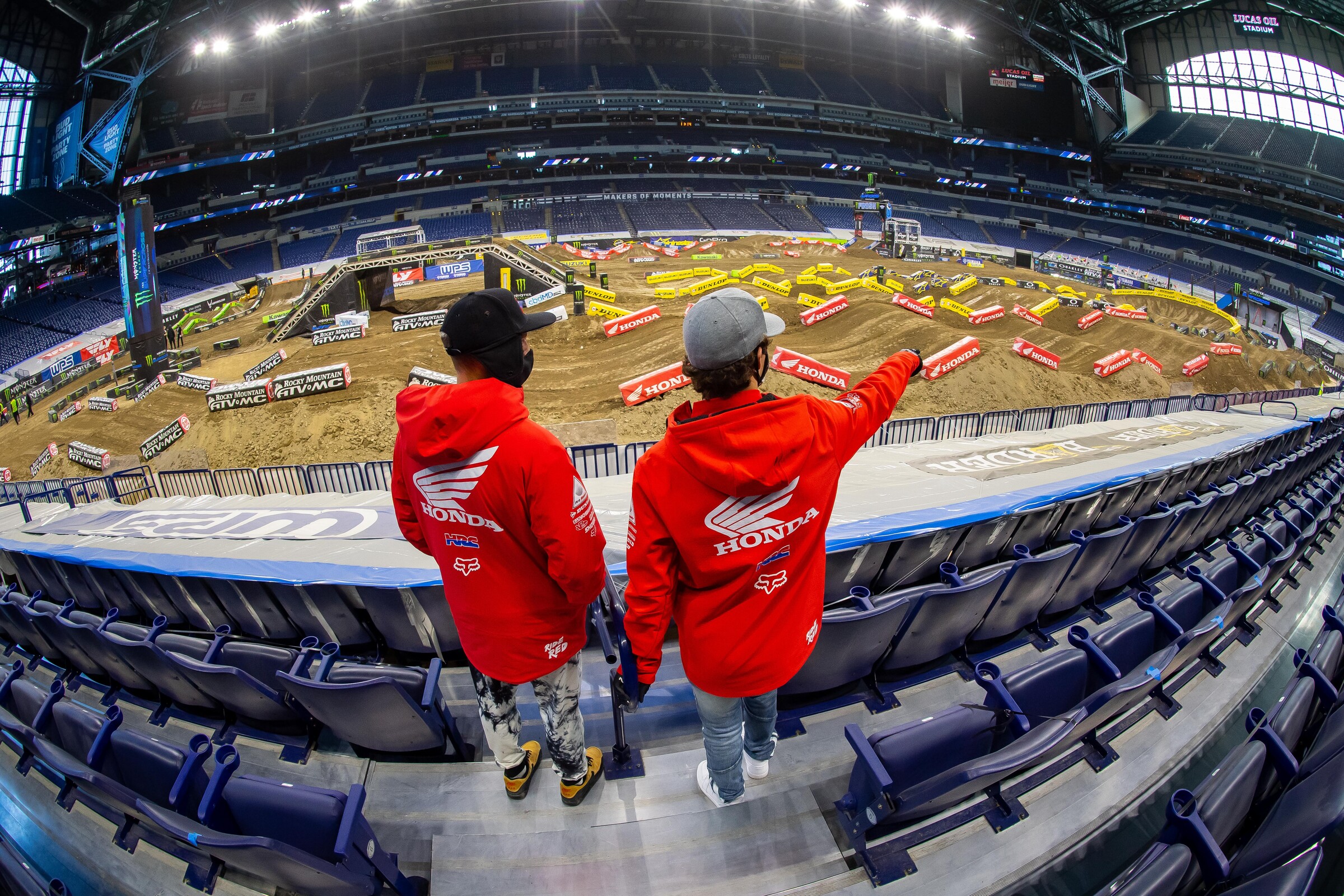 You were fast all day, but in the main event I think you had five or six laps faster than anyone else's fastest lap. Was there anything you changed going into the main event, or something you found? You look really comfortable.
No, not at all. Actually I left everything the same and ultimately it just comes down to having confidence in my racing. I've never really been much of a practice kind of guy, so I don't really care too much about that stuff as long as I'm in a halfway decent spot. Just learning the track, and I knew it was going to get nasty out there again. I basically always just wait for the night show to come around, and that's I feel like when the real fun starts.
Two races ago you had Cooper [Webb] get you on the end there. It's something you've dealt with a few times, but you've now responded with two wins in a row. How important was it after that tough defeat to respond like you have?
It's important. Winning is always important. Obviously I feel like I could have won that race, but that just wasn't in the cards. I know that Cooper was on me in Houston 3, but I don't think he got me because he was the faster rider. I got screwed over. It wasn't something where I'm like, "He got me in the end because he just rode really well and hunted me down" or anything like that. I was just looking forward for the next race, and it showed. Just ultimately getting some good starts and just keeping a cool head. I'm just in a good spot right now. I want to continue doing the same thing. I'm sure there will be days that are going to be a little bit more tough, but I'm just trying to enjoy it to get there. Overall, back to back wins, I haven't done that in a while. Never mind winning in general. I only had four wins last season, and that was the only four after over 1,000 days! So it's not like I've won a lot since then. I'm just enjoying every single step.
Watch the full press conference from the 2021 Indianapolis 2 Supercross below: