Indianapolis, IN
Indianapolis 2 (East)
Monster Energy AMA Supercross Championship
With much of the 250SX East Region field being decimated with injury and Monster Energy/Pro Circuit Kawasaki's Jo Shimoda crashing in the first turn of the Indianapolis 2 main event, that left just three factory riders to run away out front. At first, Troy Lee Designs/Red Bull/GasGas Factory Racing' Michael Mosiman led for a while before nearly colliding with lapper Max Miller as the KTM man went down. Monster Energy/Star Yamaha Racing's Colt Nichols took over the lead and the run-in with Miller dropped Mosiman back into a battle for second place with Monster Energy/Star Yamaha Racing's Christian Craig. To two battled late in the main event with Craig eventually getting the upper hand. Mosiman would hang on for his second consecutive podium.
Both riders spoke with the media following the race via Zoom.
Racer X: Christian, you mentioned on the podium how much you miss your kids. I know everybody's situation is different with their home life. Is that pretty hard for you to be gone for a week? I understand we've got to do what we've got to do and there's benefits to being here, but at the same time does that weigh on you for real?
Christian Craig: Yeah, it does. I've never been away from them this long. They came with us to Houston, and then just with the situation it made sense for them to stay home and keep the kids in school. I've been trying to talk my wife into going to make a trip to go pick them up this Saturday and bring them to the race, but it's tough. We've got two kids back at home with Grandma. Facetime helps a lot but it's still not the same. Maybe we'll bring them to Orlando and Disney after or something to make up for it.
How important is it over the next couple of rounds to turn the tables on Colt to halt his momentum? Obviously, the East Coast, I think it's two more rounds left and then it heads into the Western series. What's your thoughts on that? What's the approach there?
It's crucial, especially these next two rounds before we have a two-month break. He's on a roll. He's got this momentum going. All I can do is just put my best foot forward and get a better start. If I can get in front of him and position myself where I can control the race, then that's all I got to do. Let the rest unfold. Me and Colt [Nichols] are obviously teammates. We're not going to do anything crazy. We're going to be fighting this to the end. It's pretty much down to us two, kind of. There's an outside chance with a couple other guys. Four more races so it's going to go by quick. Just got to get a good start and put myself in a good position and then let the rest play out.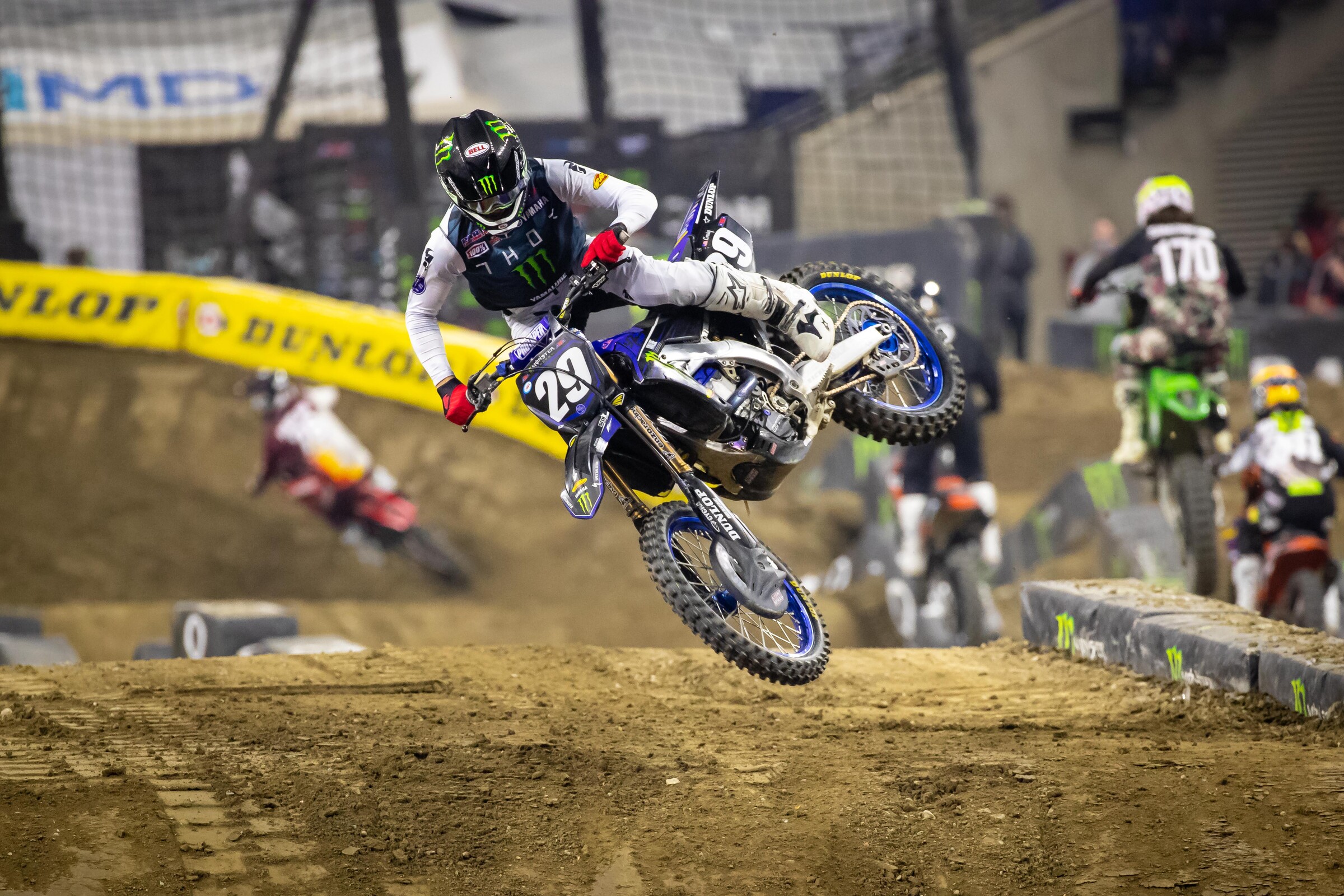 How is it for you? It's going to be tough to make up points as well, but how tough is it racing with guys that are two and three laps down?
Yeah, the lappers kind of make or break a race. Obviously, it didn't help me in one of the mains, and then it almost took out Michael last night. So, you've got to be really aware of it. I didn't know we actually lapped up to fifth until after the race, later on that night when they told us Colt almost got Jo for fourth, which is just nuts. But it's just dwindling. It sucks. All these riders are getting hurt. If you looked at the first round how stacked it was, it's unfortunate. But you got to stay safe and just keep hammering. Do what you can. We can't control it. All you got to do is control yourself and just put yourself in a good position.
Kind of like Kenny [Roczen], I feel like you came into the year saying mentally you were staying ahead of things and not getting too high, too low. We saw how great it was at the first round, and there's been some controversy and stuff the last couple. So, is that being put to the test? How have you been able to manage these last couple of races?
Not every race is going to be like Houston 1 where it all just went perfect. I wish it was. Obviously, the whole Jett [Lawrence] situation was crazy, and I got a lot of heat from that, but all I can do is move on and look forward to the next race. I'm learning a lot still as we go on. I've never been in this situation, but I feel like this is where I belong. I belong up front every race. It's crazy. So many highs and lows in this sport. One day you're getting hated on from everyone on social media or anything, and the next you're getting praise. Part of it. Just got to take what it's worth and move on.
Racer X: You've led laps now which has been the big thing. We've been wondering when you were going to win your first main event, so you're closer. How was it to control that much of the race and be pulling away with it until that issue with traffic?
Michael Mosiman: It feels great. It feels really good. Everything was clicking. Felt really good in the whoops. My corners were really nice. It was kind of crazy. I kind of expected them to be right there. You do the 180s and you're like, dang, they're on the wall still, or they're still coming after the finish and you're hitting the triple. It's like, dang. I got some time going here. Definitely had no intentions of slowing down. Everything was kind of coming together. I was feeling really good. My bike is super-fast. My suspension handles really well. I felt comfortable. No mistakes. I think I had maybe a small mistake the first lap. It just felt good. I was like, I can do this stuff.
Last night, [Mitchell] Oldenburg was able to race in the main event without actually properly qualifying. We've heard from the media, from fans. I was wondering from the competitors that were actually in the race if you guys have any input on him getting in the race.
I would say I'm generally just confused on it. I don't know the details of the situation. I watched the main and they talked about it, and I saw him go down and be walked out. Honestly, he's a friend of mine and I'm just thankful he's healthy. I'm grateful for his sake that he was able to race the main. I'm just generally completely confused. How does that work? Hopefully, we can clean some of this stuff up, AMA can, for next time.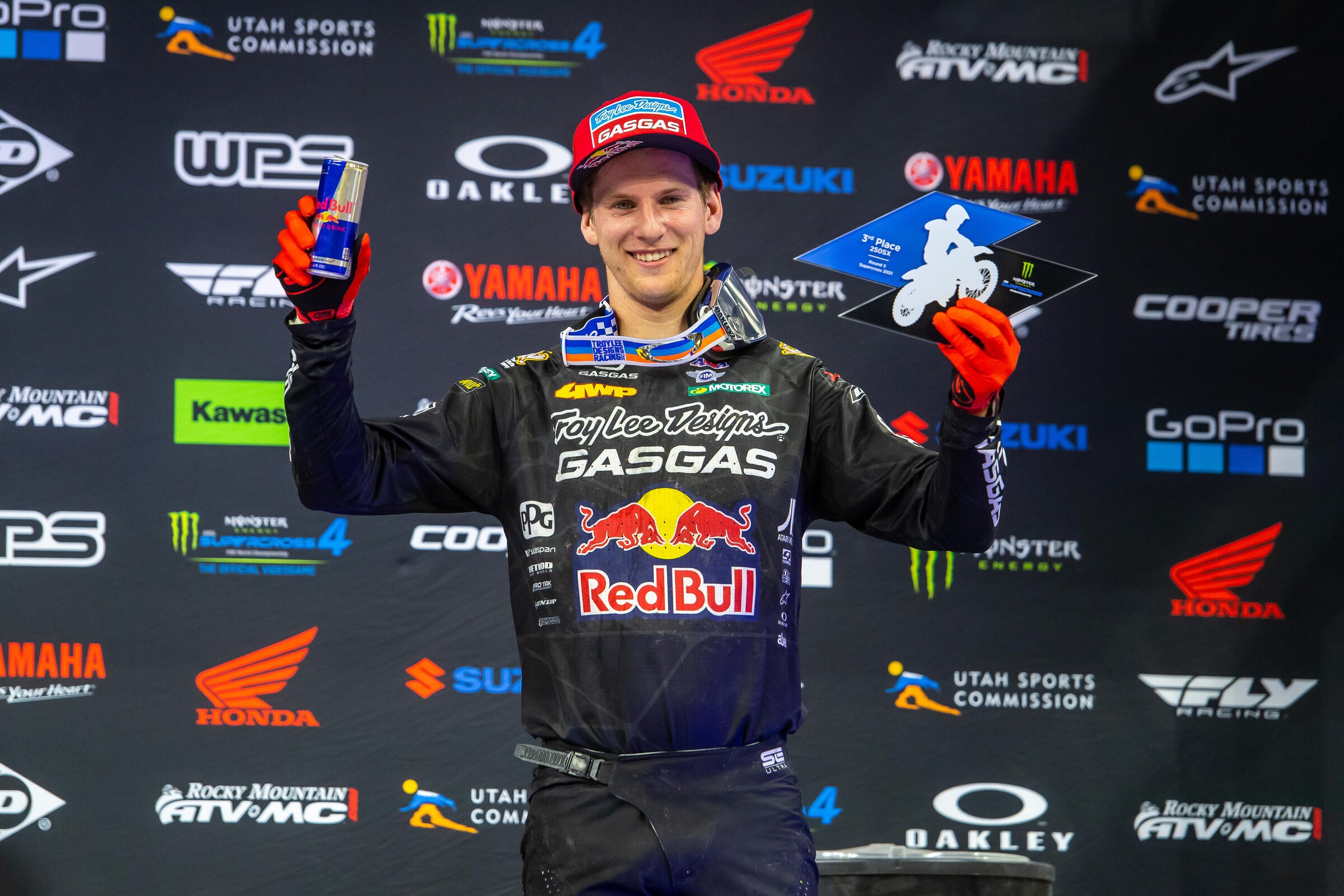 Do you think about it a lot during the race, that you're going to be lapping a bunch of guys?
Absolutely. I think lappers and getting around them has maybe been one of my weak points. I think everyone, even our gaps between each other, they can yo-yo. I remember just this past Saturday, it was like all of a sudden Christian had a big lead on me and then three laps later it was like, he's right there. I hit a huge pack of lappers. It just depends how you get by them. My team has told me, "You like to pass lappers on the outside. That is not smart. Pass them on the inside." Through the whoops, it's terrifying. It's so tough to commit, because you can commit and blow your race if the guy goes right or left, and they're going right or left 50 percent of their time through the whoops. Flip a coin. They're going to go one way or the other. They're challenging whoops. We go right or left probably once every few laps. It's really tricky. Definitely I agree with Christian. It's a huge bummer to see some of the guys go down. I think it just speaks to how difficult the sport is and how difficult of a level we're riding at, that people are at a point where we're at the limit. You make a small mistake and it's a big deal.
Watch the full press conference from the 2021 Indianapolis 2 Supercross below: