Indianapolis, IN
Indianapolis 1 (East)
Monster Energy AMA Supercross Championship
Josh Osby has always been on the verge of the next level as a privateer in 250SX East Region, and he continues to look for that next step in 2021. Now a member of the Phoenix Racing Honda team after spending 2020 with Club MX, Osby has been solid to start the year. He's sixth in points with five factory riders in front of him, and he's gone 10-10-7-9 in the four rounds this year. Saturday's race might have been his best, though, because he rallied from an early crash to get that top ten.
Steve Matthes talked to the Indiana native after the race.
Racer X: Hometown race for you, right?
Josh Osby: Yeah. This is the closest one to home for me, so definitely a hometown one.
Eventful day for you. Was it the heat where you crashed off the track?
That was the main event, unfortunately.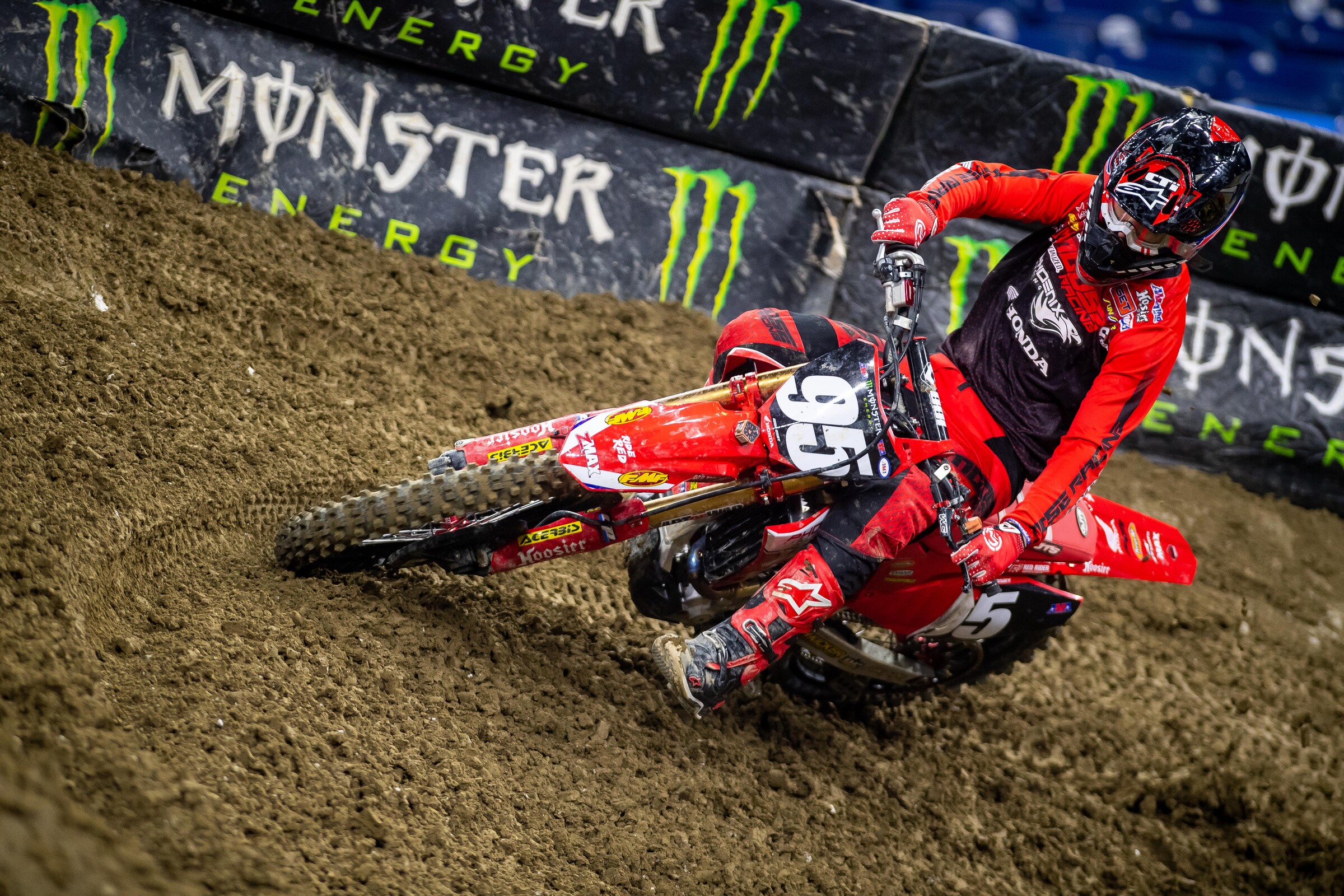 Right. I thought it was the main event, but then I looked at your results and you got ninth. So good job!
Thank you. It was obviously a bummer. I feel like I was in a good position. I've been just a little tick off obviously the factory guys. I think [Mitchell] Oldenburg is just that next step from me. So, I was right behind him and I was just really looking forward to latching onto his pace and just try to get a little bit better and get closer to those factory guys. Just got a little bit cross-rutted in that rhythm, landed right on the Tuff Block and it just kicked my bike out. I crashed, which obviously got out of the crash super good. I'm thankful about that. Just a little bit bummed, but it's all good. We're moving on healthy. We'll go into Tuesday and do it again.
I'm looking at the lap chart. You were 19th on lap five, so I thought it was earlier than that. Nice comeback for you. Like you said, you're stuck in this no-man's land right now, huh?
Yeah, which has been a bummer because I'm getting seventh, ninth, whatever, but let's be realistic. It's a little thin. There's the factory guys that are going super-fast, and then I've just been a little tick off of them and then there's people behind me. So, it's like I am in this weird spot. Just trying to work each weekend at getting closer to those guys. I think if I can get a little closer, all it is, is latching on. I think it's as simple as that.
How brutal was the track tonight? It looked gnarly. They did their best before the mains and stuff, but not a lot of fun.
I was kind of stressing because I didn't know how much of a prep they were going to be able to do. They ended up doing pretty much a full prep. The big double, that was so gnarly. I actually to put in perspective, if everyone can go back and watch the third 450B qualifier, the third practice, it was literally survival. It was typical Indy. Gets rutted, gets gnarly. That double was absolutely massive. I think that it showed. Kenny [Roczen] jumped off the track. [Dylan] Ferrandis jumped off the track.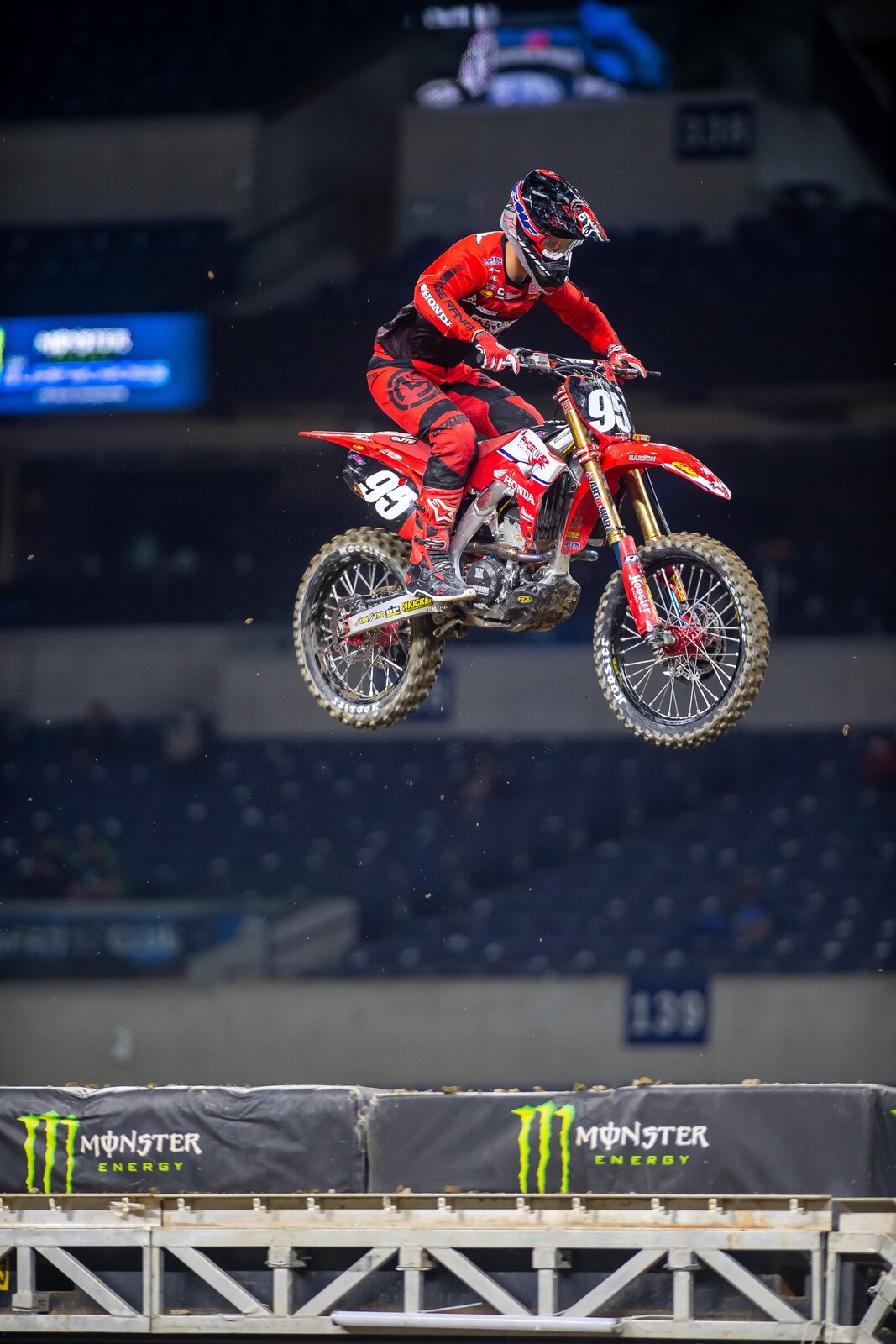 How long was that? How big do you think that was?
I would say it's 75 feet. It's definitely bigger than a normal supercross triple. The jump is the jump. It's big, but they built the track so good. It was super flowy, but the ruts were so gnarly that just brought obviously another big factor into it.
We're four rounds down. Overall, how's your bike? How's the team?
Everything's good. I love my bike. I love working with everyone at the team, obviously. Unfortunately, JGR shut down, but we got quite a few of those guys. So, Mitchell Key, Dean Baker. It's been really good to work with them. They've brought a lot of knowledge on board and experience. For a guy like me, I've been at this for a little bit of time, but they've been at it for… Dean's history goes so deep. So, he can just help me with a lot of things. I've really enjoyed it. I thought the transition was going to be a lot harder going from Club [ClubMX Team] to this, but it's been great. I'm still at Club [training]. I think that's been good for me too, to kind of have the separation. I go there and train, and I think I was a little too involved over there. The relationship is still great, which I'm happy about. I think everything went as smoothly as it possibly could. So, all in all, it's good.
Do you think Phil [Nicoletti] will be happy with this ride from 19th to top ten?
Actually no. I think what Phil expects is what I expect. I want to be up there battling with those factory guys. I understand a guy like [Christian] Craig or [Colt] Nichols, or even [Jett] Lawrence, they're going so fast. I've got to keep things in perspective. It's a little bit out of my ballpark. I want to keep things in perspective. I just want to latch onto a guy like [Jo] Shimoda or [Michael] Mosiman—not that those guys aren't going extremely fast, but it's more attainable for me. So, I feel like [Mitchell] Oldenburg and I are right on the bubble, the first non-factory guys. I obviously want to be beating him and just getting better each weekend. I think that will be super important for me and try to get in the mix.
For me, I think you rode really well because you went off the track and I'm like, he's got a lot of work to do. Then you got ninth, so good job tonight.
Thank you very much.