Houston, TX
Houston 3 (East)
Monster Energy AMA Supercross Championship
It was another classic in Texas, and another against-the-odds bounce back from Cooper Webb. No matter how many times we've seen it, it never lacks in excitement, and the early season drama for Monster Energy Supercross just added another notch.
Webb did it again, passing Ken Roczen with last-lap charge not completely unlike his legendary Dallas victory in 2019. This time he got an assist from Dean Wilson, who was set to go a lap down on the final lap but completely failed to get out of Roczen's way. First Wilson held Roczen up, then Roczen was forced wide to get around him, and Webb pounded on the inside to steal the lead on the final lap. We've seen Webb over Roczen late in the race before, but this time Wilson's role clouds the picture. Webb ended up with the win over Roczen with Adam Cianciarulo third.
This is a massive rebound for Webb, just as big as Eli Tomac's rebound win at the previous round. He's been talking of setting problems throughout the early season, although at least at this time he was back near the top-five in qualifying, instead of out of the top ten. Webb holeshot the main but Roczen was around him shortly, and then everyone braced for another classic. Could Webb get Kenny late again? Right behind them came Cianciarulo, who nearly picked off Webb in the whoops early, then settled into third.
Webb started reeling Roczen in, but he got balked by lapped rider Vince Friese. It looked like it was over again, but Webb gave one last push and got close, pulling it down to one second as the white flag loomed. Wilson's hold up did the rest of the damage, and the rest is history.
"It was a close race the whole time and Kenny [Roczen] rode a solid race with not many mistakes," said Webb. "The track was really tricky, easy to over-ride and get impatient. The lappers there at the end was a bummer, I felt like we were going to have a really good battle, and obviously we did, but the lappers were really tough tonight. I hung in there and I pounced on that last lap and made it happen."
Webb says the team has been struggling to find the right balance at the opening races, which is exactly what they didn't want to deal with at rounds without a chance to go testing. Webb likes the new air shock on his bike, but he's still getting the suspension setup dialed. He says he let "the team take the wheel" and it paid off for the main. Still, he had to figure out a way around Roczen.
"There wasn't much of a plan, really until the last five [laps] I was still kind of chipping away," said Webb. "I just kind of went for it, found some lines, I got close but not really a plan. We were kind of doing the same lines and the same kind of things. I just wanted to get close, that leads to pressure, it brings the fans back, and that brings mistakes. If you get close, I just try to play it out and see what I can get done."
"I was bracing for the last five laps to battle," said Roczen. "I had to try and play with the track a little as well as we ran into lappers and I switched my lines up. I was ready to give it everything at the end and Dean being in front of me for three quarters of a lap, and he said he didn't hear me but there were blue flags around and everything… I hit the back of his wheel and almost crashed there and then he went double double and I almost jumped into the back of him… I feel like if it wasn't for the Dean incident, the night would have been mine tonight, but it happened, and we'll move on."
Roczen ran over to the side of the track to yell at Wilson when the race was over. Wilson apologized on social media.
"First of all I fully own this," wrote Wilson. "I never knew it was the leaders behind me. Kenny I'm sorry and I sincerely apologize. I ruined your race and wish I could take it back."
Roczen looked furious as he walked to the podium, but the timing of this race dovetails nicely with the his new mental approach we've been covering this season.
"Just something that I'm working on in general. Just trying to be a better racer and human… Don't get me wrong, I was mad, but it was what it was, and I can't change it anyway."
After some strong early laps Cianciarulo lost the tow from the leaders and even began to take some heat from Justin Barcia, but then Barcia crashed in the sand. It led to Cianciarulo's first podium since San Diego in 2019.
"[My] arm is better, I think, tonight," said Cianciarulo of the arm issue that he has tried to clear up with off-season surgery. "On some tracks compared to others, it affects me more. Obviously tonight it was good enough for a podium. Honestly, I had less than an ideal off-season and I was stressing it hard. I didn't get the chance to ride and really build the way I wanted to. I have definitely felt a huge improvement from round one to know. It was a stress free night for me, I didn't do anything too great. Cooper and Kenny pulled away from me there and I was able to bring it home."
Justin Barcia was crazy fast on his GasGas, making several early passes and then closing on Cianciarulo when he got to fourth. Then the gap stabilized for a bit, and Barcia crashed in the sand. Just as impressive, he got up and pulled back away from the pack behind him, led by Tomac. Barcia's pace was easily enough to match the race leaders, especially in the whoops, but he started around tenth, and it was costly.
"The track was pretty rough and beat up and I came off the line a little bit late and didn't get the best of start but I worked my way up to fourth," said Barcia. "I was behind third and made a mistake in the sand and went down. All-in-all, I should have been on the podium but we'll regroup and be ready for Indy. We are in a good spot, the bike feels great, I'm feeling good and the speed is definitely there, I just need to keep it on two wheels, keep nailing the starts and put myself in a good position to be in the fight."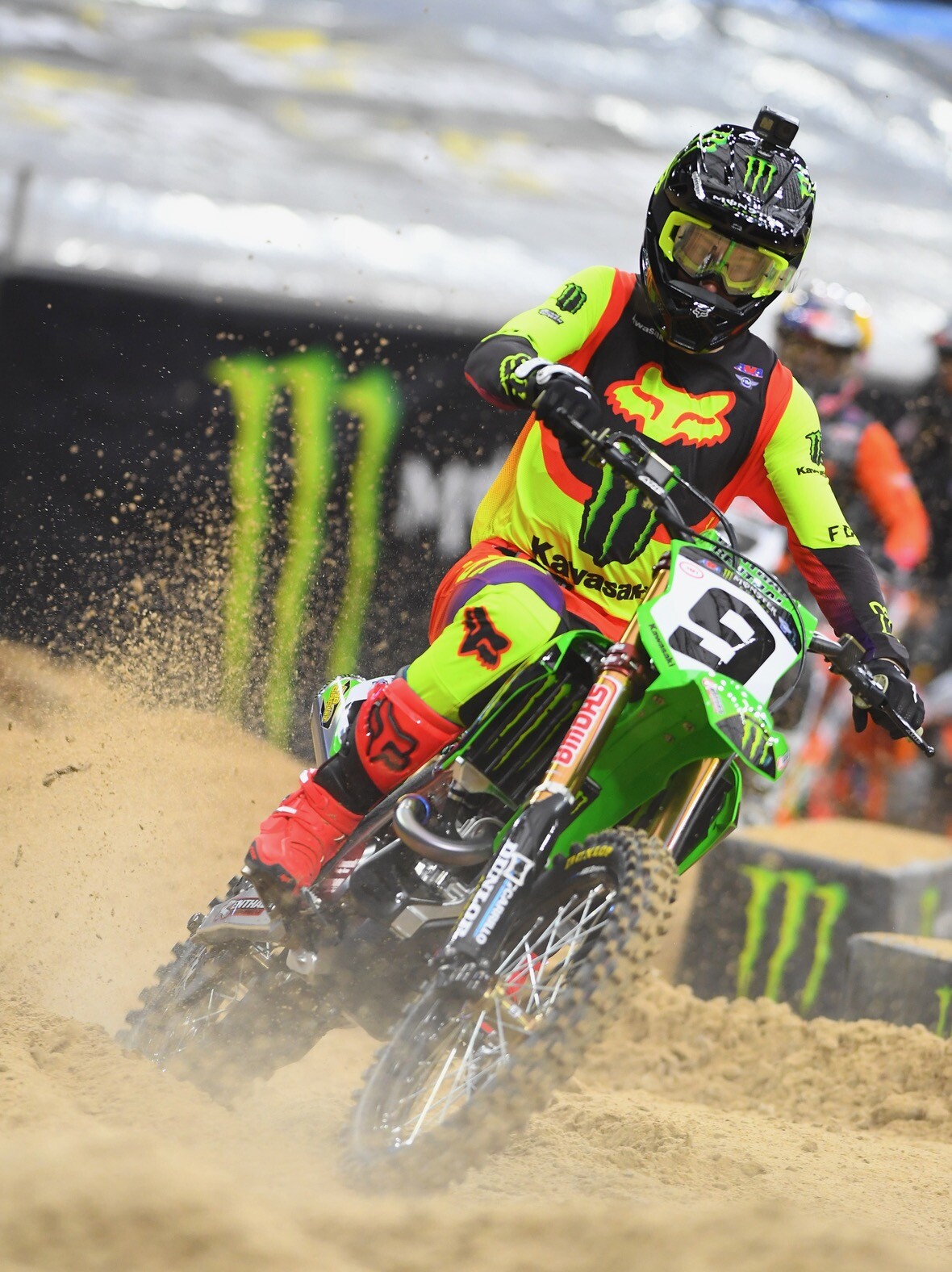 Fifth went to Tomac who had an okay race—nothing bad but nothing amazing. Malcolm Stewart was solid again for sixth, ahead of his teammate Aaron Plessinger. Jason Anderson, Zach Osborne and Justin Brayton rounded out the top ten. Osborne had speed again but suffered a bad start and then tangled with lapped rider Vince Friese. The lappers were exceptionally tough on this track.
In the 250 class, Colt Nichols makes for three winners in three races. It was impressive, too, as Colt shadowed and stalked his teammate Christian Craig before taking the lead in—you guessed it—lapped traffic. Craig fought back with his whoop speed to regain the lead, but Nichols passed him again, and this time he got away.
"We were trading laps, we were doing similar things and I saw where I could maybe gain a little bit," said Nichols. "The lappers helped a little bit, too. I just kept trying to apply the pressure, like he [Christian] said it felt like another day at Yamaha just trading laps. Glad I was able to come through at the end, felt good."
Craig admitted on the podium that he "ran out of steam a little bit" toward the end, but he also looked slightly more hesitant to pick a line through the lappers, which was costly. His high-speed rips across the whoops were fast but probably took a lot of energy as well. Regardless, Craig feels good about the start to his championship, as he and Nichols are tied for the lead.
"I think I did feel a little pressure on Tuesday, but we cleared that up, and now the red plate feels like nothing," Craig says. "This is a good three-race start to the series."
The complexion of the series changed dramatically when both RJ Hampshire and Austin Forkner went down and out with injuries—we hear a hand for Hampshire and a shoulder for Forkner. They crashed on the same jump, clipping the landing of a triple and going over the bars. No word yet on when they can return. Then Jett Lawrence had a scare with a big crash in the whoops in practice, but he came back and rode well enough for third. A horrible start did in his chances of a second career win.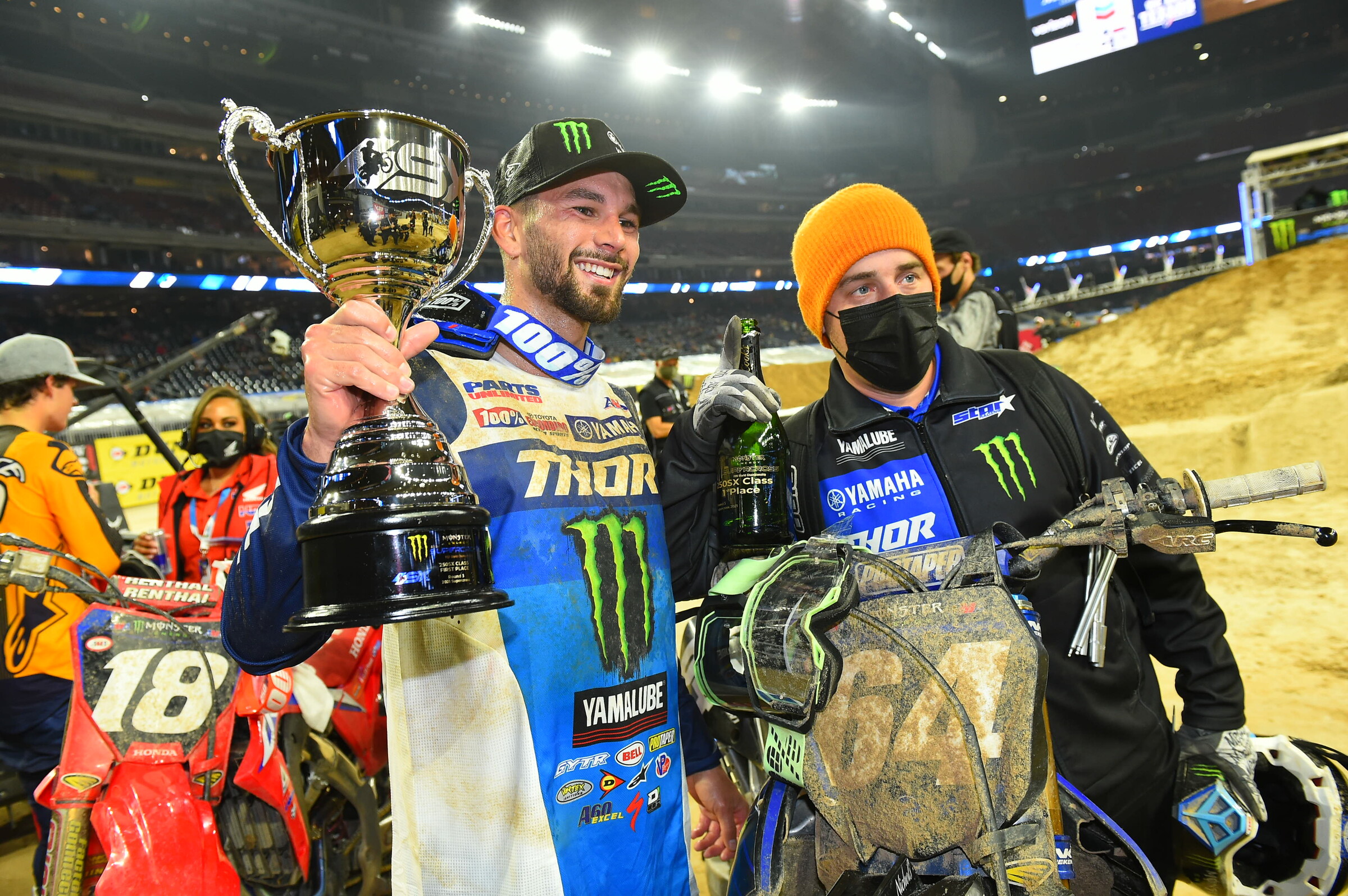 "Yeah the track was collecting some bodies today and I was one of them," said Lawrence. "Coming through those whoops, I was getting off balance and I tried to correct it with my bars, and I ended up bouncing back. I put my signature on that last whoop."
Jett also put his signature on Michael Mosiman, with a hard block pass that put Mosiman down. It was harsh.
"I got a warning from the AMA, kind of a wake up for me there," said Lawrence. "Tonight wasn't my night. By the time I got to third the boys had already checked out, I wasn't going to catch them, it's not like I have a booster on my bars. I didn't mean to do it [take Mosiman down]—it's the last of those for me, hopefully. Hopefully I can get a better start the next time."
Mosiman's Lawrence-induced crash allowed Jo Shimoda to slip by for fourth, and Mosiman rebounded for fifth.
"I was just a little bit off all day but I brought it together for the night show. In the heat race I was really frustrated; I feel like Jett kind of walked away from me. I made a couple little mistakes but I think I had the speed. In the Main Event, I made some adjustments, got a better start and then there was chaos. I was in third and things were looking good, I got into some lapped traffic and Jett caught up to me and absolutely plowed me. There is blood in the water and it's going to be an exciting season."