Houston, TX
Houston 3 (East)
Monster Energy AMA Supercross Championship
A Wednesday press conference allowed us to catch up with a few contenders in the 250 class: Rockstar Energy Husqvarna's RJ Hampshire, Troy Lee Designs/Red Bull/GasGas Factory Racing's Michael Mosiman, and Red Bull KTM's Max Vohland.
Racer X: You have had good starts and speed but had some issues—the washout at the first round, and this last race with Austin Forkner. A little bit of chaos and some falls. Are there things you can improve before Saturday or is that impossible with the format we have now?
RJ Hampshire: Yeah, I need to just take these days we have to recover. I was pretty beat up from round one, plus I had to get stitches right after the main event. Coming into last night I thought I was in a pretty good spot, just trying to manage the main event and then it all went south. Just trying to battle for a main event win. I think we're close. My starts are good, we're up there. I think each time you're up there you get more comfortable, so I think it will continue to be better.
What about the decision to end up on the first coast (East), and what do you think of the quick racing format?
I probably feel different from the other guys, just since I'm trying to recover from injuries. You only have two days to be back racing after that first round. Depends on your situation. It's great if you're on a roll, it's not great if you're not.
With the stitches, would it have helped to get in another couple of days between races?
For sure, because I would have gotten my stitches out before we went racing. My hand was pretty beat up from Saturday. It wasn't a small cut, I had to get seven stitches and the gash was just completely cut open. When I tried to race the main event, it ripped it open even more. My glove was pretty much filled with blood. But hey, we're all dealt the same thing and we've just gotta' suck it up at the next one.
You ride with experienced 450 guys at the Baker's Factory. Is that reflected in your style when you're racing, or can you not apply that because in the 250 class there's high-energy, younger guys in there?
It's a whole combination, I get to ride with faster guys every day and I try to learn as much as I can. I think it improves you all around, but it's nothing like getting out there and racing these guys on the weekends. You just try to learn and improve every time you're out there.
What was your take on the incident with [Austin] Forkner?
Yeah that was pretty stupid. It was rushed, I didn't see it coming at all, and he went down with me. Kind of proves right there it wasn't that smart of a pass. We still want to be in this thing, so what comes around goes around, and I'm sure we'll have a moment again here.
Have your goals changed? You're pretty far back in points, do you know try to go for a win now only, or do you think you can claw back into the championship?
The goal is still the same—try to be there every weekend. Both weekends I don't feel like I tried to overdo it. I felt like I was on pace. Christian was faster at round one but I felt like I was right there with everyone else. The other day, Jett had the speed, but once again I was right there with those other four guys. I have no doubt that my time is going to come. I just need to put myself in a good position and not get cleaned out, I guess. I don't know what I could have done any different in that main event. I didn't leave much room open.
How did you control yourself, emotionally, after that? Did you have to take a deep breath and just chill out for a second? We didn't see you go for revenge.
Yeah, hey I'm under a corporation right now. [Laughs] I don't think they would have been too happy if I did something! But dude my whole side is burnt right now, I got hit with his tire and that ripped my side up pretty good. Yeah, I would have liked to have tackled him or seen him after, but sometimes it's like, alright, it was stupid and he has to know it was stupid. I don't know if he was thinking much. Like I said, we have seven races left , all I can do is try to claw myself back. Hopefully once we get that first win, they start coming easier.
Will the injuries weigh on you at the next race? How do you block that out?
Just do everything I can. My stitches should come out Friday or Saturday morning, then I have another thing on my hand from Tuesday. I think my side will scab up so that won't have too much of an effect. Mainly, it's just scabs and bruises. I did hit my head a little bit but we have time so I think I should be okay. We have a couple days so I should be good, as long as I have strength in my hand.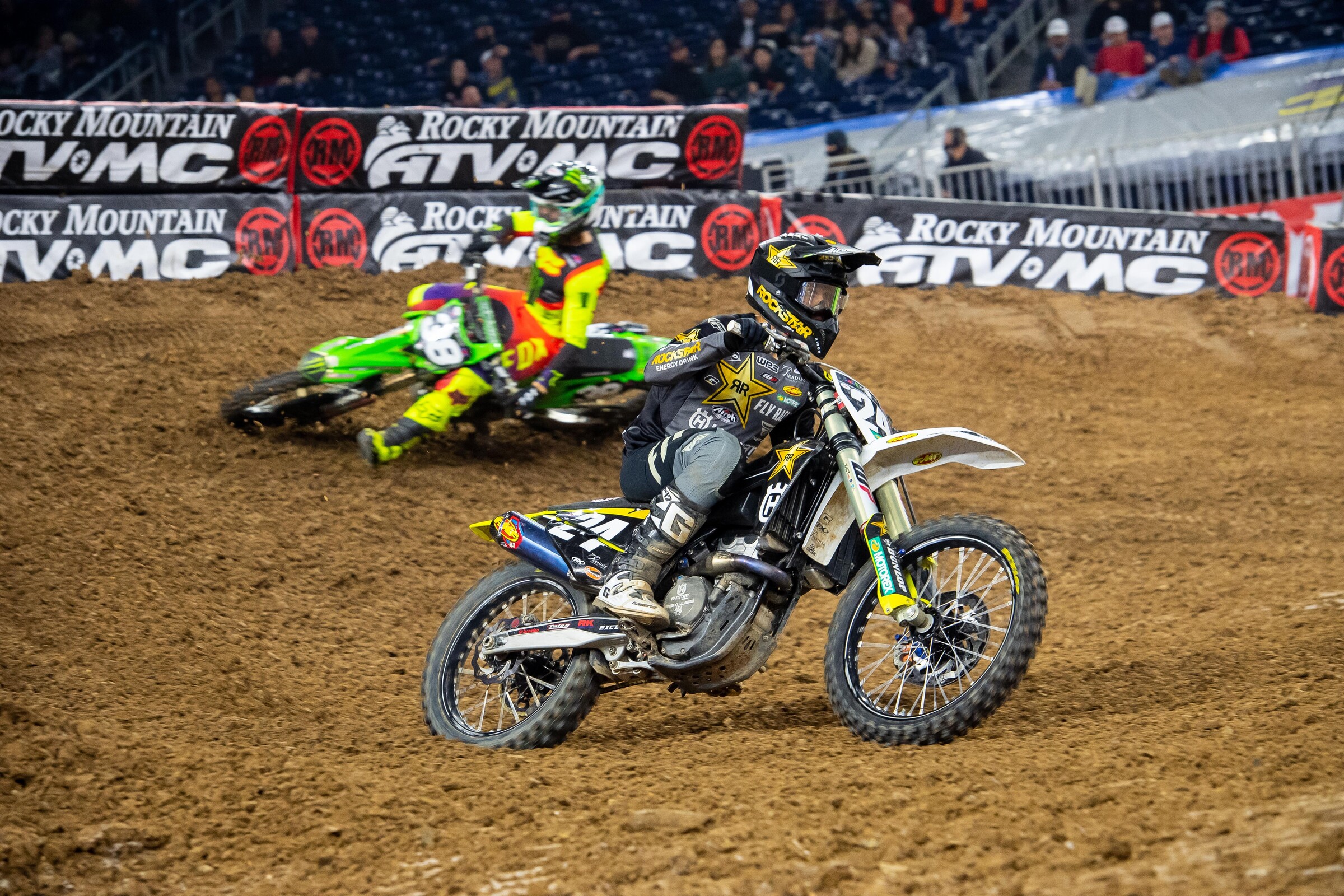 Racer X: Max, inside the top ten at the first two races. Are you hitting your goals so far?
Max Vohland: Yeah that was the goal, and I ended up getting ninth, which was great. I got some bad starts on Saturday so we wanted to clean that up for Tuesday. I ended up doing that and finished one position better, so if we can keep making those steps forward that will be good for me and the team.
What kind of feedback is the team giving you?
Well they pretty much have the same expectations we have. They just want to keep seeing improvement, and so far they have, so we just want to stick to it.
What has your dad said about your first two races?
Yeah he's happy, he hasn't said too much about it. He knows our strategy and plan for the future. I think everyone is happy, I haven't been yelled at yet!
It's a unique situation to have your first two supercross races in such a short time span. What would be the biggest things you've learned so far?
The way the schedule is for me, it's a learning year and I've learned a lot, but it does suffer a little where you can't go back to the test track and work on your bike or yourself of conditioning. That's a little unfortunate, but it's great to be racing constantly. These are actually my first two pro races, so I'm learning what they're doing. I'm just trying to suck on to their speed and then try to do what they do.
How do you maintain your composure at such a young age?
Well a great positive behind me is that my dad raced for many years, so he's prepped me and groomed me to be a smart rider and not take too much risk. Especially with these guys, it's easy to get over your head, make a mistake and go down. Then you're out. So we've always focused on risk management. Just trying to stay healthy so I can keep racing these guys.
Are you happy you're racing the first coast?
The original goal was to race the second coast, but so far I'm happy with the results. The only thing is, it's hard to make big improvements when you can't go back to the test track between races. But I just really need to keep improving and so far it's going great, so I'm happy.
Racer X: How did the dirt change through the first two races?
Michael Mosiman: I think it firmed up quite a bit. I was pretty impressed, some of the rhythm sections, they still had the ruts, but they didn't get quite as deep, so in the rhythm sections you didn't get as much side-to-side. It wasn't a ton different, I think they did a good job keeping enough moisture in it so it stayed as that soft, Houston clay. It wasn't a ton different but it did harden up a bit.
You rode Rockstar Energy Husqvarna the last two years and now you're with TLD GasGas. Did you just put red plastic on your bike? Are you running different settings from last year?
Yeah it's been a switch and the change is more than I anticipated. A lot bigger change than I expected. The bike was lighter. Also, I took a good bit of time off last year so although you remember the old characteristics, it's not quite as fresh. This bike was faster, so the handling ends up feeling quite a bit different. There's a bit less engine braking. I've had to adapt some, but there's definitely, obviously, similarities. I've gone a different route—a lot stiffer, suspension-wise. I also like the Akrapovic pipe, it's a lot smoother. Just a different feel.
What about racing the first coast, and the schedule?
I feel pretty good about it, I like getting to race a lot. The Saturday/Tuesday/Saturday format helps keep you engaged, it's not like a fresh thing every week. It becomes common being able to get out there—the shorter time you have between races, the more comfortable you are. As for what coast, this coast is absolutely stacked, so maybe the other coast would have been easier. I would have liked to have had more time to prepare, but at the same time it would have only been about three weeks extra, so that's not a big amount of time. So I'm pleased with it—racing the first coast.
You were out a long time with a concussion. What did that heat race win do for you, and just running at the front, how does it feel to know you're back at the front after so much time away?
You know what? I didn't even consider that. I never really doubted that I would be competitive. That first week of supercross, you're like, 'Man, can I hit that triple?' Because it looks really big once you're off for a bit. But once you get back on it, I never really doubted myself. Sometimes you hear people say that, but then I get to go to the track and I get to ride with guys like [Jason] Anderson and [Justin] Barcia. You ride with them every day and it reminds you that, 'You know what, I'm pretty dang good at this!' So I never had any doubts or concerns about getting back to race shape.
We've seen you on the podium before. Last night you won a heat race. How much does that add to the confidence?
Most definitely that adds to it. Crossing the checkers first, it's like, 'Yeah, I can do that.' I think we really found something on Tuesday, especially in the whoops. I'm pleased, I'm excited. Everyone said it's a step in the right direction, but I'm saying three steps, because I went from seventh at the opener to fourth. We're on our way.