Houston, TX
Houston 1 (East)
Monster Energy AMA Supercross Championship
We're in a weird stage for this sport—but a good one. Careers are stretching further than ever, so where injuries or burnout would previously break off a few contenders, we instead see new contenders join the fold while the previous big-names remain. That leads to a real showdown between the shiny new toys and the established pillars. This year's class adds two-time 250SX Champions Chase Sexton and Dylan Ferrandis to the mix, for example. There's still only three podium spots and one first-place trophy up for grabs each week. So where do these riders all fall in the pecking order?
It was only three years ago when Jason Anderson and Marvin Musquin took first and second in Monster Energy Supercross points. Even before that season, they were easy picks as favorites (alongside Eli Tomac) after Musquin absolutely rolled through the off-season with race wins at Monster Energy Cup, Red Bull Straight Rhythm, Paris, Geneva and more. Anderson battled Marvin hard at Geneva, took second at Monster Cup, and won the Aus-X Open in Australia. Yes, at the time Tomac and Ken Roczen might have been the biggest names with the highest pedigree, but Musquin and Anderson had won enough to prove as real, genuine title contenders and even favorites heading into '18. Then Tomac faltered while leading Anaheim 1, and Anderson took advantage with an early season edge he would never surrender.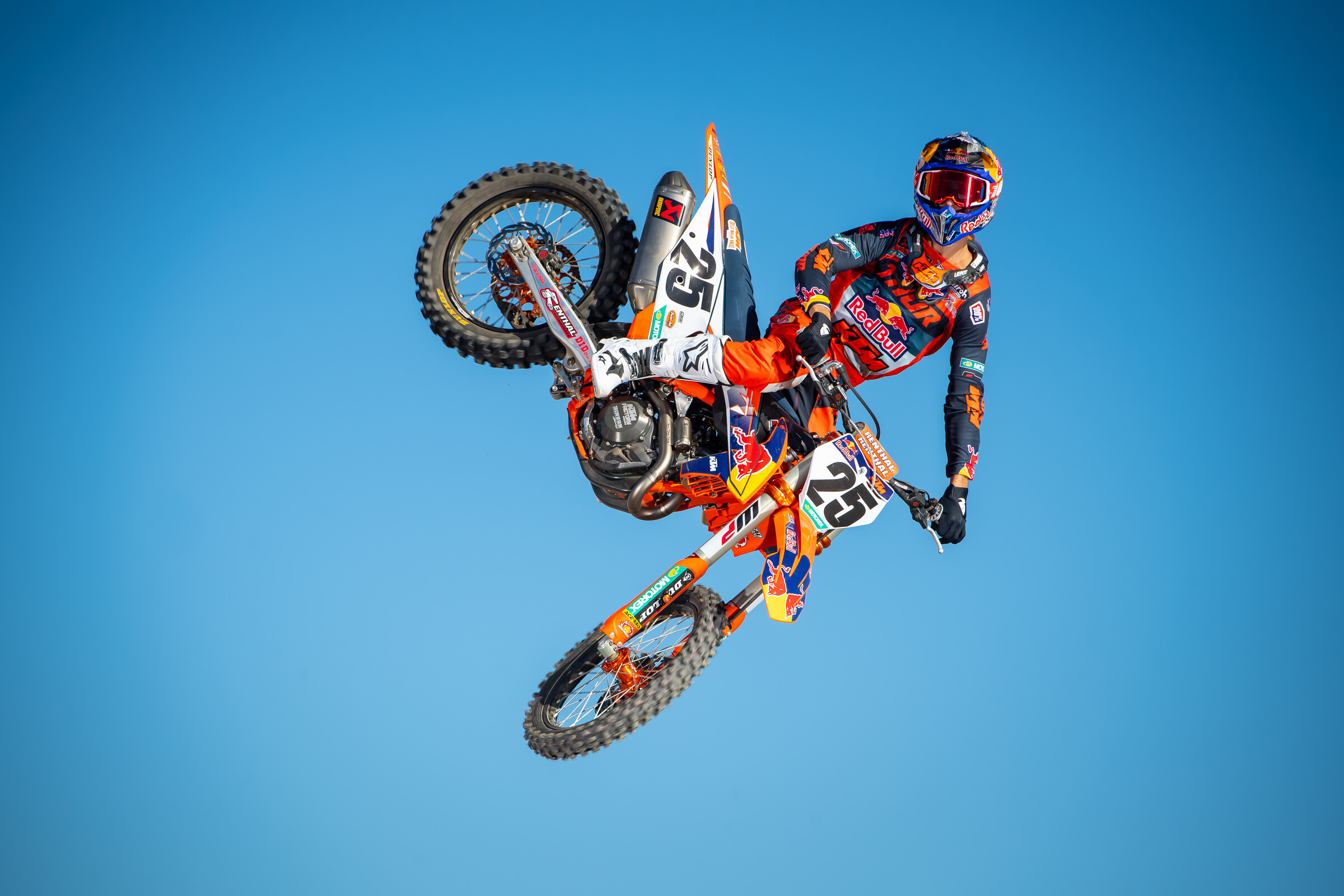 That wasn't that long ago, and Anderson and Musquin are still here, yet, likely no longer at the top of anyone's favorites list. As an example, today Monster Energy Supercross published its first Power Rankings list of 2021 (which is a vote from a large panel of industry experts) and Anderson is ranked sixth, and Musquin tenth.
For Anderson, this is based on simple math. He hasn't won a Monster Energy Supercross race since that 2018 Championship season. Anderson isn't usually one to use the "everyone always doubts me" angle for motivation, and he's usually pretty brutally honest about his performances. When asked about this in last night's press conference, he didn't take umbrage with it.
"Uh, yeah, obviously I won in 2018 and I haven't won since, so they have some facts to back up their argument," said Anderson of the critics. "I'm hoping to get back to that level and be winning and stuff, but it's tough because you have these younger guys coming up and the level just gets gnarlier every year. No one is making it easy on me or the other guys, the competition is deep.
"Compared to last year coming in, I feel better, but I also feel there's a lot of guys that are firing on all cylinders," Anderson adds. "Yeah, I definitely hope to be back at that level and hopefully I'll be back winning."
Anderson gathered some headlines when he announced a split with trainer Aldon Baker last year during the break between Daytona and Salt Lake City. To Anderson's credit, after that break he very nearly won the final Monster Energy Supercross of the season (his seat fell off while leading) and then ran away with the first moto of the Lucas Oil Pro Motocross season. Now he's embarked on his first off-season without Baker in several years.
"I feel really good," said Anderson. "I have [training] help from Derin Stockton, and at the practice track I've been riding on my own as far as the motos, but I'm still at the track with Barcia, the GasGas guys, other guys. We're on our own schedule but we can kind of spy on each other around the track. This is my first off-season doing it on my own without Aldon. We'll see where we are, but I'm enjoying myself and having fun, and that usually makes my riding and everything better."
Musquin lost contender status after missing all of last season with a knee injury. The delayed start to Lucas Oil Pro Motocross gave him time to get back to the races, and Marvin was very nearly back to his old level. A few rough motos late in the season dropped him to fourth in the standings, and he admitted his knee was still an issue at those races. So, can Marvin get all the way back to where he was in 2018 and 2019, when he took second and third in 450SX, respectively?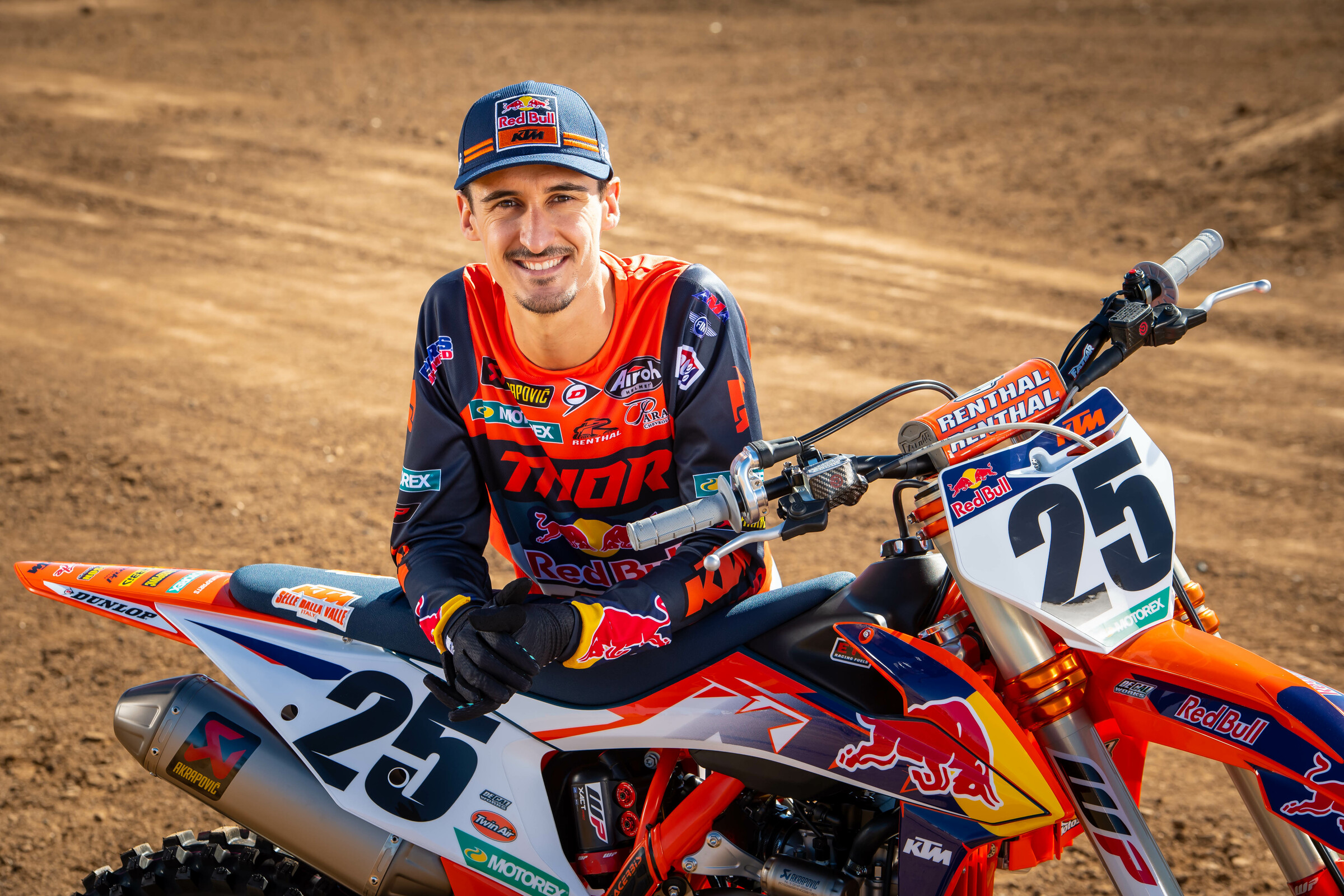 "Well, that's a good question!" said Marvin. "But this year my goal was to come back to my full potential riding a supercross track. My last race was Vegas back in 2019 so that's a long time. I was back for the outdoors and that was a good comeback but unfortunately, I didn't finish the way I wanted to. Now that the off-season is over, I'm pretty happy. At Baker's Factory, I get to ride with Cooper [Webb] and Zach [Osborne} and I feel like I'm doing pretty good. I'm excited to see where I'm at but training and racing are two different things. If you asked me if I was all the way back to 2018 and 2019, speed or physically I'd say I'm close but not quite there. Racing will tell me if I'm back to my full potential."
Like Anderson, Musquin isn't upset by any pre-season predictions.
"I missed last season so it kind of makes sense," Musquin says. "I had a big, big injury with the knee, and it took a long time to heal. I'm happy with how I feel speed wise and physically on the motorcycle. I don't want to say people forgot about me after missing a whole year, but that's how it is."