Every year, there are moments that help you to remember what makes this sport so special. It could be something that gets you on the edge of your seat in anticipation, or it could be something that simply puts a smile on your face. Even in such a strange year, we still were fortunate enough to see a lot of racing and good racing at that.
So, for one last time, the Racer X staff wanted to highlight some of the best moments from the 2020 season. The kind of stuff that made us forget what year we were in, or what was going on around us. These are our top picks from the year.
Davey Coombs
When the 2020 Monster Energy AMA Supercross at Daytona ended with a thrilling late-race duel between Eli Tomac and Ken Roczen, it was an almost too perfect a moment. Both were wearing red plates as the series was all tied up going in, each going for that elusive first-ever 450SX crown. Late in the race Team Honda HRC's Roczen made a mistake under pressure and tipped over, opening the door for Monster Energy Kawasaki's Tomac to move into the lead and sprint to the finish. The frustrated Roczen kept it close, crossing the line just 0.88 seconds behind the winner Tomac. We were ten rounds into a 17-race tour, and the sprint to the Salt Lake City finale was going to be epic. Next stop, Indianapolis!
And that's where it all got stopped, our picture frozen on the post-race fist-pumps Tomac and Roczen did on the apron of the trip-oval at Daytona International Speedway. It was all we would see for the next ten weeks, a supercross fan's dream matchup and the kind of thing promoters and TV producers can usually only wish for. Of course, the sport's world as whole spun to a stop due to COVID-19, leaving us hanging until well into summer. The agonizing wait for a conclusion to the championship made Daytona 2020—the 50th Daytona ever—seem bigger and bigger as time wore on. Tomac's charge took on greater urgency, Roczen's mistake grew in costliness, and the whole scenario froze in time. Well, for ten weeks anyway. To their ever-lasting credit Feld Entertainment made some bold moves to get the whole series set back up for a seven-race residency in Salt Lake City, and while the ending wasn't nearly as exciting as my mind had been building it all up to be, thanks in large part to where it all left off at Daytona with that fist pump between Tomac and Roczen, with all of these unmasked fans crammed together in the background. It's the last photo of supercross as we used to know it, and hope to know it again soon.
My second favorite moment didn't have nearly the staying power of the SX battle between the heavyweights. Rather, it was a moment of youth exuberance and pure joy, as well as an unexpected tribute to a lost brother. It was the start of the first 250 moto at the first-ever RedBud-on-a-Friday National, and the first time anyone had seen young Ty Masterpool all season. The precocious talent from Texas was a late addition to the Monster Energy/Star Racing Yamaha juggernaut after breaking his leg while getting ready for the (hopeful) start of the Lucas Oil AMA Pro Motocross Championship. Ty is a wildly talented though sometimes unpredictable competitor, with lightning speed outdoors, but, well, who knows what in supercross? He's never raced in one in his two injury-tainted years as a professional. Ty is also the youngest of the three Masterpool brothers, following in the wake of his older brothers Jesse and Jake. Together, they are the only three brothers to have all won Loretta Lynn's AMA Amateur National Motocross Championships.
Masterpool was surprisingly fast in qualifying at RedBud, reeling off third-fastest time behind teammates Dylan Ferrandis and Justin Cooper. But when the gate dropped on the first moto, he absolutely nailed the holeshot, blasted around the first turn at practically full throttle, and just as he was going under the holeshot overhead, he pointed to the sky, 39 others right behind him, the ones who could see it probably thinking WTF?! Who does this kid think he is? This was his first race all year and he's dissing us? Masterpool went on to lead the first half of the moto, setting some blistering laps before his lack of race fitness pulled him back to the pack. Nevertheless, he held on for a career-best third.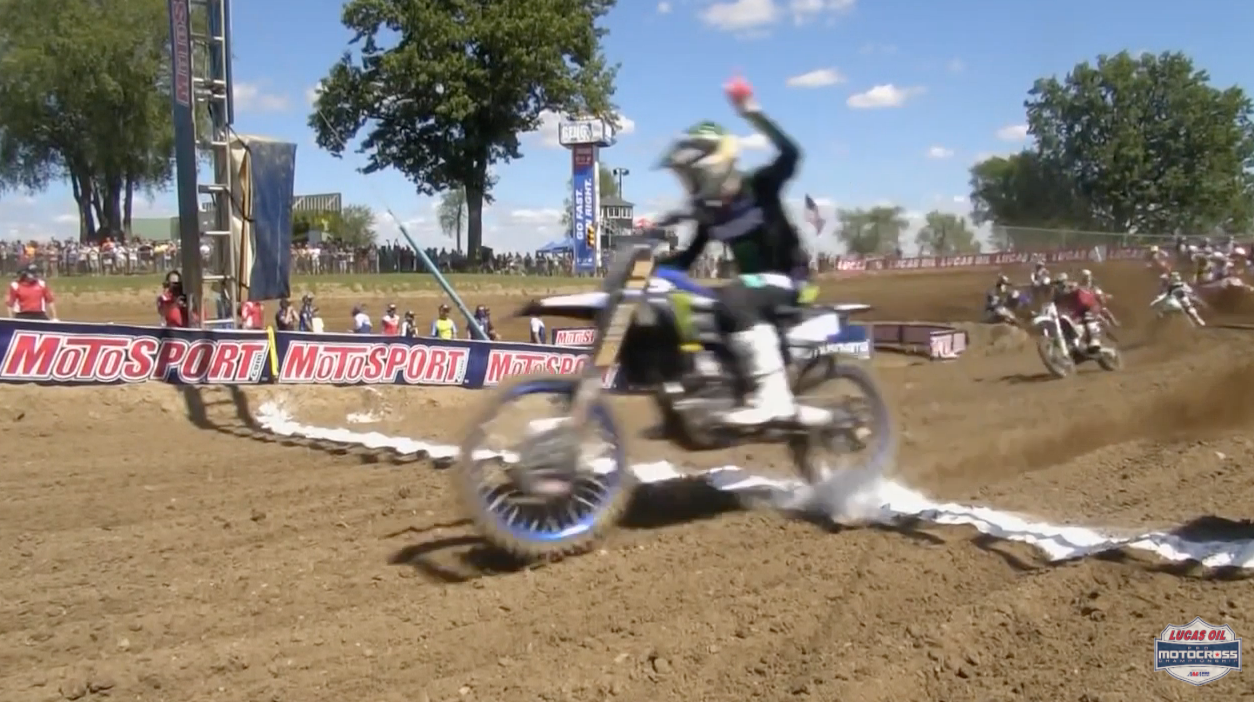 When asked about the one-handed holeshot by NBC's Will Christien, Masterpool, who few in the TV audience have probably ever heard speak (this was his first podium), we all found out in his answer that it was not just a youthful fist-pump or anything, but a nod to his lost brother Jesse, who passed away at a minicycle race in Texas nearly a decade ago. It wasn't a WTF moment, but rather a Hallelujah! feeling, a way to share the thrill of leading his first national with not only his brother in heaven but his other brother Jake, and his mom and dad Tara and Jerry. It was just a moment, but it was an amazing one.
Watch a replay of the holeshot below!
Finally, the end of the line at Fox Raceway in Pala, and not only for the on-again, off-again 2020 Lucas Oil Pro Motocross Championship, but for the GEICO Honda team. For more than 20 years Factory Connection's Rick Zielfelder, soon joined by Jeff Majkrzak, built and maintained one of the best race teams in all of SX/MX, grooming talents like Eli Tomac, Justin Barcia, Trey Canard, and many more into superstar talents, graduating their 250 riders onto Honda's 450 factory team. But after more than a decade with GEICO as their title sponsor, the insurance giant decided to go a different direction with their budget, and Ziggy and Jeff could not find a replacement, no matter which trees they shook for help, because 2020 was not an ideal year to look for corporate sponsorship for any kind of sports. So, on the eve of the last round at Fox Raceway, they told the riders and the mechanics they were shutting the doors on the team for good.
What happened the next day was astonishing. Riders Jett Lawrence, Jeremy Martin and Jo Shimoda blasted the 250 field in the last moto for a 1-2-3 finish, with fourth rider and rookie Carson Mumford a career-best seventh. And then in the 450 class GEICO graduates Chase Sexton and Christian Craig went 1-2 to conclude the best day ever the Factory Connection program. On the infield to see it all were Zielfelder and Majkrzak, walking around together and soaking up the last day of their partnership and their program—they went out like lions!
The GEICO Honda team celebrating its 1-2-3 finishes in the second 250 Class moto at the finale. Jett Lawrence also won his first overall with his 1-2 moto finishes.

Align Media
Aaron Hansel
C'mon, really? You want me to pick out a top moment from the year!? Even in a boring year of racing (has that ever even happened?) there are still more highlights than you can shake a spoke wrench at. But even 2020 was no different. In fact, you could just point to the fact that racing happened at all as the best part of a year that was otherwise very unsavory. I still can't believe Feld Entertainment and MX Sports were able to pull off what they did. I'm grateful they did because it really helped prop up the racing industry, which saved a lot of jobs. Maybe even mine!
As far as actual, on-track moments go, there are three that immediately come to mind—Justin Barcia's wild whip at Ironman Raceway, what Zach Osborne did at WW Ranch Motocross Park, and the incredible second-moto dual between Jeremy Martin and Dylan Ferrandis at Spring Creek MX Park. All were super exciting, but in totally different ways. Barcia's move was quick and short, the kind of thing you rewind over and over, each time as entertaining as the first. After taking away Adam Cianciarulo's line, Barcia scrubbed the ensuing jump hard and pulled a huge, foot-off-the-peg whip for good measure. He can't just make the pass; he's got to throw in some attitude too. It was so cool, and it's the kind of thing we'd all do at the local track if we had the skill. I know I would!
The Osborne situation was much more awe-inspiring. With a surging Cianciarulo starting to nip at Osborne's heels in the points, Osborne really needed to put in a pair of strong motos. And boy oh boy, did he! In the first moto he shadowed Chase Sexton and Cianciarulo before making the pass late in the race to take the win. Cianciarulo really needed that win, but Osborne just shut him down, zapping his momentum. The second moto was even more impressive. Eli Tomac got on a roll and was charging hard, and when that happens, he usually gets his way. Only this time, he didn't. After tearing his way up to second, Tomac was all over Osborne and applying more pressure than a hydraulic press. But Osborne held up like a chunk of tungsten, refusing to crumble. Lap after lap elapsed, and when the checkers flew it was Osborne who crossed the line first. He didn't need to win, either. A 1-2 still would have delivered the overall, and he still would have put points on Cianciarulo. The fact that he sailed straight into the storm anyway makes it that much more extraordinary.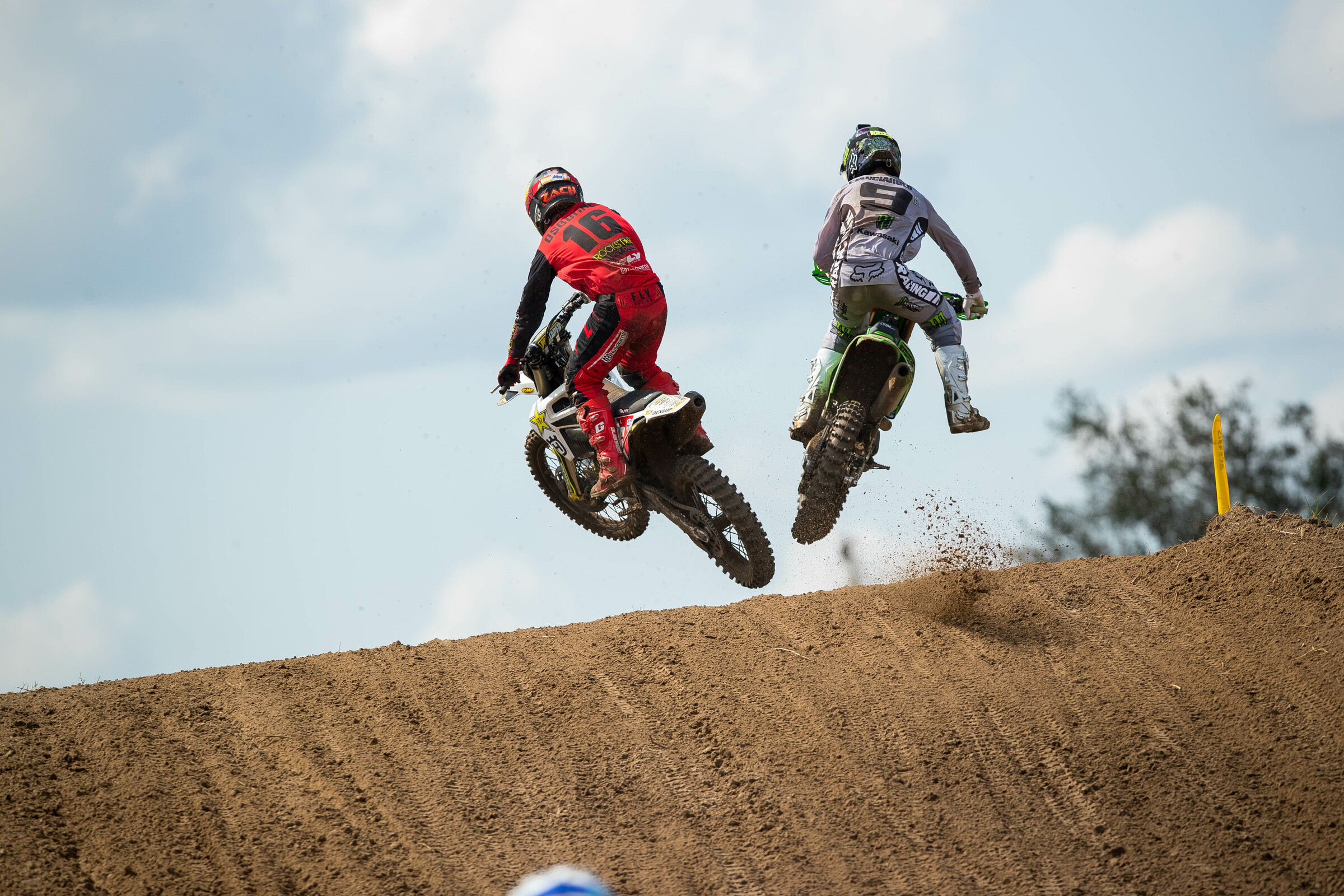 And who can forget when title rivals Ferrandis and Martin went at it at Spring Creek in the second moto? Martin's lead was thin coming into the day, just nine points, and after Ferrandis won the first moto, he and Martin were all tied up. Martin drastically needed to respond—if he didn't, the red plate would be gone. But it was Ferrandis who found his way to the front of the pack, which initially seemed like an end to the action. After all, Ferrandis was widely considered the fastest rider in the 250 Class in 2020, something even Martin himself acknowledged a time or two during post-race interviews. With Ferrandis all by himself up front, what chance was there for Martin to reel him in?
Of course, the racetrack is no place for logic, at least not on this day, and Martin, who'd garnered fifth in the first moto, dug deep, showing a titanic level of fight and heart in front of his home crowd. On lap seven he displaced Justin Cooper for second and went after Ferrandis. Lap after lap the two gave everything they had, clawing for every hundredth, even thousandth, of a second, willing themselves to find every available ounce of speed and advantage. It was so intense I broke a sweat on my couch, probably from involuntarily standing up and sitting down so many times, jaw hanging open and hands clamped firmly on the sides of my head. In the end, after an exhilarating and unpredictable final lap, Ferrandis hung on, but by less than half a second. No matter who you wanted to win, your only option was to shake your head and smile. The battle for the moto win, and points lead, was as electrifying as it gets, and the show of heart would have made the Grinch melt.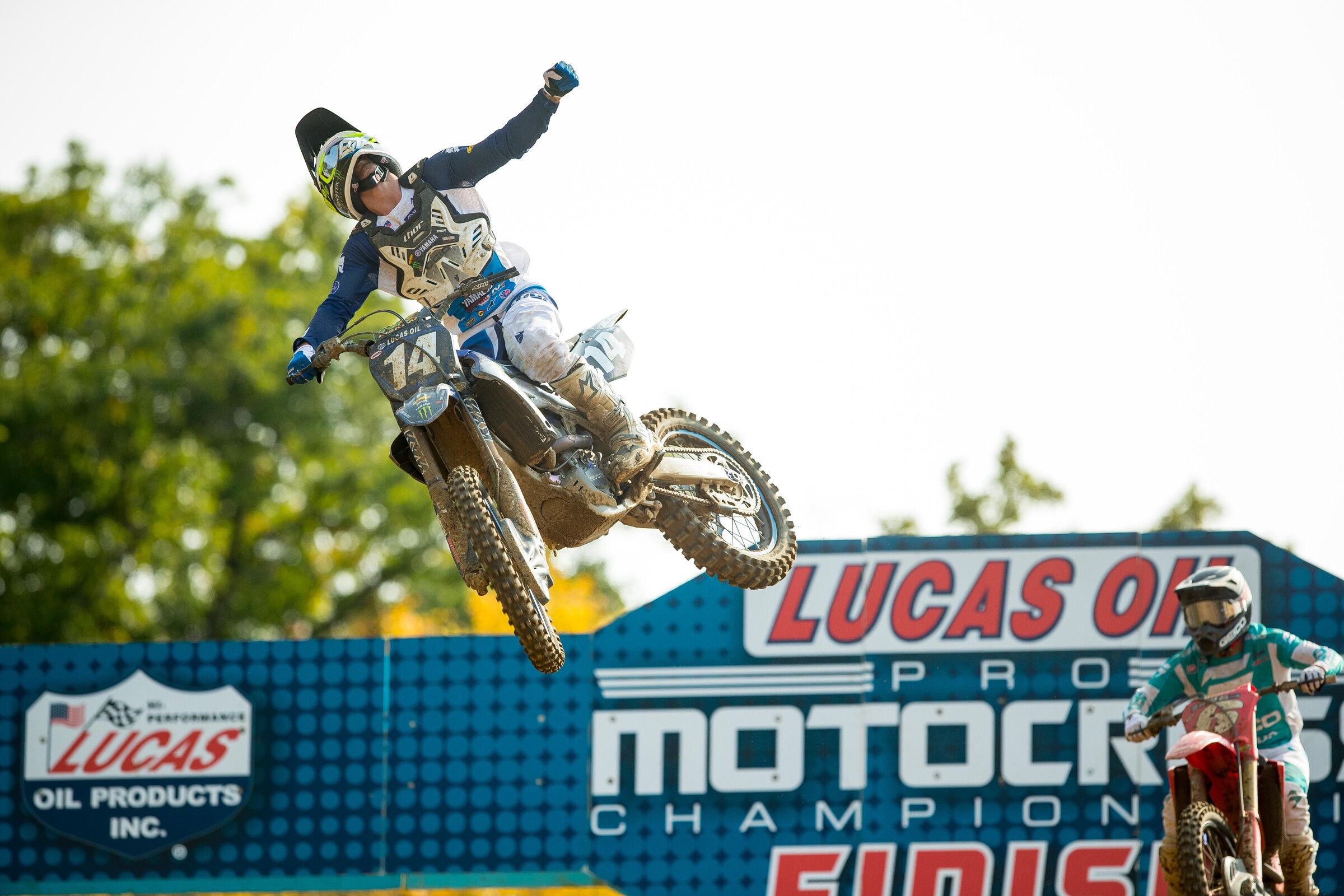 Kellen Brauer
For me, there were three really standout moments during Monster Energy AMA Supercross that I feel I will look back on a lot in the years to come. There were plenty of great races and battles in motocross as well, but I can remember feeling that even at the time of the events happening, they were special.
The first one is the desperation during the last five minutes of the 250SX main event at Anaheim 2. Disregarding the contact between Dylan Ferrandis and Christian Craig earlier in the race that became the focal talking point, the ending to that race was one of those moments where you stop typing in the press box and just watch like everyone else in the stadium. After Jett Lawrence had crashed away a sizeable lead in just his third ever supercross start, Dylan Ferrandis was on the prowl. Nearly the whole stadium was standing and urging on Lawrence as Ferrandis has made himself public enemy #1. The gap was slowly coming down as such to the point you could tell this race was going to be decided on the final lap, and what a final lap it was. Lawrence leaving the door open for Ferrandis to almost push him off the track before the triple, and then the youngster held it on almost jumping off the track. Ferrandis was able to capitalize and make the pass before the endo we all remember with Lawrence laying it all on the line for his first career win. The noise from the crowd in those roughly 30 seconds of action was incredible. Thunderous cheering that unfortunately seemed to result in the air being sucked out of the stadium. We don't often get races like that where the entire stadium feels that anticipation and emotion. Regardless of outcome, it was a moment that left you shaking from adrenaline for a good half hour.
Watch the 250SX West Region main event highlights below, starting at the 5:20 mark.
The second moment was more sentimental and coming of age. At the San Diego Supercross, we laid witness to a battle for the win that was decades in the making. Adam Cianciarulo and Cooper Webb were fierce rivals as amateurs. Though there never really appeared to be animosity between the two, they certainly found each other on the track a lot. Even watching them on minicycles, you started to wonder when those two realistically might be on top of the sport. Well, San Diego finally saw that reality. Cianciarulo led early from Webb with Blake Baggett closely in tow for much of the race. Just like watching them as amateurs again, Cianciarulo and Webb diced back and forth a few times throughout the race with both riders using great race-craft to read each other's moves. I found myself watching on as if the two of them were way out in front at the local amateur race again like years prior. Eventually Webb got the better of Cianciarulo and claimed his first win of the year. But it certainly felt like a small glimpse into the near future of the 450SX class where it seems likely that these two will fight each other for championships for years to come.
My final fond memory from racing this year was arguably the best actual race of the year. Salt Lake City 3 was a wet and soggy mess of a race that saw several top riders struggle to find a groove. That is, outside of Eli Tomac and Cooper Webb who both found two or three extra gears from the rest of the competition. During the race, each of them only passed the other rider just a couple of times but the pace they were both running was second to none. Lapping championship rival Ken Roczen twice, putting everyone else besides Jason Anderson a lap behind them, and pulling out a greater than 40 second lead on the field, Tomac and Webb went to battle. Jumping rhythm lanes nobody had touched all day long, the duo streamed through lap riders trying to size each other up for the right moment to pounce. Tomac was able to just hang on for the win, but it was yet another example of a race that kept you on the very edge of your seat until the flag waved. We can only hope we have another couple races like that when 2021 rolls around.
Watch the 450SX main event highlights below, starting at the 5:33 mark.