Joey Crown made a big leap in Monster Energy AMA Supercross early on in 2020. Crown, who had yet to qualify for a 250SX main event prior to this year, not only qualified for the first 250SX East Region main event of the year in Tampa, Florida, but he finished eighth. Then one week later he finished 7-5-10 for seventh overall at the Arlington Supercross Triple Crown event. Unfortunately for Crown, that's where his run in supercross ended as he suffered a crash during media day for the third East Region round—as he will explain in the interview below. Crown suffered a broken collarbone and a concussion in the crash and was not seeing success with his recovery initially.
However, he was able to get in touch with a doctor that helped him return to form—and an even better version of himself than before. Crown went on to race the Lucas Oil AMA Pro Motocross Championship with the Rock River Yamaha team (since the ClubMX team is supercross-only) but the Michigan native will be back with the ClubMX team for the 2021 supercross season. He has those strong results from Tampa and Arlington to keep him motivated for next season and the ClubMX team even stepped up the offer for him. Here's Crown on his great start to supercross earlier this year, the injury recovery process, Pro Motocross, and more.
Racer X: Almost a year ago we were here. You had good results the first couple races, and then what happened at Atlanta?
Joey Crown: Atlanta, fortunately enough the team got to ride press day, or so I thought. I was looking forward to it. It was cool. It had a lot of media. Normally when I go to press day I'm just there, but I had some good results kind of unexpectedly, so it was cool. I was just kind of easing it on the track. I was feeling a little off that day, but I was still just going to take her easy. There was a triple after the finish line that was pretty tricky. I hadn't done it yet. Everyone else was doing it, no big deal. I went to hit it and the lip was kind of flat and the landing was tall. I thought I had enough pre-load, but apparently, I didn't. Just kind of clipped the landing and that was all she wrote. Rode the nose, into the berm, and broke my collarbone. I hit my head and got knocked out for a little bit. I've hit my head before. I figured two weeks and I would be good. I got the collarbone done and literally two and a half weeks I was riding, ready to go. My head felt good. Then I was slowly increasing, and I started having issues with my head. I started having headaches and just some different residual symptoms.
It went backwards. You were getting better, then it went back.
Yeah. If I rode past 45 minutes, I would start feeling a little off, so I would stop. But I was slowly incrementing up to an hour, which is usually a day of riding.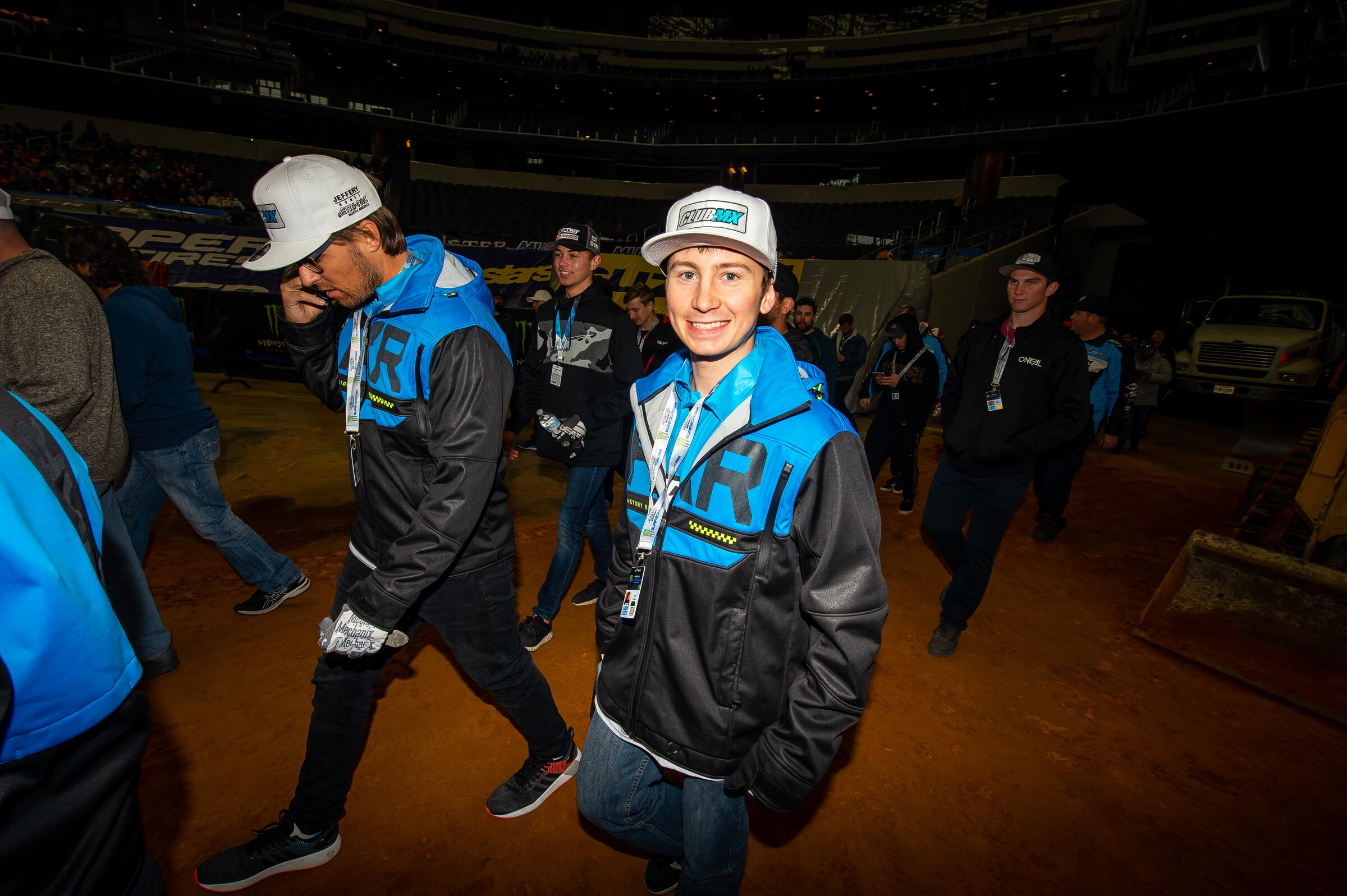 This is a bicycle?
No, dirt bike. I was actually on my dirt bike. I got to that point and it just started going backwards. I didn't crash or do anything. Then I took it easy for a few weeks and then got back riding again and it was even worse, and it just got worse. So, I took a month off of doing anything, absolutely anything, and then it wasn't any better. So, I was kind of getting worried at that point, because this is two or so months after the injury. So, I was doing research, and it was too that it was COVID-19 time so trying to get into a neurologist was near impossible. I had a voice one but that was kind of useless. Then I went in to see someone finally, but then it was going to be forever for the results. The answer was take time off. It could be a year. It might never heal, kind of thing. So, at that point I was getting worried, like maybe I'm done racing. Carter Biese, an amateur kid that was down here at one point, I heard that he went to this place in Minnesota and I hit him up about it and asked him about it. He had the same kind of deal going, three months of no progress. Then he went there and in two weeks he was good. So, I figured why not try it out. Unfortunately, insurance didn't cover it, so it was expensive. But I drove out there, spent a week there. A bunch of weird things you wouldn't think would help but did. A lot of eye movements. A lot of my problem was my eyes stemming from it. I spent all week there then I went home. They sent me home with a bunch of exercises and I still do them to this day, actually. I actually felt better than I ever have in a while. I didn't realize it, but it was affecting my energy. They thought too it was over time because I've had a couple of concussions. So, it progressively got worse to where my brain couldn't compensate anymore so then I started having symptoms. So that was kind of that. I got it figured out. Unfortunately missed Salt Lake, but I got the majority of the outdoors in.
That was what was scary, when we heard you might not even be ready for the first outdoor round and that's way after Atlanta. It was like, how bad is this? So you were worried at one point that it wasn't going to come back around?
Yeah, for sure. Before I went to this Minnesota place, I was kind of thinking I could be done or at least done for a year, for sure, and kind of reevaluate.
If you hadn't gone to Minnesota, do you know if it would have come back around?
I highly doubt it. If I would have, a long, long time. But I know I wouldn't have been as good as I was once, so to speak. So, thank God I went there and got it all situated. It wasn't anything they haven't seen when I went there. It's what they do. They've got people from all different sports and athletes.
Is it mostly sports?
Yeah. Not too many moto guys, but it's definitely getting more and more popular. I think a moto guy went there a few weeks after I did.
So, you end up on Rock River for outdoors. So how did that go? Or were you not really ready yet?
I was pretty ready. I kind of hurt myself a little bit. Once the season started, I was working hard trying to make up ground, which had the opposite effect. I needed to be resting and stuff in-between the weekends. So, once I figured that out, I started getting better. I had lots of bike issues and other things, just on me not being ready fully. So unfortunately, I had so many DNF's and things. Some flukes stuff. It was kind a deal thrown together. I thought it was going to be more legit, I guess, to be honest. But they were kind of more expecting just a bare minimum program. I rode Brandon Hartranft's bike from last season that he rode supercross and outdoors on. Then his son, Jameson [DuClos], rode it at supercross. So, it had a lot of time on it. So just dumb, little things would happen. Actually, the last round, the bike never started. I missed first practice and I had to borrow a bike. I rode some dude's practice 250.
Not a team bike?
No, not a team bike. We didn't have a spare bike. It was such a weird deal. We swapped everything you could think of. There was some sort of hex on that bike for that round. I was thinking, man, I flew all the way out here and I'm not going to be able to race. My dad and my mechanic, Alex [Harris], swapped motors, anything you could think of, but nothing worked. So luckily a local California kid happened to throw his practice bike in there.
And it was a Yamaha?
It was a Yamaha. So, I swapped my plastic out. I went out there and just to try. I didn't expect anything of it. I ended up qualifying around 20th, which was pretty average to what I had been doing and it wasn't even my bike and it was all stock. In the first moto we had swapped everything around. I went to go take off for my sight lap and the thing barely moved. The clutch was just smoked. So that made it tough. I still finished good and I had a fall or whatever. Then my second moto, fixed the clutch and it ended up being my best moto all year. I would have had a really good start, unfortunately I missed my gate pick, and it was way on the outside. It was my fault. I had a good moto. I think I was 12th that moto, or something. Which, not where I wanted to be, but for all the stuff that happened I was content ending at least with my best finish.
So, did you know that you would necessarily be back here all along? Or did this happen to work out again?
I was talking to Brandon [Haas, owner of ClubMX] the beginning of the summer before outdoors, right at the beginning and he wanted me to sign a deal. Rock River had wanted me for this supercross season, but I was kind of uncertain because they were uncertain. They were trying to actually combine with Club. I'm sure some people heard rumors at one point. It didn't happen. I knew last year I was happy with everything, and Brandon had a better deal than last year, so I was stoked to be aboard again for this season.
So, it's maybe even stepped up? Because you and Enzo [Lopes] were really riding well last year, but you think it can even elevate?
Yeah. The deal, the sponsors bucked up a little bit and paid a little bit more. This year I have a practice guy [mechanic]. For at least the beginning few months I was here I was doing my own maintenance and whatnot. So that's a big help. I can be more focused on what I need to do. Also helping out with the training and a few different things, which is awesome.
Is there some residual confidence from those first couple rounds that were really good?
Yeah, for sure. I need to remind myself every day, on the tough days, that I've done it. But it's unfortunately not as high as at that point, especially after Arlington when I ran second for a while in that one main. It was like all my confidence was back. I was ready to be top five in Atlanta and podium. I was confident enough that I could be there, with getting that race fitness up. I felt like I could have been top three in Arlington. I just got a little bit tired. I'm not used to running second place for so long.
You weren't even making mains the year before. That's a big jump.
Yeah. It's a little bit of a jump. I still try to remind myself of the past. I watch film of it to remind myself. Off-season races too that were really good. Unfortunately, this year, we don't have those.
You were kind of the off-season king there for a little while.
Yeah. I finally found out about that stuff or got invited to Straight Rhythm. I won there, so that got me into Geneva, and that got me into Germany. So, I have all these contacts now to go over there and do racing, and now there's no racing.
Do you still look back a little bit though and be like, Okay, at least I got the head thing fixed? That sucks you didn't have the off-season races. You didn't get all the results you could have gotten last year. But at the same time, there was some good news, because this could have gone worse also.
Yeah.
And you're back on a good team.
For sure. I'm very grateful. Everything happens for a reason. Happy and thankful my head is good now. The outdoors weren't great, but I was able to build and get back to race speed and build the fitness up. It basically led right into supercross training. I had that base from outdoors. I was thinking I was going to come in and it was going to be easy, but supercross is a lot different. The legs were burning after the first few days. Just little things. It's a total different animal as you work different muscles and stuff.
Twelve weeks into this? That's what Brandon was saying. This is a gnarly program.
Yeah. It's pretty crazy. Those guys started before I did. I was racing when they started. I took two weeks off after Pala and then came down and started. Then it's been pretty much wide open ever since. It's been a lot.
You're going to be ready, though.
Yeah. Should hopefully be, for sure.
---
Main Image Courtesy of Mike Vizer