Welcome to Racer X Next, where we interview up and coming amateur racers. We'll check in with racers on topics such as their training program to qualifying for and competing at the Monster Energy AMA Amateur National Motocross Championship at Loretta Lynn's Ranch, and much more.
This week, we talk with Rock River Yamaha's Levi Kitchen.
Birthday: Feb 16, 2001 | Current Age: 19
Hometown: Washougal, Washington
Instagram: @levikitchen147
Team: Rock River Yamaha
Classes: 250A and 450A
Kitchen burst onto the scene about a year ago when he competed at the 2019 Mini O's and claimed three big bike titles (250 B Limited and 450 B Limited SX and a 450 B Limited MX). Kitchen really made a name for himself at the 2020 Monster Energy AMA Amateur National Motocross Championship at Loretta Lynn's Ranch in August when he claimed both the 250 B Limited and 450 B Limited titles. The Rock River Yamaha rider was one of only four riders to go a perfect six-for-six in all of their motos this year and he won those motos by an average of 32 seconds! He made the jump to the A class last week during the 49th Annual THOR Mini O's where he claimed four supercross titles (250 A, 250 Pro Sport, 450 A, and 450 Pro Sport), two motocross titles (250 Pro Sport and 450 Pro Sport), and second overall in the 250 A motocross division. For that, he earned The Dunlop Silver Tire Award for collecting the highest number of combined points in both supercross and motocross in the Pro/A classes.
Considered one of the hottest amateur prospects at the moment, Levi acknowledges his natural gifts on a motorcycle, but he still knows he has to work alongside of his natural abilities. I called up Chef Levi to check in on how Mini O's went, how he spends his free time, and find out what the industry is dying to know: what does his future looks like?
Racer X: Alright, I've gotta ask this to set the record straight: do you like any of the nicknames related to "chefs" or cooking or anything related to your last name? I know a lot of people do it as a joke. Is that something you like? Or is that something that you're trying to get rid of?
Levi Kitchen: No, I think they're funny. I think it suits me well. [Laughs] Yeah, I think it's funny.
Okay because I've been saying it so I'm on the bandwagon of people saying it. You've been riding really well so I've been saying you've been cooking and pretty much any pun or connection I can make to your last name. So as long as you're cool with it, we are going to keep doing it!
Alright, cool. Yeah, I'm fine with it! [Laughs]
So you're from Washington and we saw you were riding at Washougal after Loretta Lynn's this year, have you raced there a lot throughout your life? What was that like?
I used to ride there quite a bit growing up really, all the way up until end of 2018. Then, I moved to Louisiana to start training at Real Deal [Training Facility] and that's where I've been mainly. When I go home now, it's a pleasure to get to ride Washougal. I definitely don't get to ride it as much, only about four times a year now. It's always a nice little treat when I get to go home and ride it for sure.
We saw you skimming across the whoops—we posted a video of you and some of the other riders who had some awesome lines going through there. It looked pretty cool.
Yeah, those [whoops] are fun.
So you mentioned the Real Deal and living in Louisiana, what's it like living and training down there? Who are you training with?
It's good. Rob Burkhart is my coach on the bike and with the help of [Kevin] Windham lately, as well. He kind of came in a little bit before Loretta's and has been helping me quite a bit. And then Sherry [Burkhart] is my gym teacher and she kicks my butt in the gym. It's been good. It's in Kentwood, it's just a small little track but it's good. The tracks are good. We have one main track and a few turn tracks. But now actually, I'm not sure when I'll be back, maybe the middle of January, February, we actually just moved over to Windham's place, so that's where the whole facility is moving [to]. I'm excited for it, it'll be a change but something new, so it should be good.
What is that like being able to train with Windham? You're probably in awe—how do you keep yourself grounded and like being focused on getting better?
It's good! He has a lot of good things to say. He knows a lot more than most just because he had such a good career. Whether he was winning or not, he was just a good guy off the track and I think went a long way, personality wise. And all the different things he did for the race community was good. He's a huge help. He makes me pretty grounded, like he don't mess around sometimes. He'll tell you what you're doing wrong and get it fixed for sure! [Laughs]
You said there is one main track, do you practice supercross a lot—or at all?
There was not where we were but Kevin does have a supercross track. I don't know when I'll be riding that when I go back or whatever. I didn't ride much supercross, no. I was in California last year for about a month before [Supercross] Futures and rode some. And now I'm actually out in California right now riding some, just trying to get my feet wet on it so I have that knowledge.
Just testing supercross now because it's the off-season and you have time?
Yeah, just trying to see where I'm at on it. Today was actually my first day. I feel pretty good on it. I mean, I've got a lot of work to do but I think some of the basics I'm already catching on pretty quick.
The November 2020 Issue of Racer X Illustrated
2 Tribes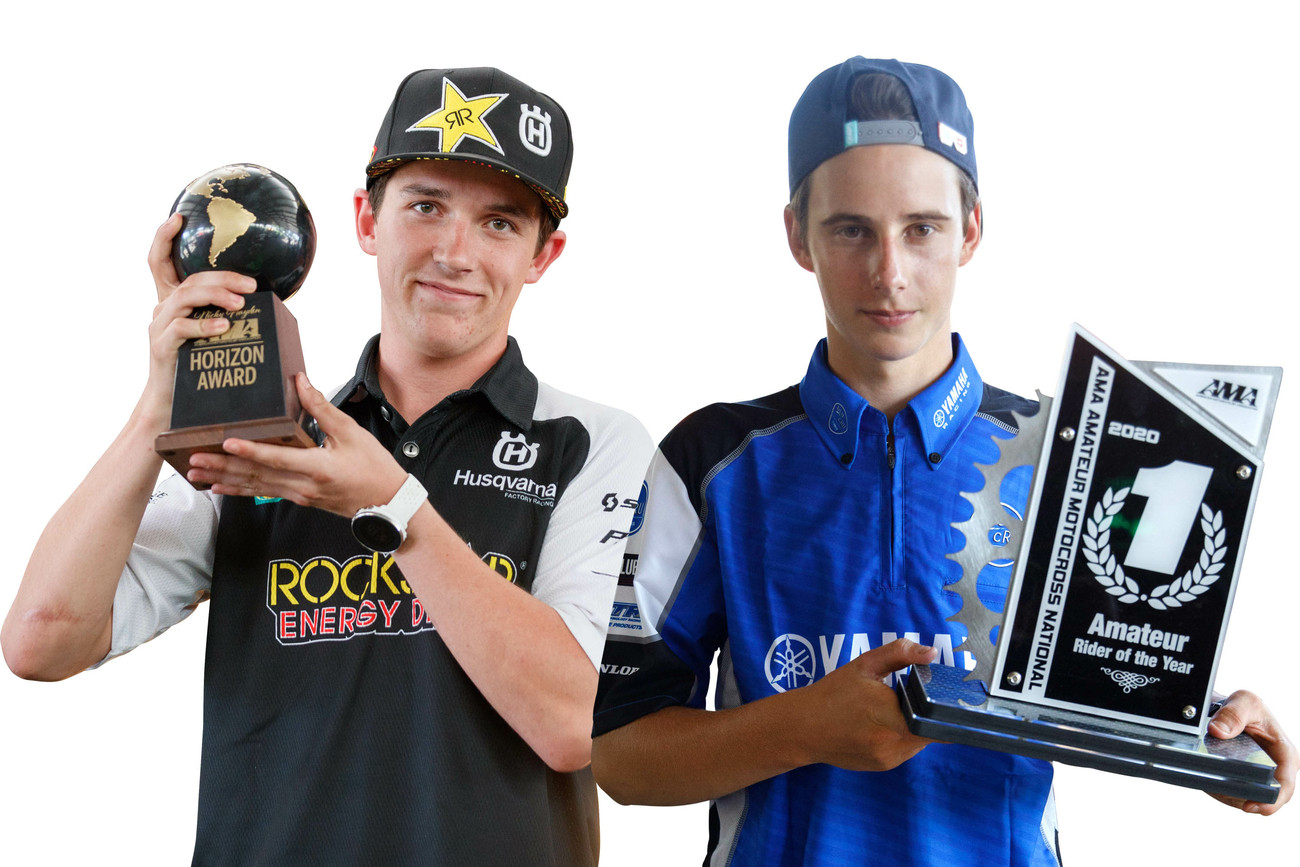 The newest AMA Horizon Award winner Stilez Robertson goes head-to-head with AMA Amateur Motocross Rider of the Year, Levi Kitchen.
Read Now
Preview Now
What do you think is going to be the hardest part about supercross?
I think it's just going to be being consistent and hitting your marks, and also breathing. I can do a 30-minute moto on a motocross track but right now, five laps in [for supercross], you forget to breathe and you're just out of breath. So definitely learn how to breathe. And I think the biggest thing with supercross that people that are just getting into it lack is just the confidence to push through stuff. You know, everybody can jump the rhythms, but pushing through them is definitely where you make your time up for sure.
So are you testing supercross with Rock River out in California?
I'm actually testing out here with Star [Racing Yamaha]. We're looking to get things going with them. I had a good week at Mini O's…I mean, we [the Star Racing team] had talked a little after Loretta's and they just had the new 450 team coming aboard and everything and it just wasn't great timing to get something done. I had a really good week at Mini O's so they invited me out to come ride with them and stuff. So yeah, I'm just pretty much taking it day by day right now.
Your deal with Rock River Yamaha, how did that come about?
Rock River has been great. It pretty much got me to where I am at right now. Ed Torrance [team manager], I talked to him a little after Loretta's in 2018, when I ended up second on the 125. At the end of 2018, beginning of 2019, I signed with them for a 125 deal, it was only a year. And then did pretty well on that, ended up getting some moto wins at Loretta's that year. Kinda had a bit of a rough week but my speed was there and everything. I would say the beginning of this year was really when everything kind of turned around for me. I got on the 250 and the 450 and I was in the B class. I won Spring Nationals and then went into Loretta's—as everyone knows, on the stock bike—and at Loretta's I did very well. Then I moved to the A class, Mini O's went great, Ponca went good, too. So yeah, that's where I'm at right now but they've been a huge help. Ed Torrance and Danny Lewis has joined to help out, too, and it was a great team for sure.
A lot of people were saying you did great at Loretta's but what would it be like if you were racing the A guys, but you raced against them just last week at Mini O's and it went great for you. How does that help with your confidence and your stock for the future?
Yeah, it was great for sure. I really didn't know what to expect. After Loretta's, obviously I had a lot of people excited for me but also a lot of, I don't want to say hate, but people were like, "Well you're just racing the stock classes, there's never any good people in the class, blah blah blah." We pretty much just had to go off lap times at that point for my speed and stuff. [Laughs] And then going into Mini O's, I was confident and I'm just glad Mini O's went the way it did. I just kinda showed them that I can run with those guys as well.
I know you pitted out of the Rock River Yamaha tent next to some of the Star Racing Yamaha guys like as well Nick Romano, Matt LeBlanc, Nate Thrasher, and some of those guys at Mini O's. What's it like being around some of those top tier guys, both on and off the track?
It's good. We all pitch each other crap but we all get along pretty well. In my opinion, it doesn't seem like there's many differences, like yeah, they're on Star and I'm Rock River but everybody seems to get along well. And, as far as amateur wise, I think my bikes were plenty competitive on an amateur level. We all got along but the end goal was for sure to be on that side of the tent on a Star bike. So that's what I was working for the whole time.
Have you been around the 450 guys or any of the 250 Star Racing guys at all?
No, not yet. After Mini O's, I just got to California yesterday and then today was my first day riding supercross and it was just me, Nick, and Nate so I haven't really seen them ride or been around them yet, no.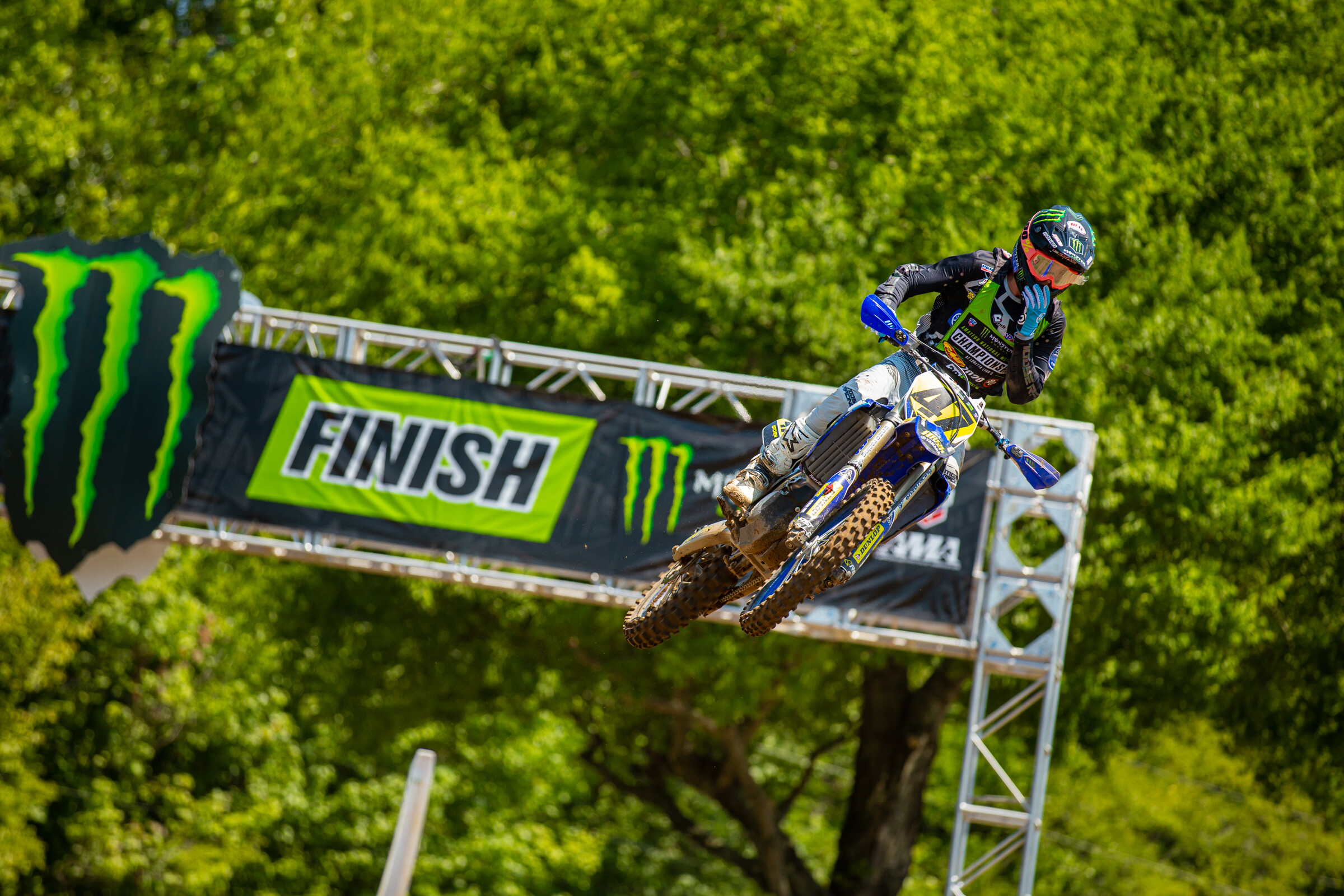 What's the rough plan at the moment for 2021?
I'm just taking it day by day but I think initially, [the plan is] to stay amateur A until Loretta's, race Loretta's as my last amateur race and do some outdoors after that. It all depends, I don't know. If the next few months on supercross feel really well and unfortunately people get hurt these days so if an opportunity to fill in comes up, maybe I would do that. I got my points at Mini O's. But my initial goal is, if I feel ready, I want to just go [pro] outdoors next year and just kinda make that my plan. Or do Loretta's, either way. I'm open to anything, really. Whatever they [the team] think I should do, they know best.
When you mentioned struggling a few years ago, did you ever think you would get this far and have the opportunity to turn pro as a racer?
Well, back in 2018 before Loretta's, I had a work belt on with my dad, going to be an electrician for him sometimes! [Laughs] So at that point I really didn't know what my plan was and I started feeling doubts, like I didn't know if this was really for me. When I went to Loretta's in 2018, I mean, I literally went straight from the couch. I went from helping my dad and I would maybe ride once on the weekend, I was out of shape, I really didn't have any sort of a program and then I went to Loretta's and somehow got second, I don't really know how! [Laughs] So it definitely shocked me. People had always told me, a lot of my buddies and family were like, "If you just put in the work, maybe you can do good." And finally, I think with maturity and stuff, I kinda got to the point where I knew I needed to do something and then that's when I moved to the Real Deal. It just got better ever since. As soon as I started putting in the work, I feel like I am naturally gifted in some aspects on the bike, so once you put work ethic behind that you can't really beat it.
What would you say as motivation to a younger rider? What's a motto you live by?
I live by the motto, "Hard work beats talent when talent doesn't work hard." There are guys that have no talent on a dirt bike and they grind it out all their life and those are the ones that come out on top. But I feel like if you are also naturally gifted at dirt bike or whatever sport it is, if you work hard at it as well, you're going to be the next big thing as well.
Away from the bike, when you have time off, you park the bike in the garage, what's the one thing you are like, "Alright I cannot wait to do this now" or do you have any hobbies you like to do?
Yeah, I really enjoy fishing, fly fishing especially. It's about the most enjoyable thing you can do. Whenever I don't have to ride, you'll definitely find me on the water or also riding a BMX bike. And as of lately, golf. I'm been golfing quite a bit, I mean I'm really bad but I'm trying to get better! [Laughs] It's a fun mental game and it's pretty relaxing too, I mean I get pretty pissed off at it but it's fun. [Laughs]
I've heard of some other guys in the industry that like to fish. If you could pick any rider to fish with, who would it be?
I don't know. Probably Mookie [Malcolm Stewart]. I see he goes bass fishing a lot and stuff, I'm more of a fly fishing guy. I don't really know of any motocross races that fly fish to be honest, I'm sure there are some but as far as top pros I can't think of any. I would probably say Malcolm. And if they're looking at this interview or whatever and want to go fishing with me, you boys better be ready because I'm coming! [Laughs]