Monster Energy AMA Supercross will host six rounds in the state of Texas in 2021, and that certainly has Pilot Point, Texas' John Short excited to flip the calendar over. Riding for the Manluk Honda program in 2020, Short ended up 15th overall in the 250SX East Region series and finished 22nd overall in a limited 450 class program in the Lucas Oil AMA Pro Motocross Championship. But there's reason to believe that his continued improvements in supercross the past three years have him on an upward trend towards results he really wants.
As the off-season prep is now in full swing, we called up Short to hear his thoughts on the 2021 schedule, dealing with the strange 2020 races, and why we should be excited about John Short.
Racer X: Reflecting on your 2020 nationals campaign, you competed at four of the rounds, ended up 22nd in the points. What were your thoughts on how the season went from your perspective?
John Short: It was a strange season and it definitely wasn't what I was looking for. I do feel like I progressed as a rider and a racer, but I just don't think it really showed up. I think 2019 was a really good year for me and it allowed me to build some confidence. For 2020, I was really hoping to build off that. We didn't race the first two races. I thought I rode really well at Indiana. After that, RedBud was tough for me. I had a crash while I was training in Minnesota with Jeremy [Martin] and I missed Millville, missed Florida, then I raced Colorado and I actually rode really well the second moto and was battling [Jake] Masterpool for a top 10 and ended up crashing on the last lap. So, I felt like I rode well this summer, just never really put it all together to actually get the results. There is some confidence to take out of it though. I kind of feel like to get to that next step, sometimes you have to push yourself and sometimes it ends up in crashing or whatever it may be. It was really strange too. I didn't get to race Millville, that's my favorite track. We didn't really do many of the tracks that I really like, but it was still awesome to get the opportunity to line up with everybody for those few races I got to do.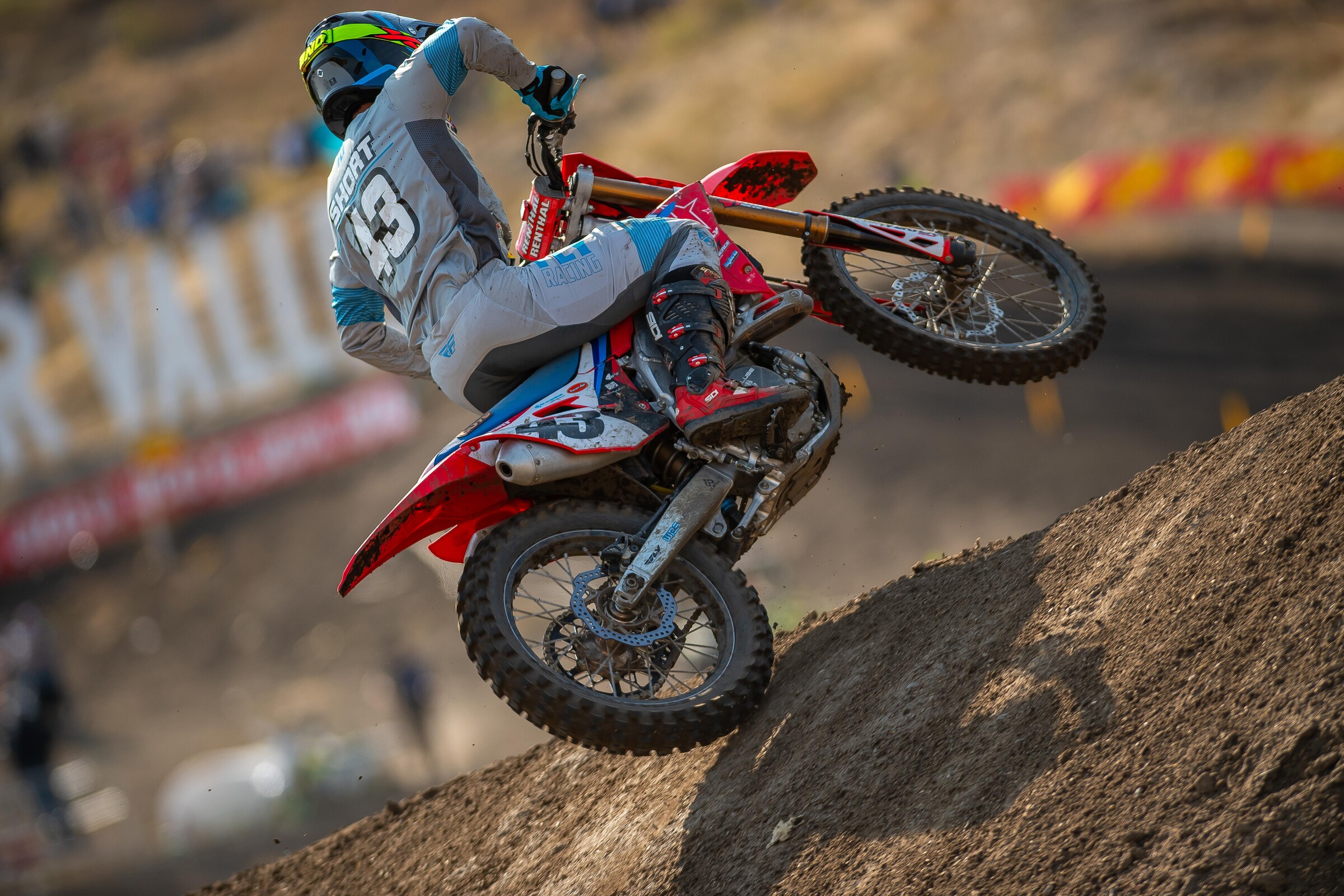 How challenging was this year for yourself and the team to work through with the changing schedules and how crazy everything was?
Well, that was a big challenge because the Manluk Racing team is from Canada. That's where the team owner is, the mechanics are based out of Canada, and then all the riders are based here in Texas. So, supercross was awesome. The team gelled well together, we had the bikes dialed and everything. Once they shut the series down with all the uncertainty, we kind of slowed the program down and scaled everything back. Fortunately, the team allowed us to go race Utah and put a great package together for Utah. But with the uncertainty of the schedule, we had to do a limited outdoor schedule because that's what made sense with funding and preparation. So, instead of doing all the outdoors nationals and even going to Canada like we were planning on doing, we did a condensed four-race outdoor program. It did change a lot, but that's just the nature of racing and the sport. Things change on a dime like that.
What is your program looking like right now? I know you said you're still trying to figure some things out, but is the team trying to get something going for supercross for you again?
Yeah, I think in a perfect world, ideally I would love to continue working with the Manluk organization to race a 250SX coast for supercross. They haven't really said yes or no that they're going to do it. I think they're in the same boat as a lot of other teams and organizations. They're kind of trying to figure out if it makes sense with the amount of money they've got, with sponsor dollars. Like I said, with them being in Canada, it's probably hard on the team owner because he wants to go to all of the races because that's what's fun for him. And he can't do that with crossing the border and what not. That would be plan A for me though. I'm exploring a few different options also, as well as trying to put my own program together like I've done in year's past just basically out of a van. But that's one positive thing with the way the schedule is where you're racing back-to-back-to-back in one city, it enables you to drive to Glendale and stay for a week. It makes sense financially to race three times, drive back, and have a little time off. That's kind of how things are shaping up for me. I don't really know for sure yet, but I want to go racing. One way or another, I want to make it happen.
The schedule is going to be a little weird this year starting with 250SX East. Is your mindset focused on that mid-January 250SX East start, or are you thinking you may race 250SX West so you have a little more time to figure everything out?
Like I mentioned with how uncertain my plans are right now, I'm working hard to finalize everything, but I'd like to ride the 250SX West Coast series. They race in Dallas, my hometown. Glendale, those are two stadiums I like, and I think I do well at. So, I'd like to do the 250SX West Series. That would be my game plan for sure.
Talking about Texas and the schedule, how excited were you with being a Texas guy when the schedule dropped and there's six races in Texas in 2021?
That's pretty cool. I think Texas is kind of underestimated as far as the amount of riders and racers there are in Texas. I feel like it's kind of a lowkey hotbed. There's amateurs coming up, and there might not be many pro racers, but there's probably six or seven really good pro racers in Texas. So, I think it will be really cool where everyone will kind of gravitate towards Texas for the three Houston rounds and then the three Dallas rounds. It's awesome for me. It's just a four-hour drive to Houston for me if I want to race the 450 on the East and obviously Dallas is in my backyard, so I could stay at home.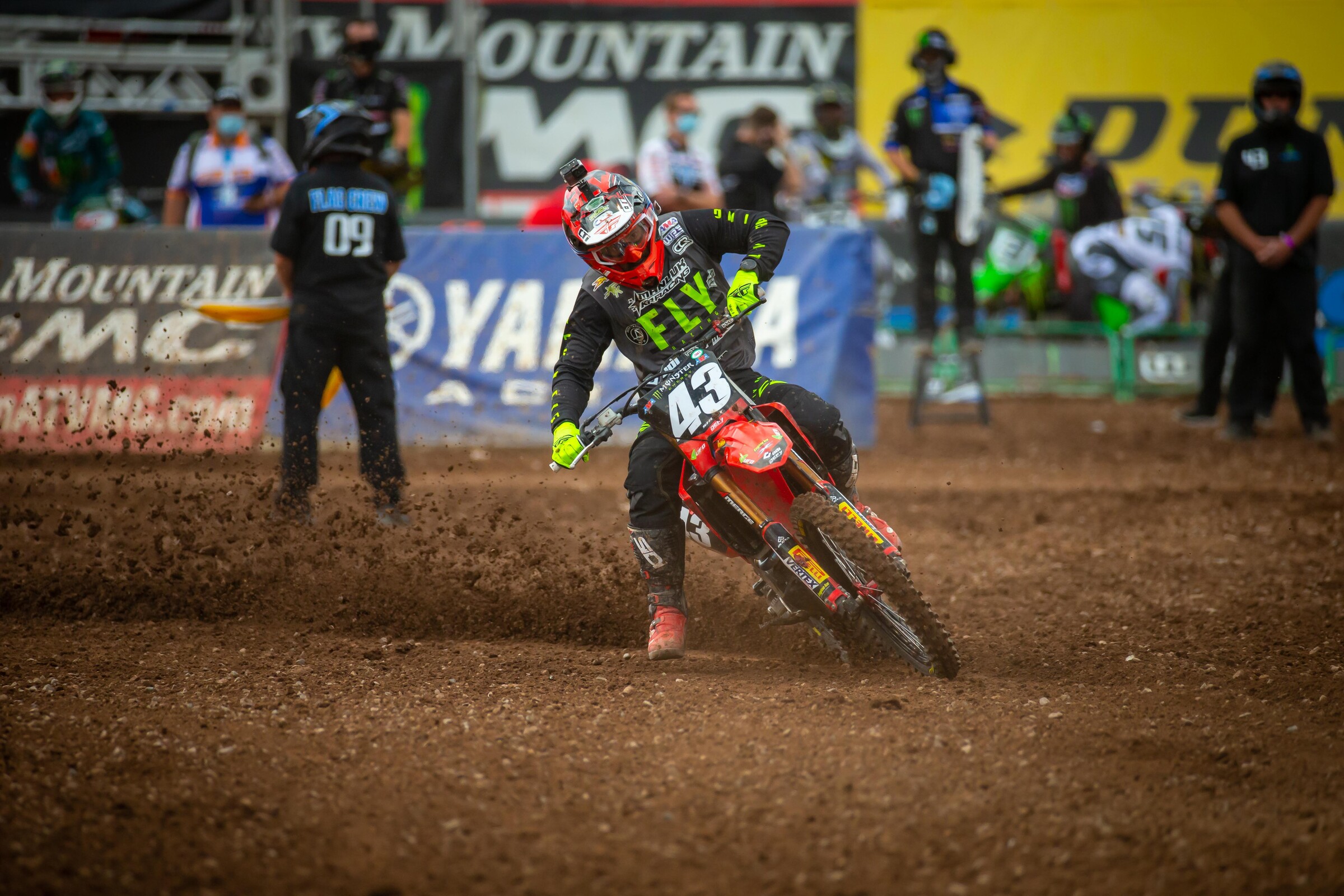 I'm not too up to date on the Texas scene. Are there going to be places where riders during the week will be able to go and test? Are there open supercross tracks somewhere that everybody is going to be at?
Well, I'm sure things will progress as the season gets going. I know TexPlex, which is just a DFW [Dallas-Fort Worth] riding area, Scott Champion has a track out there that's open to the public and that's a great practice place close to Dallas. I'm not sure about the Houston scene, but Mitchell Oldenburg and I are getting a track built just over the Red River in Oklahoma. It's Compound77, and we're just basically, with the help of the owner, getting the track rebuilt and changed. So, that will be a spot that potentially guys can go test as well. So yeah, there's a few tracks in the area and I think it will work out well with the guys coming into Dallas.
I've been told by Darkside, who gave me your number, that we need to get the John Short hype train rolling. So, give me some reasons why 2021 John Short is going to be amazing.
[Laughs] Well, I'll tell you what, I'm motivated! I don't know if that makes me any more interesting, but I want to do well so bad. Really, I don't think people understand how hard I work and how much effort I put into it. That's all I think about and all I want to do. I want to go get a holeshot, lead a heat race, lead a main. I just want to do well. And I think I'm an older guy in the Lites class now. It kind of snuck up on me that I'm 26 years old. So, I get to go have fun this year and race some of these young kids. So, we'll see how we stack up. Hopefully, I can be a little more flashy and run up front in 2021. That's my goal.
Throughout your career, you've been a super consistent rider with consistent results. Do you pride yourself on that or would you prefer to have those big flashes every now and then?
Yeah, I think having consistency is really great if you're consistently finishing well. I tend to sneak it into the top 10 every now and then. From my perspective, my training and I see my riding on the race weekend, I feel like I should consistently be inside of the top 10 every time the gate drops. But that doesn't show on paper. Consistency is great and I think it allows me to build year after year to get a little bit better, but I definitely think it's time. I need to hang it out a little more and put it up front a little more to show people how fast I can ride a motorcycle.
So, for 2021, what sort of goals are you laying out for yourself? Is it just results-based or would it be little things like getting a holeshot or winning a heat race as well?
I would love to win a heat race and I think basically results and everything stems from what you just said: getting a holeshot, starting in that top three. I've gotten a taste of it here and there, and normally when I got a good start, I ran up towards the top five. In one of the Utah mains I got a good start, I did it in 2019 as well. I've done it here and there where I get good starts, so for me, the key this year is to get good starts. That's how you're going to run up front. If you're not a second faster than the guys in front of you, you're not going to catch them and move through them. You know, you just can't start behind everybody.
Lastly, who would you like to thank for getting you to the races this year?
Yeah, 2020 was a great season. The Manluk Racing team and Frank [Luebke], the owner, they put so much effort into making sure we had great equipment and I can't thank those guys enough. Jim [Lewis] at Merge Racing. Frank and Steve [Pohl] from Manluk. Even my mechanic earlier in the year, Cody Gilmore. Maxim Honda, Fly Racing, Eks Brand, Fire Power, WPS, Sidi, Rekluse, Pirellli, Twin Air, Works Connection, Bolt, Vertex, Guts, as well as my personal sponsors of CCR Transportation, Gainesville Sheetmetal, and Hammer Nutrition. The list goes on and on. Of course, my mom and dad, my trainer Beau [Boynton], and all my family and friends. Everybody who has been in my corner since I started racing, I appreciate your support.