Upon retiring, Ryan Dungey has not let off the gas—neither on nor off the track. When the multi-time AMA champion began riding again after he had retired from professional racing, he said he still motoed down at the track against the stopwatch because he liked having goals and a focus. Dungey had looked to pour his passion into a variety of things, but now he has a new venture with a new coffee company.
Also, he still logs motos, and has admitted he had even looked into a racing comeback in supercross for 2021.
We fired off some questions to Dungey about his new coffee company. Also, you can hear his thoughts on some other racing topics via his appearance on Steve Matthes' PulpMX Show last Monday.
Racer X: How and why did you get into selling coffee?
Ryan Dungey: I got into selling coffee mainly because it was a passion of mine. I started drinking coffee in 2007 and I was hooked. Through my racing career I was able to travel around the country and parts of the world and every morning if I had time I really enjoyed checking out local coffee shops, especially when I met my wife who also shares that same enjoyment, it became our little thing every weekend. Initially I didn't know anything about coffee, but through continually going to coffee shops and trying different coffees from different origins, asking questions, learning about the roasting processes as well as how to source the best quality beans, the coffee tasted so good I decided it was time to start RD Coffee and share this great tasting coffee with others.
Is it something you'd wanted to do for a while but were waiting until you were done with racing, or was it an idea you came up with following retirement?
For the last ten years I had a hunch I wanted to do something in the coffee world, but not while I was racing. Racing and training was a fulltime schedule, as well as team and sponsor commitments. That was the main focus and I knew this had to wait. I opted to wait until I was done racing to pursue this passion so it didn't take away from my racing career. I'm now applying that same dedication and hard work from my racing career to my RD Coffee business.
Talk about the roasting process.
Our coffee is roasted using a Loring roaster, which is a very efficient high quality machine with custom profile settings bringing out the best notes, aromas and colors for each of our roasts. We also source specialty coffee. Specialty Coffee is the highest grade of coffee available. It's also responsibly sourced, supporting farmers in each region.
I read the description of the method and from a motorcycle perspective, it sounded kind of like you were changing the mapping, so to speak, of the process.
This would be the roast profile. We can control every aspect of the roasting process. From bean temp, rate of rise, end temp, duration of roast, air flow and more. This adjustability is what allows us to bring out the best flavors of each of our roasts.
What products do you have available?
We currently sell 12oz and 5lb bags of each of our roasts. We have merchandise as well, including mugs, tumblers, trucker hats, and beanies. We have a new roast coming out this holiday season as well that I'm pretty excited about.
The website said coffee proceeds help support St. Judes. Can you go into detail on that?
Yes, RD Coffee will be donating a portion of the profits to St Jude Children's Research Hospital through my charity event, St Jude Ride and 5k Run, we hold each summer.
How involved are you in the day-to-day operations?
I am heavily involved in every aspect of the business. We launched our website in May and then I was doing all the roasting and fulfillment myself. We have grown at a faster rate than I anticipated and a lot more attention has been needed to keep building the brand. I have since then outsourced the roasting to keep up with demand, but without sacrificing quality, which was very important from the beginning that we maintain. My roasting partner and I communicate weekly if not daily.
Where can people get it?
We sell through our online website RDcoffees.com, and you can stay updated on Instagram, @RD_coffee, and Facebook, RD Coffee.
Here are Dungey's thoughts on other topics via the PulpMX Show:
Racer X: Zacho won the 450 motocross championship—oldest champion ever. You worked with him of course under Aldon Baker when he switched over. Did you think he had it in him to do this?
Ryan Dungey: I did. I will say he came out swinging when the outdoors [started]. Of course, he got that supercross win at the end there and he had some good finishes. But I am and I'm not. When he was racing the 250 team, he kind of was a late bloomer there, and then really came on strong once he got some confidence and momentum going his way. I think the same thing happened with the 450s. He's hungry and he wants to win, especially at his age. It's really impressive, a guy out there at 30 years old and still getting the job done. So, I'm really pumped for him. I'm really proud of him. I've gotten to spend a lot of time with him just at Aldon's. He loves to suffer. He puts in the work. He puts in the time. He definitely gets what he deserves. It's cool to see it pay off. An outdoor title is tough. He handled the pressure. He just handled everything. He managed the championship really well. I thought just from the get-go, his setup looked good. He looked good. Everything was just jiving. So, kudos to him. That's really cool. I'm really happy to see him get a 450 championship. I'm surprised he's coming on the show tonight. He's not out there enjoying it. But it's cool. I'm pumped for him and his family and all the Baker crew.
I feel like Zach Osborne's post-championship parties are similar to how Ryan's were. Let's get ready for the next one.
Yeah. Think about it. It's late in the year and the turnaround time is going to be quick, granted everything goes forward in January. So, these guys don't really get a lot of time before they got to turn it around. That's just what it is for why you're a racer. It's just on to the next and you get time to enjoy it after, too.
It's not like Eli [Tomac] had a bad year, just he wasn't as dominant as he seemed in the past. It makes me appreciate you and Carmichael and these guys that keep grinding, because it's understandable that Eli kind of let the foot off the gas pedal, if he did.
It is. I guess when I look at the scenario, when I look at my situation just trying to compare and put myself in his shoes, in 2010 when I had a great year, when I went into '11 I needed new motivation. I didn't know where to find it. Not to mention, Eli finally gets the supercross title, which is great for him and the team. He's been after it for a long time. He won the outdoors three times in a row and I think after, you got to realize when you come in as a racer that the height is the supercross championship. That's the big one. So, if I had to guess, I don't know—I haven't talked to anybody or whatever, but just being in those shoes, it's like, he did it. Now what? You got to find the new motivation. What I feel, he's in that point where I think you win the first one for yourself. You win them all because that's the goal. You got to do it for yourself, but at the same time I think the first one you win for yourself and the second time you got to change your approach. Now you got to look at the bigger picture. We won one. Now it's time to, what really motivated me was just to be the guy for the sport. Who's going to fill that position? There was Jeremy McGrath. There was Ricky Carmichael. Then came Stew [James Stewart], then came Chad [Reed], then came Villo [Ryan Villopoto]. I saw new motivation to keep carrying that. I want to be the guy. I want to be the face and the spokesperson and really kind of try to lead this thing. Not do it by yourself, but just be a good example and bigger than just on the track and you trying to win a race. Be that guy for the sport that everybody is going to look up to. You can set the tone. I think he'll realize that. It's just been a crazy year, as well.
The November 2020 Issue of Racer X Illustrated
Racerhead - Five Guys, One Question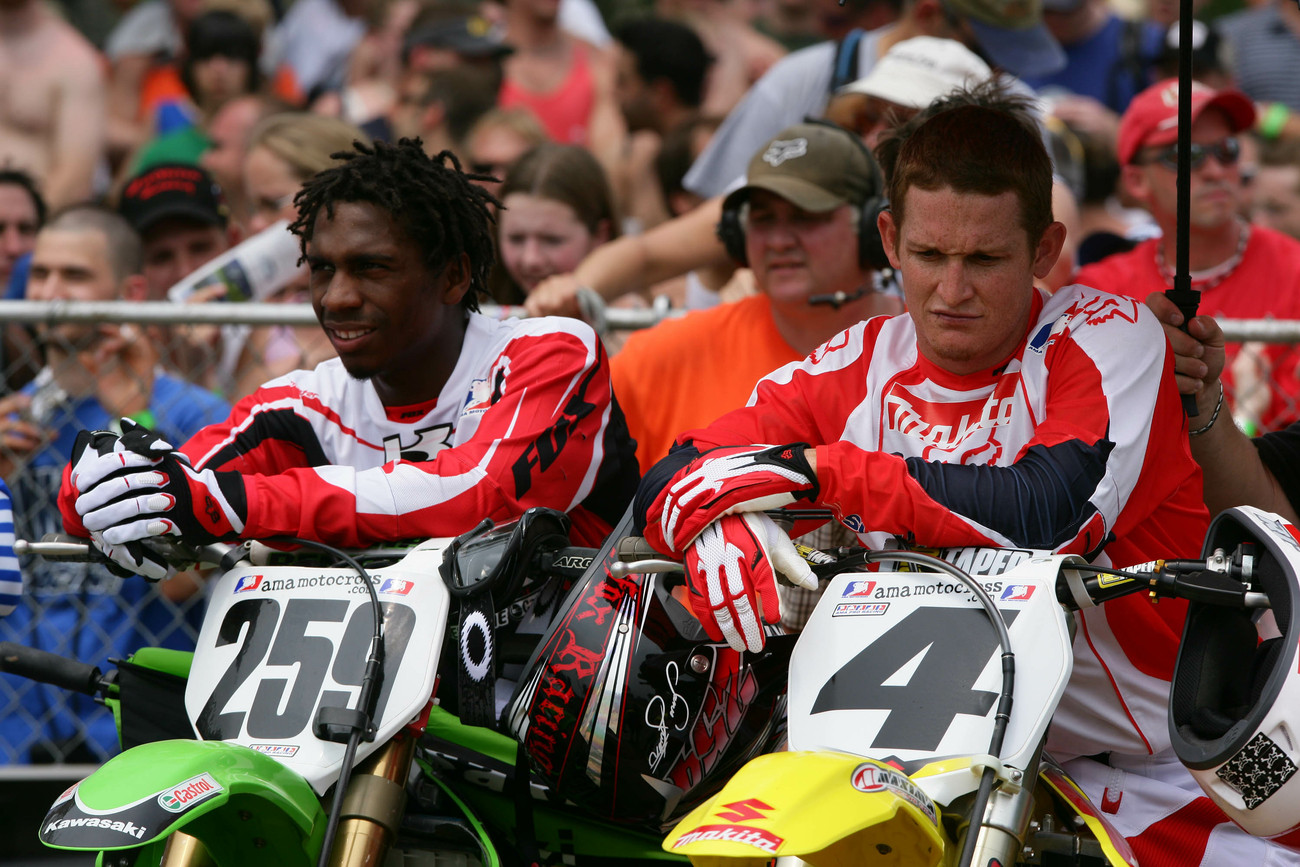 What's the best rivalry our sport has ever seen?
Read Now
Preview Now
Seven races in Salt Lake City, Wednesdays, Sundays… You were guy of routine, from what I know. This would have just thrown your routine right off.
Oh, for sure. I was thinking of the riders just how there were moments, "Okay, we're getting ready. This is race day. This is the next race." Then all of a sudden, the schedule just gets changed and you're full-blown in training and all of a sudden you don't know when you're going to race again. That's tough. There's a lot of moments, but when you don't know when you're lining up again and it's just hemming and hawing, you can burn yourself out quick just training on both ends. But then not knowing when you're going racing, it's a tough situation as a rider.
Are you still riding a lot, or are you just trying to enjoy the retired life?
Actually, I took a good bit of time off from riding. It wasn't until I started spending a lot more time on the bike this summer and through the off-season. So, it's kind of calmed down a little bit. It's getting a little cooler here. But it was good to get back on the bike. Kind of found a new motivation to get back out there and spend some more time. We actually have a really good couple tracks that are built around here. It really was good to get out and get some laps in. I missed it. It was fun.
I'm curious how into it you get on Saturdays watching the races.
Yeah. I think I always have paid attention to it, even after racing. I enjoy kind of dissecting it. You can pick everything apart in every which way and tell yourself, I can do this or do that. But I don't look at it like, I can beat that guy, I should still be out there. I will say I miss it. I miss the good times. I think after racing you tend to remember all the good times and you forget about all the hard times, which is normal. But just the feelings, the excitement, the lining up on the gate, the adrenaline and everything that comes with it. It's a tough situation. Even the strategy, kind of putting yourself in Zach's position. Alright. He's the points leader. How are we going into this last round? What are we going to do? Kind of just breaking it all down from inside my head and trying to understand. So, I enjoy that. I really miss a lot of the races. When it's on Saturday, it's kind of hard not to spend four or five hours in front of the TV. Now you got NBC Gold package and you can watch practice. It's a passion. It's something you've watched since you were a little kid. Just because I don't race anymore doesn't mean it doesn't get me excited.
You were maybe thinking of trying to line up things to come back and race again. Where are we at with that and what can you tell us about it?
Absolutely. I did look into trying to knock on some doors. The excitement, trying to find a good place, a good schedule. I was looking at doing the supercross only and trying to do it under my terms. Definitely if we were going to go back racing it was going to have to be a good deal, one that made a lot of sense for me and my family and whatnot, and on the right terms. It's tough, too. I knew when I started seeking out, looking into it, I feel like after racing you make a lot of progress, you learn a lot about yourself. You start getting involved in other things, whether it's in the sport, out of the sport. That was one of the things. Even we have our daughter now. There is a lot more risk than there is reward going back racing. So, I'm just a person that if there's a hunch, I like to look into it. It might have been a little bit premature, but at the same time it's like being able to find the right thing and doing it under our terms and having a balance in life and whatnot, I could see doing it. I had some good talks with my wife. Just trying to plan it all out. But in the end, it didn't work out. COVID hit this year and things are tight. A lot of these companies have their top guys dialed in for the year, so money is tight. So, it was a tall order going in, and we knew that. It's something I wanted to seek out. If it's meant to be, it's meant to be. If it's not, then it won't happen, and we'll go other ways. That's totally fine, too. Like I said, it's tough because you miss it, you think about it. It was fun. I had a good run. I don't regret any of it. Would it be a challenge? Absolutely. But it's just the way it goes. Just trying not to give up on all the progress we've made in other areas. I got the coffee thing going now too, and I want to make sure that lands in a good spot too. That's been really enjoyable building and working on it and dedicating time to it as well. You don't want to give up on all these things that you started and let it go to the wayside, just to go back racing. Because I did that. You race and you didn't do all these other things because it was going to take away from you on the racetrack. So, it's one of those things. Racing can kind of just slowly creep back in and take over your whole life. You got to keep it in its place, as you know.
You're not going to do anything half-asses at your level. Anything that made you want to get a red fender instead of a blue fender or a green fender or anything else?
To me it was natural. One, I enjoyed the little bit of time that I spent with the GEICO team. I got to really build some good relationships with the Honda boys. So that was really good. I spent a lot of time with those guys. I rode the bike a little bit. Not to mention, it was like if I'm going to start riding, when I kind of walked away from the GEICO thing the guys said, "Whatever you need, let us know. We'd love to send you this and that." I was like, absolutely. So, when it came time, I let the guys know I wanted to do some riding and they were all on board. So, it was nice. They hooked me up with a sweet ride. Jade [my brother] actually put together some cool parts for me and got me something really good and I could just start ripping laps on it. It was just natural. I was kind of with the Honda boys, so I wanted to continue that too.
RDCoffees.com. I ordered a bag not that long ago and tried it and I'm a coffee guy. I enjoyed it. It was a good-tasting coffee. How did you get into this, RDCoffees.com? What's your role in it and what's your passion for coffee?
I started to drink coffee back in '07. I think I was working with Johnny O'Mara at the time. Johnny loves coffee and every morning we'd go to the coffee shop, and it kind of started there. I love my coffee in the morning. That just progressed to having coffee every morning and sometimes in the afternoon. So, I've just always had a passion for it. It was around 2010, I started kind of having ideas. I wanted to do something in the coffee industry. Again, I was racing. It's a lot of time commitments, so I kind of just put it off to the side. It just was always flirting in my mind for years. So, after racing I was like, you know what? This is where things are at this year and it's the perfect time. Let's jump into it. It's a competitive industry, no doubt, but that's what's cool about it. So, I just dived into the details and learned about the roasting and the beans and sourcing and the whole nine yards. So, I kind of just jumped in. It was for a while that I just put it off, put it off, and then there's no better time than now. So, we did it. I started it up. RD Coffees. I thought it was a great fit with the brand and everything and designing the logo and the beans. I was roasting everything there for a while.
You were roasting them?
Yeah. I did the whole thing. I had a whole build-out. Had the roasters and getting the beans. It was a full-time gig. It was kind of nice because I was able to meet a lot of really good people in the coffee industry that kind of really helped steer me and guide me a little bit. With growing, we were able to outsource with roasting partners and maintain the quality and all that good stuff. All the way to the bean and making sure the responsible sourcing and the farmers get taken care of. It's the top of the line specialty coffee. On my end, I pay more for it. You kind of get what you pay for. Like you said, it's a good flavor. We got different ends of the spectrum. It's real smooth. We've got some good, bold flavors as well with some kind of smooth and a little sweet too. So, it's been a fun process. It's been a good learning curve from every end of it, from the coffee all the way to… I've always had an interest in business and an entrepreneur spirit. That's been a lot of learning, a lot of developing. It's kind of the next thing I really kind of sunk my teeth into. I've been enjoying it. I'm excited to share it with the industry.
So now the coffee thing and maybe coming back to racing. You're not just one to stand out and be like, let's maybe do this, and then you're gone playing golf. That's not you.
No. I will say, there's a few things that I could probably just do these things part-time and be okay with it, but there's something about it. I can't sleep at night if it's not done right, if I don't apply myself. I think a lot of people know me and those who do know me, they'd say, "Go enjoy it a little bit." Maybe a little bit of my dad. My dad is like serious work ethic, non-stop. I got to keep the balance. But I just like to do things and do it right. Not to mention, follow my passions. I always feel like that's a great starting point.
When you ride now, are you kind of getting in the mindset of you want to go do a moto? Or are you trying to just enjoy the riding and just having fun with it?
I'll be straight up honest. I moto. I only do that just because I feel it's good for me to have a goal. I feel the second I'm out there riding and I'm just out there putting laps in and I don't know how many I'm going to do; you start brain fading. You start thinking about other things. There's just something about having an end goal. Even at the practice track, I even do the stopwatch because I just loved having that competing against myself. Can I do a little bit better? Can I get a little bit faster? Can I shave off a little bit here? I just enjoyed that process. So, I still do that. It keeps me focused, keeps me in the moment. Honestly, I feel like if I would ride 60, 70, 80 percent, I don't know how to just do that. I think a lot of racers don't.
Main Image courtesy of Ryan Dungey's Instagram.