Easy plotline to follow here. You've got the established champion against the new young kid. They used to work together, back when the kid needed a mentor and the champion began to teach some lessons. Then, they started battling head to head, and things changed. It's pretty much the plot line of half the 1980s sports movies.
Jared Mees is the established star in American Flat Track, packing six AMA Championships including a dominant run in 2017 and 2018 where he was winning races at a near 50 percent clip. Briar Bauman was the new kid, just happy to make a living racing so he could hang out with his friends at the track. Bauman said he used to just race for the "G bar," which is the $1,000 purse minimum you'd get for making the main event. Race wins? Eh, not likely.
But, Bauman kept getting better, partly because he hooked up and learned from Mees. As his results improved, he got the coveted factory ride with the Indian Motorcycle team presented by Progressive Insurance. Mees is also a factory Indian Motorcycle rider. On the factory bike, Bauman rocketed toward the front, and then went next-level for 2019. Mees' domination run ended, and Bauman won the title.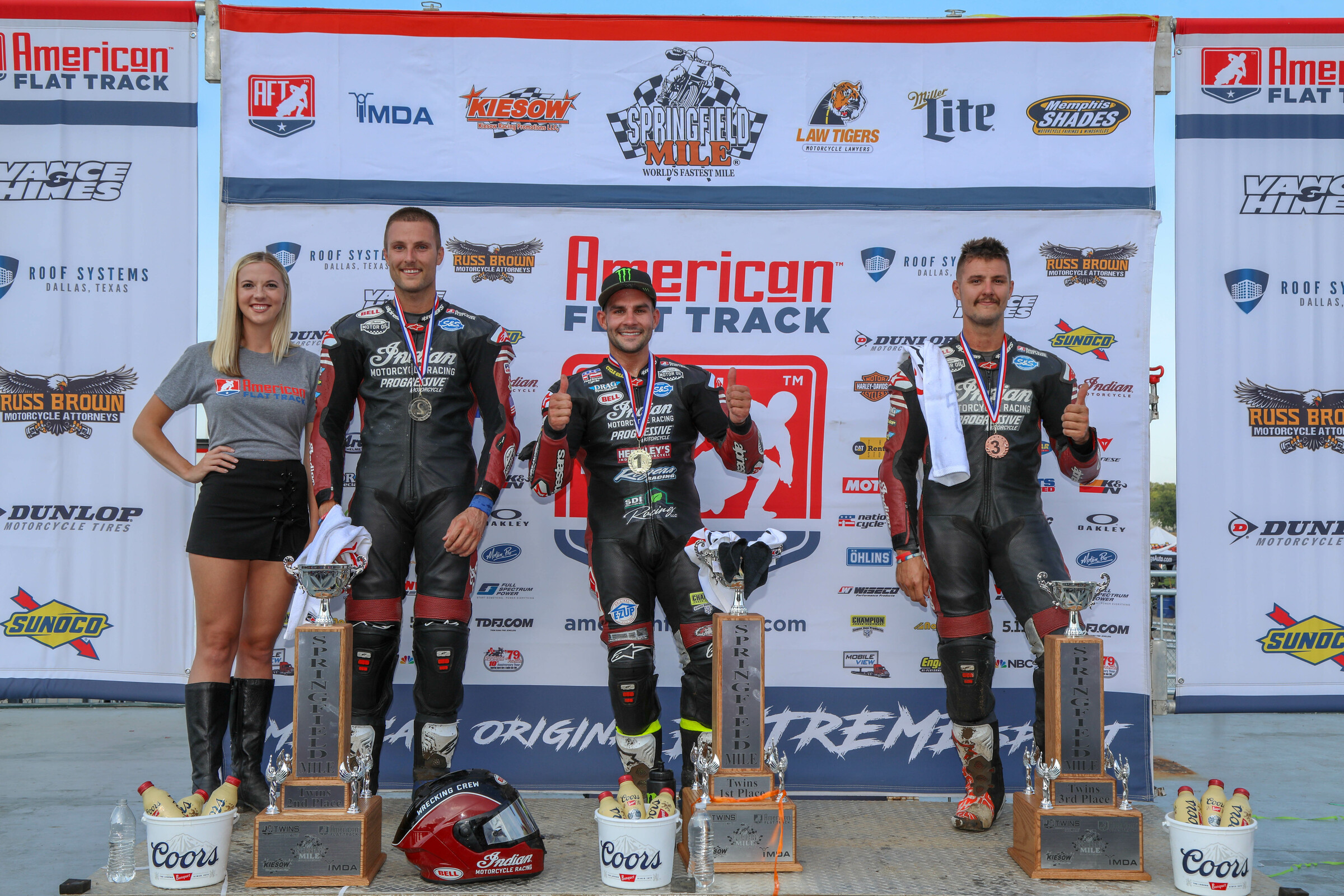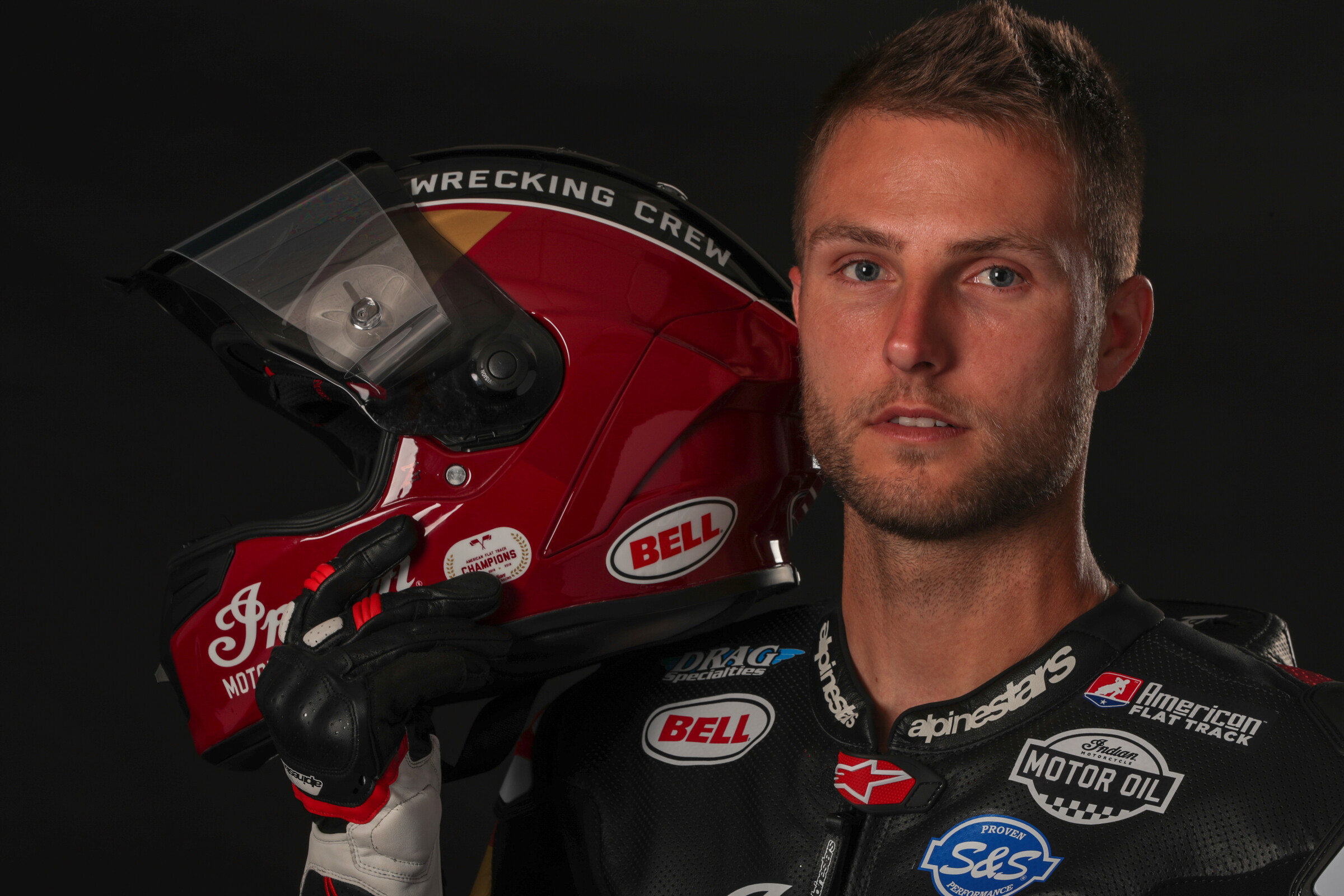 We've seen this type of changing of the guard before, and not just in the movies. In the movies, it ends with the next kid winning. In real sports, the established (now-former) champion steps up the game and comes back stronger the next year. The proof here is that both guys work with Aldon Baker to step up their fitness game. These boys are all in. That's where we are in 2020. Mees versus Bauman. It was good.
The two basically traded blows all year. In this COVID-19 jacked up year, the series resorted to double-header events at each track. This just further accentuated the good weekend/bad weekend up and down struggle between Mees and Bauman. Mees struck first by sweeping the opening double in Florida. Bauman came right back to sweep rounds three and four at the Indy Mile. A few others stuck their nose in there, like a popular Springfield Mile win for Sammy Halbert, but for the most part it was Bauman sweeps or Mees sweeps.
By the three-quarters mark, Bauman was pulling away and looked to have the title on ice, taking four-straight wins in Pennsylvania and Texas. Mees didn't give up, getting points back with an Atlanta sweep and a second behind Jeffrey Carver in Charlotte. This kept him within striking distance as the series hit the final two rounds over the weekend in Daytona.
To make it more unpredictable, the Daytona race moved back to the old Daytona Short Track course. The last few years, American Flat Track raced on a larger TT track built on the Super Speedway infield, like supercross. The big SuperTwins bikes had never raced the small bull ring track off to the side of the facility. No big deal, just a title on the line, right?
Here's the race reports from the final two races.
Friday Night:
DAYTONA BEACH, Fla.—With all eyes trained on the Progressive American Flat Track Grand National Championship points leaders, Brandon Robinson (No. 44 HCRR Racing/Ben Evans Racing Indian FTR750) stepped forward and stole the show in Friday night's Progressive AFT Finale at Daytona I at Daytona International Speedway in Daytona Beach, Florida.
AFT SuperTwins presented by Vance & Hines title rivals Briar Bauman (No. 1 Indian Motorcycle/Progressive Insurance FTR750) and Jared Mees (No. 9 Indian Motorcycle/Progressive Insurance FTR750) opened the Main Event from first and second on the line. As they went elbow to elbow in an attempt to gain an early advantage over one another, their melee opened the door for Jarod Vanderkooi (No. 20 Harley-Davidson/Vance & Hines XG750R Rev X), Robinson and Robert Pearson (No. 27 Rackley Racing Indian FTR750) to rush past.
Vanderkooi enjoyed a short-lived spell out front before giving way to Robinson, who then proved utterly dominant over the race's final nine minutes despite racing with a broken right foot.
Robinson, who accepted his winner's trophy on crutches, said, "I'm absolutely ecstatic right now -- I can't believe this. My Roof Systems team gave me an awesome motorcycle. All my guys stuck behind me through all the injuries. They believed in me and told me to go have fun, and here we are. This is unbelievable. I couldn't be happier; these guys deserve it, and all I wanted to do was get a win for my team."
With Robinson long gone, Bauman and Mees frantically fought their way forward to collect as many points as possible ahead of tomorrow's decisive race.
Reigning champ Bauman ultimately proved more successful in those efforts. He dispatched Pearson for third with a hard pass with six laps remaining, and then spent the remainder of his race chasing down Vanderkooi. That relentless pursuit paid dividends with less than a minute remaining on the clock when he worked his way through to earn second place and the 20 points that came along with it.
Despite being passed by Bauman late, Vanderkooi equaled his best ever premier-class finish in third.
Mees shook free from Davis Fisher (No. 67 BriggsAuto.com Indian FTR750) to reel in and sail past Pearson, moving into fourth position with four minutes remaining. However, Bauman and Vanderkooi were too far out in front, leaving him one spot off the box at the flag and with a considerably deeper hole to climb out of heading into Saturday's rematch.
With just one race to go, Bauman leads Mees 294-280. That means even if Mees wins tomorrow, Bauman needs only to finish eighth or better to repeat as AFT SuperTwins Champion.
Saturday Night:
DAYTONA BEACH, Fla.—Following 15 rounds of epic Progressive American Flat Track action, Briar Bauman (No. 1 Indian Motorcycle/Progressive Insurance FTR750) successfully completed his bid to repeat as AFT SuperTwins presented by Vance & Hines Champion in Saturday evening's decisive Progressive AFT Finale at Daytona II.
Even with an extended pandemic-imposed pause, the highly anticipated 2020 showdown between Bauman and multi-time series king Jared Mees (No. 9 Indian Motorcycle/Progressive Insurance FTR750) proved more than worth the wait. The momentum swung back and forth on a nearly weekend-by-weekend basis, leaving both superstars still in control of their destiny heading into this weekend's Daytona finale.
Bauman seized control of the title fight with a clutch runner-up finish on Friday, which seemingly made the final task before him relatively easy by his standards. All he needed to do at Daytona International Speedway on Saturday night was score an eighth-place finish to cap off a title defense that saw him rack up six wins, four seconds, three thirds, and one seventh along the way.
However, the level of difficulty was ratcheted up significantly due to weather; rainy conditions forced multiple delays in the program, the Semis were cancelled, and the AFT SuperTwins presented by Vance & Hines Main was pushed to the front of the pack once conditions allowed to ensure the season's premier-class champ was crowned before the night was out. The changes and unpredictability of the day could have easily thrown an admittedly stressed Bauman out of his rhythm.
Instead he responded like a champion. Starting on the front row with Mees as a result of their qualifying performance, Bauman got away in third and glued himself to the rear wheel of his championship rival.
Meanwhile, Brandon Robinson (No. 44 HCRR Racing/Ben Evans Racing Indian FTR750) proved invincible around the Short Track at Daytona for a second consecutive night. He assumed the lead on lap one and held the position through the checkered flag.
Mees did well to keep Robinson in his sights, clinging on in hopes of a win that would give him the best possible shot at the championship should Bauman make a critical mistake.
Jeffrey Carver Jr. (No. 23 Happy Trails Racing FTR750) ran in fourth deep into the contest, holding back a racy Sammy Halbert (No. 69 Coolbeth-Nila Racing Indian FTR750) for a solid five minutes. Unable to find an opening, Halbert finally made one; he pushed up the inside of Carver to take over fourth, knocking his rival back to seventh in the process.
Halbert then reeled in the leaders, arriving within striking distance of Bauman and a potential podium finish just as the race entered its final two laps. Bauman saw what was happening and understood full well what could happen. Rather than risk getting similarly bumped down the order and out of the points lead, Bauman allowed Halbert by and then cruised to a title-clinching fourth-place finish.
After claiming his eighth-career victory, Robinson said, "This is amazing. Through the ups and downs we've had this season to come out of here with the Daytona double -- there's nothing better. This is insane. We're going to be able to go into this offseason and get healthy and come out swinging in 2021. I'm ecstatic."
"Obviously, things went really, really well," back-to-back champ Bauman said. "I was able to do what we came for and what we set out to do all season for Jess Garcia and the whole Garcia family -- win the championship. Jess was with me every step of the way. It means a lot to me to be able to fulfill what I showed up to do. He was one of my best friends. It's just an honor to win for him, Indian Motorcycle, Progressive Insurance, and everyone else behind the team."
---
Main Image: American Flat Track