Lakewood, CO
Thunder Valley
Lucas Oil AMA Pro Motocross Championship
Racing goals vary for every rider, but when those parameters suddenly change, it's easy for a good situation to look bad. That's the fight Adam Cianciarulo engages in each weekend, trying to remain content with a solid rookie 450 season—though a mid-season surge turned him into a genuine premier-class title contender. In a wild season, Adam's 1-1 at Millville put him within 15 points of the lead in a premier-class championship, which could define a career for any rider. So, the standards of the final six motos would look totally different. Instead of learning lessons like a rookie, Adam needed to be perfect in every moto and score every point possible.
When judged up against that standard, his 1-3 scores and second overall at Thunder Valley is very frustrating. Imagine if he hadn't bobbled while running second! He could have outscored Zach Osborne in that second moto! Imagine this….imagine that…
Coughing up some points is a tough pill to swallow (you like that turn of phrase?) but ultimately, Adam was able to find his place.
"Unfortunate to lose the overall at the end, but it's a perfect time to put my money where my mouth is where I say I'm not disappointed if I give it my best effort," said Cianciarulo.
A few weeks ago, the articulate Cianciarulo articulated his mental approach. Throughout his career, he's been fast but mistake prone, but he won't beat himself up over that. Adam says he's been around so many champions of the sport, such as Ryan Dungey, Ryan Villopoto and Ken Roczen, that he's learned to avoid getting too high or too low with any race day. He even defined his 1-1 at Millville as a simple business trip. Go, get the job done, come home. Just be happy if you tried your hardest. Don't go crazy looking back at the what-ifs when you lose, don't get overly pumped when you win.
It's getting harder and harder to do that.
"After the race, I found myself—because I kind of gave it away, I know Zach was putting in some good laps, but I felt comfortable, unfortunately I made that mistake and let the overall slip away—it was weird to be bummed with a second place, especially with where I came into the season and where my expectations were. I was genuinely bummed out that I didn't win," said Cianciarulo after Thunder Valley. "At first, I remember getting on the podium at the second round at Loretta's, I was so stoked to just get a podium. But now that I have a taste of victory, it's just the same as it's always been at any level throughout my career. All you want to do is win. That's kind of where I'm at now."
Due to Adam's speed, talent and exceptional starting ability, and the fact that he's hitched to Monster Energy Kawasaki, with a long-running rep as one of the best squads in the business, success in the 450 division doesn't seem so far-fetched. However, we're reminded time and time again how difficult it really is to make the 250-to-450 transition. For every Ryan Dungey 2010 season (supercross and motocross champion in his first year on a 450) there are decades-worth of hot prospects who took two, three, or four years to win it all, and many more who never did. Even in recent memory, Cooper Webb's first two seasons were not great, and same for the first two 450 campaigns for Aaron Plessinger, two riders who left the 250 class with multiple titles and plenty of hype. Webb turned it around when he switched brands and teams, but note that Osborne too, took his lumps in his first season-and-a-half on the big bikes and is much improved here in year two.
As a long season unfolds, though, it's easy to lose sight of the big picture and focus on the moment.
"As far as the mind set for this weekend, it's 24 points so it would be pretty far-fetched, especially as well as Zach is riding," says Cianciarulo of the finale this Saturday. "I think it's important, mentally, to believe I'm still in it. I really do believe that, because trust me, I've been on the other side. Anything can happen in this sport. I'll try to go 1-1 and hope all hell breaks loose."
Regardless, it's still a heck of a season for AC, and a much more consistent ending compared to the wild rides he experiencing in the beginning of it. Every month in 2020 feels like a year, and so his early supercross runs in January and February feel like eons ago. He also seems equally improved during that time, much closer to harnessing his speed and starts into a piles of race wins.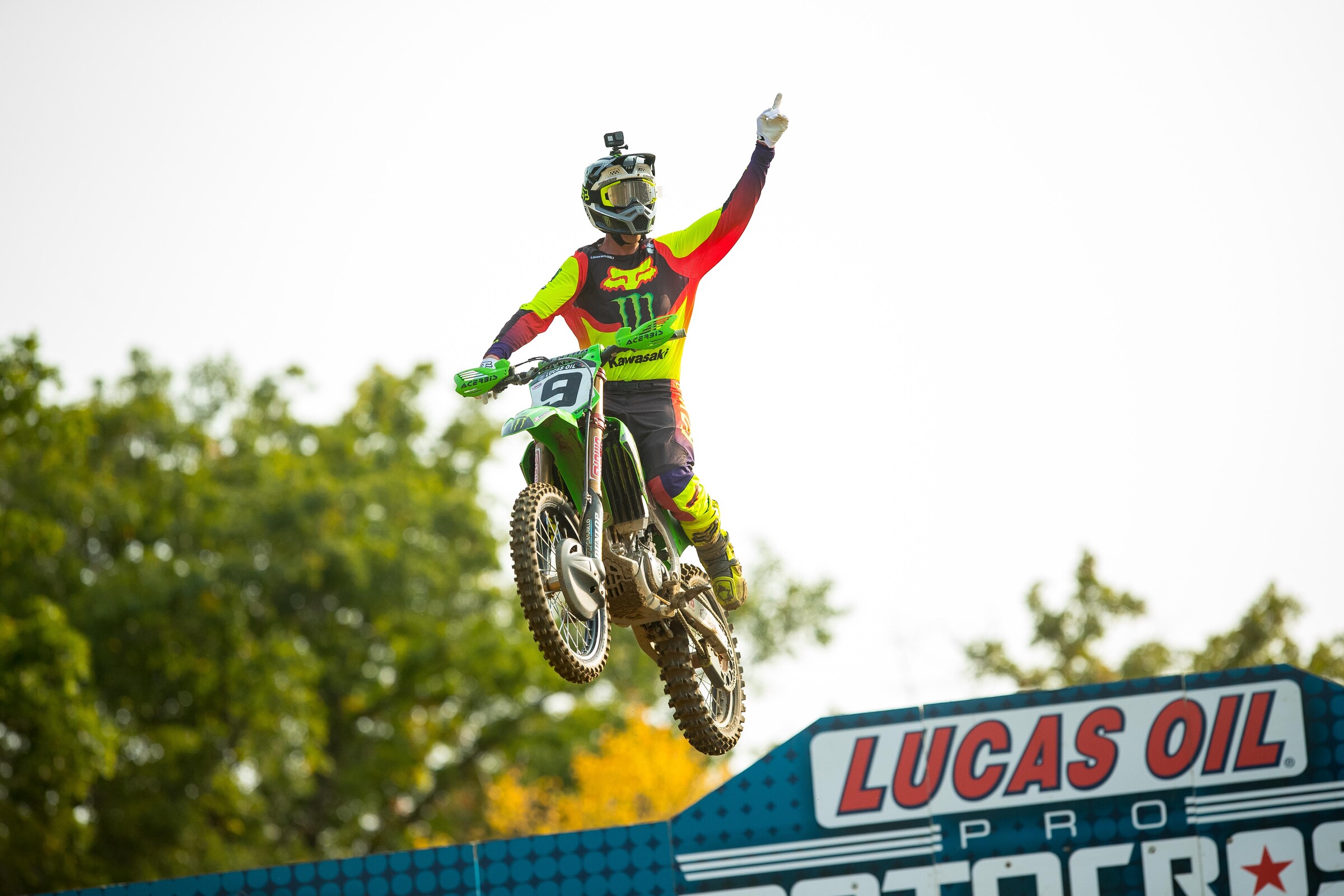 "My goal coming into the season, kind of half serious, half kidding with my trainer Nick Wey, I told him I want to be in the highlight reel," he says. "I wanted to be in the battle. You can't kind of cheat the steps, there are lessons you have to learn. When you come into the 450 class from the 250s, there's such an unknown. You always hear everyone say how gnarly it is, and somewhere in the back of your mind you're wondering, 'Can I do this?' What I've proven to myself this year is that I can be one of the guys if not the guy for a long time. You guys can remember back just a few years ago in my 250 career, I would get a 10-12 on the weekend. I've kind of crawled my way back to the top level of the sport. There's still so much more work to be done for me, a lot of room for improvement, but still a really encouraging year for me."
That makes his season a success, even if he doesn't emerge champion. Just this weekend, he took in another lesson when he rushed a late-race pass attempt on Osborne, trying to get those points back.
"I should have waited, I'm confident that I had the pace to get it done," he said. "Oh well, you live and you learn."
If that's the goal this year, he's succeeded.