Derek Drake and Cameron McAdoo Out for Pro Motocross Finale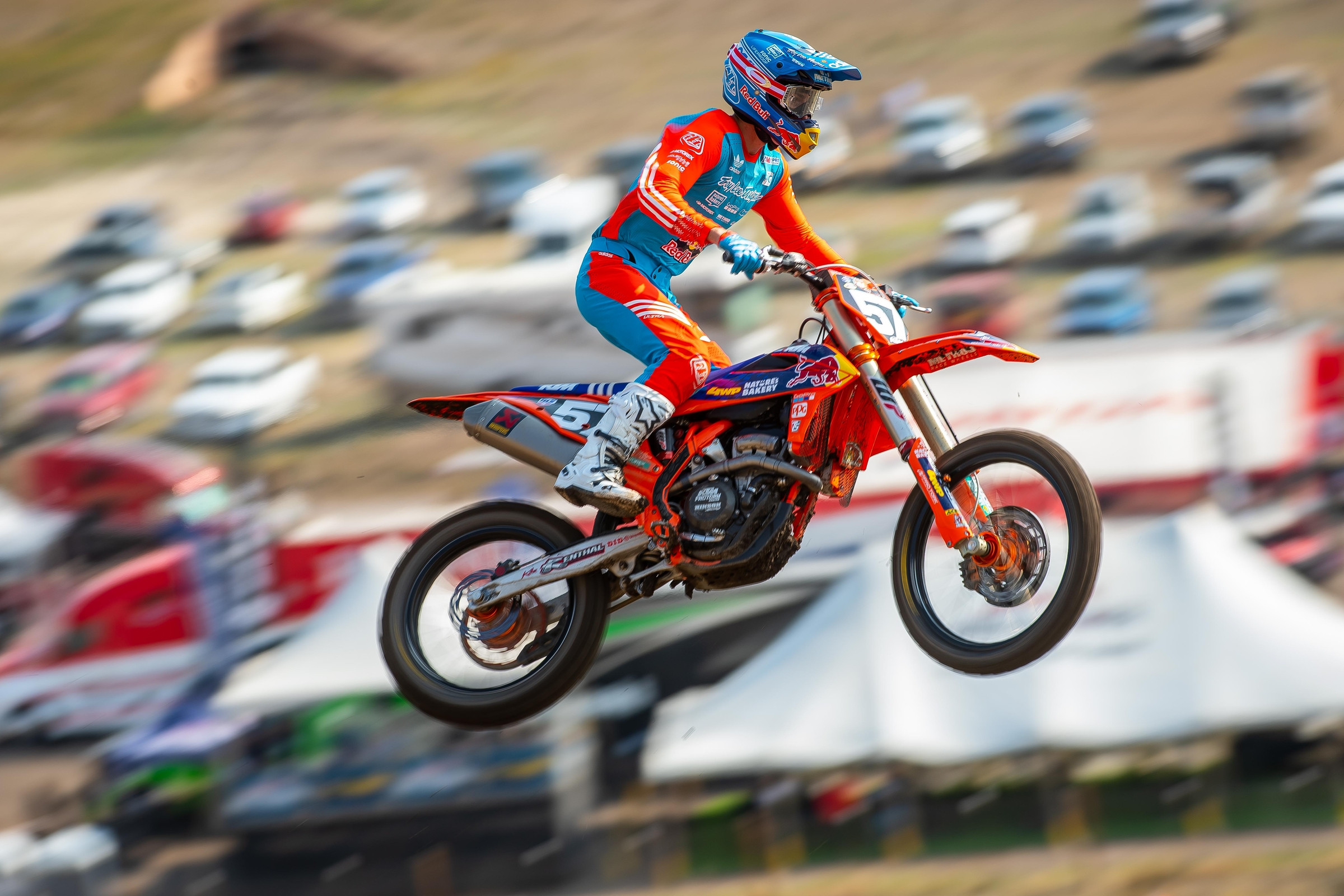 Pala, CA
Fox Raceway
Lucas Oil AMA Pro Motocross Championship
Unfortunately we will have to add two more factory riders to the injury report with the status of "out" for this weekend: both Derek Drake (Troy Lee Designs/Red Bull KTM) and Cameron McAdoo (Monster Energy/Pro Circuit Kawasaki) will miss the 2020 Lucas Oil AMA Pro Motocross Championship season finale with respective injuries.
Drake did not start the second moto at the WW Ranch National on September 26 but the team told us he was not injured and was going to race in Colorado. He finished 20th in the first moto and then did not start the second moto for the second week in a row. Following Saturday's race, Drake announced on Instagram he would miss the final round of the 2020 as he has been "dealing with some health issues." Drake recorded a season- and career-best 10th overall (8-12 moto finishes) at the Spring Creek National. Through eight rounds of the championship, Drake sits 14th in the 250 Class points standings.
Drake said the following in the post:
"Hey everyone, I'm sure you've seen my lackluster results and inability to ride the 2nd Motos recently. Well I have been dealing with some health issues and I've seen a bunch of doctors & specialists. We have some ideas, but nothing set in stone yet. This process has been mentally & physically exhausting and frustrating. For now it has been decided it is best for me to sit out the final round and focus on getting healthy. I would like to give a shout out to my awesome team, sponsors, and family for their concern & support. And of course my amazing fans, thank you for your cheers & continued support. Trust me I'll let everyone know what's going on as soon as I find out what's going on. See y'all soon."
The team posted the following on its Instagram account:
"The past few weeks Derek has been struggling with some unknown health issues which has unfortunately been impacting his ability to race in the second moto's recently. Derek has been seen countless doctors and has been trying to race through this unknown issue. The Team and Derek decided it is in his best interest to sit out the upcoming race at Pala and continue to rest and figure what is causing these unforeseen issues. As much as we hate to have Derek not out on the track we understand that his health comes first and we hope he is able to get some answers here soon."
McAdoo took to Instagram to announce he suffered three broken fingers when a crash from the rider in front of him caught him as well at the end of the first moto on Saturday (he did not start the second moto). He said the injury will not require surgery but it will keep him sidelined for the finale in California. McAdoo's season ended with a season- and career-best fourth overall (4-5 moto finishes) at the Loretta Lynn's 2 National. In his eight starts in the 2020 Pro Motocross Championship, the Iowa native earned four top-ten overall finishes. McAdoo sits eighth in the 250 Class points standings through round eight.
With Austin Forkner, Garrett Marchbanks (who just announced he will race with ClubMX in 2021), Jordon Smith, fill-in rider Darian Sanayei, and now McAdoo all out with injuries of their own, fill-in rider Mitchell Harrison will be the lone rider under the team tent at the Fox Raceway National on October 10.
Below is McAdoo's full Instagram post:
"Dang it! Unfortunately the last lap of moto 1 a lap rider went down right in front of me, and I was hit by his bike which resulted in breaking 3 of my fingers on my right hand. The good news is that all bones are in place, and look to heal well with a couple weeks of rest! Thank you so much to my whole team, and crew for sticking behind me. This is obviously not the way I wanted to end my season, but I'm very glad it is not worse, and will heal well on its own! We will get rested up, and get back to work for next year!"