Millfield, OH
Burr Oak
GNCC Racing
The tenth round of the 2020 Grand National Cross Country (GNCC) Racing season would see a return to Millfield, Ohio's Sunday Creek Raceway, which traditionally hosts The John Penton GNCC each year. After numerous schedule changes, the Sunday Creek facility would add a second event dubbed the Burr Oak GNCC in honor of the original name of this event when the venue was added to the GNCC schedule back in 1990. Of course, this wasn't the only thing that contributed to a bit of a throwback feel to this event as the track and racing itself proved to be a bit different than what we've come to expect. Here's what we learned.
Old School Feel
For the past several editions of The John Penton GNCC, the facility has been soaked with rain in the week leading up to the event. The guys in the 1 p.m. pro bike race have lucked out and gotten the best conditions of the weekend through these events as it's taken the entire weekend for the slick Ohio clay to tack up and become anything less than a muddy mess. While the conditions have gotten good, the damage is usually done as sections of the course have been rerouted, or taken out, or just simply still has slop around it.
However, for the Burr Oak event, that rain never came! It was actually dry and dusty in places, and this allowed the GNCC track crew to run some different sections of course that haven't been used in quite some time, and also allowed for one of the most technical sections this facility has seen in a long time. The John Penton Section is infamous at this venue for it's slower, tighter, old school layout. Typically, only the 1 p.m. bike race gets to run The Penton Section and this time it was laid out more technical than it has ever been.
Now, that doesn't mean it was like a hard enduro. Instead, it was more like a tough, old school, single-track enduro. With several steep up and downhill sections, plus off-cambers, and multiple option lines across ravines and rocky areas it added just over an additional three-miles to the nearly 11-mile racecourse. This made for a 14-mile loop for the p.m. bike race, which put lap times up around 35 minutes and set in motion a five-lap race for a total time of two hours and 55 minutes. Typical GNCC events may see the overall leaders run 6-7 laps in just under three hours, so this longer course proved to be a nice change of pace.
Baylor, AGAIN!
If you're not familiar with the saga of Steward Baylor, well, you've likely missed one of the most interesting stories in all of motorsports. For the sake of this article, we'll spare the full details and let you know you should just Google the name "Steward Baylor" if you don't know the story. After claiming the win at the previous GNCC round in West Virginia, Baylor came into the Burr Oak event back aboard a Yamaha.
There was a bit of question surrounding that as Baylor's Yamaha ride at the previous event was just a bit of a last minute, one race deal where the AmPro Yamaha folks loaned Stu one of their practice bikes. The win must have been enough that they decided to continue helping out as he rode the Yamaha at a National Enduro event the next weekend and once again at Burr Oak where he would claim his second straight win. Although he confirmed on Monday night with Steve Matthes on the PulpMX Show that the bike is still the practice bike he won on last weekend at the Mountaineer GNCC.
Baylor did miss five rounds of the series, and suffered a DNF early in the season so he's out of any sort of championship hunt. However, at this point in the season he's making a bigger statement than anyone and this leaves folks wondering if he'll find himself with a full-time Yamaha ride in 2021 or possibly with another brand. Two wins in two events on the Yamaha says a lot and for the folks at Yamaha, it has to be a confidence boost as well.
He told Matthes on Monday night, "Moving forward, I feel that I can win on the Yamaha. I think the bike suits me. The motor is what does it for me. …We are trying to work out something a little more long-term than just the rest of the season. But as it stands, I would say most likely I'll be on a Yamaha for now and hopefully, potentially, into the future."
KTM and Husqvarna have dominated the series for many years with the only other brands to claim wins since 2014 came with Josh Strang's win at Camp Coker earlier this season aboard a Kawasaki, Ricky Russell's win on a Yamaha at Snowshoe in 2017, and Chris Bach's Honda win at Tomahawk back in 2015!
With Kailub Russell retiring at the end of the 2020 season, this leaves the door open for a new challenger. Steward Baylor is ending the 2020 season on a high note and looking to establish himself as one of the favorites heading into 2021. However, don't forget that there are several heavy hitters who have been injured for a good portion of the 2020 season. Thad Duvall, Trevor Bollinger, Ricky Russell, Josh Toth, and Ben Kelley have all gone through injuries this season. Duvall, Bollinger and Ricky Russell have missed the majority of the season while Toth and Kelley have returned and found success. This is not to say that Baylor may not be ahead of all of those guys, but rather he could very well have his work cut out for him. The 2021 season is already showing some serious promise!
Russell's Misfortune
Kailub Russell is a tough guy who manages to dig deep and always do what it takes to get the job done. So when you see that Kailub Russell only completed one lap, it's easy to tell something went really wrong. In The John Penton Section on lap two, he came through one of the faster portions of the section thinking he was committed to the outside line. Unfortunately, he was actually on the inside and came into the corner too hot, which caused him to drift wide in the corner. A tree split the inside and outside lines and when he drifted wide, he would end up smashing his knee between the tree and the bike.
Kailub ended up going down and knocked the wind out of himself, which in addition to the knee injury would leave him lying in the middle of the track. Josh Strang would actually stop and help his title competition up to his feet. Russell would end up riding back to the pits under his own power, but it was obvious he was in a good bit of pain. Also, it should be noted that The John Penton Section is actually the furthest point from the pit area, so it was undoubtedly a long and very uncomfortable ride back.
Russell is scheduled to get the knee checked out this week, but we've yet to hear any sort of diagnosis. Josh Strang actually missed the previous round with a shoulder injury but returned at this event and landed 13th overall. And he deserves a big shout-out for helping KR557 get out of the middle of the track. Strang now sits 55 points behind Russell in the championship hunt with three rounds remaining. This makes things pretty interesting as first place overall pays 30 points, so this title hunt is not over yet.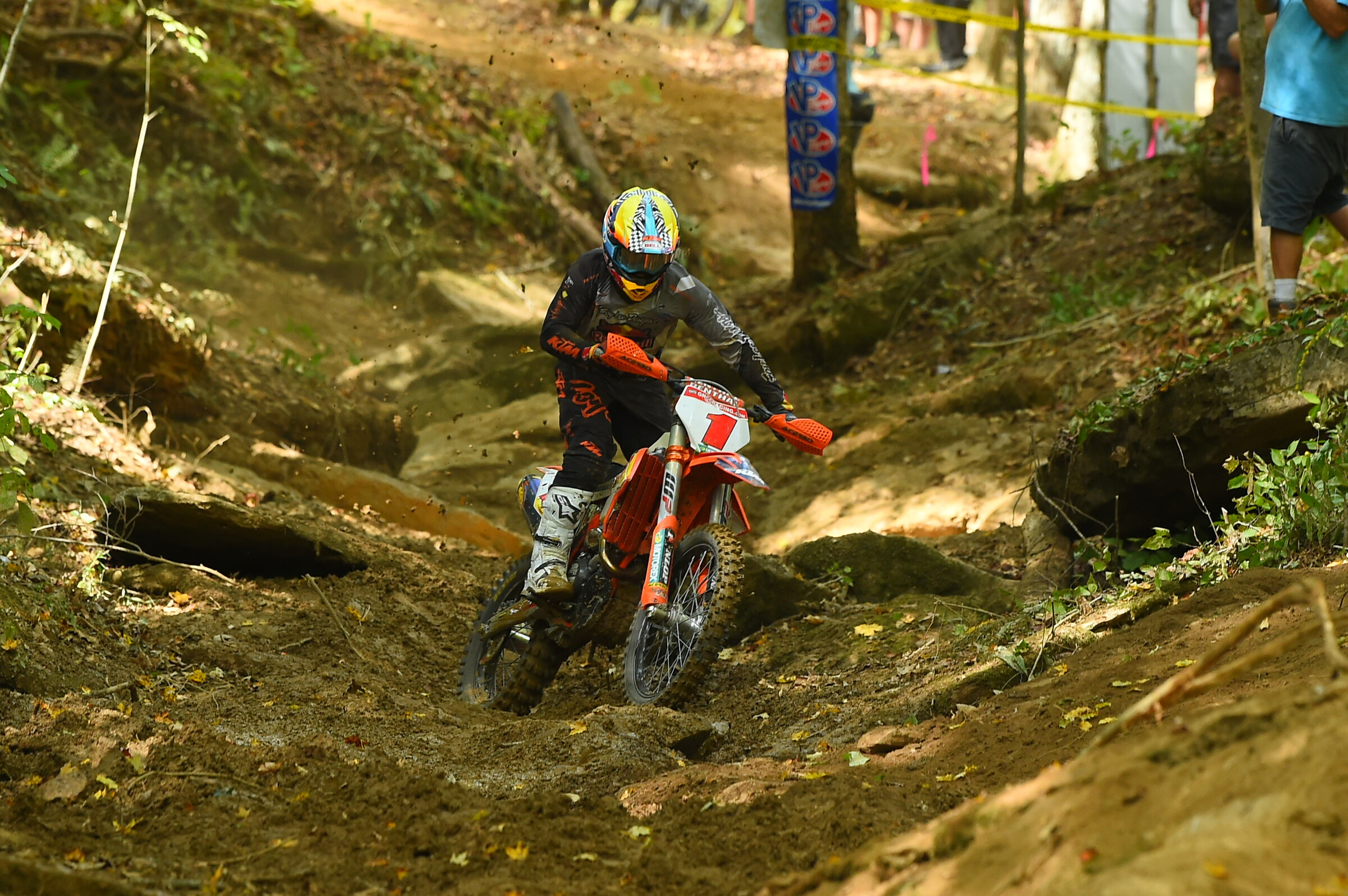 XC2 Intensity Continues
As has been the trend in 2020, the XC2 class saw some fairly close and intense racing action. Johnny Girroir would actually lead the race wire-to-wire for the XC2 class win, but Mike Witkowski would stay withing striking distance of Girroir for the entire event. After two hours and 59 minutes of racing, Girroir and Witkowski would finish the day just over 22 seconds apart. Girroir's win would help him to extend his points lead to nine points over Craig Delong (Girroir's 254 points to Delong's 245) while Witkowski (234 points) sits 20 points out of the lead in third.
This actually means these three guys all have a shot at the XC2 championship, and with three rounds remaining it's far from over. Delong was forced to work his way through the pack at Burr Oak, coming from sixth place on the opening lap to eventually end the day in third place. Delong is a bit of a veteran in the XC2 class having made his XC2 debut in late 2014 after wrapping up the 250 A class title. Delong has been Mr. Consistent all throughout his career, but just hasn't quite been able to seal the deal on an XC2 championship. He's hungry, but so are these other guys!
Witkowski made his XC2 debut in 2015, having worked his way through the Youth and A class ranks in GNCC, much like Delong. Girroir is the odd man out here, as he didn't really come through the Youth ranks of GNCC. Hailing from Southwick, Massachusetts, the GNCC events were always a bit of a long haul for Girroir. In fact, the first time Girroir really made a splash in the world of GNCC came back in 2013 when he ran inside the top three overall at the Unadilla GNCC.
Girroir made a name for himself running the J Day Offroad Series in New England, and it wasn't until 2018 that he began competing in the entire series. Then Girroir missed all of 2019 due to an injury. All three of these riders have worked incredibly hard and each of them are incredibly hungry for this XC2 championship. These final three rounds could be some of the most exciting XC2 races the series has ever seen.