Crawfordsville, IN
Ironman
Lucas Oil AMA Pro Motocross Championship
While race winner Eli Tomac (of Monster Energy Kawasaki) could not attend the Saturday night press conference due to a flight, the second and third place finishers Marvin Musquin (Red Bull KTM) and Adam Cianciarulo (Monster Energy Kawasaki) were able to meet with the media via Zoom. The 450 Class points leader Zach Osborne (Rockstar Energy Husqvarna) joined the press session as well, which was hosted by MX Sports Pro Racing's Brandon Short.
Racer X: AC, a good overall from you, 3-4 for the day for third overall. You had that win potentially in hand. Everybody was kind of breathing down your neck, but you showed the comfort to be up front. Maybe you just kind of tightened up a little bit there in the end. But you've got to be proud with back-to-back podium finishes. Talk about your day.
Adam Cianciarulo: Yeah, that's two weekends in a row where I've kind of changed my mindset a little bit the past couple weekends. Just trying to be more consistency-based, just kind of doing what's repeatable and not try to do any miracles out there and go crazy, out-of-control fast or anything like that. So it's two weekends in a row now I've had a chance to win. Obviously it's frustrating when you have the chance and I can watch the race back now and be like, man, you had five minutes and two laps to go. You couldn't hold onto it? But really in the moment, I know that I'm trying the best I can and putting my best effort forth. So it's not one of those things that discourages me or anything like that. If anything, I'm encouraged to be up there racing these guys. I just need to be a little bit stronger. To be honest with you, my whole back situation from supercross has kind of affected my training a little bit. I would say I'm still kind of working back into form, as you guys could probably see in that second moto. Those guys put quite a bit of time on me the last five minutes or so. But overall, that stuff is fixable. The speed and the talent, that's harder to fix. So I'm glad I have that part. It's just all about maintaining a positive outlook, and just keep making steps. I led 25 minutes of a pro 450 national and I'll take that experience to next weekend and just keep building on it.
Marvin, just kind of go through your day. Second overall. Your first moto, you were back in winning form. Looks similar to what you did at this same track last year. The second moto probably didn't go quite the way you hoped, but you still got second overall.
Marvin Musquin: Yeah. You always remember your last moto, I feel like, so unfortunately today in the second moto I was not quite there. I think it was more about that intensity and line choices. I just couldn't close the gap they put on me and it got bigger and bigger. Anyway, to be able to win a moto right now, the third round of the season, is awesome. I just felt great the first moto. I was obviously leading from lap one and took the holeshot. That was just awesome. It was just great. Even though I had pressure from Eli during the whole moto from lap one, I was able to respond when he was right there. Physically I just felt great. Obviously it was not hot today, so it was not difficult on that part. I was super pumped. Obviously, I never really celebrate that because there was a second moto right after that and then I ended up sixth. So it was not the moto I wanted, but I ended up second overall. So second overall right now is great and I'll take it, for sure. Coming into that new season, I was just questioning if I was going to be able to be out here and be competitive and fight with those guys, and that's the case. I'm pretty happy. Second overall is better than last weekend, so I'll take that.
Zach, I think what we've seen the last two weeks is a grittiness. There's adversity, but you dig deep. So talk about the day even though it wasn't what you were looking for after the first two weeks.
Zach Osborne: Yeah. If you had told me before the season I was going to be 13 points in the lead third round I would have said sign me up. So it's all about keeping it in perspective and just knowing that today just wasn't my day. The first moto I really should have been third or at least fifth and ended up seventh with just some unfortunate mishaps. That's how it goes. Then the second moto I was pretty comfortable there behind Adam, and then one tiny mistake cost me two positions and it just unfolded in two corners for me. So I'm going to keep pushing and keep the pressure on and keep trying to win some more races.
AC, I wanted to ask you a question. You had the fastest lap time around lap three. Can you walk us through what happened around lap 13? Looked like you started going about four seconds a lap slower. Was it arm pump? Were you just in your head going, I got five more minutes left? I got to put it together? What happened?
Cianciarulo: Hell of a question there. Like I mentioned in my first answer there, I am still kind of rounding into form, I guess you would say. Physically I'm probably not where I was at this time last year. Plus it's just tough to go that fast. Those guys are really good. I always pride myself in giving it my best. I think it would be easier for me to go out there, for example, today I was sitting behind Zach, and maybe I didn't want to look like I was going to fade at the end of the moto, so maybe I just ride at 80-90 percent the whole time and look like an iron man. But I want to win races and I'm going to do everything I can to do that. So I kind of made that decision in my head. I'm going to try to get Zach and then try to do the best laps that I could. I did it for as long as I could and then about five minutes to go I dropped the anchor and that's just the way it goes sometimes. I think for me, I can be technically better. I can be more efficient. I've been using a lot of energy at the beginning of the first moto, just kind of being excited. So that's just stuff I can work out on my own, and also just as the season goes on I'll continue to get stronger and build.
Marvin, congratulations on the first moto. You looked super fluid and everything was just going well for you. I know a year ago you got hurt in the second moto. Did that have anything to do with your mental game? Like, I just need to get through this race, because this race kind of ruined the last year for me?
Musquin: No. Definitely I thought about it for sure, but then I went out there the second moto and gave my best and tried to get the holeshot. I was right there in third. But you learn from your mistakes. I was trying to be obviously maybe a little smarter and maybe more patient and just go through the first couple turns not like last year, obviously. That second moto obviously I wanted to be out there and battle for podium positions, but I didn't. The first moto was great, but all of a sudden in one of the ruts I caught my foot and it bent my knee more than what I'm capable of. That was a little painful. Going into that second moto I was just a little bit off on reactions with my leg. I don't want to use that as an excuse. I gave my best and I pushed really hard, but it was not enough. I think my body and especially my knee needs to get used to it and go through those races. Loretta Lynn's was a good racetrack, but it was definitely a lot slower than here in Ironman, especially last weekend in the mud. But now today it was definitely a very tough racetrack, really fast and rutted again. So it was very challenging for the body. I just need to get stronger and get used to it again, especially for my knee.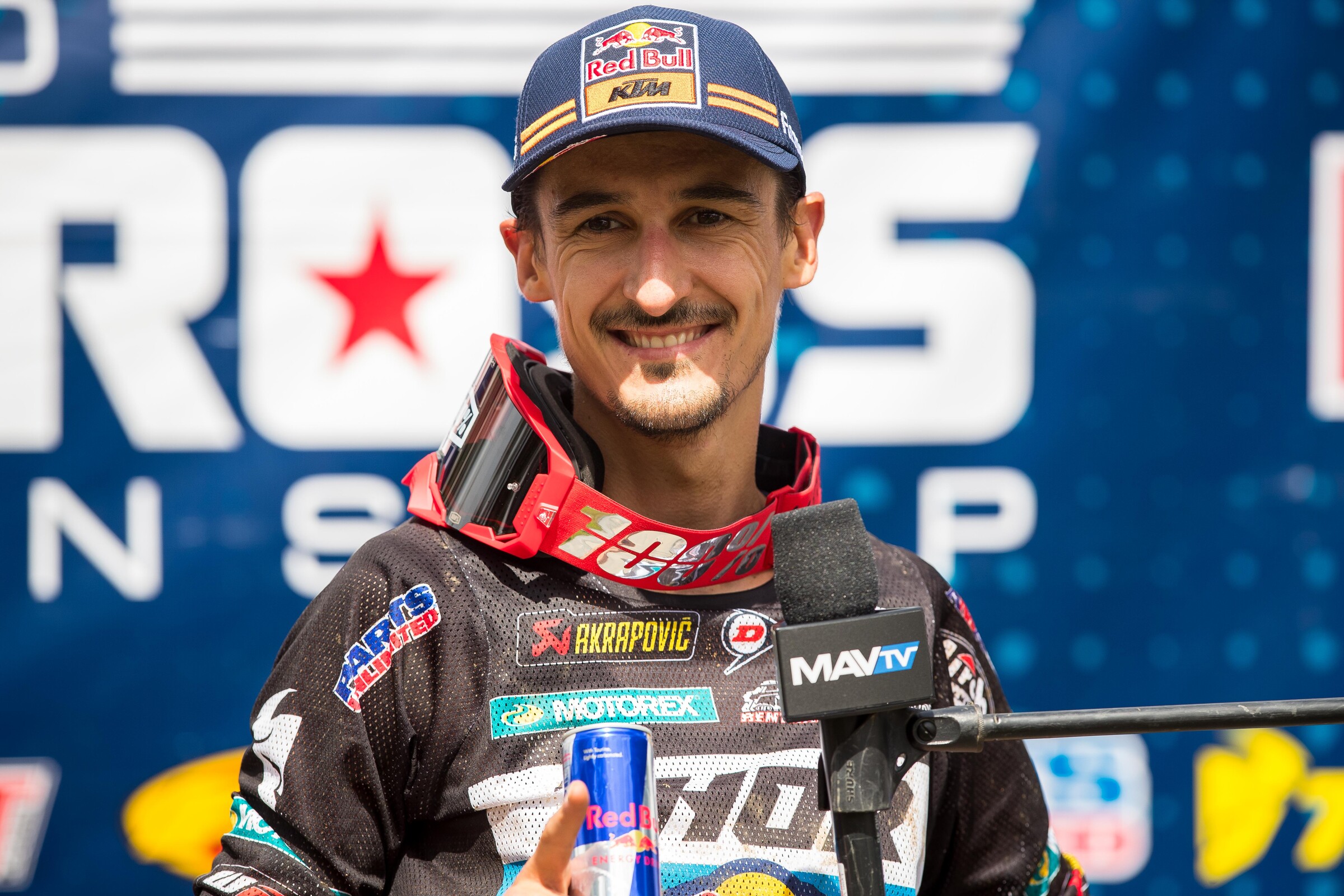 Zach, do you ever get mad at some of the lappers that don't follow the blue flag? You running into that lapper looked like it just stopped your forward momentum.
Osborne: I mean, yeah, but also I think they could do a bit better job of when they're flagging and where they're flagging and that kind of stuff. But at the end of the day, that was on me. I thought I was plenty clear, going fast enough to clear the gap before we got to the corner and we just connected in the corner. That was it.
Adam, when you're under pressure like you were in the second moto, are you aware of how many people were right behind you?
Cianciarulo: No, I wasn't really thinking about who was behind me at all. At any level in the sport but especially this class, I just pretty much assume everybody's right behind me. The pace is really high. I felt really good, but I would have to feel kind of other-worldly to think that I was putting a gap on all those guys. I didn't really think about it, I was just trying to hit my marks and move around the track. In the second moto especially they groomed some of the track and the outsides were pretty good for ten or 12 minutes until they blew out, so you had to start kind of moving around looking for lines. If you keep going to the same line for the whole race eventually it's going to catch up with you and you're going to get dropped. So I was just trying to focus on that. Just trying to take it all in, man. That was a cool experience. Obviously I have big goals. I want to win races and championships and all that, but to lead a national like that, it's a cool experience.
Marvin, in the first moto it seemed like Eli would reel you in a little bit and then you would be able to pull back a gap and he would reel you in, you would pull a gap. Did you feel like you had that speed in hand that every time he could catch you that you would be able to pull that gap back out every time?
Musquin: Yeah. I definitely felt like I was in a great position obviously to win. I had definitely clear vision because I was leading and that was awesome. Obviously when you catch the lappers, you're the first one to get to them. So I started thinking about it and I was like, I really hope it won't bug me. So it actually went pretty good. There were some, like you said, areas where he was catching me and I was able to gap him again on the rest of the track. So that was cool. But at some point I started to hear the crowd getting loud and I knew he was coming. I actually thought it was AC because for some reason, I don't know why, maybe because Adam was inside on the gate, I thought he had a better start. But I never actually looked back the whole moto. I was ready to push even more if I needed it in that first moto, so that was a great feeling.
Zach, in the second moto you turned it back on and you kind of caught the group again. Was there lines that you found or anything late in the moto that was different that helped you kind of catch up again?
Osborne: Not really. It was just one of those give-or-take tracks where I never really quite made contact with those front two after I got by Adam. I would gain two seconds and get kind of close, and then he would pull a second back. It was just a bit of a yo-yo. I was a bit surprised by the prep today. I felt like it was as lot harder than it normally is. A lot of lines, but not a lot of good ones. It wasn't really easy to maneuver or move or go anywhere else other than just kind of the one line that we were in. So nothing really changed. I just kind of dropped the hammer, but it wasn't enough.
Zach, in that second moto, you ran into the Seven Deuce Deuce. Tomac got you and then it almost looked like you kind of pulled a tear-off. Were you surprised that Barcia was that close?
No. I knew he was there. I always keep a watch on what's going on around me, so as soon as I made the mistake or whatever, I knew I was getting passed by two guys. I could feel Eli on the inside of me. I actually was going to go inside but I wasn't sure if that was even any better than just following the lapper around the corner, so in the end I just chose to follow and it bit me.
How do you compare this track to, you were at Loretta Lynn's twice.
Of course it's bigger. It's a totally different track and a totally different deal. Normally we come here and it's super rutted and deep and rough, but today I felt like it was really quite smooth as far as bumps go. It was pretty rutty in some places, but overall it was rather hard-packed and a bit just kind of smooth and vanilla to me.
Adam, we're six motos in now, your rookie year. Minus second moto at round one you've been pretty consistent. Is this about where you expected to be?
Cianciarulo: Yeah. I've always had that expectation around me since I was super little. So as I've grown older I've tried to do my best to kind of just stay present, as introspective as that sounds. I just try to kind of take every day as it comes. Most of the time, if I do my absolute best I'm happy with myself. I know what I'm capable of, so I'm not going to be happy until I get to that spot. I'm not going to be completely satisfied. But you kind of have to enjoy the journey along the way. I think so far for me, minus that second moto, I've been about where I would expect with kind of how strong I am. I think speed obviously is not a problem for me. There's a lot more to it than that obviously to win at the highest level. I think I'm making goods steps. To be the last four motos inside the top five, and not necessarily getting good starts, having to come through a couple different situations. I think I have more, but definitely have to enjoy these races. It's cool to be on the podium. I'm not going to lie.
I heard on a podcast that you're riding at James' [Stewart] house with Chase [Sexton]. How's that working out? How did that come about?
Yeah. For me, I have been riding at what they call now the Moto Sandbox. Jason Baker runs that program over there and he does a great job. That was Grant Langston's property before, in 2007, 2008-ish. Then it was [Ryan] Villopoto's and I was there for that. I was maybe 12 or 13 years old when I started riding there. Then it was Eric Grondahl's. Now it's been Jason's. So I've just been going to that track since I was twelve or thirteen years old. I've probably put more laps out there than anybody times a hundred. So I think for me, it was just a change of environment is cool. The James thing came about and I was invited out there. I've been having a good time. Just a change of pace. Something to keep everything fresh and new. I really pride myself on doing the best I can when I go to the practice track and trying to get better and trying to improve, especially with how hard we work and how gnarly and how long our season is. It's really easy to fall into a go through the motions mindset. So it's just something mentally for me to kind of keep me motivated and keep me headed in the right direction.
Today you ended up battling with Chase pretty much all day. Did it feel like during the week?
No. To be honest with you, he kicks my ass all week so long! He's so much faster than me in practice it's actually pretty insane. I just laugh it off. He's really good. He has a lot of talent and a bright future. He was hounding me there in the first moto. I kind of swerved him a little bit in the first moto, to be honest. I got around him and then I made a couple mistakes right away and he kind of had some runs on me on some of the straightaways. I was kind of doing one of those deals, kind of swerving from one side of the track to the other. But I saw him after the race and he seemed like he didn't hate me, so I think we'll be good on Monday.
Adam, obviously the goal is to race forward and you're always trying to move up positions, but is it tough when you know there's a guy like Chase who's right on you tail? For instance, any time you make a mistake he's going to pounce on you, and even when you guys passed Zach, he was right there. Just came right through with you. Is it tough to kind of keep going ahead when you know he's right there? What's it like to race forward when you know he's right there?
Yeah. It's an acquired skill, for sure, to be able to keep your focus on what you're doing when you have a whole bunch of guys behind you. I've been doing it long enough now it's not too much of a problem for me. Honestly, some of my best races are when somebody is on me the whole time, just hounding me. Just something about it keeps me focused. Especially when somebody you know is about to make a pass on you. You screw up and you see their fender and stuff like that. Those are the moments where you really have to kind of almost take a mental pause in your head and be like… If you fall into that trap of worrying about where they are, they're going to go around you and probably a couple other guys are, too. So you have to kind of use that moment to refocus and then hopefully you're going fast enough you don't get smoked.
Zach, as the red plate holder in the 450 class, how important are these double-header rounds coming up at RedBud?
Osborne: I think it's kind of going to be the tale of the tape for the rest of the season. It's going to be really tough to be some sort of recovered for Monday. The RedBud track is pretty gnarly, pretty demanding. So it's going to be all about staying low-key and just chilling that Saturday and Sunday and trying to be as good as you can be for Monday and go out there and give your all. I think they're going to be really pivotal rounds for me where I need to show up guns blazing and go out there and do the job.
Zach, on that note, will you change things up this week with your schedule with the race on a Friday? Will you ride at all this week? Or what will you change up?
We've been cut down to a two-day week, which is not normal for us. We normally do three days during the week. So lately it's been Tuesday/Wednesday, but this week we're going to do Monday/Tuesday just to be as fresh as we can. Wednesday and Thursday off and then race Friday, and Saturday and Sunday off and race Monday.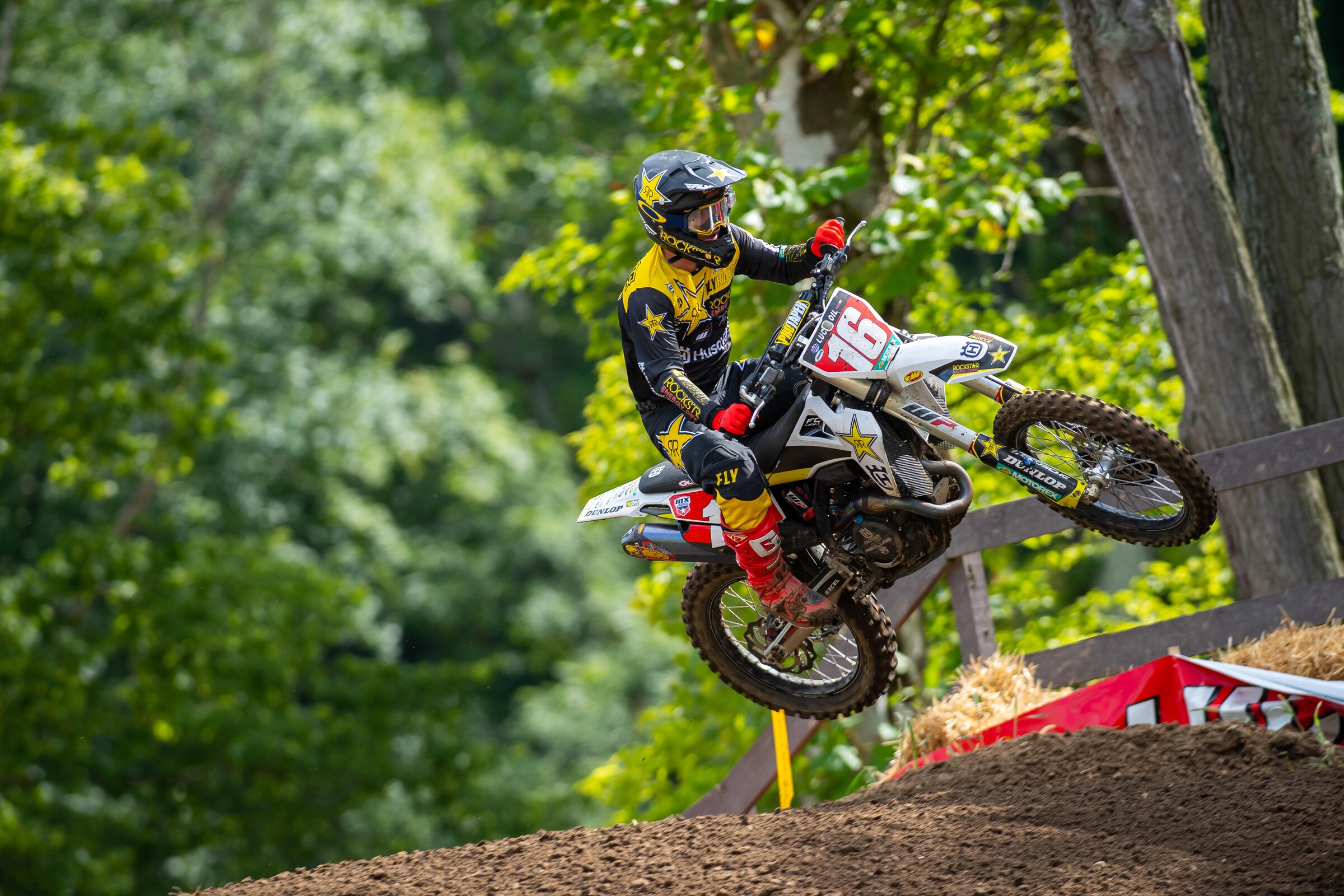 Adam, when you're lined up next to a competitor on the starting line and he has a flat front tire before the gate drops, what goes through your mind?
Cianciarulo: That was incredible. Alex Ray, he pulled into the gate after the sight lap and he looks down at his front and he's like, "This thing is flat." I guess he didn't have a wheel. Him and his mechanic were just kind of looking at each other like, "We don't know what to do." I'm like, "You got to go back to the rig. You got to fly out before you go off the start with 39 other guys going 40 miles an hour into the first turn with a front flat." He was unfazed. He was upset about it, but the fact that he was going to leave the gate with a front flat, especially on a track like that, I tipped my cap. He's alive, right? We can confirm that?
Yeah. He's fine. He raced all moto with a front flat.
That's incredible. Did he score points?
No.
That would have been unreal. That was crazy, man. [Laughs] He was not happy. He kept my focus on him before the gate dropped most of the time. I'm like, I can't believe this guy right now.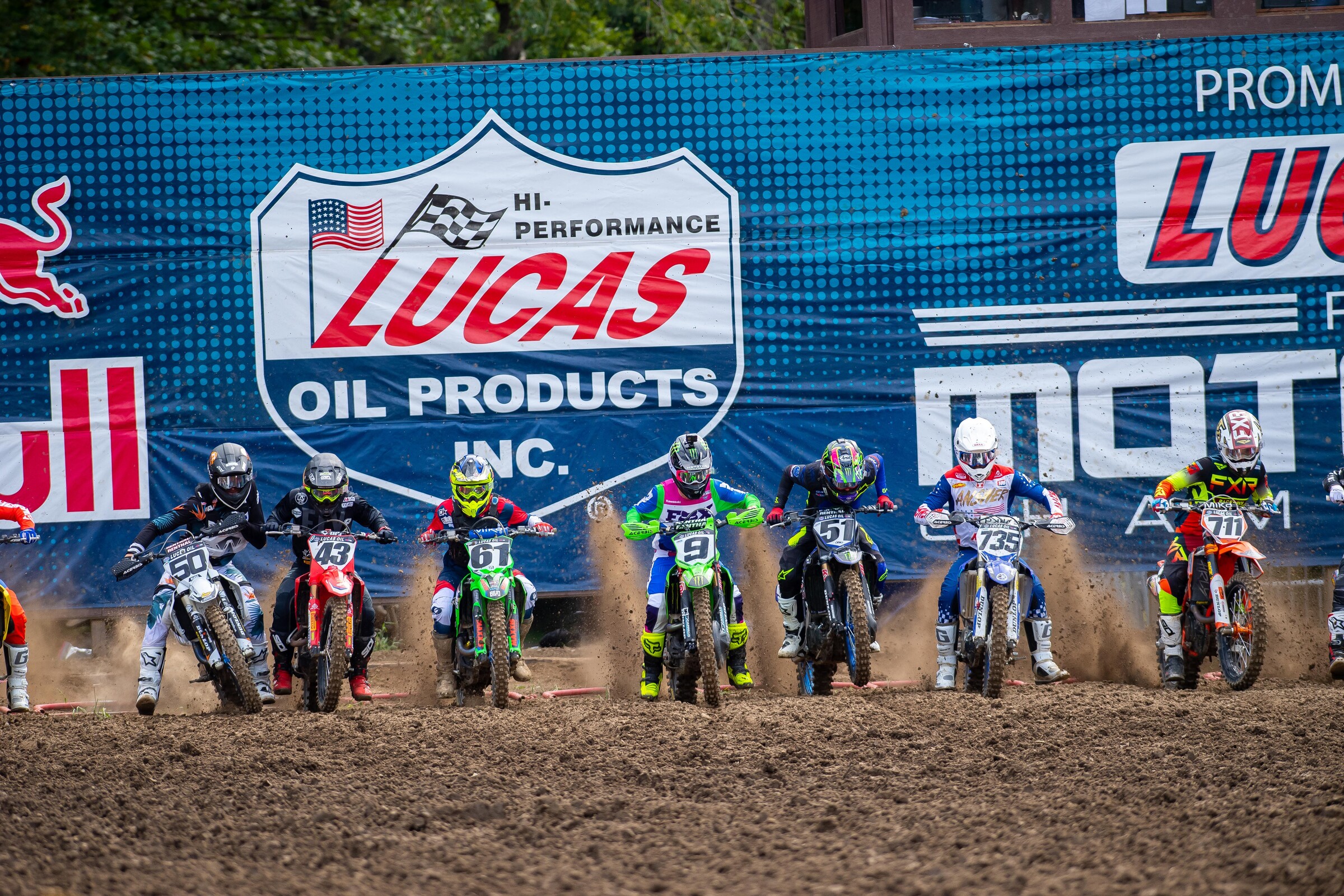 Zach, even though you didn't win after winning those first two overalls this year, you actually probably learned more today by having the battles that you had, right? This was probably a bigger learning day than Loretta's one and two?
Osborne: Yeah, for sure. The first two were pretty easy. There wasn't a whole lot of learning going on. But today, the first moto was just dismal for me. Going into the halfway point I felt like I was in the catbird seat. I had good pace. I was just kind of chilling in third. Then it just kind of all came unraveled. Moving forward that's something that I need to pay attention to and maybe attack those passes a little bit sooner. I made one really good run on Eli about 13 or 14 minutes. After that it was just kind of downhill from there.
Marvin, honestly all three sessions that you guys had today, from timed qualifying to moto one to moto two, the track changed quite a bit. Super sloppy in the morning. Really, really good moto one, and then kind of hard-pack and dry there towards the end. How did that help you, now that you know how your knee feels in a lot of different conditions?
Musquin: I have no choice, right? I got to go out there and give my best. But to be honest, I thought the first moto was going to be a little bit drier than that. The good thing is we were able to give some advice to the track crew because you go out for second practice and they flattened all the mud. So actually it doesn't help anything. There were some sections where it was super sloppy still, instead of scraping the mud off like they did in Loretta's. So the track definitely got better throughout the day. Obviously the last moto was quite a bit drier and more lines, so that was good that they fixed a couple of the sections. But they could have left some of the stuff, I feel like. But it helped obviously for passing and having different lines. For me, I've been feeling pretty good on the bike with my knee, so that first moto was just great. The second moto was maybe a little harder ground and maybe harder on my knee. All those big jumps, the big holes and stuff, that was hard on the knee. There was massive jumps. That section on the backside, there was a lot of hard landings. So I was definitely not great out there. Still I was giving my best. But anyway, the knee is holding up strong. I'm definitely ready. I know RedBud is going to be a good one.
Marvin, you've raced a long time around the world. Is it almost still shocking how close this field is right now? Literally the difference between a great moto and then falling off the pace in moto two, it seems like the line is so thin.
We're only three rounds in but I've said it many times that a lot of guys, I feel like a bunch of guys are capable of winning motos right now, and even more of getting podiums. So definitely it's a very interesting season to follow for the fans, for the whole industry. It's great. Obviously it's hard on every one of us because we want to win. I feel like the past few years there was maybe more injured riders and I felt like it was me, Tomac, but then when Kenny got hurt and stuff like that and all the guys got hurt, Baggett was there. It was less riders. I feel like this year everybody is here and healthy and ready to compete. So this is awesome. When you get a moto win or a podium you're pumped for sure.
Same thing for you, Zach. Is it shocking how small the difference would be between a really great moto and an average result with how close everybody is?
Osborne: Not really. When you have so many guys on one gate with so many credentials and championships and so on and so forth, it's a thin line. That's the pinnacle of motocross in America, in my opinion right there. That's what it's all about, is having a field that you need to be on point every single time you hit the dirt to win.
Zach, so you're the points leader, so if a moto unravels like it does in moto one, how do you keep yourself in check either during the moto, in-between motos, or even at the end of a day today to not be too upset that you gave too many points back?
It's all about the perspective for me. Five years ago, on the way to the hotel right now, when we came here in 2014 I was riding for GEICO. My wife was super pregnant. I was about to make the switch to Husky. We got to the hotel at Crawfordsville which was that sketchy Days Inn or whatever it is. I was like, I'm not putting my pregnant wife here. So we drove back to Brownsburg or Brownsville, whatever it is. We were passing that hotel tonight and I was like, I've been a little bit bummed or pissed about the day and how things went in the first moto. I was like, "Man, we've really come a long way since we stayed in this pile of crap hotel five years ago." And that's really what it's all about for me. Had you told me I'd be here now five years ago, I would have been like, sign me up. That's what it's all about. That's kind of what keeps me going and what keeps it in perspective when the chips are down or when the chips are up.
Marvin and AC, with the shortened schedule this week, it's only one day but it changes your routine. Neither of you guys is totally 100 percent and then we got an even shorter turnaround before the Monday race. How do you prepare with the shorter schedule and recovery?
Musquin: That's how the schedule is and we'll do everything to recover and be ready to battle and try to be as competitive as possible. I'm excited to race two rounds like that back-to-back and with only two days in-between. We'll be out there. I'm lucky to have a motorhome on the track. So we'll just hang out with the team and then recover in-between.
Cianciarulo: Same for me. I will say I'm an excellent chiller. I'm good with sitting on the bed all day Saturday and Sunday, Netflix, PlayStation. Anything we got going, I'm good with it. So I think that will play into my advantage for Monday's race.
You can listen to the press conference below and you can watch the archive of the Ironman National post-race press conference as well. The 450 Class starts at 31:02.