Crawfordsville, IN
Ironman
AMA Pro Motocross Championship
At the 2020 Ironman National, GEICO Honda's Jeremy Martin finished 2-1 took his second overall win of the Lucas Oil AMA Pro Motocross Championship. Monster Energy/Star Racing Yamaha's Dylan Ferrandis won the first moto but collided with several riders in the first turn of the second moto and was in 40th place as he rounded the second turn. Somehow, Ferrandis managed to charge all the way back inside the top five before taking third from Troy Lee Designs/Red Bull KTM's Brandon Hartranft. Ferrandis' 1-3 was bested by Martin's 2-1. Hartranft finished a steady 3-4 to earn his first overall podium finish as he rounded out the podium.
Following the racing, all three joined the media for the post-press conference, which was hosted by MX Sports Pro Racing's Brandon Short via a Zoom conference call.
Racer X: Jeremy, a good day for you. Definitely what you were probably coming in looking to do today. It's going to be a tight championship all season long, it looks like between you and Dylan the way things started. 2-1. Consistent day. Probably couldn't really ask for much more. Back-to-back wins for you. You got the momentum right now. You made some ground in the standings. Dylan was able to hold onto it. Talk through your day and let us know how it went for you and what you're thinking moving forward.
Jeremy Martin: For starters, I think just starting off with the day, it was really nice that it wasn't going to downpour during the day. That was a positive thing. The track, I couldn't believe how muddy it was. I was like, dang it, man. Certain sections I was pretty blown away. I think they got a little bit of rain, but they must have watered it. Either it was the rain or whatever, but it was watered pretty heavy. Third-fastest qualifier, and then in moto one it was Dylan and I off the gate. He straight up smoked me. I got to give credit where credit is due. He was the better man in moto one. I was just trying to do what I could to learn from him at that point and mocked up a second. Then I was like, well, we'll go into moto two and see if we can improve on it. Got the holeshot. I didn't actually know what happened to Dylan, but I just rode my race and raced forward and managed to gap over Justin Cooper and was able to go 2-1 for first overall.
Dylan, obviously the first moto could not have gone better for you. You really just had a stellar moto there, won by over 20 seconds. Probably feeling great going into moto two. Things happen in racing, as we know. You and Shane came together. Dead last off the line. You put in a charge. I can't think that can be understated enough, what you were able to do there. Get back on the podium, salvaged what could have been a disaster, and hold onto the points lead in doing so. Second overall. Talk about that second moto in particular and how you managed to come through and hold onto that points lead.
Dylan Ferrandis: Like you said, it was just a disaster start in moto two. I knew the championship was on the line and I just gave everything I had and tried to do my best. Passed as many guys as I can and do the best I can. I was feeling really great today physically, technically with my bike and everything. So, the moto one, I just showed what I can do on the bike and I just felt really great. This crash in moto two was a big disaster. But I came back and felt really good. Still keep the red plate and that's what matters the most. We'll see next weekend. Back to racing. It will be nice to stop doing some mistakes like this because last race for sure was in the mud conditions, but I could do a little better and maybe won the overall. Today same. I feel like the overall was really for me. This crash, I need to put myself out of the trouble.
Brandon, big day for you. First overall podium performance in pro moto. Right there all day, 3-4. Third in the first moto and then right there in the hunt for third really the whole second moto, even though you lost it right there at the end. You were right where you wanted to be. You were in podium contention. This has probably been building. I'm sure you were hoping for this when you joined this team initially even. Talk about your day and what it feels like to finally get on the box and be able to build from this moving forward.
Brandon Hartranft: Yeah, the day started off pretty good. I started I think fourth fastest. I knew I had the speed to stay with the guys. It was a matter of just doing it instead of just talking about it. I put a lot of hard work in during the week. I just wanted to show… I was kind of complaining to our team just how much effort I've been putting in and how good I'm riding during the week and it's not showing on the weekends. Like last weekend I went DNF-DNF because of a bike problem. But it's part of it. Just like what Jeremy was saying. We went out there and the first lap I'm like, man, it's muddy. It just reminded me of Loretta's. The track turned out really well. First moto, I didn't have that good of a start. I just kind of rode the dozer marks and just passed everybody. I think I went to third place after the second lap and just tried to tag along with Jeremy. Obviously, he's a veteran and he's really good. So, it was good for me to just follow his lines. Then moto two, I knew I could have a good overall finish. It was just I had to get a good start. I about got the holeshot, but I checked up and held her tight and got into fourth and then passed straight into third and kind of just followed Justin and Jeremy. Dylan obviously put on a crazy charge from last, so props to him. The team is very happy. It was just a matter of time where I could show my true potential, and today was that day.
Brandon, you looked great today. You were riding really good. Weege called you Ivan Drago. I've heard you called The Heartthrob and Ivan Drago. Which do you prefer?
I like Ivan Drago just because the dude was pretty badass. I kind of look like him, so I'll take that over Heartthrob. [Laughs]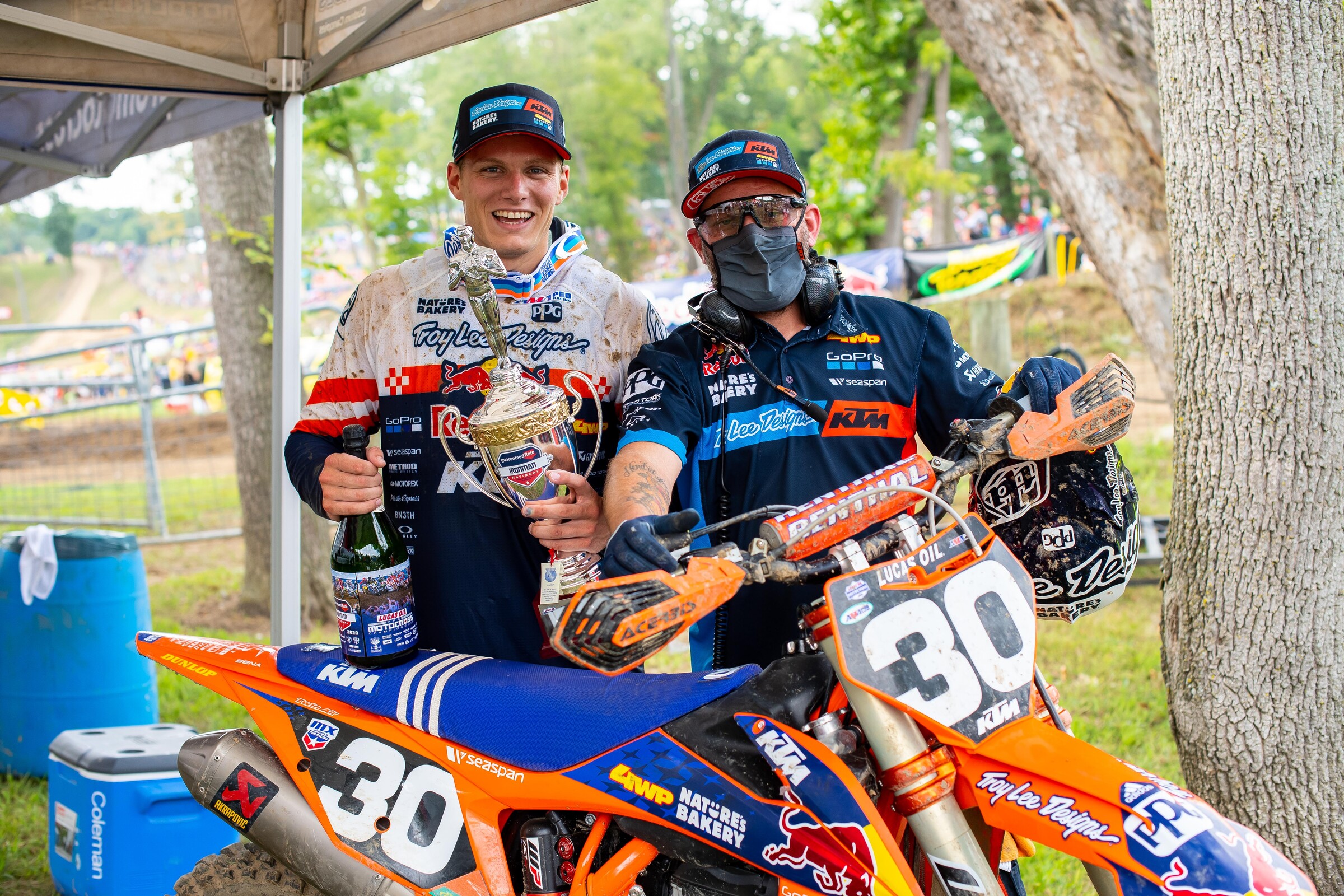 They also said on the broadcast that you're training out of California. I thought all the KTM dudes had to be out of Aldon's camp. What's up with that?
I'm not sure. I guess I had a choice. I bought a house and obviously am living with my girlfriend and stuff. I just wanted to base out of where my house was. I love being with the team at the tracks every day. I really trust my mechanic. The track has been really good out in California. It's really good to ride with obviously the Star guys and just see where you're at. It works for them, so I just wanted to try and see how it would work. So far, it's paying off. Maybe in the future I'll be in Florida. I'm not sure what's the plan next year, but we'll figure it out.
Clearly whatever you're doing is working. Who is your trainer, by the way?
In California? It's just me. My mechanic [Jay Burgess] helps me out a lot. Tyler Keefe and Rich Simmons, which is our crew chief. They obviously help me out a lot, same with the suspension guys. Just training off the bike, in the gym, and the cycle has just been me. I'll go with my buddies, but I guess I'm motivational to do it. So, it's just been me.
Jeremy, coming from somebody that has been badly injured, you've won two races in a row now and you got your first moto win. Was this more for you, or was it more for all the people that doubted you with your injury?
Martin: For sure I'd say it's mainly for me. When the injury went down, two of the three doctors that worked on me said I was nuts to come back and to even race and want to do that again. I went and got a part-time job to try to understand what real life was like. I'm sure everybody is kind of tired of the story, but I thought about what the next stage in life would be like for a long time. A lot of your friends and supporters that are there, when you're doing well at the races and you're winning, they disappeared, and I got a sense of what reality and real life is like. For sure, it's for me. The win today was a big deal. Just trying to get better and dig myself out of that hole from the injury back in 2018.
Dylan, that first moto you started way on the inside. Was it strategy to try to move over onto some of the dry dirt and stay out of the mud so you could get some more traction on that rear wheel and get a good start?
Ferrandis: Yes, exactly. I feel like they didn't rip as deep on the right side and on the rest of the gate, so I feel that was more safe. When we do the test start in the morning, the middle of the gate was really, really deep. Just I tried, and it worked. Was good.
Brandon, congratulations on the podium. I just want to know, do you compare yourself to the other riders or do you compare yourself to some tangible, measurable goals?
Hartranft: What do you mean compare myself to them? Like being as good as them?
Yeah. Do you go, "I'm hanging with Dylan and Jeremy—I must be doing good?" Or do you base your goals on, "I'm just going to focus on the track and keep moving forward? If I'm feeling good and I'm not getting pumped up, then I'm happy with the goals or the race result?"
Yeah. Obviously, I don't want to set my goals too high and then not achieve them and be mentally like, What just happened? I normally just take it step by step. The first moto went obviously pretty smooth. I would just tell myself a top five overall would have been great. Then I ended up being third overall. That's just how I work. I don't want to put too much pressure on myself, which I obviously do. It's crazy running up front. You breathe better. It's less stress. I honestly feel like you're more tired being in the back just because you don't have time to breathe or think. I guess I do compare myself to them, but I don't know how to explain it.
Dylan, now that we're three races into the summer, are you starting to pay more attention to the 450 class and what's happening out there at all, just to prepare for next year? Or has it been more focusing on getting through this last 250 season? Just to see what they're doing for experience.
Ferrandis: I always watch the 450 and try to analyze everything since I'm maybe 12 years old. I love this sport. I'm also a fan. When I don't race 450, I just watch and look at what the guys do. So, for sure, yeah. I know next year is going to be the big move. I know I'm going to fight with these guys. It's going to be really, really hard. We all know what the 450 group is like. I just want to finish this year on a high note and move. It's going to be interesting, but for sure I watch and analyze everything in 450. I can't wait to be in 450 right now. I did my time on a 250. For sure I'm focusing on this championship and I want to win it, but I really want to move to 450 as soon as the season is done. That's what I will do.
Jeremy, with these back-to-back races coming up at RedBud next week, you having the momentum from two overalls but then this being an all-new challenge with so many races so close together, does anything change for that or is it just, hey, it's two more races, they just happen to be different days?
Martin: For sure, I think it's just two more races, different days. I would think everybody likes RedBud. It's a pretty fun circuit. The dirt is pretty good. I honestly am into it. I like racing, banging those two races out right away. So just looking forward to it. I think the only thing that's going to be a little bit different is just how I train during the week, just to give myself a little bit of a break and be just as recovered as I was going into this weekend as I would be for Friday, essentially, because it's a day earlier. That's all.
Brandon, now you have supercross podiums, you have outdoor podiums. Those are a big deal, but it kind of seems like some of your accomplishments have been not as excited in your behalf. When you're on the podium you're just kind of, I'm here and this is great. Do you notice how important these are though for your career as a whole? Because this is what teams look for in results and contracts and everything and future offers.
Hartranft: We're paid to obviously do good. I switched to a new team and it's a factory team. Dealing with Roger [De Coster] and Ian [Harrison] and Tyler and everybody from KTM it's no joke. I'm expected to be there, but I feel like outdoors, this one was a lot more well-deserved. The outdoor podium was a lot better. I feel like I earned this one more respectably than the other two. So, a lot of things kind of went my way in the first two in supercross, where this one start to finish both motos I was accountable. I think the team is very happy. I feel like I should be up front where I was today. Hopefully, we'll see more of it.
Jeremy, as the track was drying up during the day, was there much that you had to do setup-wise to the bike, maybe change tires or do anything to the suspension to adapt to the drying conditions?
Martin: No. I made a slight clicker adjustment for moto two. I honestly don't know. I kind of think it might have been a little bit worse, but it wasn't like it was going to affect my riding or my results. I could just tell the rear was kind of doing a couple little things. I think honestly for me, the track kind of came around for moto two to where I was more competitive. The GEICO Honda machine is really fast. It's definitely faster than what I was racing on in 2018. But the Star bikes are really tall. When there's a lot of kinks in the ruts and the ruts are soft and it's grabbing the bike, they've got good power and the bike is tall. So, I thought for moto two, honestly, I felt like that was the most competitive I was going to be all day, just because the track had firmed up and it was more solid.
Dylan, when you fell in the first corner and you looked up and you saw the entire field going down the next straightaway, were you surprised at all at how far you actually did make it up in the running order in the end?
Ferrandis: I don't know. When I crashed, I just want to go back on the bike as soon as I can. My engine turned off, so I had to restart it. It was so fast I just didn't think about it. When I finished the race, for sure I didn't know what I finished. I expect to be in the top five, but I didn't really know. When I saw my mechanic, I asked him what I finished. When in this situation, what is good to do in this situation is just to not panic and don't think about the championship or what you can do or what you can finish or anything. It's what I did. I think it worked great. That's a situation where you don't want to be.
Jeremy, so far this year you've pretty much stayed with Dylan through consistency, but every time you guys have been together, he's kind of gotten away from you. You being a veteran and kind of a student of the sport, what do you think needs to change for you to close that gap on Dylan?
Martin: For sure. The times that we have been around each other, he's definitely had an edge on me. He's been able to get away. For me, it's a shorter series but it is a longer series. I'm going to do what I can do. I can only control what I'm in control of. Dylan's obviously a two-time supercross champ. He's really competitive and fast outdoors. But Dylan will do what Dylan is going to do, and I'm going to do what I'm going to do. I'm going to focus on what I can do to be better every day. I won today, but obviously the guy beat me by 30 seconds in moto one. So basically, I've got work to do. That's kind of how I look at it.
With your bike, you talked about it being really fast. Last year everybody kind of lagged behind the Star bike. Do you feel like you guys have closed that gap?
Martin: We're always trying. As I'm trying to get better, the team is trying to get better. I don't want to say nothing that will put me in a situation. The team is just trying to get better and I'm trying to get better. I feel like we have gotten closer to them, but I still think that they're the top for horsepower. They're at that top bar. We're just doing what we can to close that gap.
Brandon, I don't think you've ever been in the top five, and today consistently 3-4, whatever it was. What was it, the track? Did you eat something right? What was it today that gave you that extra you needed?
Hartranft: When I got my two podiums this year, I straight-razored my face the night before. Last night I did that and today was a good day. It was just starts, man. It's crazy. There's two to three guys that can come from the back and catch up to the leaders, like Dylan or Jeremy, to where I'm like right in that big group where everybody's kind of the same speed. So today just my starts were good. I feel like I lack a little bit on starts. I figured some stuff out last week. I about ripped a holeshot in moto two. Then this weekend I just focused on my starts and the rest just came with it.
Congrats on today. You're not the smallest guy out there.
That don't help it, either.
Jeremy, kind of following up on that question from earlier. Do you think you would have reacted the same way years ago if you lose a moto by 25 seconds? Is this something you've learned to deal with better just because you're a veteran and you kind of take it in stride, and then it works out in moto two? Is that something you've learned through the years?
Martin: Yeah. I think it's something I've learned through the years. Honestly, guys, I would attest a lot of it to just breaking my back. The deficit I was at and the stuff I had to overcome, for me, it opened my eyes up to a whole new world of just how mentally tough I can be. It just kind of like calloused my mind to where I think it's really helped benefit me from a professional athlete standpoint and being mentally strong and staying competitive, even though I did get beat by that much.
Dylan, you've obviously been fast at all three races, but you only ended up with one overall, even though this one you can from last to third. You still only have one overall win. So, is that a bummer, or are you just looking at it as a long season and it's just points either way? Or are you mad to think, that could have been more wins?
Ferrandis: Yeah, that's a real bummer. Honestly, tonight and last Saturday night I'm so frustrated. I'm not happy, honestly. I'm not happy because the way I ride, I should be 1-1 today. Last weekend for sure was mud conditions, but I could do better. This weekend, I'm really, really frustrated. For sure, my crew of people around me, they were really happy. They were really proud of what I did, but to me personally, if you ask me if I'm okay, no. I'm not okay. I'm so mad. I'm really mad right now. It's not fun to be faster and to not win. It's mentally hard. It's weird to say, but it's a little hard tonight and also last Saturday night. I'm not happy at all.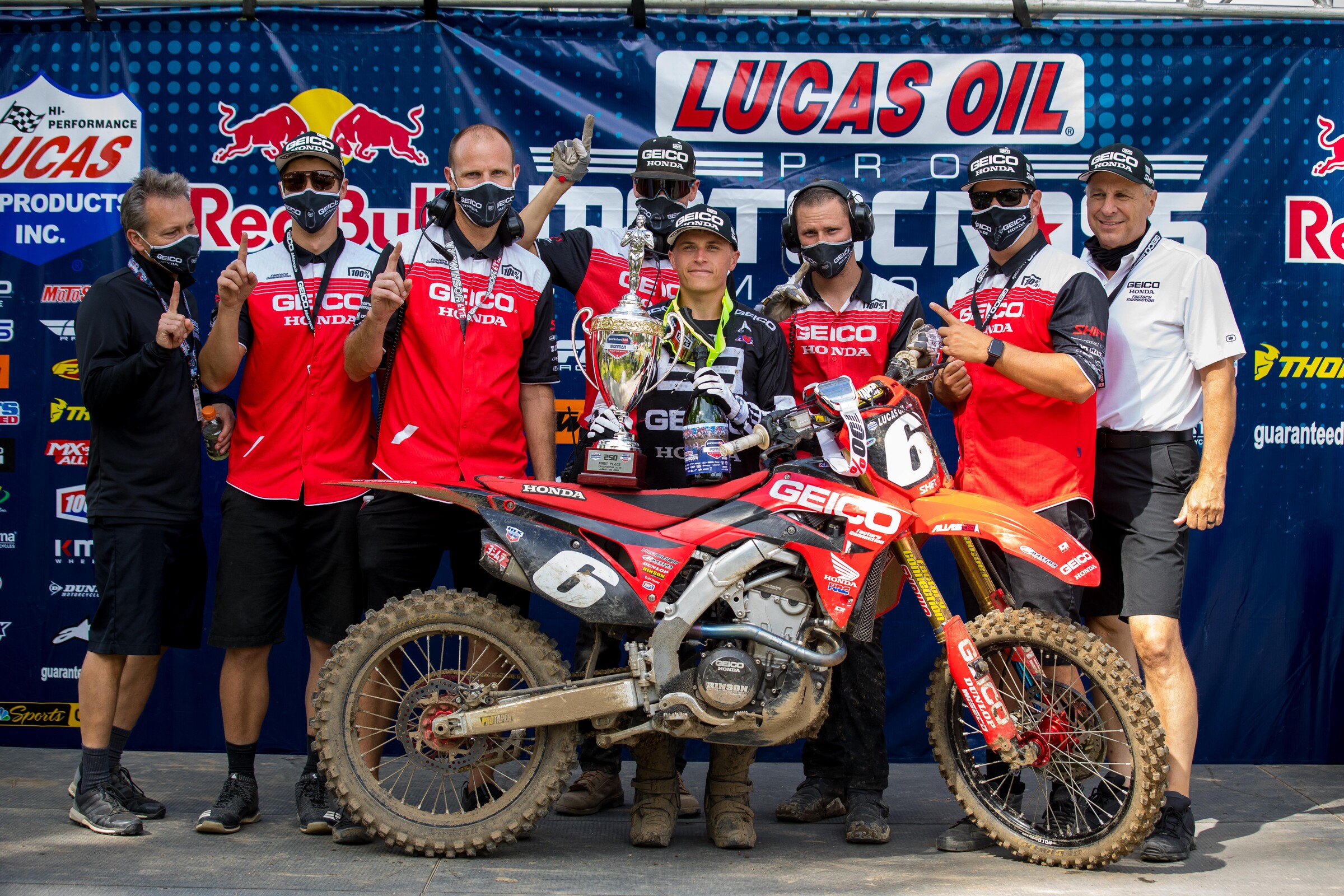 Brandon, is there any added motivation that you weren't necessarily considered one of the favorites going into this? Do you feed off of that?
Hartranft: Yeah. Obviously, next year I'm not signed. Roger and Ian and Ty, they took a shot with me. They didn't know I have the potential and I want to prove that to them. There's always somebody that can replace me, so I always try to do my best and don't want to lose my ride, obviously. So that definitely fires my butt a little bit to obviously keep a job and do what I love.
Dylan, a ride like your second moto ride today, at the end of the day, does that seem easier? I know that's not what you want, but when you're leading you have all the pressure of making a mistake, but when you're in the back like that, all you have is go forward, charge, and see what happens. Does it change anything throughout the day? Does it make the moto go quicker?
Ferrandis: A little bit, yeah. At some point in moto one, I had the big gap and I wanted to grow my gap and my team just tell me to calm down. It was kind of hard because to ride slower than what you can is not easy to do. I kind of don't really like it. So, for sure in the second moto I was so fast. I wish we could have much more laps. It was totally a really different feeling. At the end I did my best and nothing else I can do.
Jeremy, you talked about Dylan being faster and you got to just do what you can do, but what can you work on? What do you think you need to work on to make that little bit of difference?
Martin: It's all the same stuff. It's the stuff that I work on every single day. Every day I get up, go to bed, I think about it. I think about how to be better. You don't make these massive improvements overnight. You just go to work; you stay in the grind and you just work on the fundamentals and everything and just hope that you get that another 2 percent gain or whatever and the next weekend hopefully it shows off.
Dylan, in that second moto on the start it looked like your teammate kind of pinched you off. Then he went down and kind of collected you. Does it get awkward back in the truck? I know he didn't do anything like that on purpose and it was nothing malicious, but is it really awkward when you're both back there after a moto like that? Do you go to one side of the truck and he goes to the other? What do you guys do?
Ferrandis: It's a good question. On my point of view before the corner, for me, we need to talk about it. I was really too mad to have the conversation with him, so we didn't have time to talk. But for me, he kind of tried more to block me in the straightaway than to focus on himself, and then he crashed after the corner. I didn't understand why he crashed. I was just in his way so I couldn't go anywhere. The crash, it's no problem. I also crash sometimes in the start alone. That's happened. I was more frustrated about what he did in the straightaway. I didn't understand why he went on the right and blocked me instead of open the corner and try to grab the holeshot. That's something we will have to discuss together. I think we were both not happy about the results, so it was not a good time to talk. It's something that we will have to do, I think.
Dylan, just off that thing, you said you were mad out there and you were mad after. Are you someone that… a lot of people don't ride better mad. I know I'm someone who didn't. Are you someone that rides better when you're mad? Maybe the way you rode in that second moto maybe someone needs to piss you off before every race.
No, absolutely not. I always ride the best I can. That's all I do. I ride with my heartrate monitor, so I can see my data. I checked it before this Zoom call. I can see that in the first moto I pushed not as hard as the second moto, but really close. So, to get that 26-second gap on Jeremy, you need to push. I pushed both motos almost the same. The only thing is the first moto the last couple laps I could just slow down a little bit and recover. But both motos I pushed the same. I was not mad at all in the first moto and I was really mad in the second. So that doesn't really affect me. That's something we work a lot. Also, when you grow up, now today I'm 26 years old, it comes with experience. When you're a kid, when you're younger, when something bad happens you just get crazy and ride way too hard and sometimes you crash again and do stupid mistakes. With the experience, it helps the situation. It helped me a lot today. I'm just staying calm and focus on what I needed to do to get back in front.
It was crazy because even coming through the pack, you were 30 seconds back at one point and you finished ten seconds back. Is that something you look at and gain a little confidence from and see that you had the same speed you had in the first moto?
Not so much. I knew I had this in me. I think it's more for the industry. I think the industry never see what I can really do. I think they saw it today. I always knew I had this in me. I know where I am physically and with the speed. So, I just ride how I know to ride. I didn't stop until the checkered flag. I think it's good that everybody saw that today.
You can listen to the press conference below and you can watch the archive of the Ironman National 250 Class post-race press conference as well.