Kegums, Latvia
MXGP of Latvia
FIM Motocross World Championship
The first of a triple-header in seven days at the fast, bumpy, and sandy Kegums circuit in Latvia saw Glenn Coldenhoff return to the scene of his original MXGP triumph.
The world of weird surrounding the fall-out of a pandemic continues. This is motocross, but not quite how we know it. Here are four points that broke through the bumpy and sandy surface at Kegums after MXGP tried to blow away five months of inactivity.
1. Frugal Kegums
From 35 riders in the gate prepared to tackle the new one-day format of MXGP, a staggering 28 know what it's like to crest a Grand Prix podium. A full 19 know how to win. However, since 2015, only four riders have won a moto at Kegums. The quartet—Red Bull KTM's Jeffrey Herlings, HRC's Tim Gajser, Monster Energy Kawasaki's Romain Febvre, and Gas Gas' Glenn Coldenhoff—all sat on the table in the post-race press conference Sunday afternoon.
The victor, Coldenhoff, not only claimed his second triumph in Latvia (his maiden success on a 450 came here five years ago) but also the very first for the Gas Gas brand; a small Catalan firm famed for their Trial engineering but now the latest marque under the KTM umbrella. The Dutchman is fiercely rumoured to be on the shopping list for the factory Monster Energy Yamaha team in 2021. On this showing he's the definition of a late-burner at the top level, who has found his confidence and composure among the best in the world. Coldenhoff enjoyed the fruit of his bright starts, ran close to Gajser and capitalized when the reigning world champion made a mistake and crashed down to fifth in the second moto.
Gajser's second place overall was enough to drag him to within four points of Herlings. Herlings was only present with the podium courtesy of his status as championship leader. He was curiously off-song. He didn't get out of the gate well-enough and seemed to cruise rather than attack, especially in the first half of the opening race when he lingered in the bottom half of the top ten. Perhaps out of frustration than anything else, Herlings was more like himself in the second race when he retaliated from being punted outside of the top 20 and came back to fourth. The form of his countryman (Coldenhoff) and the competitiveness of Gajser on the works 2020 CRF450R—as well as the roaming Yamahas of Jeremy Seewer (fourth overall) and the likes of Arnaud Tonus (very quick but race rusty after missing most of 2019 through injury) means he needs to up his game for the other four motos in the coming days. It felt highly unusual to see Herlings completing both motos without taking a trophy.
Latvia '1' was significant for Febvre. An injured knee meant a limp start to the season in March and his new career chapter with Kawasaki, but he was able to profit from the break to rehab and get even more acquainted with the KX450F. He outshone teammate Clement Desalle and demonstrated some of the potency that led Kawasaki to their investment.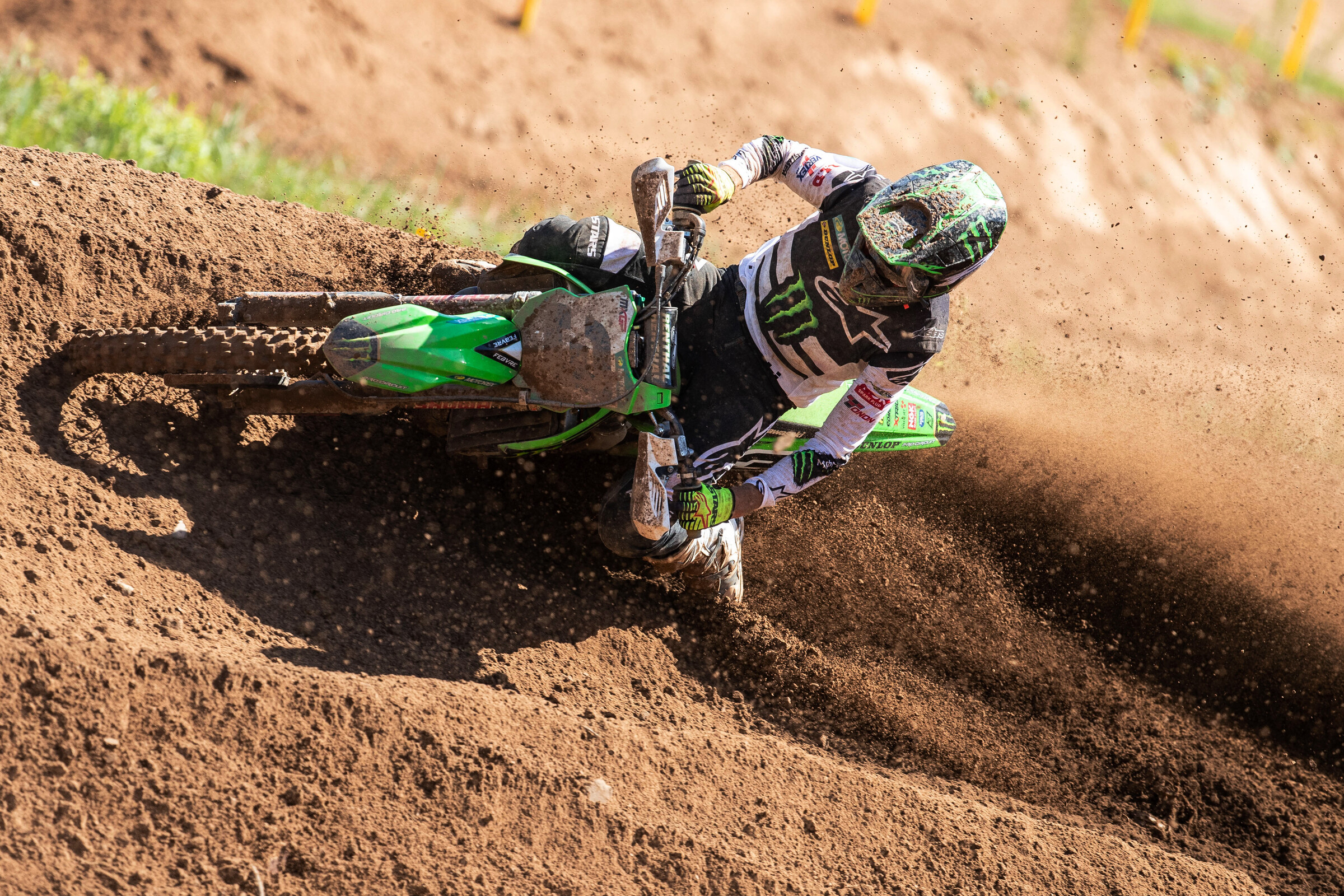 Rockstar Energy IceOne Husqvarna's Arminas Jasikonis looked lively and gave the team a decent enough showing in the absence of teammate and local hero Pauls Jonass. The Latvian is currently recovering from a training crash that led to several broken ribs and back problems.
Nine-time world champion Tony Cairoli is 35 years old next month, but the Sicilian showed his class, speed, and fitness in the first moto to recover from a mediocre start and reach seventh after a busy trawl. A run-in with Tonus at the start of the second race also gave #222 a whack to his right knee, where he has already suffered some ligament damage. He gingerly made his way around to take four points and was 13th overall. He summed up the experience of many riders around the rough surface and after having been starved of elite racing action for so long.
"The restart of everything after five months meant it would be tricky because we didn't know the pace…" he explained. For the first time in almost 65 years of Grand Prix, the next round takes place in a matter of hours rather than days. The Wednesday fixture means precious little time for recovery. "I don't know," Cairoli answered when quizzed on the prospect of his limb being in better shape for round four. "For recuperation [generally] as well: I'm not 20 anymore! It is not so easy to do it quickly after a tough race. I have some experience and I will try to be more ready than I was today, even with this knee problem. I will try to forget it if possible and ride more consistently."
2. MX2 Duel Forming
Rockstar Energy Husqvarna's Thomas Kjer Olsen had owned two of the last three MX2 Grands Prix at Kegums but a late training crash last week meant the Dane was riding in pain. His eighth-place overall kept him in a distant championship hunt for what is his final season in the category.
Instead it was left to Red Bull KTM's Tom Vialle and Monster Energy Yamaha's Jago Geerts to put on a show. The pair had claimed the first two rounds in the UK and Holland between them and their dice in both motos here further flamed the notion that a duel for the 2020 crown is firmly brewing. Vialle's work with KTM and Joel Smets in particular is a remarkable story. A stylish and slight athlete that barely caught the eye in the European Championship has now been converted into yet another KTM MX2 potential champion in the space of 18 months and blends starting ability, concentration, fitness, and intelligence to rapier effect. Shy and barely bi-lingual at the start of 2019, Vialle's ability has evolved as quickly as his now-impressive English. The rate of development is startling.
Geerts, no less talented, is more of a powerhouse but his errors in the first moto meant that Vialle would take his second victory in a row. The Belgian did salvage something from the day as a last lap attack and counterattack on Vialle in the second moto delivered a checkered flag. It was the action highlight of the grand prix.
"If we make a good start then Jago and me are quite fast and make the difference," Vialle mused when asked if MX2 was heading in a firmly orange and blue direction. "We've fought a lot of time together…but [Roan] Van de Moosdijk is quick and was today. There are easily other guys that can come into this."
Dutchman Van de Moosdijk aced the European Championship round at Kegums in 2019 so he knew what was in store. He beat his equally impressive teammate Mathys Boisrame to the second step of the podium. Once again, the F&H Kawasaki crew have fast motorcycles and fast riders to get excited about.
A shout-out for Spaniard Ruben Fernandez who posted a career-best fourth position, which could have been even better if the Yamaha man had not dismounted spectacularly in the second moto.
3. Get Your Lap In
For the first time in 12 years, MXGP removed the qualification heat in order to run a one-day schedule and make the series more flexible for juggling of dates. Adopting largely an AMA Pro Motocross timetable, the riders had free practice that segued directly into timed/qualification to brush off the rust, gauge the current speed and set their own intensity. After 154 days it was like jumping into the deep end of an Olympic pool.
Despite the jarring requirements of needing to get immediately on the pace, the riders seemed to embrace the challenge of posting a fast lap, instead of experimenting with an early race rhythm as would normally be the case on a grand prix Saturday.
"The qualifying race didn't make sense for me. It's racing for nothing," offered an outspoken Febvre.
"I'm a fan of the one-day," proffered Coldenhoff. "Like Romain said, we are pushing hard for two days and the intensity is very high."
"I think it's safer," opined Herlings. "It's the difference between 60 and 40 starts and 60 and 40 motos. Saturday means nothing to me. I think it is a great scenario to have the Europeans on Saturday and us on Sunday and they should keep it for the future."
It seems the majority of fans' opinions are the opposite. MXGP is traditionally a weekend occurrence. Gajser's view contrasted with those of his peers.
"I think two days is good, even the qualification race is good to get in the rhythm a little bit, and you get rid of arm-pump. It's almost safer. It's a world championship, so it should be Saturday-Sunday."
The one rapid-lap discipline is something riders will have to polish in the coming races. Interestingly both Coldenhoff and Jorge Prado fluffed their laps in timed practice. The pair lined up together in 16th and 17th, respectively, but it didn't impair their capacity to get results in the races.
4. A New MXGP
Social distancing, masks, and a degree of wariness. This is MXGP in the summer of 2020 and still a strange situation for all.
Circuit attendance was limited to 3,000 people (a third of that allocated to the paddock and to accommodate four classes) and reflected the relatively safe status of Latvia on the ever-changing world map of COVID-19. The nearby capital city of Riga was loosely practicing safe-distancing and masks are not obligatory. However, the MXGP protocol that enabled the paddock to sidestep the inhibitive 14-day self-quarantine for those incoming from 'red-listed' countries involved two PCR tests and with certain conditions once at the track. Some teams took the threat of exposure very seriously. Monster Energy Kawasaki forbade any interaction with anybody outside of the team structure and Husqvarna and KTM factory teams largely attempted to follow suit. All paddock access was only permitted on the condition of two negative COVID-19 tests. The worry and the caution was forgivable not only for general health but for the ramifications of MXGP being forced to shutdown again.
So, there was relief and excitement to be racing but also concern that the whole show hangs by a thread. International travel is becoming difficult again—countries' shifting 'safe' status meaning cancellation of flights and other restrictions—and Infront Motor Racing's protocol and Federation/government connections will be tested fully in the coming weeks to ensure entry (and return) to Turkey, Italy and Belgium without that immobilising quarantine. It still remains to be seen if the scheduled dates can occur. FIM CMS President Antonio remarked on Saturday that a "single mistake can put us in the gutter. We ask you cooperate" and urged everyone connected with MXGP to exercise caution.
While Infront's CEO David Luongo paid credit to those who have suffered due to the pandemic but resolutely said, "it was our duty to find a solution to race and make the world championship. We have worked a lot in the last five months and with a lot of challenges and calendar updates. I can only say sorry for those…but our daily vision kept changing."
Consequences of MXGP coming to Latvia still have to be felt but Luongo also believes running the event without any possible fallout can also be a beacon.
"This event is the best example to show that this is a professional way for the paddock to exist and the public to attend," he said. "MXGP can be professional and these big events can be hosted."
In Latvia, at least, MXGP will continue at speed.