Harrison, Sanayei and the Pro Circuit Fill-In Ride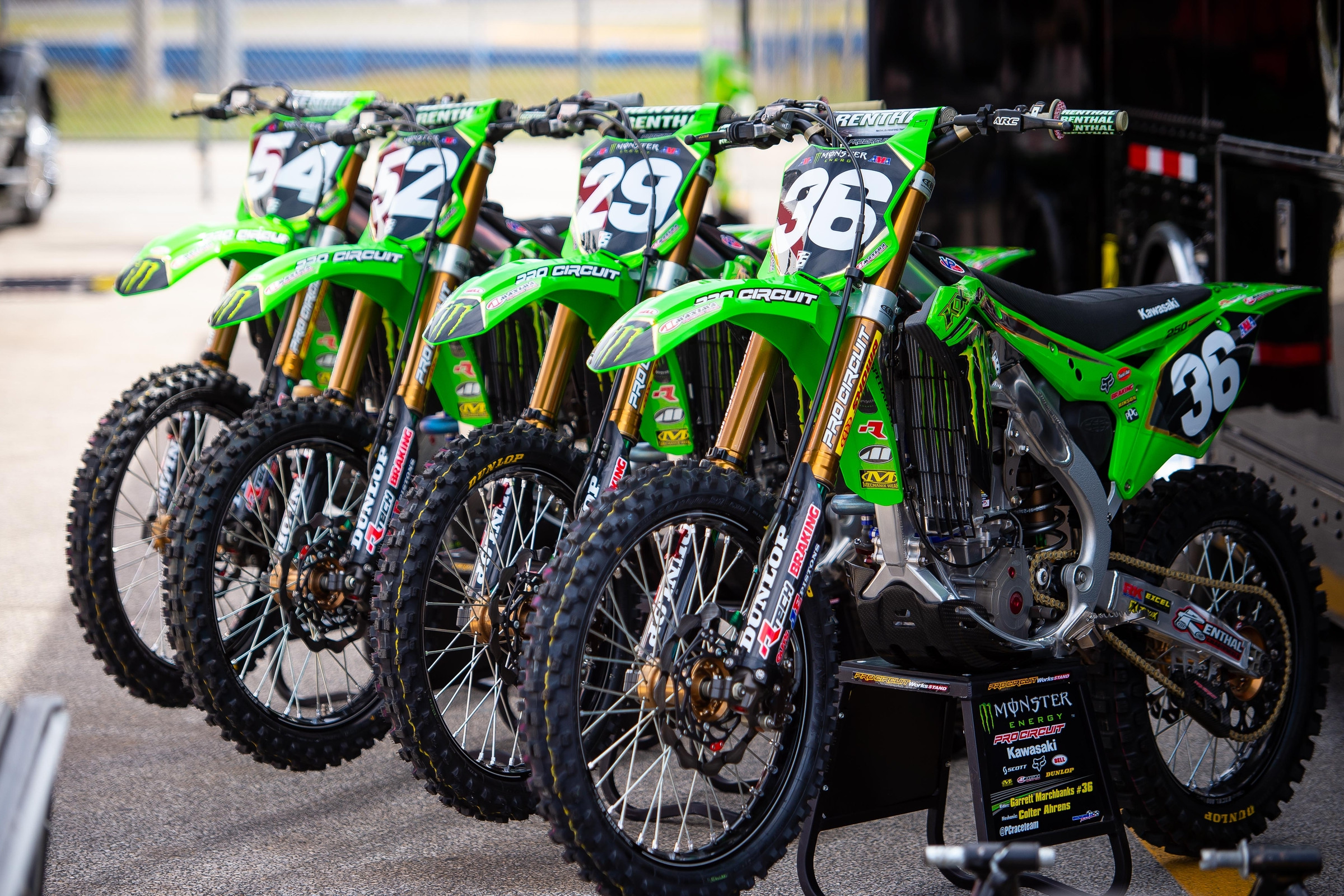 On Friday in our Racerhead column, Steve Matthes reported that Monster Energy/Pro Circuit Kawasaki might go with two replacement riders now that the Lucas Oil AMA Pro Motocross Championship calendar has been locked in with an August 15 launch date. Team Owner Mitch Payton confirmed to Matthes that Mitchell Harrison is on the team, but we also hear Darian Sanayei might have a slot as well.
Matthes was out at Glen Helen last week and saw Harrison logging laps on the Pro Circuit machine.
I spoke with [team owner] Mitch Payton for a bit and he confirmed that he's got Mitchell Harrison and Darian Sanayei on the Monster Energy/Pro Circuit Kawasaki team for this summer as injury replacements for, well, Jordon Smith or Austin Forkner (who won't be out all summer) and/or Garrett Marchbanks. Harrison just a had a ride at Bud Racing Kawasaki fall through with this pandemic, so it's good to see he's got a spot to ride. I saw Harrison doing a lot of laps out there and he looked pretty good.
Sanayei, who came through the Kawasaki Team Green amateur system, has been linked to Pro Circuit rides in the U.S. for a long time. He recently stopped by the PanicRev podcast to discuss the ride and more.
"I want to race outdoors, but if I have to do it all myself it would be pretty tough," said Sanayei. "Maybe like one or two I would kind of shoot for. But now it's looking like I will be on Pro Circuit if outdoors starts up."
Harrison and Sanayei have similar paths, both having to go over to Europe to find rides, and both racing for the Bud Racing Kawasaki team once making the move. Sanayei would spend a further two years racing for Steve Dixon's DRT Kawasaki outfit in the MX2 class. For Harrison, his ride with Bud Racing just came to an end due to travel restrictions. His best moto finish in the first four GP motos that did take place this season was a tenth.
"Following the restrictions to travel between Europe and USA, Team BUD Racing Kawasaki and Mitchell Harrison will not be able to continue the end of the MX2 GP season together. Mitchell who lives in California can't come back in Europe due to Covid19 and regulations between Europe and USA. Both parties agreed to parts ways, so everybody can try to find solution to finish the season in best condition. BUD Racing Kawasaki will announce soon a replacement rider to finish the season in Europe together with Pierre Goupillon & Quentin Prugnieres. We wish Mitchell the best to find a ride in USA to finish the season also."
Sanayei has aged out of the MX2 class in the GPs, so he came back to the USA this year to make a go as a privateer. He split time between Kicker Arenacross and Monster Energy AMA Supercross in the 250SX East Region. This was Darian's first season ever in supercross, his best SX finish was a 16th at SLC 6 Supercross. He admitted supercross didn't go as planned. Outdoors should prove to be a smoother transition after racing in Europe for several years.
"Yeah it's definitely awesome, as a little kid this was the team that I wanted to be on," he said on Panic Rev. "If you would have told me how my path would have went as a little kid, it would have been completely different than going over there [to Europe]."
With the start of the season just a few weeks away, we expect official conformation of Harrison and possibly Sanayei shortly.