Dilliner, PA
High Voltage
GNCC Racing
Zach Osborne showing up to race the High Voltage GNCC over the weekend added hype to the race, but the real story revolved around second-year XC1 class pro Josh Toth. On a dusty day on the West Virginia/Pennsylvania line, Toth led his teammate and defending GNCC Champion Kailub Russell for most of the day, until Russell finally passed him…but then the dust got Russell's bike, and Toth moved back into the lead. It appeared he was headed to his first-ever GNCC overall win, but when the riders emerged from the woods before the finish, Russell was back in the lead and took the win, despite a bike that was smoking and down on power.
This led to quite a bit of confusion after the race, including theories of team tactics. Russell himself was very frustrated despite winning. He explained the situation to us after the race. Russell didn't claim team tactics were at play. He says his frustration was because we wanted to do an air filter change mid race, and his team didn't, and that nearly cost him everything.
Racer X: This is one of the weirdest races I've seen in quite a while. Were you surprised yourself the way it all went down?
Kailub Russell: Yeah, but you know, with dust and silt races, they're always weird. We had one a year ago literally five miles away from here, same terrain, same stuff, and history has a way of repeating itself. We did nothing about it, and the same thing happened. That's where I get frustrated. We got a new filter setup and it was better, but we had some miscommunication. Our team is the best on pro row, nobody is really at fault, but I'm frustrated. From my point of view, I wanted to change an [air] filter at the gas stop, and we didn't. Then, the inevitable happened.
So they thought with the changes they made to the filter you would probably be good?
Yeah.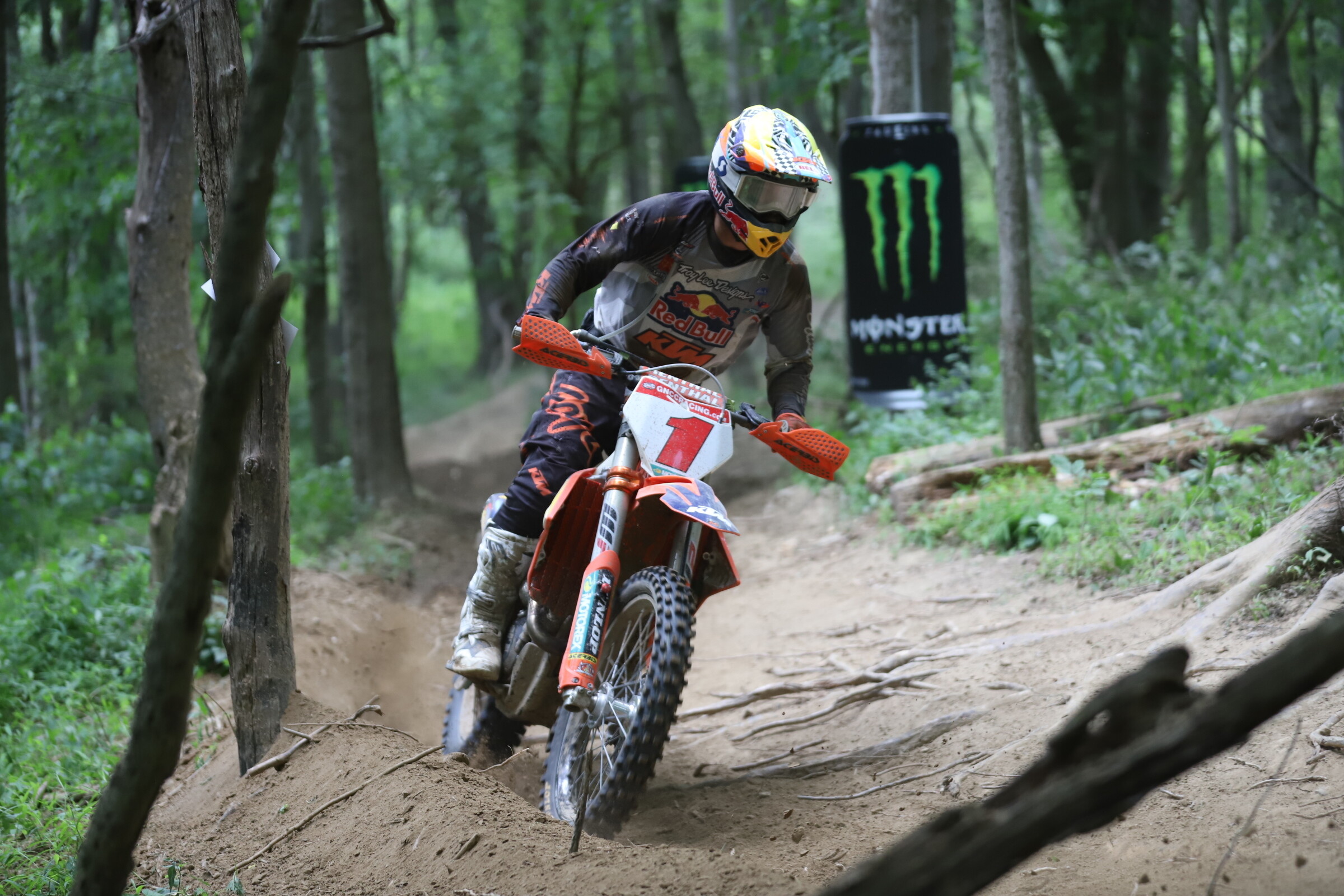 When did you feel the bike going?
That's the crazy thing. When we were talking about it pre-race, Antti [Kallonen, team manager] said "If you feel it start going just stop and we'll change it." But that's the thing, once it's going, it's gone. You'll have no compression and it won't fire. You'd have to bump start it, so hopefully you can find a place to bump it. I didn't notice it until halfway through the last lap. I started to feel it and then all of a sudden I see a pit board that says, "Save the bike." I was like, "You've got to be kidding me." I looked back and I saw smoke coming out of the exhaust, then a few seconds later I could feel the power going away and the bike starting to stutter. So I was fuming in my helmet. I was so frustrated. I was just short shifting, riding low RPM, but then I was on the cusp of stalling it, because if I stalled it, that was the kiss of death. So I tried to change my riding style, and then I had a stupid tip over. I was going such a different speed than I was used to. When I tipped over, I landed on a rock and broke my shifter! So now my bike is stuck in second gear and I can't short shift. So we get into the field, Toth goes around me. I think he thought he had it in the bag. I don't think he knew I was there, because he was there with about a mile to go just taking his time with a lapper. There I was staying low in the RPMs. He tried to cut out of the rut and go up around the lapper. I just pinned it and took the main line, right next to the lapper. The main line was faster. I just pinned it and made the pass. I don't think he knew I was there. That's my point of view.
Where you worried when you pinned it there that you would blow the bike up?
Yeah I was, but where we were, it didn't matter because it was all downhill to the finish. It was the last hill. I could have pushed it and got second, third at worse, if it blew up right there. For the win, it was worth trying. I felt like the win today was mine to lose, in my eyes.
So how long does a filter change take? If they had changed a filter during the gas stop, you're confident you still would have won?
The reason they didn't change it was because they were worried they would get dirt into the intake. I would have taken a little bit of dirt over a lot of dirt. That's my opinion. They decided not to. We got lucky.
So was your frustration because the bike almost cost you the win? Or was it because you almost DNFed and lost all of those points?
All of it. The win, yes. But I left here with the full points today, 30 points, but I could have left here with only a three-point lead. It's not worth it.
Take me through the race. Was Toth just on it? Or was it just the start and the dust?
Yeah, that's what happens. You get a good start and you're up front, you get confidence. He was riding good. I knew I would wear him down eventually. I wasn't going to catch him straight away. There's been some races where it takes a while to get rid of some of those guys in the back. But once you get them, you can kind of yard them real quick. But when you're in the lead, it's whole different mindset. He was riding good, plus he holeshot and the dust. I was third going into the woods and I couldn't even stay close to second on the first lap. Luckily second place fell down on the second lap and I got around him. The first few laps, guys are still fresh, and they have that confidence rolling. You're not going to just catch 'em unless you're absolutely on it. I bided my time, learned the track, got more comfortable.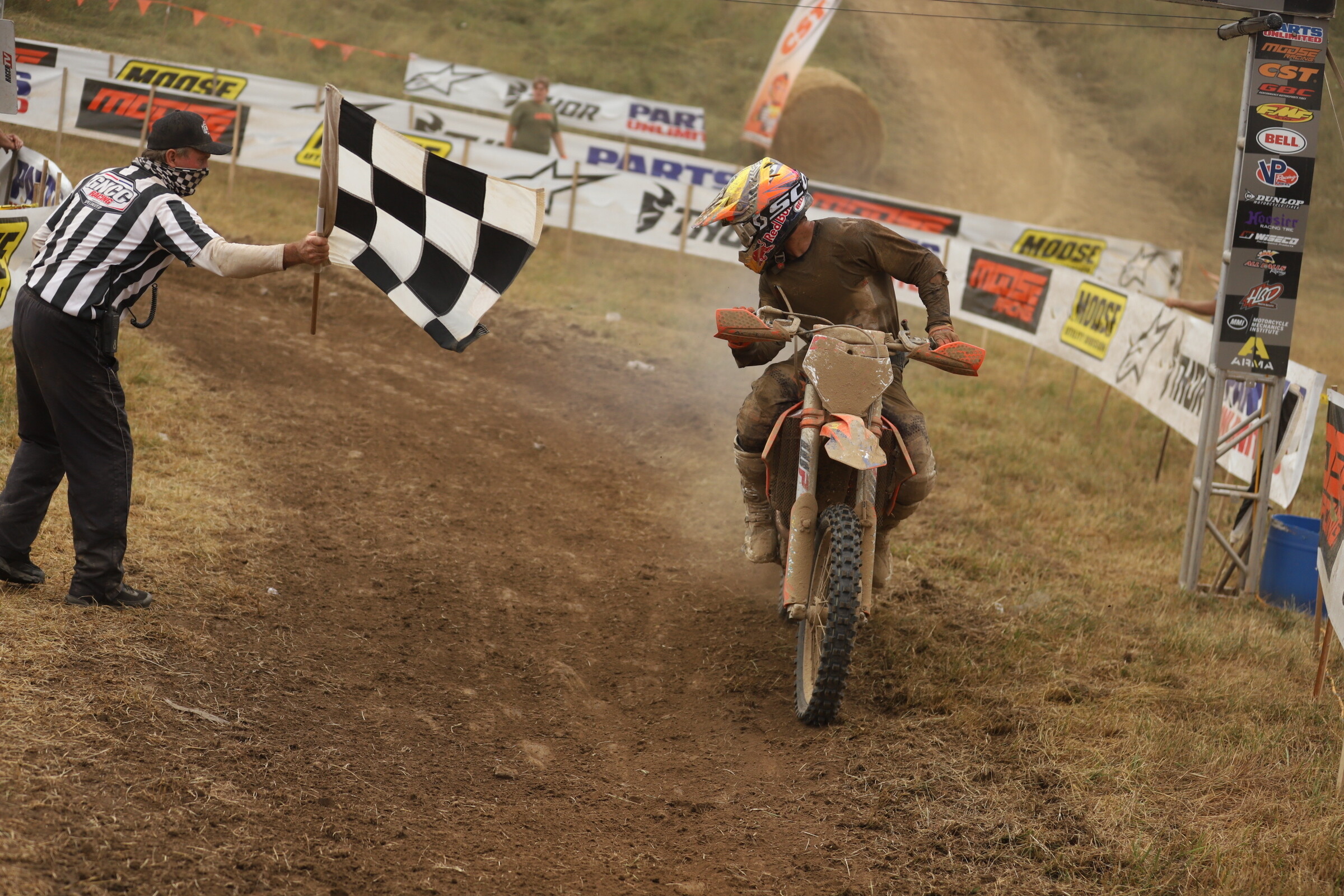 How did you make the pass?
I squared him up out in the field. I started on the outside and then came in. Then I swept it way wide so he couldn't cut underneath me. So after that I was feeling pretty good, but then I got that pit board saying, "Save the bike." Then I was like, "Well, here we go."
You've talked so much about how gnarly the last lap is in these three-hour races. Did you have that in your back pocket?
Everyone wears down. You always do. Toth has never won an overall in GNCC, so I knew this would be different than if I was racing against Josh Strang, who has won races. I took a different approach. I didn't blow myself up trying to catch him. I just nickle and dimed him, caught him on my own time. By the time I got to him, I was still fresh. When I got into the lead, I just took a breather and he stayed with me. Then I tried to hammer it when we got into the woods. I knew he hadn't ridden behind anyone all day. The race got a little less dusty as the day went on, but it was still hard. There was just enough dust to where you couldn't see the ground right in front of you. I knew it was going to be hard for him to stay there and make a move back on me.
I know you work and train with these young guys, so were you pumped to see him running up front?
Yeah, I'm happy for all the guys that get the ball rolling. It's important to do that. I learned that from my early years in XC1. Once you learn you can run with those guys, not even beat them but at least battle with them all the way to the end, it does a lot for your confidence. I always said, "Once you learn how to win, everything comes easier." I know everyone always says defending a championship is harder than winning it, but I always felt like it was easier. Once you know how to win, everything comes naturally. But I understand. Everyone has a different outlook on stuff.
---
Images: Derek Garcia