Dilliner, PA
High Voltage
GNCC Racing
Zach Osborne has been dying to do some more off-road races for a while (he's raced GNCC and the International Six-Days Enduro before) but the packed schedule of motocross and supercross races didn't allow it—until now. With the Lucas Oil AMA Pro Motocross Championship on hold, Rockstar Energy Husqvarna gave Zach the green light to race the High Voltage GNCC in West Virginia. Unfortunately for Zach, this one was dusty, and didn't go nearly as well as his GNCC experiences back in 2013, when he finished eighth and ninth overall, respectively, at the first two races of that season (Note: he would finish eighth overall—second in the XC2 class—later that year at the Unadilla GNCC). This time Zach muffed up his start badly, then couldn't figure out what to do in the dust, and ended up 29th overall.
We talked to him about it after the race.
Racer X: Are you looking at your lap times right now Zacho?
Zach Osborne: I'm just trying to figure out where I finished because I have no idea.
I think it was like 25th or something [actually 29th].
Overall?
Yeah.
I see. Yeah, I was just looking the class, I'm seventh in XC1 class.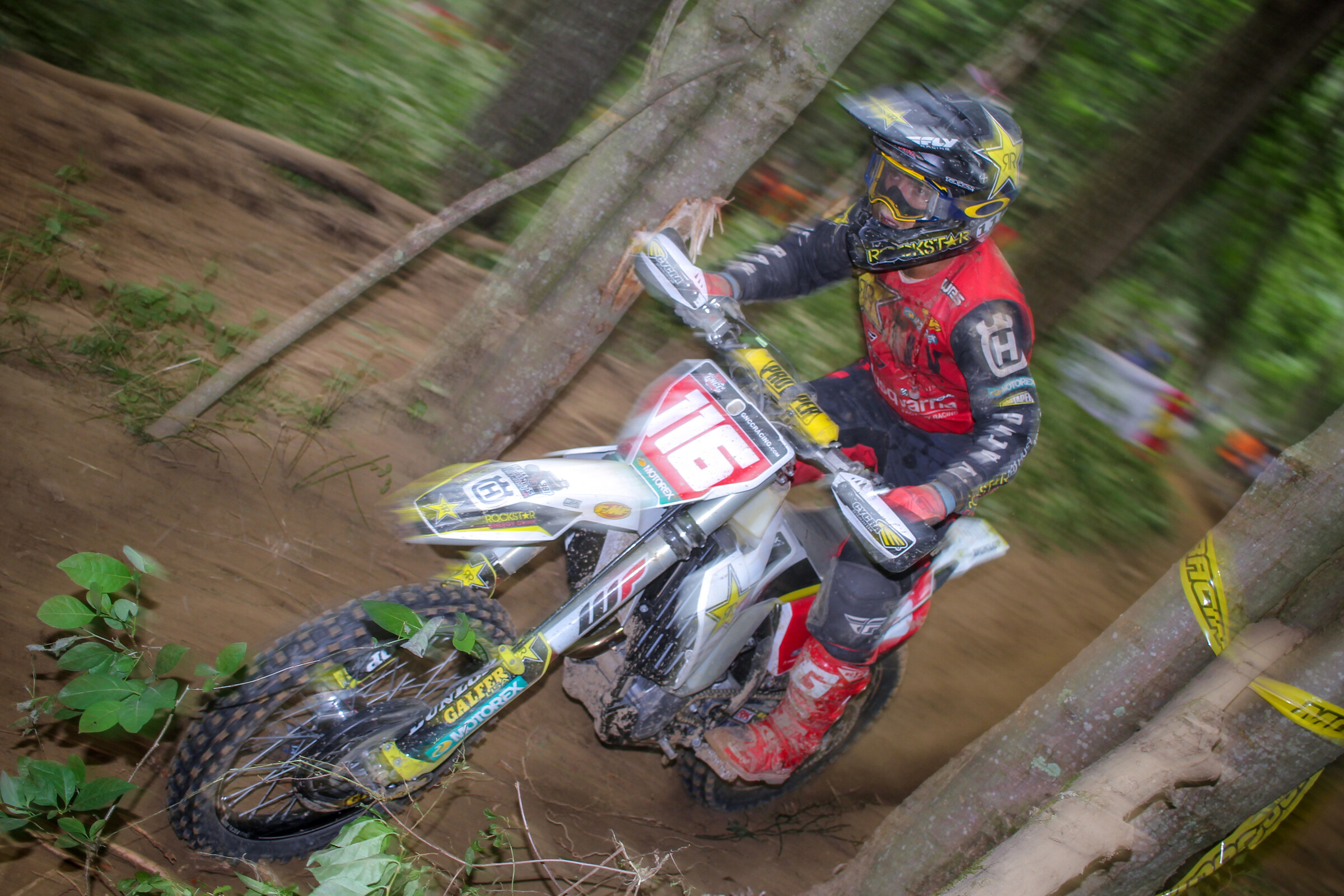 I know you weren't talking any trash coming into this race, you weren't claiming you were going to smoke anyone, but I'm sure you wanted to at least be in the top 20 overall. So how did it go? Did that start just screw you?
Yeah, I mean, it was dead in the water right at the beginning. I guess I gagged the bike on the line, I guess just being too excited. Turned the throttle, didn't start. So literally, the first uphill was just wall of dust. I never had anything after that. I fell a few times on the first lap. There were times where I would start riding better a little bit, but then there were times where I was like eight feet off the trail in a briar bush and I'm like, "Why am I over here right now?" I just knew with how dry and dusty and silty it was the start was going to be so key.
And, as the track guys told me, the way this track was laid out, it was tight woods right off the bat.
Yeah it was literally like start, two chicanes, and then tight woods. But I knew that. I knew I needed someone to set my pace, because I didn't know how to do it on my own. So, I had to follow someone and that would be my only chance at a decent result. So, for me, I was in trouble from the drop of the flag.
Now, you have done some of these before. You always want to do more and it's just your team holding you back from doing off-road races. So, you finally get to do it. At one point where you're just back there, are you thinking, "Hmm this isn't as fun as I thought it would be"? Does this dampen your enthusiasm?
No, it doesn't dampen my enthusiasm. I maybe picked the worst one I've ever done. This was like Six-Days (ISDE) conditions. This was stuff you never see. It doesn't dampen my spirits to off-road, or if I could possibly do this in the future.
You want to come back and do more?
Oh yeah. If anything, I want some redemption! Not that I had huge expectations, but I've been in the top ten overall in GNCC many times before so that was a realistic goal.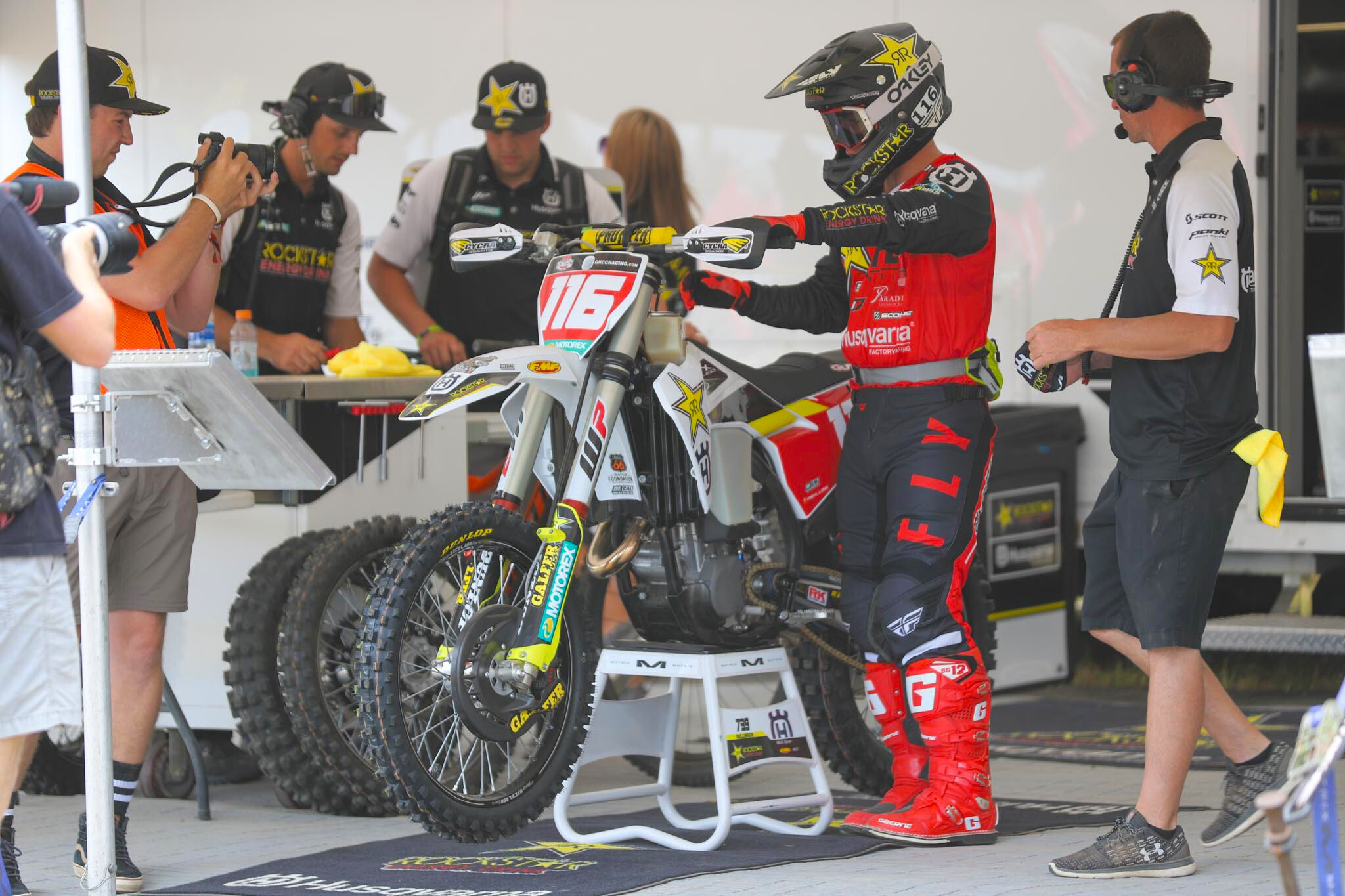 Yeah and when you did get in the top ten overall before, you were racing XC2 (250) and you were in some big battles those days. How much less fun is it when you're just by yourself?
Oh, it sucked. I basically rode my myself all day. Then those XC2 guys from row two, they were in a good battle by themselves. They caught me and I didn't want to be in the way of that, so I let those guys by. Then XC3 guys (125) came by, they were in a battle, so I moved out of their way. Even trying to pace them, as dusty as it was, was hard for me. It was so hard to see.
Oh, so you did try to pace off the XC2 guys when they came by?
I definitely tried it, but it just wasn't in the cards for me.
Yeah, Kailub [Russell] said you couldn't stay within three or five seconds of someone because it was hard to see.
Yeah. It was gnarly.
Is there something you can take positive out of this that you can go back to your team and Aldon [Baker] and say "See I learned X. So that's why it's good for me to do these."
Yeah, the fitness gain is always there. Three hours of riding is good. I didn't push myself to where I was completely spent. The one year I did one in Florida, I was off the deep end. I didn't ride any at all after the race and then I did the next race in Georgia. I got one tiny blister, that's all. So, I leave here in good shape, that's good.
How does the roughness compare to a national?
It's totally different. I wouldn't say it's worse or better, but the bumps are in different places. They're smooth coming into corners, but then coming out you might have to seat bounce double some bumps, or double tree roots. It's almost backwards.
Ah you don't get the breaking bumps.
You don't, but you get big acceleration bumps, and more, like, dig through the tree roots.
What's a square tree root feel like? Totally weird?
For me, yeah. Those guys probably don't even feel them. A few times when you would double bumps or double tree roots, that's when it's fun. Normally there's good ruts on the trail and parts of the track you would really look forward to. Today, it was just like, "Sweet, I got to the next checkpoint. I made it through the finish for another lap." It was one of those days.
Husqvarna officially announced Bobby Hewitt is no longer with the team. Want to share some memories of working with him?
Yeah. So, Bobby and the team have parted ways. It's unfortunate, we all held Bobby at a high standard in our minds and felt like he was our leader. It's a bummer that he's gone but I know they'll make the right decisions in replacing him. As far as me, he and Dave Gowland were the guys that hired me onto the team, and as I said on Instagram, he kept me on the team even at times when he really wasn't supposed to. I'm really grateful for that, and I wouldn't be where I'm at today in my supercross and motocross career if it wasn't for him and his influence and expertise. Always professional, very likeable guy. Yeah, we'll miss him.
The atmosphere in the team truck at the supercross and motocross races. You talk about it all the time. It's way looser than anyone would ever imagine.
We do have fun. It's probably too much fun at times! have a good time and I hope it stays that way. It was a lot like that this weekend with the off-road team. We had a good time; I enjoyed the guys and I hope the felt the same. We have fun. Just the way we do it.