Hurricane Mills, TN
AMA Amateur National Motocross Championship (Loretta Lynn's)
Amateur National Motocross Championship
Welcome to Racer X Next, where we interview up and coming amateur racers. We'll check in with racers on topics such as their training program to qualifying for and competing at the Monster Energy AMA Amateur National Motocross Championship at Loretta Lynn's Ranch, and much more.
This week, we talk with Orange Brigade KTM's Mark Fineis.
Current Age: 15
Hometown: Indianapolis, Indiana
Instagram: @MarkFineis_105
Team: Monster Army, Orange Brigade KTM, Fly Racing
Classes: Schoolboy 1, 125 B/C, Supermini 1, Supermini 2
Racer X: This is the end of your Road to Loretta's. It sounds like you had a pretty good sweep!
Mark Fineis: The first regional we did was Baja. I was excited. There were some fast guys there. I was a bit nervous. In practice I was the fastest guy. Then in the first race I had a bad start and then came back through the pack, won it. Then my second moto, I was second-to-last gate pick. I was like, let's line up on the outside. There was a big, old berm on the outside that I just freaking railed. I went six for six in all my motos. Won them all. Then we went to Lincoln Trail and I was the fastest guy in practice. Went six for six again. Four for four; I had to pull off so I didn't take a spot from someone. I was in the lead when I pulled off both my motos. And this regional, I really didn't think I was going to go six for six again, because it's 125 and hadn't trained on it in a few weeks. I had one day on the turn track to get used to the 125 and go out there and race. The supermini I did three, ten-minute motos on a turn track and went out there.
That's awesome. How was the heat?
The temp was like 99 and the real feel was 110, something like that. It was humid. It was hard to breathe out there after the moto. You just go to the impound area and [Gasps]. It was hard to breathe. When I was on the line I was just sitting there in the sun. Heart's pumping. Waiting for the gate to drop.
So what are your goals for Loretta's now, with this confidence going in?
I'm going to win everything.
How did you do last year?
I got second and third overall in Mini Senior 1. [Nick] Romano and I were battling the whole last moto. We passed each other a few times. It came down to the last lap. I had passed him. Come into a corner, hit a big braking bump and just went over the bars. Still came in second, though. If I would have won that moto, I would have got the overall. [Ryder] DiFrancesco fell. It was Romano, me, and DiFrancesco. If Romano would have won, Romano would have got it. If I would have won, DiFrancesco would have got it. But DiFrancesco fell, so if I would have won, I would have got it.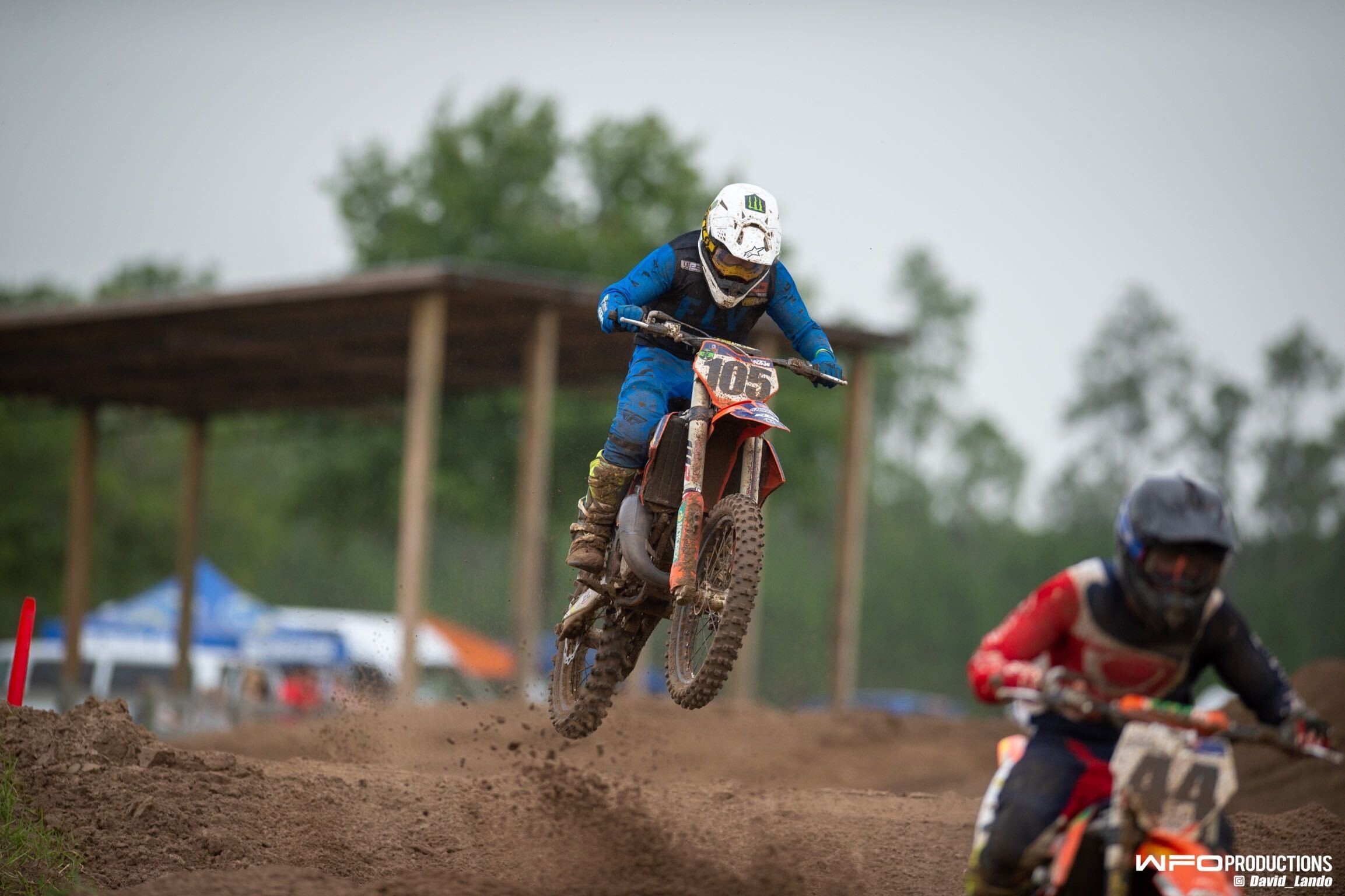 Going into Loretta's, even though Romano has moved up now, who are you up against for the national title?
I'd say DiFrancesco, Evan Ferry, Benjamin Garib. I don't know who else is just that I haven't raced yet that I don't know where I size up. I see Ferry just sweeping everything at Muddy Creek and I'm like, alright. I'm going to have a challenge.
How is that, going to a national and racing these kids that you don't normally race?
It's cool. I don't really know how to put it. You don't race the same guys every weekend. It's different guys. Some of them are fast. Some weekends the top six are the same speed. It's difficult. Loretta's is the biggest amateur race of the year. That's what all the sponsors look for. If you do good there, you get sponsors. You get factory rides.
So you're with Orange Brigade now, how did that come about?
Yeah. Orange Brigade treats me good. It's like family. They approached me after Mini Os this past year. It's been really great working with Nathan Ramsey and the whole crew there. The support is awesome.
Was there any breakout moto or event that you guys went to that stepped up your level of support?
Probably 2018 Mini Os, the bronze boot. Three championships and a bronze boot on 85 in 2018. So we pull into Mini Os… I won three championships that year. Undefeated at every national. I was like, "Man, this is the first national we've ever been to that we know we're not going to leave with the title." Something just clicked.
Talk a little bit about how you got into motocross. It wasn't your first choice of sport?
I go-karted for five years. I was really good at that. I was the guy to beat. I was good. Then one day my dad was like, let's try motocross. So he brought me to my first race. I didn't race. I just came to watch. He was like, "Do you want to try this?" "Yeah!" Just started on 50s. Won my first local championship the first month I was on a 50, and then just slowly started creeping, getting top tens, top fives, top threes, firsts, and then I just started winning. Just came out of nowhere.
Do you ever think about if you would have continued to pursue Go-Karts versus dirt bikes?
Yeah, all the time. It's a lot more expensive because go-karts would eventually turn into NASCAR or Indy cars and millions of dollars.
So you're happy with your choice then, two wheels?
Yeah. I like it better.
Looking past Loretta's, what's the next move?
After Loretta's, going up in the 125 class and racing 125s at Mini Os. Then Baja then maybe 250, we will see how things go. I will continue to stay down here at WW Ranch [Motocross Park] and train. I'm excited to continue to move up but I couldn't do it without Orange Brigade, Monster Army, Fly Racing, Dunlop, Alpinestars. They've been with me since the beginning.