The final stretch of Monster Energy AMA Supercross turned out to be a polarizing affair for many of the riders. Some struggled with altitude, a few simply seemed to underperform, and others earned their best results of their entire season. Dean Wilson is one of those riders who excelled, and he even capped off his impressive run in Utah by leading laps and rounding out the podium at the finale. We caught up with the Rockstar Energy Husqvarna Factory Racing rider to talk a little supercross, and what he's doing to prepare for the upcoming season of the Lucas Oil AMA Pro Motocross Championship.
Racer X: What's up, what have you been up to since the final round of supercross?
Dean Wilson: After the final round we went to California and tested with the team for a few days. I really wanted to get my bike as comfy as I could. I just flew back to Florida [on Monday], and now I'm just getting ready for Ironman. I'm looking forward to it—it's nice to get back to some outdoors.
No downtime or anything? You just went straight into testing after supercross?
We drove back after the race and tested all week. I just flew back to Florida. I really wanted to get the bike as good as possible and it feels pretty good, I'm stoked with it.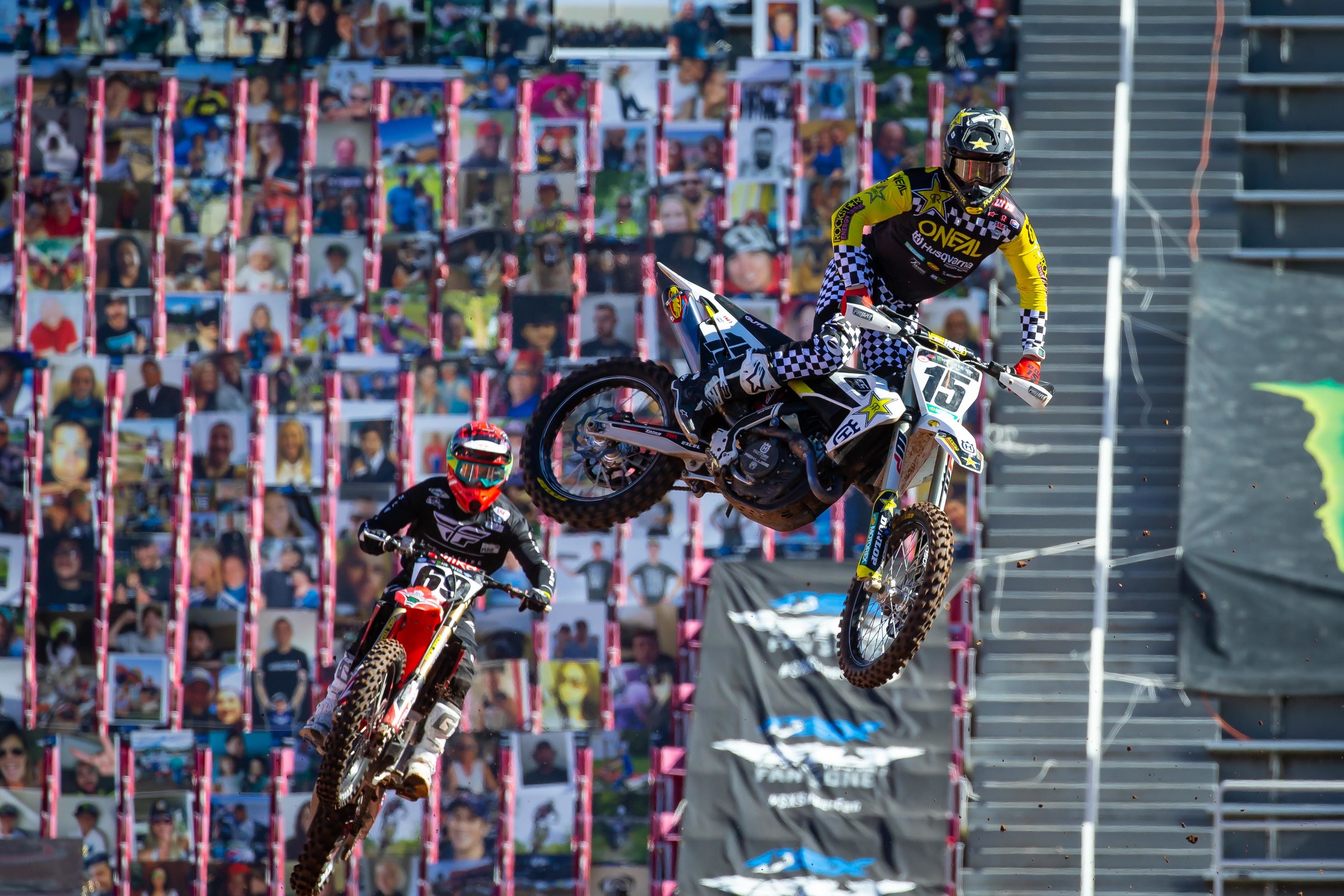 You guys weren't riding as much during the week as you normally would while you were in Utah. Was it hard to get back on the grind?
It wasn't too bad. The altitude up there [in Utah] took it out of you. I think what we did was absolutely perfect. We'd ride on Friday, so with racing that was three days a week. Now I'm back to practicing Monday, Tuesday, Thursday, and Friday until Ironman. That's the plan. It's not too hard to get back to the grind, I enjoy it.
What were you doing in Salt Lake for fitness and training?
We had a pretty good routine. I was able to kind of just do my normal schedule. There was a gym that was open we were going to, we went mountain biking, and cycling. It wasn't anything too fancy. I was staying in Salt Lake City, but some days we'd go to Park City and just hang out for the day. Overall my schedule was pretty routine and it felt good. We just tried to make it as comfortable as possible and act like we were at home.
Whatever you were doing, it was working. You were pretty strong in that final run of races.
It was good, I was happy with my riding throughout the whole time. Every qualifier I was always in the top four, pretty much, and I was fastest in a couple of the first qualifiers. I also managed to win a heat race, which was good. I felt like I should have had at least two, but that's all good. I collected three sixth-place finishes, an eighth, a thirteenth, and a third. The thirteenth was a big blow because that was the day I was riding really well. I was fastest qualifier in the first practice and I won my heat. But in the main I tried some stupid change on the bike, which was my fault, and I really struggled. The last race was obviously the best. I was really struggling with starts the whole time, and I finally got the holeshot in the main. I led five or six laps and ended up with a third, which was awesome. I was happy to show that I could do it.
Yeah, that last one was a great ride. But your first podium of the year and you didn't even get to go to the press conference, it was only the champs. And since we weren't allowed in the pits we couldn't even come talk to you about it!
Yeah, it was weird. There was definitely a weird vibe at the podium. There were only a few people at the podium. The Rockstar team, me, Jason [Anderson] and Zach [Osborne], Cooper [Webb], Kenny [Roczen] Eli [Tomac], and Chad Reed. It was really quiet, but our team was stoked. We had an awesome race. I came into the season so injured and I was just trying to get through the season, I wasn't really racing. I wanted to be there and collect some sort of points, and I had an opportunity to try to be in sixth place with Malcolm [Stewart], but I couldn't catch him. And Zach kept getting those podiums and passed us in points. But I was stoked on how it finished—it felt so good to run up front. That just makes life so much easier. When you're in the back you're slowing each other up so much. If you're in the front, in the first three laps you already have a six-second gap because you have a free track.
What was it like back at the truck after your team swept the podium?
It was awesome, everyone was stoked! But we all had to pack and get out of there too. It was cool, but the tent had to get taken down and everything. I hung around for 45 minutes or so then I got on the road and drove home. We were stoked, but the whole pit atmosphere was kind of weird. If it was Vegas and there were a people in the pits I'm sure we would have had a big celebration. We were all really happy though.
The Rockstar Energy Husqvarna team celebrating their main event podium sweep at the Salt Lake City 7 Supercross.
Let's circle back to the nationals. What kinds of things have you been doing to get ready?
Nothing too crazy, I'm just doing my motos and training every day. I like to call the nationals man's work. Supercross is hard, those 20 minutes are tough, but outdoors is just really a grind. You're dirty, it's hot, you're doing two 35-minute motos, it's gnarly. It's good, but you're suffering a lot. Really, you're just training yourself to try to manage that suffering the best you can. What I try to do is, when we're doing our two 35-minute motos, I try to be strong at the end like I am at the beginning. It's tough, but that's just the outdoors for you.
I was talking to Jeff Stanton once and he told me if he had a bad day of motos, like if he didn't go hard enough or ride well, he'd roll up all the windows in his truck and blast the heater the whole way home to punish himself.
[Laughs] I haven't heard that one before. Some people just have that clear mentality. It's peace of mind, I should say. If you're not having a good day some people will do certain things just so they can sleep at night.
This whole year has been crazy, and now you're prepping for the nationals at a different time than you normally would. Does that affect your process at all?
It's definitely a weird time in the world. During quarantine I took three or four weeks off the bike, and when I got back riding it was three days a week instead of four. I think it's important not to burn yourself out too much when we don't know for sure what the whole schedule is like. With all these case counts rising so much everything is just really unpredictable. Really I'm just getting ready for Ironman and the first two and we'll see what happens after that. Hopefully we can keep going.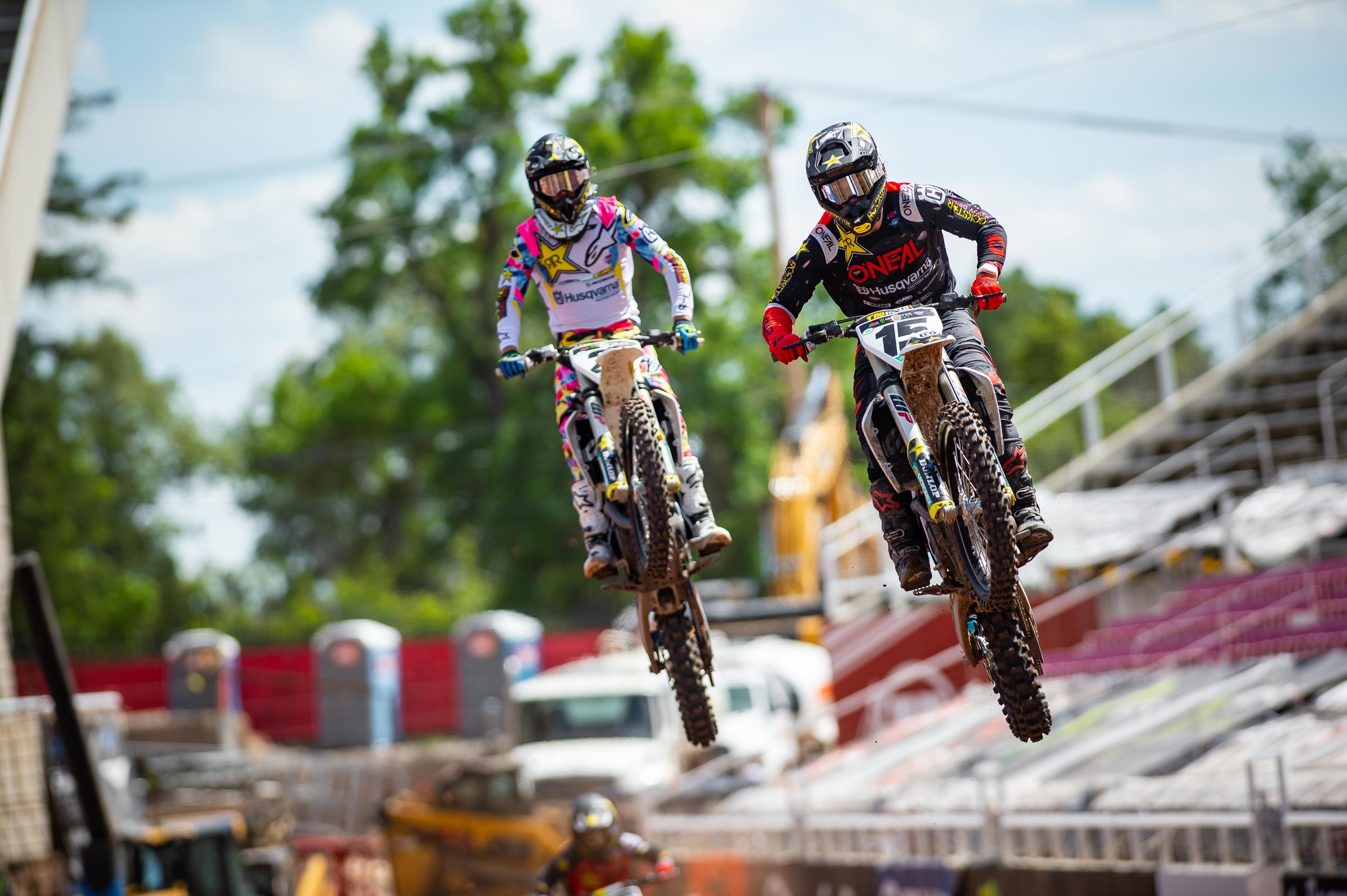 There's also going to be less time between the end of the nationals and supercross. Is there a thought there too, as in, if you go hard for the nationals, could it affect 2021?
I guess you could kind of have a point there, but I think we'll be okay. I need to get a ride for next year. Hopefully I can stay where I'm at, but who knows? I have to keep getting some results. If I do get to stay where I'm at, I've got a super good setting with my bike and I can come into next year super easy. I love how my bike feels. You just have to be careful and manage your time well. Some people say you only have so many matchsticks to burn. You don't want to burn them all out and be super tired all the time.
What are your goals this summer?
I want to be back on the podium again, and I definitely think I can. But if I can be consistently in the top five with the boys, I think that's good too. I'd also like to lead laps. That's what builds your confidence. Even when I led laps at Salt Lake, I wasn't riding super hard up front. You've got clear track and you can hit your marks. I want to lead laps and get good starts every moto. Being up there on the start makes your life so much easier.
Do you have any cool YouTube projects coming up?
My YouTube is hit or miss. It's so hard with training and riding. Sarah, my fiancé, just films on her phone so we don't have a big production crew or anything. YouTube is just something we do for fun and people seem to like it. It's a lot of work and time, and my main priority is racing and training. That's why I never have a whole lot of stuff that gets put up. But maybe now that we're not racing I'll be able to throw some content up!