When Coty Schock showed up to Feld Entertainment's media day back in December 2019, he was surprised when Michael Lindsay approached him. A short conversation later, Schock went from privateer effort to a true team with the FXR/Chapparal Honda squad. The Delaware native had long been a consistent motocross threat, scoring multiple top 20 finishes throughout the last three years in the Lucas Oil Pro Motocross championship.
Now, a new challenge befell him as he was giving supercross a real go in 2020. Two broken wrists before the season ever got started was far from ideal, but the long break from the COVID-19 outbreak gave Schock the opportunity to come back ready for the Salt Lake City swing. At the third race, Schock finally put it into the main event for the first time in his career.
We caught up with him to see how it felt and how things are going.
Racer X: Congrats on making your first main event. I wanted to know, is that the biggest fist pump you've ever done in your life when you crossed that finish line?
Coty Schock: Yeah. I actually thought I was going to fall off the bike! That's what people said. That was the hardest fist pump I've ever done. I was screaming like a little girl. I was so stoked.
I could tell. When you pulled off the side of the track, you were still fist pumping. What were the emotions right off the bat when you crossed the line and for the first 15 seconds after?
Honestly, it was a dream come true. I've always wanted to make a main. I knew that's where I belonged. Like every other rider, we work our butts off to get to that moment. Then when it finally comes, it hits different. It's kind of hard to describe it. The race before, I was close to making it out of the heat race as well until I went down. So, it felt like a good redemption. It felt so good. All the emotions came out over that jump.
Does it feel a lot different lining up for a main event than it does for a heat race? The preparation and everything?
To me, no. It feels more natural because racing outdoors you practically line up with those same guys, so it kind of felt like I was where I belonged, in a way.
So, the red flag comes out. What was that experience like? You start your first career main event and then this happens, and you have to kind of settle back down. It started raining. What was the regroup process like for that whole situation?
The regroup process was kind of chill, honestly. Honestly, all the riders felt bad for [Garrett] Marchbanks. But it was one of those races where you're not allowed to have your mechanic with you, so we were all just sitting on the line when it was raining. It was kind of getting cold. We're all talking to each other on the line. We were just like, "This kind of sucks." We feel bad that he went down, and then we're all in the rain. For me, it was mixed emotions, because a lot of people don't remember this, but in 2016 I made my first pro national that I ever tried for at Unadilla. That's when I broke my back. So, I was the first red flag. Then the second moto was Jessy Nelson's [crash]. So, going through my mind I was like, I just want to get through this race safe. I just want to get through my first one safe and then we're good. There were some different thoughts going through my mind than probably what other riders were going through.
How tricky were the track conditions? I know with the rain starting it probably obviously made the situation a little bit worse. Were you kind of surprised by how much grip the track still had at that point?
Yeah. To be honest I was kind of impressed with how it was in practice. Then when the track came around for our heat race, I was like, this is getting good. The track crew did a phenomenal job. When it came for the main event, the sun was still out when we went into the tunnel. As soon as we got through the other side, it got dark and then this rain started coming. We were like, this kind of sucks. The track was just getting good. It was definitely tricky because all day there was random, like, I don't want to say sink holes, but they were essentially soft spots. It was definitely crazy. The amount of moisture that the dirt held up, that was pretty incredible. The track crew did a phenomenal job on everything.
I have to ask you about Shane [McElrath] hitting you in that one corner. Did it catch you by surprise? I think you probably knew they were coming, but were you shocked that he had hit you there?
In a way, yeah. I felt bad. Don't get me wrong. You've got to realize; they were waving the blue flag practically that whole moto because of how fast they lapped up. It's kind of hard to know exactly when they're coming. So, I could hear Shane behind me. So, I ducked down out of the main line, and I still hit it fast. I guess he wasn't expecting me to hit it that fast or cut down. I don't know exactly what went through his mind. I felt bad when I realized it was him that went down. People always give their comments, but I did move out of the way. Supposedly he said that I hit the turn faster than he thought. I don't know if that's true. It is what it is. I feel bad. Don't get me wrong. I did everything I could.
It did seem like you chose an inside line even further than the inside line that was kind of already there. He kind of took a pretty sharp angle at you and I was just wondering when it happened were you like, "What? How did he hit me? Where did he come from?"
Yeah. It definitely caught me off guard, but I was like, "That was weird." That's honestly all that went through my mind. I was like, "That was weird," and then I just kept going.
You seemed like you found a groove coming into Salt Lake City. You almost made your first main event there at the first round, and then you talked about almost making it at the second one as well. What did you work on during the break to kind of make those improvements?
Honestly, Michael Lindsay and I, we were just going to the track and just worked on being smooth and consistent. We would just do five lappers and just try to keep consistent lap times and if anything, just get faster throughout the day. My thing is, with outdoors growing up, my dad has always hounded me like, "Go, go, go." Just kind of send it and get that lap time in and go fast, whereas supercross you can't do that. So, where people find it hard to go fast on supercross, I find it hard to not go slow but be really smooth. So, I had to really drill into my head just one section at a time and puzzle piece it back together. So, we did a lot of little sprints. At the end of the day we would do motos. We just worked on trying to be smooth the whole time. It's showing. Don't get me wrong. Everyone has their sketchy moments. We've been working on whoops a lot. I know on TV it doesn't really show me doing well in them, but they're one of those things where the more time you have on them the better, you'll get. So, I just need time. That's about it.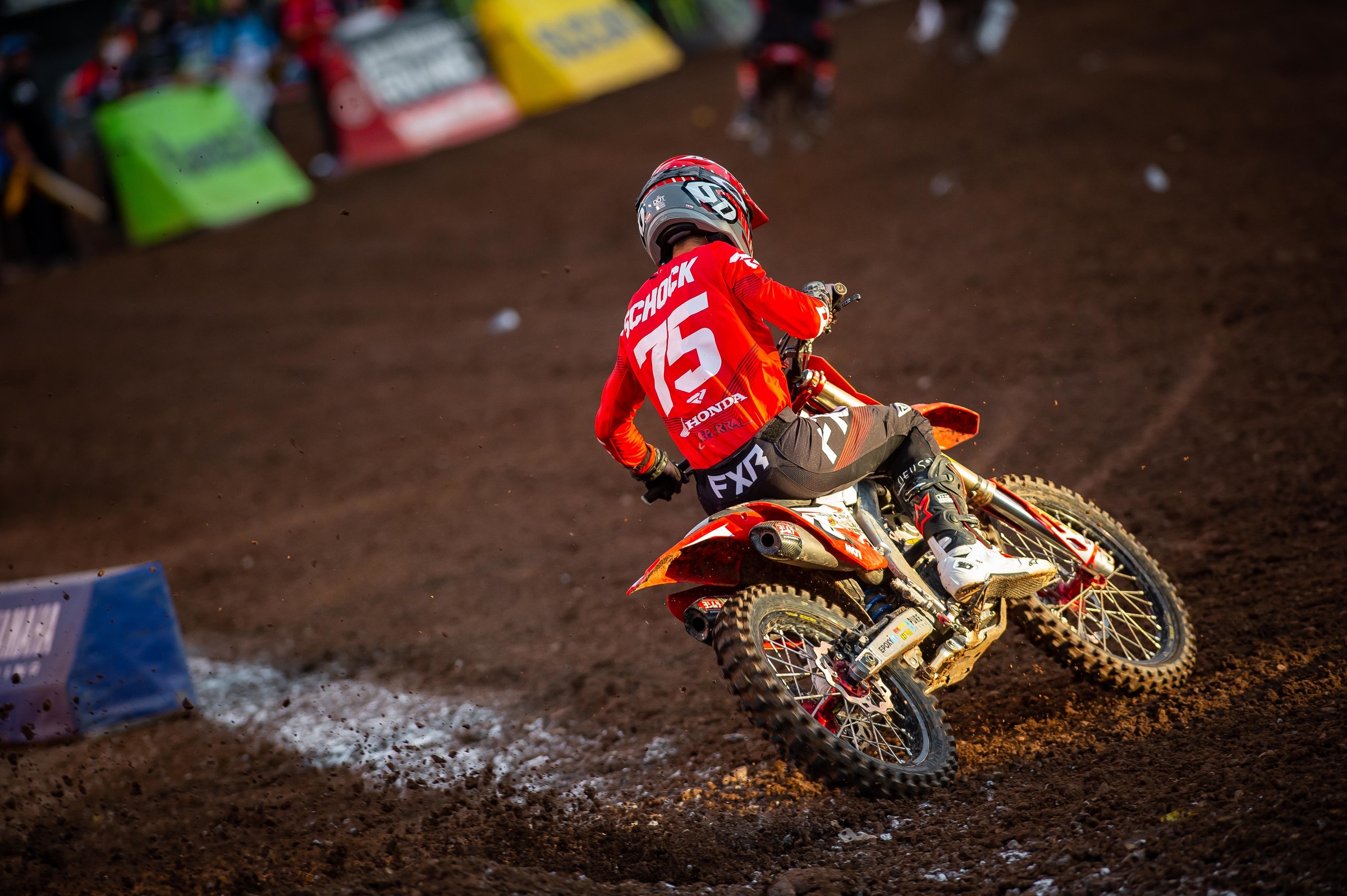 Talking about time a little bit too, the short distance between the races and regrouping, have you kind of liked that experience because you get a chance to kind of redeem yourself quickly? Or has it been a little tougher?
It was good for me. I'm the type of person that once I start gaining momentum, I just keep going. It was nice to know, I messed up here, or I could do this better. I have two or three days, depending on what race we were doing, to regroup and then fix it. So, it's kind of nice to not have to wait a week and then fix it and then wait another week. It was like, bam. Keep going. You're on the same dirt. You already know what the track is going to be like. Kind of just keep going. I definitely build off of that momentum.
Have you had any chance to ride during the week at all, or is it just race day, race day, race day?
It was just race day, race day, race day. We didn't ride at all. The only time that we rode was the day before the first round to do mapping, but that was about it.
During this downtime for the east coast guys, are you still staying in Salt Lake City and have you ridden at all, or have you gone back to California or anything?
No. We went back to California and I've been riding outdoors to slowly get ready for that. That's kind of my strong suit right now. I've honestly ridden three days in a row now. I'm feeling pretty beat. It's a bittersweet feeling. I'm ready for next Wednesday to be around everyone on the team and just go back racing. I live for that adrenaline. I miss the intensity already. I can't wait to get back.
Not looking forward to that having to take that test again though, I'm assuming?
Yeah. It's going to make for another good video. That's about it. I'm going to make sure they go through the other nostril just so they're evened out. At least I know what to expect now, so that's all that matters.
Who would you like to thank for getting you to the races and everything that's happened for you this year so far?
I would definitely like to give a huge shout out to Schaeffers Motorsports. They're located in Pennsylvania. And Kenny Day, honestly. Those two people are the reason why I moved out to California. If I never moved out to California, I would have never had this opportunity with Michael. Obviously, Michael Lindsay and the whole team for being behind me even when I got hurt. It's been huge. It's been really nice to have Chris Blose, which I call him dad, to have around to teach me. It's been good. There's definitely a lot of people. I'm just very thankful to be where I'm at right now.