Rice-eccles Stadium
Salt Lake City

,

UT
Salt Lake City 5 (Rd 15 - West)
Monster Energy AMA Supercross Championship
On Sunday night, another round of Monster Energy AMA Supercross Championship took place as the 450SX riders got behind the gates for the 15th round of their championship and the 250SX West Region riders lined up for their second go in Salt Lake City.
In the 250SX main event, Monster Energy/Pro Circuit Kawasaki's Austin Forkner took the main event win, closing the gap from Monster Energy/Star Racing Yamaha's Dylan Ferrandis to seven points with only the 250SX East/West Showdown remaining on next Sunday's final race of the championship (Salt Lake City 7). Ferrandis and GEICO Honda's Jett Lawrence finished second and third, respectively.
All three spoke with the media in a Zoom press conference call after the race, hosted by NBC Sports' Daniel Blair.
Daniel Blair: Jett, first podium of your career. We talked to you on the podium a little bit about it, but you've got guys like Damon Bradshaw, James Stewart, Travis Pastrana that have been able to come in very young and make an impact. Do you think about those guys at all and look to accomplish what they did, or are you just trying to set your own path?
Jett Lawrence: I'm just trying to set my own path, mainly. It was definitely cool to be up with those guys, but I mainly try to set my own path. I don't want to be exactly like them.
Dylan, take me through that main event. You got out front, got the holeshot, and you knew Austin was right there. Did you know how close he was? Were you managing that? It seemed like you both were doing a little bit of cat-and-mouse. Everything obviously changed there with a few minutes to go. Just kind of take me through the middle laps of that race.
Dylan Ferrandis: Of course I knew where Austin was. I was looking at some time. Just made a small mistake not jumping a rhythm when I saw a yellow flag and it cost me a few seconds. He broke the gap and was able to attack me on the next lap. So a big mistake from me.
Austin, congratulations on the win. Same kind of question. Were you being patient there in the middle, or were you looking for an opportunity? Where was your mindset there about halfway through?
Austin Forkner: Yeah, I was being pretty patient. I knew that with those tight turns lappers would kind of come into play pretty heavily. So I was just kind of waiting. I caught him pretty quick after I got by [Christian] Craig and then we kind of evened out. I'd be faster, he'd be faster. We were just kind of cat-and-mouse, like you said. Then I kind of just saw an opening and I just went for it, really. Once we found that pace we were kind of matching each other, so I was just waiting for any little thing and then I needed to pounce. That's just what I could do.
Never had a rider in a hot tub during a press conference. Jett, talk about that heat race. You got a crazy start in there. Talk about the first turn there.
Lawrence: I got an amazing start. I ran a little wide, but apparently Forkner was exiting stage right also. We ended up both going down anyway. It was not really called for. I'm not even in the championship, but it's whatever he thinks. I ended up getting back to sixth. That's all I really need, which was pretty good. I was pretty pissed off about it, obviously. I ended up coming back and getting it on the podium for the first time, so that's definitely a plus.
You made quite a charge there at the end.
Yeah, I was feeling really good. A lot of guys, I don't know if they were fading but I started to get better and better every lap. I definitely made a pretty good charge, I reckon.
Austin, it seems like during the break you came out as a different rider in Salt Lake City. You seem like you've been criticized by people for maybe not being aggressive enough, including myself [DMXS Radio's David Izer]. I'll own that. What has changed during the break? You come out where you seem like you're a different rider. Last week you held that pace. You weren't hunted down. This week you caught Dylan from behind. You gave him some of his own medicine. It seems like you're a different dude.
Forkner: I don't know. I've just been working super hard in the off-season. I say off-season; the three or four month break, whatever we had. I've just been working hard. My trainer, Robbie Reynard, has put me kind of through the ringer. He just saw how good I was last year and he felt that maybe I wasn't quite back to how I was before I did my ACL. So we've just been working hard to get my fitness back up a little bit to make me confidence in my knee. Just be better. I guess it's worked because now two wins in Salt Lake and just my riding. I'm better. Before I was struggling in the whoops. Now in the main today that was my strong point. Just been working on stuff like that. Working on the bike. I think we've got that better too. Just a combination of all those things. It's crunch time. I have to win. I came into this Salt Lake City trip not wanting anything else. I have to try to win out, and then that still might not even be enough depending on how things shake up behind me. I'm just worried about me. That's what I got to do. Honestly, pressure for me is kind of off. I just got to go for it.
I'm not even sure what happened with Hunter Lawrence, but you want to officially just bury the hatchet with the Lawrence brothers and just say what's in the past is in the past and let's just continue? Let's just move on?
Yeah. Nothing against them. They're both riding good. If you believe in Karma, well Hunter got me back. As soon Jett went down in the heat race, I ran straight into the back of Hunter and I went down. I'm not trying to be best friends with anybody by any means, but I'm not trying to have everybody not like. It's just one of those things that happens. Sometimes you just got to shrug it off. It is what it is. Things happen. Sometimes you make good decisions. Sometimes you make bad decisions. I've made my share of bad decisions. It is what it is.
Jett, on the post-race podium with Daniel Blair you said you're just happy to be alive. You're 16, so what has happened where you're just happy to be alive at 16 years old?
Lawrence: I was just too excited. Those were just words coming out of my mouth, really. I didn't know what I was saying. I was just happy to be alive and to be experiencing that. I bet you no other sixteen16-year-old is getting to do what I'm doing, traveling a world and getting to race with some of the fastest guys in the world. So I'm definitely just happy to be alive and be able to do that.
Austin, did you see Dylan not jumping the yellow flag and did you know that was where you were going to pass him?
Forkner: Yeah. I saw that. I didn't know if he meant to do that or if there was a red cross flag. I kind of had some like, "Oh…" but it was just a yellow flag. I kind of used that. I was going to maybe try to make something happen in the next turn, but I just wasn't close enough. But I knew I was pretty strong in the whoops and in that next section and the dragon back. So I don't know if it was that lap that I made the pass on him at the finish, but I think that was kind of what got me close enough to where I could make a pass. It may have been that lap, it may have been another lap, but that let me get close enough. I didn't really know what was going on. Honestly, I don't even think I saw anybody down in the section, so I don't even know what they were flagging for. I just used it.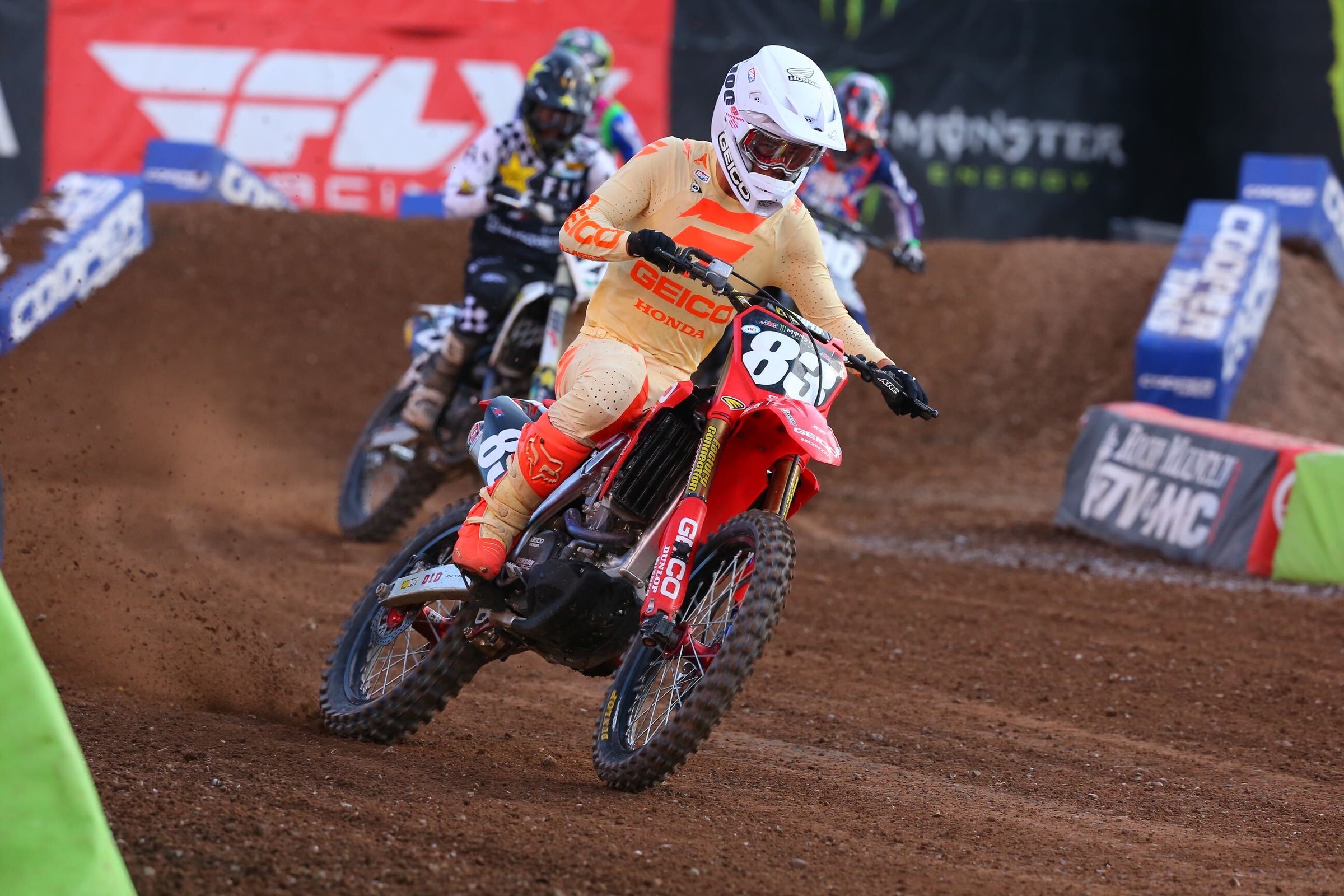 Dylan, you've had issues with starts in the past, but you've got two holeshots in heat races and then a main event holeshot tonight. You been working on that? What's DV been pushing to do?
Ferrandis: I don't know. We always work on starts, but I just feel like the Star Racing bike is better on starts in Salt Lake because the altitude, so I think that's a big help.
Jett, congratulations on your first podium. Really good result. This time you were able to put it all together for the main event, coming from outside of the top ten all the way through into third. Tell us about that run through the field and then also passing your brother Hunter as well. You had a long way to climb up through into the podium.
Lawrence: Yeah. Obviously I had a terrible start. Dylan just got the jump on me and ended up closing down. I had a really good fall. I was pretty pumped that there was whoops out of a turn, which I'm pretty happy about. They came into favor. I made a lot of my passes through there. I was really gelling with the track. It took me a while to try and pass my brother because obviously he's my brother and I don't want to pass him dirty. It's cool to see another Lawrence out there for sure. It was definitely a bit of a struggle to get around him. I didn't even know that I came from out of the top ten to third, so that's definitely pretty cool. I thought I was maybe in top ten. It definitely feels good to get this P3. Definitely I feel like I've earned it, from coming out of the top ten.
It's been over two years now since you first signed with GEICO Honda to race in the US. It's been quite some time, but still that path for you to result on the podium now, it's been a pretty remarkable one, hasn't it?
Yeah. It's definitely been a rough path to get to where we are now. I got a little emotional after going over the line. Everything went through my head, all the hard times we had in Europe. Eating two-minute noodles in Australia just trying to survive really. It definitely feels good to be finally here and with such a great team. GEICO Honda is more like a family to us. They treat us so good. Jeff Majkrzak, Ziggy [Rick Zeilfelder- GEICO co-owners], they're all so good to us.
Dylan, do you feel like you're riding as well as you did when the series [was postponed]? It's been a long time. Do you feel like you're as good as ever, or are you still feeing a little bit like catching up to this Salt Lake City?
Ferrandis: I don't know. I feel that I'm better than before, just on race day the first one was tough physically and with the bike I was struggling a little bit with the setting. This one I was feeling awesome all day and I crashed in the heat. Bad gate on the main doesn't help me. In the main, maybe just not used to be on front that soon. I don't know what happened. Like I said, I missed one rhythm section and I think I cost me a lot. It's okay. After when Austin passed me I was feeling great and came back and came back strong. Best lap of the race. I feel not that much tired at the end of the race. So I feel good for the last one. Just maybe I need to protect more my inside now.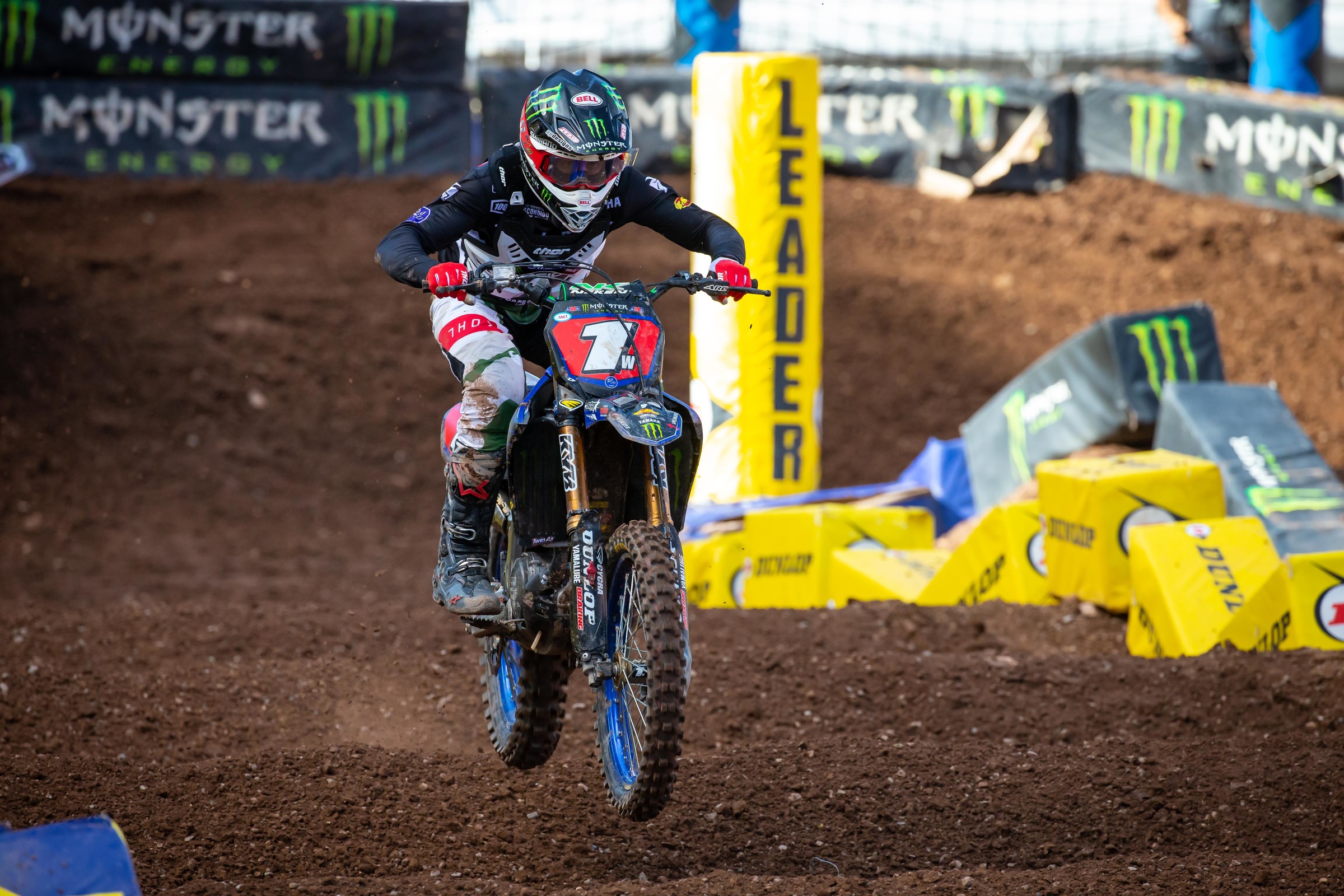 Dylan and Austin, to have a championship this close end with a showdown with East and West, what are your thoughts on having a showdown and a small lead with East and West together?
Ferrandis: I think it's going to be hard. We're going to have more good riders. Also on the East Coast I feel like a lot of riders are injured now. It's really Shane [McElrath] and Chase [Sexton] that are on top. I feel like they can match our speed. But except these two, I think there is a small gap. For sure it's going to be crazy because we have our championship, they have their championship. So it's going to be such a crazy showdown for sure.
Forkner: For me, I'm hoping that I can just put some riders in-between me and Dylan, obviously. I need the points. That's what I'm hoping. It's hard to tell watching races how fast everybody is. I think obviously Shane and Chase are going to be the two that we're going to have to deal with that are going to be the biggest threats. So it'll be interesting. More fast guys always just changes things a little bit. It will be interesting. I'm still just trying to win the races. That's all I'm trying to do.
Dylan, after you pulled off the track and you were cooling down over there, watching you have a good, long time to think about that. What was going through your head there? Was it frustration? Was it trying to figure out what do you say on the podium? What was going on there?
Ferrandis: For sure that was frustration. It's been kind of a long time I've been beat so easy so I was really mad with myself and frustrated because it's not normal to run the red plate and the #1[W] and get beat like that. So I was really mad at myself and I tried to think about what to say on the podium. Obviously no excuse and don't want to say any excuse. Just try to stay professional. I was so mad I couldn't find that much of words, so I took some time to breathe. I just lost a race and still have seven points leading, so it's fine. But I was really mad at myself, for sure.
If you prefer to watch the press conference, watch the archive below: