Salt Lake City, UT
Salt Lake City 3
Monster Energy AMA Supercross Championship
Late last Wednesday night, shortly after round 12 of the Monster Energy AMA Supercross Championship inside Rice-Eccles Stadium in Salt Lake City, Utah, had wrapped up and everything was all over but the shouting, Garrett Marchbanks was just a little frustrated, having come up short of the podium with a fifth-place finish in the 250SX East Region event.
"My start in the main didn't do me any favors trying to get up to the front," lamented the Monster Energy/Pro Circuit/Kawasaki racer on what was an eventful day. "I was way back and had to manage to get through the pack. The pace at the front is really high and if you're not there at the start, it's hard to close the gap. Everything else feels great, I just need to get up there so I can challenge those guys at the start. We get another try on Sunday."
Coalville, Utah, a town of 1,363 folks situated at 5,577 ft of attitude and located a mere 40 minutes from Rice-Eccles Stadium, is where Garrett Marchbanks hails from. "Man, Coalville, I've lived here for 18 years now," he offered. "It's a small town and no one really comes out of here racing dirt bikes. Man, I think there are only 1,500 people who live here."
Motoring into his professional career with Mitch Payton and his legendary Pro Circuit outfit, Marchbanks rode well in both 2018 and 2019, but truth be told, it was the late winter and early spring of 2020 where it all came right for Marchbanks when he came up big inside of Big Bill France's 2.5-mile Daytona International Speedway on March 7, 2020. Completely motivated and bent to do it all again, Marchbanks' newfound success was thrown into a false neutral when the coronavirus high-centered the supercross series.
"Yeah, honestly, we won at Daytona and we were flying to Indiana and I felt like all this momentum was on my side," explained Marchbanks of the changes in attitude and latitude on the jet ride to Indy that he sat through to no good end. "We flew to Indiana and landed and then we immediately got told the next round of the series had gotten cancelled. They were saying we were going to have a couple weeks off or a week off and then nothing happened, and nothing happened, and nothing happened. So we find out some 85 days later that we're racing here at Salt Lake! I don't know. It's definitely crazy to be racing in my home state for three and half weeks."
And of the talk that racers hailing from Utah, or of the racers who normally live and train at high altitude, having of something an advantage during these dark Salt Lake days?
"Man, I want to say it's hard for me because I've got asthma," mused Marchbanks. "Everyone thinks I have an advantage here until they find out I have asthma. I have to be here longer than most people to get adjusted to it. It's definitely been kicking my butt in the main events here and there, but besides that, it hasn't been too bad."
Six rounds into the 2020 AMA 250SX East Region title war, Garrett Marchbanks has performed quite well, fourth, fifth, seventh and first place finishes coming at Tampa, Arlington, Atlanta, and Daytona, respectively. Salt Lake race number one brought Marchbanks a third place finish, while round two saw him slot-in at P5 after all was said and done.
"Man, the first race, last Sunday, it was pretty good," said Marchbanks, who placed third, +28.628 adrift of the front runners. "Honestly, to come back from 85 days off and to go and podium again was awesome. I wasn't too pumped on how much I got dropped from second to third, but it happens.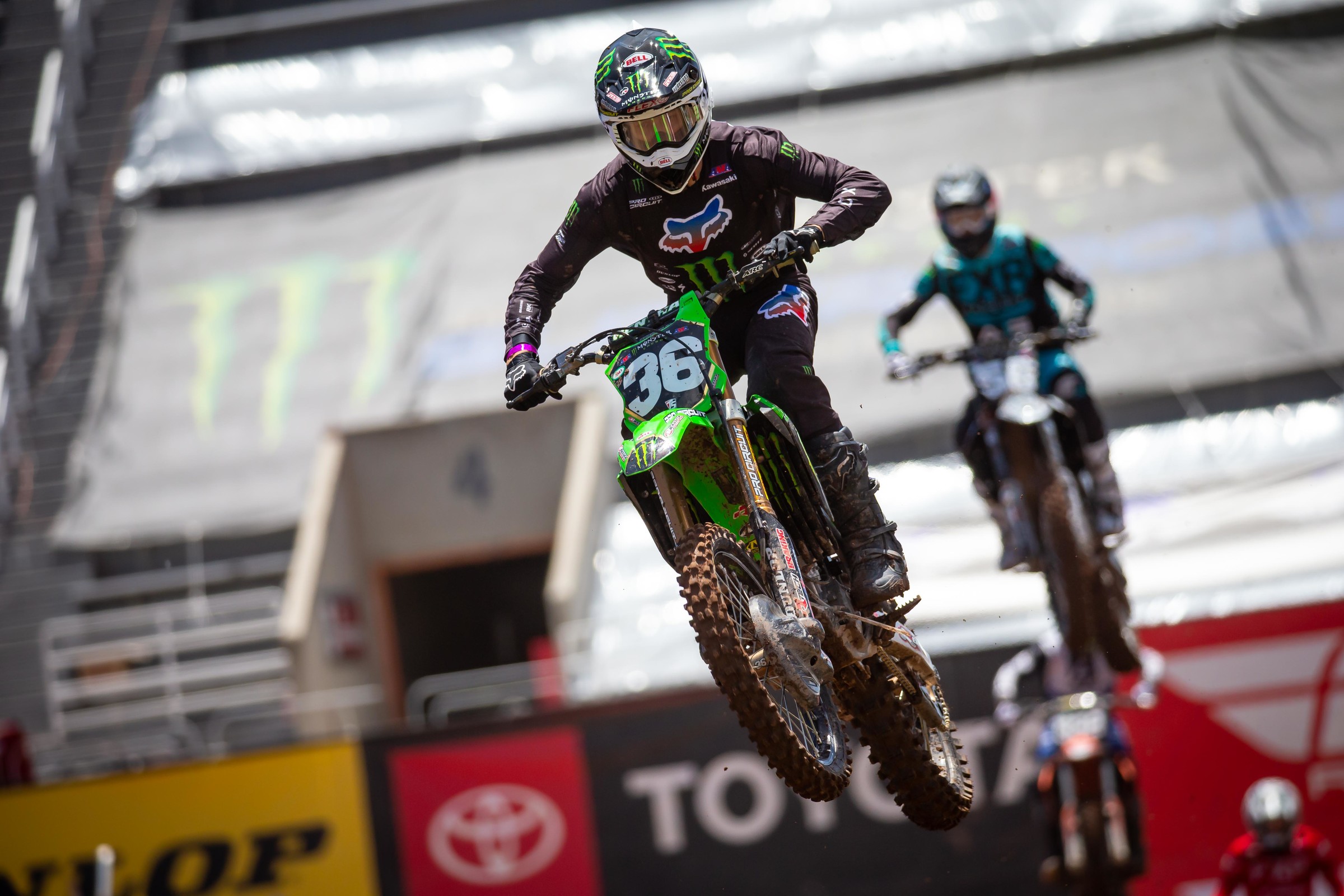 Three days later brought round two of the 250SX East Region to Salt Lake City, Utah, and with it, a fighting fifth place finish for Marchbanks.
"With Wednesday's race, we were struggling with breathing all day and finally we said, 'Okay, we've got to figure this out for the main event.' So I went into the main event and had an awful start. I came out of the first turn in 17th and made my way up to fifth. You know, with how the race started off for me in the main, I was happy with it."
Up front, the Monster Energy/Star Racing Yamaha teammates of Shane McElrath and Colt Nichols ran away with the race, going 1-2, respectively. With McElrath taking both Salt Lake City 250SX class wins thus far, it's leading to a lot of buzz on how the Yamahas run at altitude.
"Yeah, their bikes are good, but I would say that we have the same, if not better, stuff than them," offers Marchbanks. "Shane and Colt, they've been riding really good. Even though Colt just got back, he's been riding good right off the bat. Honestly, it's just all about the starts. I feel like that if I get start with those dudes, nothing should be too bad, you know?"
A mere 18-years-old and having won his first big-time supercross at Daytona after only 14 AMA Pro Racing starts, Marchbanks and the entire Monster Energy/Pro Circuit/Kawasaki team behind him have settled into third in the 250SX East title fight.
"Man, they've ben awesome," exulted Marchbanks of the race team at his back. "They've been treating me great. The team has been awesome. Me made a couple changes today, actually, as we've been out at a practice track near my house. Yeah, they've been really pumped, especially with the win at Daytona and with the third place here in Utah. I could definitely tell they were a little bummed about the fifth, but they definitely know that I have the speed to be up there with the top three guys. It's just that start, like I said."
Also in Garrett Marchbanks' fighting corner is one Ivan Tedesco. A championship winning rider who sure as hell won some big races in his day, Tedesco, through his quiet, workmanlike approach, has helped Marchbanks reach for a higher gear.
"Mitch Payton hooked us up," said Marchbanks of his relationship with Tedesco. "We started talking together and doing some training my last month of amateur racing before going into pro, but we mainly started working together my rookie season of outdoors. We've been working together for two years now and he's been awesome. He's just a super cool dude who understands everything. He's also the test rider for Pro Circuit. We kind of see eye-to-eye on a lot of stuff with the bikes and everything, so he definitely helps me a lot with testing. Ivan has been awesome.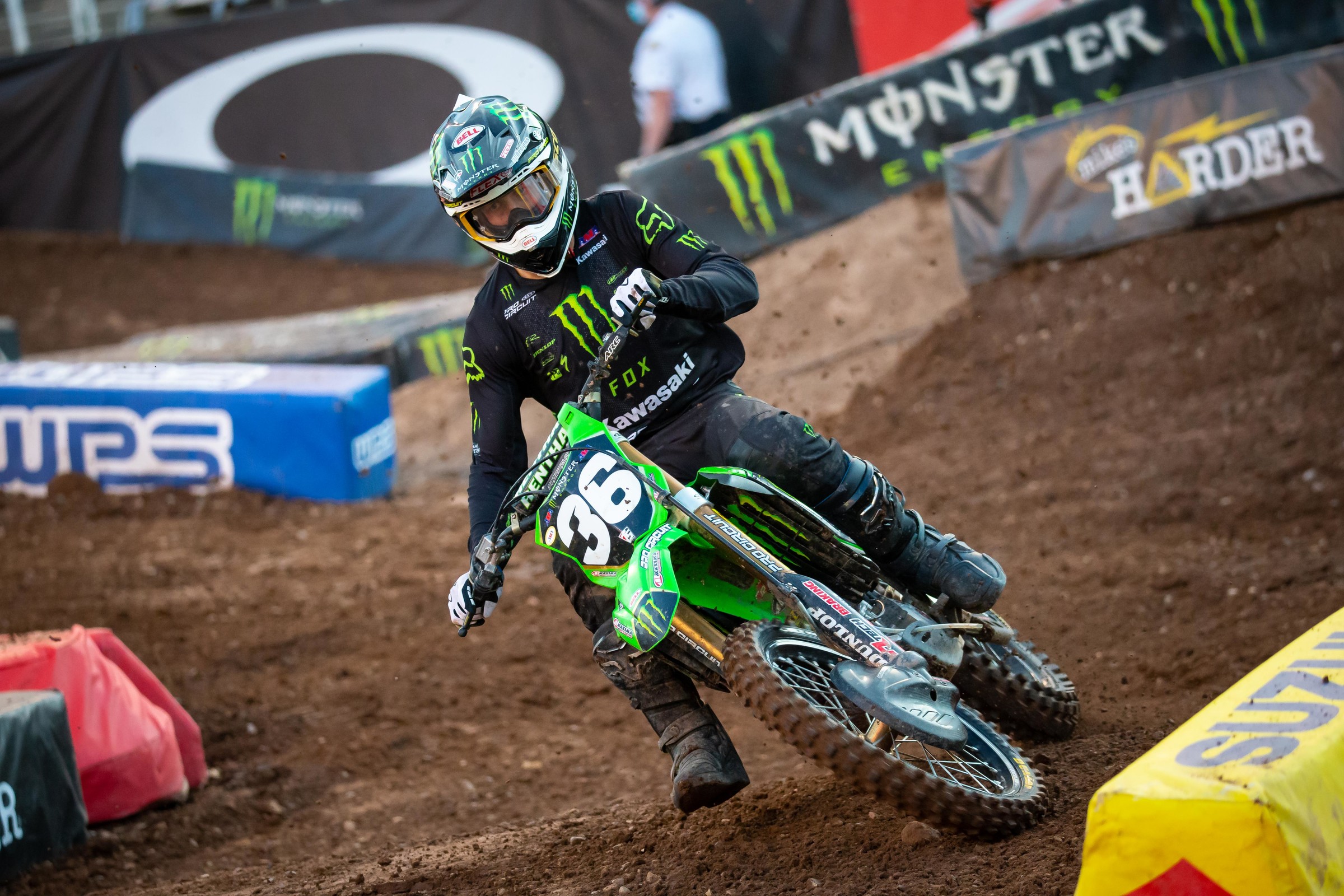 "I just want to win," continued Marchbanks of just what comes next. "When you won or you were second or you were a top three amateur rider, your life is awesome. However, then you jump into the pros and you're fighting from 10th to fifth to fourth… It was so hard to get into the top three positions. At Daytona recently, it finally just clicked that night and everything felt perfect and it just felt like a perfect night. It was awesome to get the taste of a win again finally after two years of not doing so. It was like, 'Wow! This is what it's like! I want to keep doing this! You just have the confidence all the time. It's definitely been a crazy year, just because everyone thinks we just kind of got an off-season, but we really didn't because we didn't know when everything was going to start. It's definitely nice to be racing again. Racing-wise, it's definitely weird just because it's like your hometown race, but the hometown crowd is not there. It's definitely weird to be at the stadium and you don't have the crowd cheering for you. Even when you're on the line, it's just dead silence. It's pretty crazy, but at the same time, it's definitely cool just to have it in your hometown or home state. I'm super-excited for these next three rounds we have left. Man, we'll just give it everything we've got and see what we can do with it."