Salt Lake City, UT
Salt Lake City 1
Monster Energy AMA Supercross Championship
We. Are. Back. I am so excited for racing to return! After two long months, Monster Energy AMA Supercross will see the most aggressive timeline ever offered up. Seven rounds in three weeks sounds both insane and incredible. Salt Lake City will host the supercross bonanza and, as one of the lucky few who will be there to witness it, I am counting down the hours. As for SLC round one, let's take a look at Sunday's track layout.
Dirty Little Secrets
There has been talk of an "easy" layout to welcome riders back to the series. In examining the track map, I think that is a fair assessment, although that is always subject to steepness in angles and jumps and whoops. An unsuspecting rhythm section could become very difficult based on how the jumps are built. Similarly, the two whoops sections could become particularly tricky with temperatures soaring into the 90s [Note: the race will be a day race—more info on that soon]. That hot sun will harden the dirt and reduce traction, creating wheelspin off each individual whoop. If the whoops are small and round, this won't be a big deal, but if they sharpen, watch for mayhem.
The start straight runs the length of Rice-Eccles Stadium and long-time Staging Area readers will know that I prefer a long start with a wide 180-degree first turn. The first turn sends riders immediately into back-to-back rhythm sections. In the first, I think there is an opportunity for a very efficient line. If riders can triple up out of the first turn, they can then carry momentum into a 3-3 out of the whole section. The tough part of this is that the first triple is somewhat of a tabletop, forcing riders to either clear the whole thing or at least carry the front tire high enough to drop in before the next take-off. This first 3 could be a very technical aspect of an otherwise "easy" track layout. If this 3 in becomes viable, watch for the oxygen deprived 250s to struggle to make this work out of a flat turn.
The second rhythm section also presents an opportunity for a big combo. If riders can get a good drive out of the bowl berm, they could go 3-3-4, minimizing the time on the ground. The most difficult aspect of this section will be the first triple. With elevation reducing power, riders will have to work hard to carry the necessary momentum through the corner. If riders are forced to double out of the corner, there will still be opportunities to triple through the section. Finding the best alternative will be a big key for most of the 250SX field.
After another bowl berm, riders will jump a small uphill triple before the finish line. This will be built as a dragon's back but with the finish line looming, I look for riders to jump this and land on the downside for a good drive towards the finish line. Blitzing up the dragon's back will have riders landing into the face of the finish line jump and even if still able to jump the finish line double, they will effectively stall all of their forward momentum in the process. The landing of the finish line leads to a small single and then riders will scream across the socially-distanced mechanics' area.
The next section along the wall of the stadium will be fairly straight forward. A small double leads into the first whoops section and an immediate supercross triple. With the short whoop section, look for many riders to jump in and out in one fell swoop. While some like Mookie Stewart may still opt for blitzing, others like Cooper Webb will use this jump in-jump out method to save energy and exact consistency.
The next bowl berm careens riders into the second whoops section, this one a little longer. SLC whoops can get a bit edgy, so watch for riders to hug the edges of the Tuff Blox during the main events, looking for fresh traction. With this layout, we have seen heavy contact after the whoops. The corner turns onto the start straight and using the outside berm leaves riders vulnerable. If a rider slows at the end of the whoops and veers inside, they can plant their motorcycle right in the path of the rider in front of them. Often times, this catches the lead rider by surprise and WHAMMO, a huge collision ensues. Jason Anderson has employed this move many, many times so watch for this to be a prime passing area, albeit an aggressive option.
That turn back onto the start straight sends riders down into the first turn and on their way to another lap. This track seems fairly basic by design, but again, that's always very easy to manipulate with the drop of a bulldozer blade. It will be interesting to see how Dirt Wurx approaches the seven rounds individually.
Fantasy Talk
Going allllll the way back to Daytona, I was set up really well for a huge weekend in Indy. Thankfully, that time has now arrived, even though it's in Salt Lake City instead. The 250SX East Region will make their first ever appearance in Utah and there are huge points up for grabs. Hometown boys Pierce Brown and Garrett Marchbanks are coming off strong Daytona showings, but Brown's non-all star status gives him the big points upside. Riders like Justin Starling and John Short are setup nicely for huge point earnings after a tough beginning to this East Region. With RJ Hampshire and Josh Hill out of the series with respective injuries, look for opportunities with riders like Jerry Robin, Kevin Moranz, Darian Sanayei, Justin Rodbell, to name a few. They are more high risk/high reward but fortune favors the bold. It also can make you want to punch a hole in your drywall but maybe that's just me.
For the 450SX class, the return of Adam Cianciarulo jumps off the page. His -3 handicap makes things a bit tighter but any finish inside the top five would be worth the risk. The bigger upsides will be with those who had a rough and tumble season thus far. Blake Baggett, Zach Osborne, Martin Davalos, Chad Reed, and Broc Tickle all have nice handicaps and present a huge opportunity. Going off what history has taught us, one or more of these riders will have a difficult night, so good luck navigating that gauntlet. Again, though, this game does not reward mediocrity. Playing it safe might be a good investment strategy but for PulpMX Fantasy, it's a sure path to disappointment.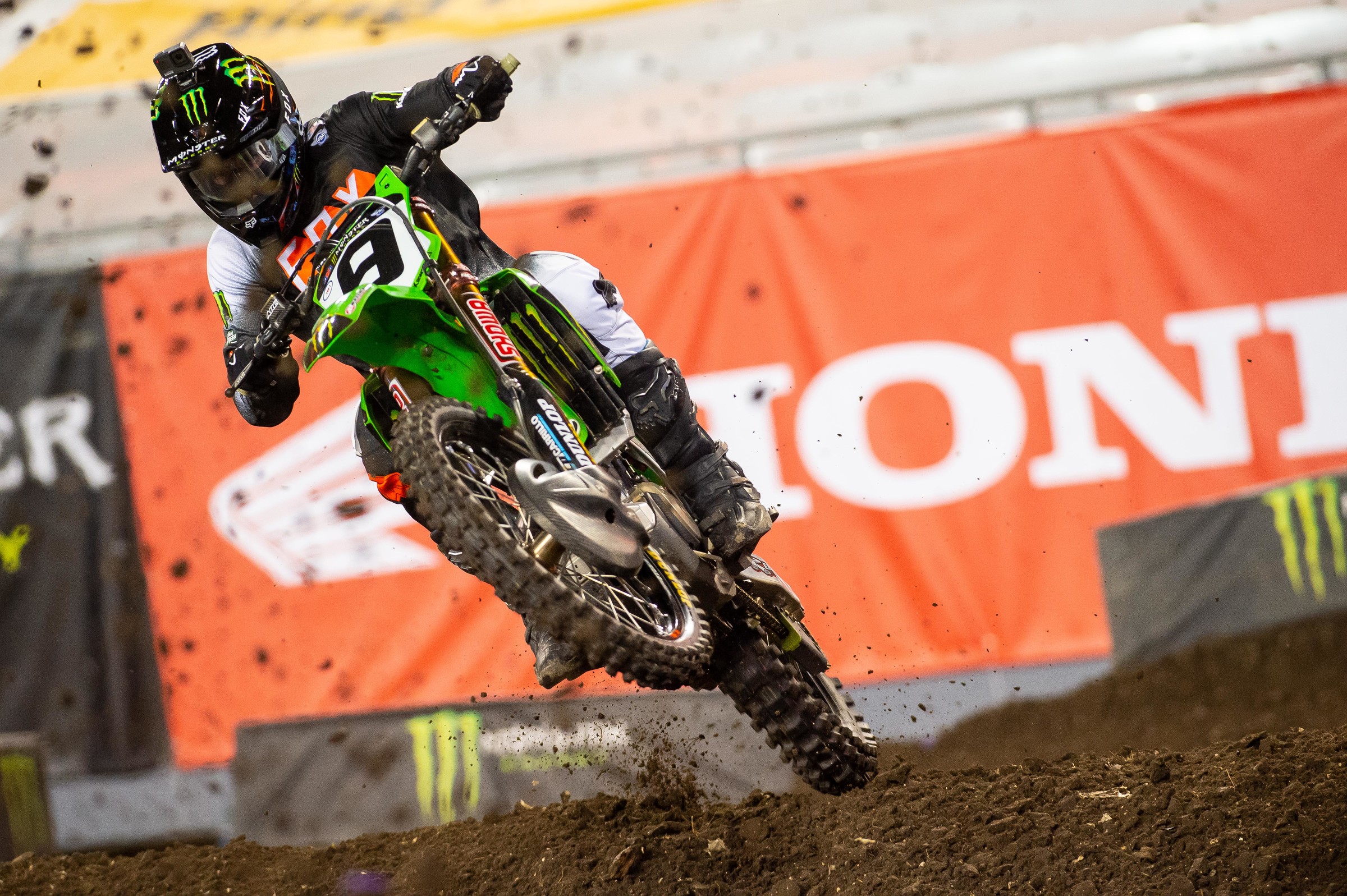 Bold Predictions
A minimum of 30 riders come in from the first practice and tell their mechanic "my bike is SO SLOW."
Racer X and PulpMX set a record for most content ever produced in a 21 day span.
Someone makes a social distancing mistake on live television and is immediately sniped by a high velocity tranquilizer dart.
I become a minority owner of SLC owned Chipotle stores due to sheer volume of visits during the SX swing.
I recoil in dismay every time I watch a social media video of someone's nostril being violated this week.
My Picks
250
Shane McElrath
Chase Sexton
Jeremy Martin
450
Cooper Webb
Eli Tomac
Ken Roczen
---
Main Image: Courtesy of Rich Shepherd