Salt Lake City, UT
Salt Lake City 1
Monster Energy AMA Supercross Championship
The pandemic-induced break from racing has been awful on many different fronts, but as bad as it's been, it hasn't come without a few silver linings here and there. One of them is that injured riders, who would have otherwise missed the rest of Monster Energy Supercross, will get a second chance to get back in the ring and fight for results. One of those riders is Zach Osborne, who broke some ribs, his wrist, fractured five vertebrae, and bruised his lungs while practicing before Atlanta. Now with supercross set to resume in less than two weeks, the Rockstar Energy Husqvarna Factory Racing rider says he's back to 100 percent and is ready to end the season on a high note.
Racer X: How's the recovery going, and how's the body feeling?
Zach Osborne: Good, I'm back up to 100 percent now as far as injuries go. It was quite severe. I had five broken vertebrae, a broken wrist, and some ribs. I had a lot of rehab, but I feel really good back on the bike and I'm looking forward to going racing again.
What happened with your crash?
I went to turn inside at the end of a long set of whoops and caught the last whoop wrong and went down super hard. I went straight into the dirt and that was that. It was a pretty violent crash. It was an unfortunate mistake on a Tuesday afternoon that cost me some time.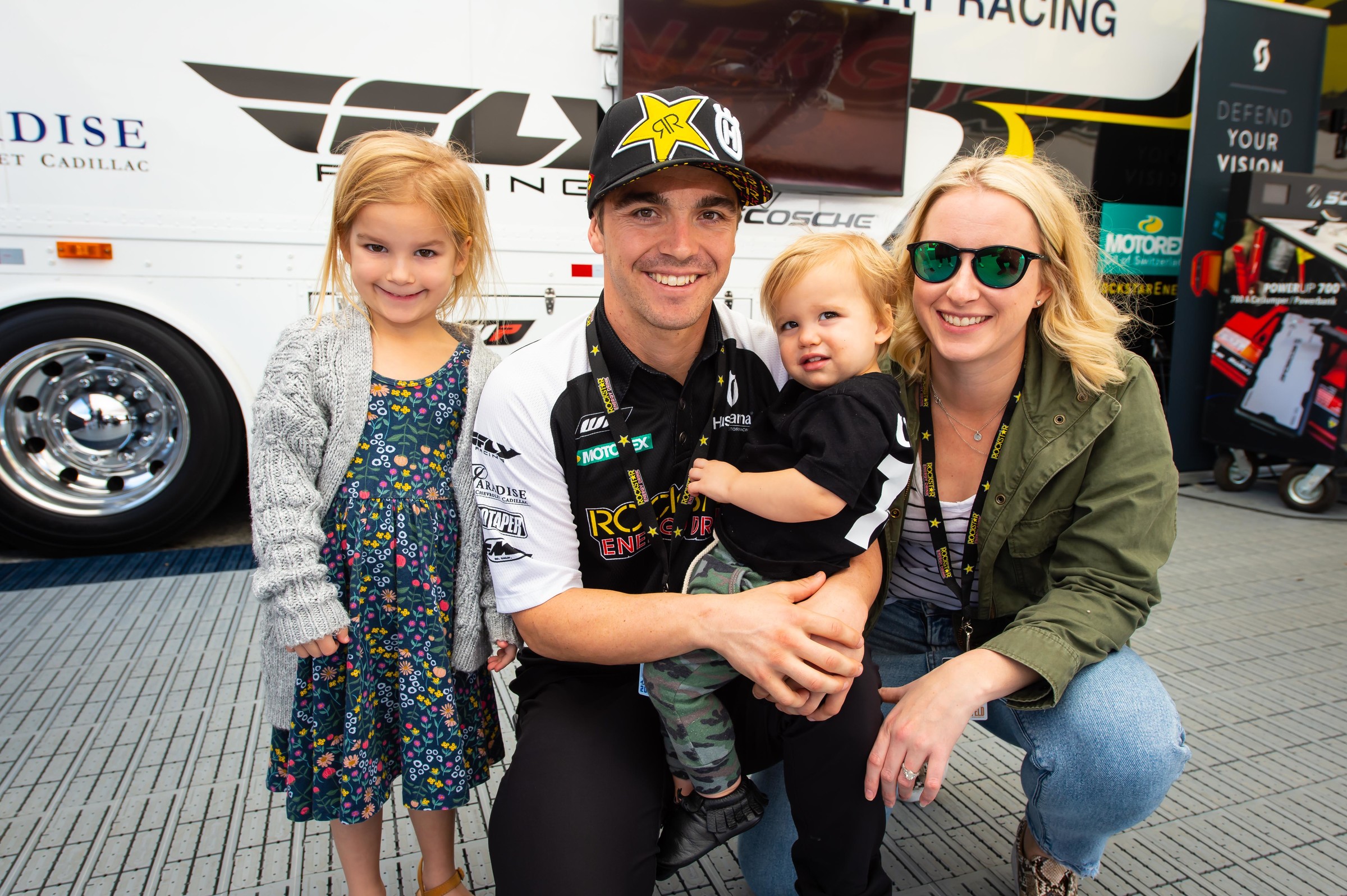 Didn't you originally think it was a lot less severe than it was?
At the hospital I was told I had one broken rib and a sprained wrist. I went two weeks on the assumption that was all that was wrong with me. But after like two weeks of sleepless nights and being in a lot of pain I went for some more X-Rays and an MRI, which revealed the broken vertebrae, and that my wrist was broken slightly. It happens. There was a lot of swelling and trauma in the area which is maybe why they missed it.
Was your back not painful at first?
It was, it was bad, but most of my pain was in my ribcage on my left side, which is where they said I had a broken rib. I wasn't that concerned the first three or four days, but by day six or seven I was like, "Man, this isn't quite right." Ten days into it I flew out to California to see Doctor G [Dr. H. Rey Gubernick] and he got me some follow up X-Rays, which determined the severity of everything.
How long have you been back on the bike?
I've been riding for five or six weeks. We started off riding outdoors because we thought that was going to be the plan at first. We did that for a couple weeks but they decided we'd be back racing supercross on May 15th, so I went back to training for supercross. Then it was the 31st, so we were doing one day a week outdoors and three days of supercross. Now we're going racing and we're wide open on the supercross program.
It sounds like you were able to ease back into supercross. It's not like you full-bore on motocross and got caught off guard that supercross was coming back in less than two weeks?
Yeah I've been doing supercross quite a bit. We've been grinding supercross pretty hard for a while now.
So you weren't surprised when the word came that it was for sure coming back?
No, I wasn't that surprised. At one point I was surprised when I got the first phone call that supercross was coming back. I was a little shocked when the date was May 15, but now that it's the 31st and there has been time to hash things out, I'm not that surprised by it.
You got injured during supercross this year, so it probably wasn't what you were hoping for before A1. So with that in mind do you have more motivation to come back and finish supercross strong, or is there an inclination to focus on coming into the nationals strong and ready?
It's definitely important to turn the supercross season around, even for next supercross season, and to build some momentum for outdoors. For me it's an opportunity to turn the ship around and get things going back in the right direction. I feel like before I crashed I thought I'd finally made some gains and was in a good position to battle at the front. I just have to get back to that level. I'll be 100 percent prepared for the outdoors either way, but right now I'm focused on supercross and turning this thing around.
Supercross is going to be interesting with racing twice a week. Has the team worked out any way to practice or test out in Utah between races?
Not really, there's not a ton of time. You race on Sunday, you're not going to race on Monday and you don't want to ride on Tuesday before the race on Wednesday. So the only real potential ride day is Friday. So if I ride at all it'll be on Friday. Maybe we can find an outdoor track locally we can ride at or whatever, but I think it's a bit of a stretch at this point.
Will you have much opportunity on improving setup if you can't ride, or is more just get it close and ride out these last seven races?
I'm not a huge, week-to-week setup guy. I'm not always trying to find the golden setting every day. For me it's more of a thing of going there and tuning it in a little bit. The dirt's going to be relatively the same the whole time, barring some sort of rainstorm. I think if we can get close at the first round we'll be pretty good for the rest of them. I'm not stressed about it much.
Will you be staying in Utah the entire time, or will there be any back and forth?
We're allowed to leave Utah, but if we leave the state we have to be back 48 hours prior racing to test for COVID[-19] so there's no real opportunity to leave. You can leave for one day, but what's the point? I think we'll be there the whole time.
Yeah, that's the same with media, the 48-hour window. So being a dad in this situation, what do you do? Do you bring the whole family out there or keep them out of the travel circuit?
It's not really a huge decision for us. We're going to take the motorhome, pack up for a couple weeks, and go racing in Utah. That's the plan. It's pretty straightforward.
What's the weirdest thing you've done to pass the time during quarantine?
I built some garden boxes for my wife and started a couple restoration projects. That's something I enjoy, restoring motorcycles. And right now I'm working on a bicycle for my daughter, which has been a fun project. There have been a lot of chores around the house too. The first six weeks were pretty gnarly for me because I was just trying to get back to 100 percent, not even just for riding, just for life, and that passed a lot of the time. My kids are homeschooled and my wife's a homebody so it's been pretty much normal going for them, except for that I've been home a lot. There hasn't been a lot of change for us except that I've had time to do some fun stuff around the house I wouldn't normally have time to do. Nothing really strange, we're just enjoying the time.