Note: This interview was conducted Wednesday, May 13, prior to GNCC racing resuming last weekend at Aonia Pass MX for the Bulldog GNCC.
When Steward Baylor joined the FactoryONE Sherco program in the off-season, it was a move that was a bit of a shock. For the man who had spent nearly his entire life on KTM, switching to an unproven machine was a bit off the cuff.
However, he proved doubters wrong when he became the first rider to ever put Sherco on the podium in the Grand National Cross Country (GNCC) Series, and he nearly won a race doing it. Stu led most of the way at The General GNCC at round three in Georgia, only to hand the lead over to Kailub Russell with three turns to go. Since that moment, racing went on hiatus due to COVID-19 and an even bigger shock came just weeks ago when Sherco announced they were parting ways with the elder Baylor brother.
Now left without a ride, Baylor is on the sidelines and spoke with us about his situation and the GNCC season as a whole. He also showed up at the Bulldog GNCC over the weekend, and although he didn't race, he did help run the series' Instagram page for the day.
Racer X: So, when you last raced, you were on the new FactoryONE Sherco team. Are you able to say anything about what happened there? All of a sudden maybe a month ago we just got a press release, you're off the team. Can you say anything about this?
Steward Baylor: I can't make any comments on that right now. It was tough. It was a bummer for me. I'll always land on my feet. I always have before. Best of luck to those guys.
Have you talked to anybody else about will you have a bike maybe in a couple months? Or is there nothing going right now? Do you have any idea?
I have no idea. I've made a couple phone calls, but nothing serious at this point. Honestly, I didn't really know when we would go back to racing. Last week we get the word that we might go GNCC racing again. I was back and forth. Are we? Because we've been saying this for eight weeks now. It takes so much behind the scenes to get us to where we finally can go racing. So, in my mind I was thinking it's probably going to be another few weeks. I was thinking at earliest June, maybe July, for the Racer Production group and Tim Cotter and Carrie [Russell] and all those people to get everything back together as fast as it was. It almost sucked for me that it happened that fast, but it's great. I'm really glad to see that they got everything together so that we can go back to racing. I'll be there either way. Whether I'm racing or not, I'm going to be at that event. I couldn't tell you the last time I missed a GNCC. Even injured I made sure that I was always there. I love the event. I'll be there regardless. It just sucks that we couldn't get something lined up before then.
Stew's Ricky Bobby-inspired "Me" bike at the Bulldog GNCC on Sunday.
How many times are you going to have people walk up to you this weekend and be like, "Dude, what happened to the Sherco deal?" You should just write a sign on your forehead or something!
I need something. Just get a shirt made. "This is what I can say right now." I still got 247 text messages. I've got different waves. On day one I had 700 messages and 157 voice mails. My voice mail cut people off. A lot of people want to know. It's hard. I don't necessarily want to tell everybody the full situation. It's not something that can even be out right now. There will be answers at some point. It's just not the time yet. That's kind of what I'm going to have to tell people. That's what I've been telling people so far. At this point, it's been tough to wrap my mind around the whole situation, especially knowing that I won't be lining up this weekend, given what we did there a couple months ago. Like I said, just tough to wrap my mind around it. I still get the phone calls two weeks later. "Hey, I want to know what happened. I didn't want to bug you at the beginning because I know everybody else was asking and I respect that." So, I know for sure that that's going to be this weekend nonstop. We had a local race last weekend and my uncle said that he was just bombarded with questions. He doesn't know all the facts. He was like, "That's what I told them. I don't have a clue what happened." Basically, that's about as much as I can say on it!
It's standard Stew Baylor though that you're not going to just hide. You come on here on Instagram Live. You're going to take the GNCC social for the weekend and go to the race still. It's not your way to just hide.
No. It's funny. I was injured in 2012 and I finished out the season, got my championship, everything was good. I was young. I was bulletproof, whatever. Then I had to sit out the following year in a cast. I joined in with the first year of live internet TV, with GNCC live [RacerTV] crew. It was almost unreal. When I came back to racing, I had more support than when I was winning championships. The social media platform even then versus now I think in the last five years it's grown by 52 percent, I looked it up. Social media in general is where soon all of our careers will be, as you already know. And for me to sit there silently is just not the option. I know that's what the smartest person would do, is probably sit there silently and not say anything. Anytime you put yourself in a position to where you can slip up, you might slip up. For me, I know that I can't hide. I can't be quiet. I'm not the quiet type anyway. I never have been. It's tough for me not to just rattle off a bunch of things that have gone through my mind. It's where the world is going. At some point, Weege, I'm coming after your job!
[Laughs] What's unfortunate is, I know that you led every single inch practically of the last GNCC and then you lost it with three turns to go. If you had won, you could have said that you won in the last race for that team. But I'm going to give you the silver lining. As far as negotiating powers, you kind of left on top, or as close to on top as you could get. So maybe that will help get another ride.
Yeah, definitely. Right now, this year speaking, [I am] the only person to give Kailub [Russell] a run. Obviously, there's a lot of people that are out this year. This was a tough year as a whole as far as rider injuries and just stupid stuff going on. I'd like to just fast forward and get away from 2020 as far as we can. It was good to go out knowing that I had the speed, and with everybody else knowing that I had the speed to run with him. The toughest thing is going to be trying to talk him into racing another season!
You want to beat this guy before he retires. You don't want to let this go.
I don't! I won Ironman the year that Thad [Duvall] and Kailub both got injured. I think I won Florida that year and then won Ironman later that year. It was bittersweet. Those guys, Thad and Kailub, are the guys that you want to beat every weekend. They're the guys that when I was on 65s they were over on superminis and they were the guys who were coming by and lapping me once or twice a race. They're the guys that I looked up to. At that time, I'm sure you remember, the GNCC podium was very unorganized. We all just kind of clustered up on there. As many as you could fit on that little skid steer trailer, we were on there. You were tripping over kids and microphones and speakers. I can remember at Unadilla one year I was in-between Kailub and Thad. Corey Buttrick, Walker Fowler, these guys that I looked up to as a kid. To this day, those are the guys that I want to beat. With Kailub announcing [his] retirement, I just hope that he continues to train and claims that he's just as fast as he ever was because if he shows up at a race, I'm going to smoke him.
Kailub told us last week he's going to do some racing, maybe not GNCC, elsewhere. So maybe you need to track him, figure out where he is, and then show up on a Friday or something and be like, "If you're racing here, I'm racing you too."
I might have to. Even if it's world enduros, that would be a little tough. If he decided to do a world enduro, that would be kind of hard to track him down there, but we could figure something out.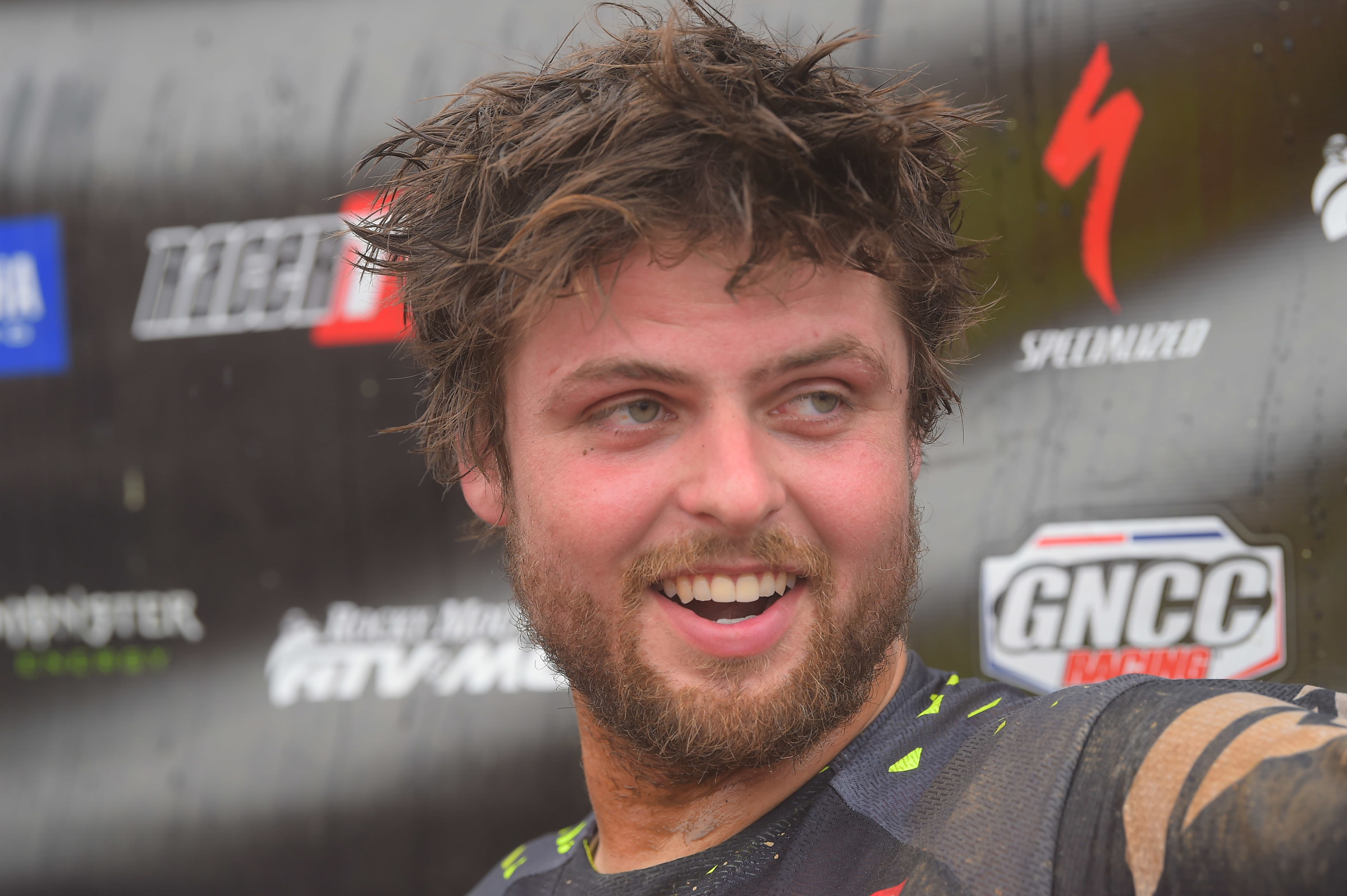 When you're explaining off-road maybe for motocross people watching this that aren't familiar, you're saying how rough the track is. It's like a motocross track I feel these days. Maybe people think off-road it's like you're battling over rocks or you've got handlebar-width trees. There's a little bit of that, but for the most part it's braking bumps, ruts, acceleration bumps. Just like a gnarly motocross track.
Yeah, a hundred percent. My uncle and I started a motocross facility and that's all I ride. I ride our moto tracks. Kailub obviously spends his time on moto tracks with Aldon [Baker] and now he's starting a facility himself. That's where the focus is. If you look at any of the riders, we ride the woods, but our woods tracks aren't bar-banging tight. I still race National Enduro, so for myself I still practice in the tighter, more technical conditions, but GNCC has become very easy to switch from a motocross background. It's just reading the lines, that's the biggest difference. When you get to those sections where there may be a mud hole. In a motocrosser's mind, it's no problem to jump a braking bump over a section of braking bumps. In a woods guy's mind, it's no problem to use a root to jump over a ditch. It's the same thing, it's just relayed differently. Where GNCC is, we've ridden a lot of the same courses over the years, and they go back through with the dozers. It's fun. It's fun to see the sport evolve the way that it has. I feel that we've gotten a lot more aggressive to where we're racing from start to finish. The track has definitely become more brutal. Everybody is working speed rather than consistency. There was a day where you would watch a GNCC, and you would see eight, ten, twelve guys in a group for two hours and twenty minutes. Then just before the white flag would come out, now all of a sudden everybody is ready to race. Now it's, who's going to get the holeshot? Who's going to be the first one to make the move to the front and try to check out? Then, are we going to chase them or are we going to let them make a mistake? There's strategy to it, but at the same time, from the start we're racing. It's a little less exciting racing than what I grew up watching the GNCC's but being on the bike it's way more exciting. There's so much more going on in the GNCC's now. It's becoming a three-hour race.
Yeah, it's like a motocross. Just a long motocross race on a long motocross track.
I've got a lot of moto buddies that come around and they're like, "You wouldn't know what to do if you saw an outdoor national how rough it gets." Come to a GNCC. You come to Florida GNCC after the 1:00 p.m. bikes, the three-hour bikes, and you go through one of those whoops sections and stay on top of it, I'll give you a thousand bucks. Hands down. There used to be a checkpoint at the five-mile marker and every year, everybody dreads getting through it. It's no more than a hundred yards long. You're watching guys' heads disappear. It's no more a six-foot blade in width. That's as wide as you get. You get how many thousands of racers, two thousand racers making six laps a piece going through there. GNCC has been posting that 144,000 tire tracks went over one section of Big Buck GNCC. An outdoor national, you're on a 30-foot wide track. We're on six feet with ten times the tire tracks going over it. It's no disrespect to any moto guys. I can't do what they do, just like they can't do what I do. It is cool to see a guy switch. I'm trying to turn one, the Canadian Cole Thompson, to GNCC. It's definitely a lot different than what most motocross guys expect, but it is very similar to what they see. You just might be using a root rather than a braking bumps.
What do you think? Is there a good chance you'll race again this year?
I think so. I think it'll be a few months. The ideal goal is to be back as soon as possible, but realistically I think it's probably going to be after summer break that you'll see me make my return. If I come back, I want to come back 100 percent. If I have to choose, obviously I'll be changing brands and that's a big switch. It's not something that you can do overnight, even if I went back to where I was comfortable on a KTM from all the years there. But even there, it's not an overnight decision. It's not something that I can throw a leg over a bike and say we're good to go. The suspension testing, the time that it takes to get to where I was on the KTM before, it takes time. I guess we'll see and play it by ear. I guess I can just run GNCC Live and Instagram until then!