"I call it just blackout mode for the simple fact you get so tired and your body's drained, you're depleted, and you've still got to go fast, especially when you're battling," says Kailub Russell of the last lap in a three-hour Grand National Cross Country event.
Looks like he'll have a chance to experience that splendid feeling again this weekend, because GNCC racing is back, heading to Georgia for this weekend's Bulldog GNCC at Aonia Pass Motocross in Washington, Georgia. The same track hosted the third round of the 2020 GNCC series, but that was back in March, when the racing world was heading toward lockdown. Now, Racer Productions (our sister company and producers of GNCC racing) say that racing is back, and will be run under new social distancing guidelines.
We talked to defending GNCC Champion Kailub Russell about the season so far, and what's to come.
Racer X: Did you do a four-hour bike ride today?
Kailub Russell: It was five hours, 43 minutes. I thought I was going to be done by two, but the elevation took a lot longer than expected.
That's crazy enough, but that's only the second craziest part. What I really can't believe is that….you did this indoors?
Yup!
Are you nuts? You did five hours, 23 minutes indoors on a bicycle!?
We had a good crew, though. I did it with Ethan Jaudas and we rode with AP [Aaron Plessinger] for a bit. So we all had a FaceTime chat going. It made time go by a little bit quicker. Most of the time I watch movies or old races on YouTube.
Have you used this time as like boot camp part two?
No. We haven't done that just for the simple fact everybody's unknown when we actually would be going back racing. You don't want to bury yourself for no reason and lose it all again and do it again.
Also for GNCC, the darn season is stretched out so long anyway. Even under normal circumstances you're racing until the end of October, early November. I think the supercross and motocross guys are freaking out because they're designed to be done by August. Now they're like, "What if I go to October? I've added two months." Your final race date might not even change.
It might not. We're pretty much used to racing all the way up until November anyway. Then sometimes even racing in November because of when Six Days [ISDE] is. This biggest thing is how many races are we actually going to get in? Are we going to be able to continue racing? It's state to state on what states open up and this and that. We might just have a string of races in Georgia!
It's at least going to be two in a row! The last GNCC was there, and it is really happening, right? You're supposed to be racing there again this weekend.
Yeah. I'm pumped. I'm happy to finally go back and get it done. We did four races and then had eight weeks off. It's like, what's going on? Everybody's in the same boat. Nobody knows what's going on around the world with anything. Just happy to be back doing what I want to do.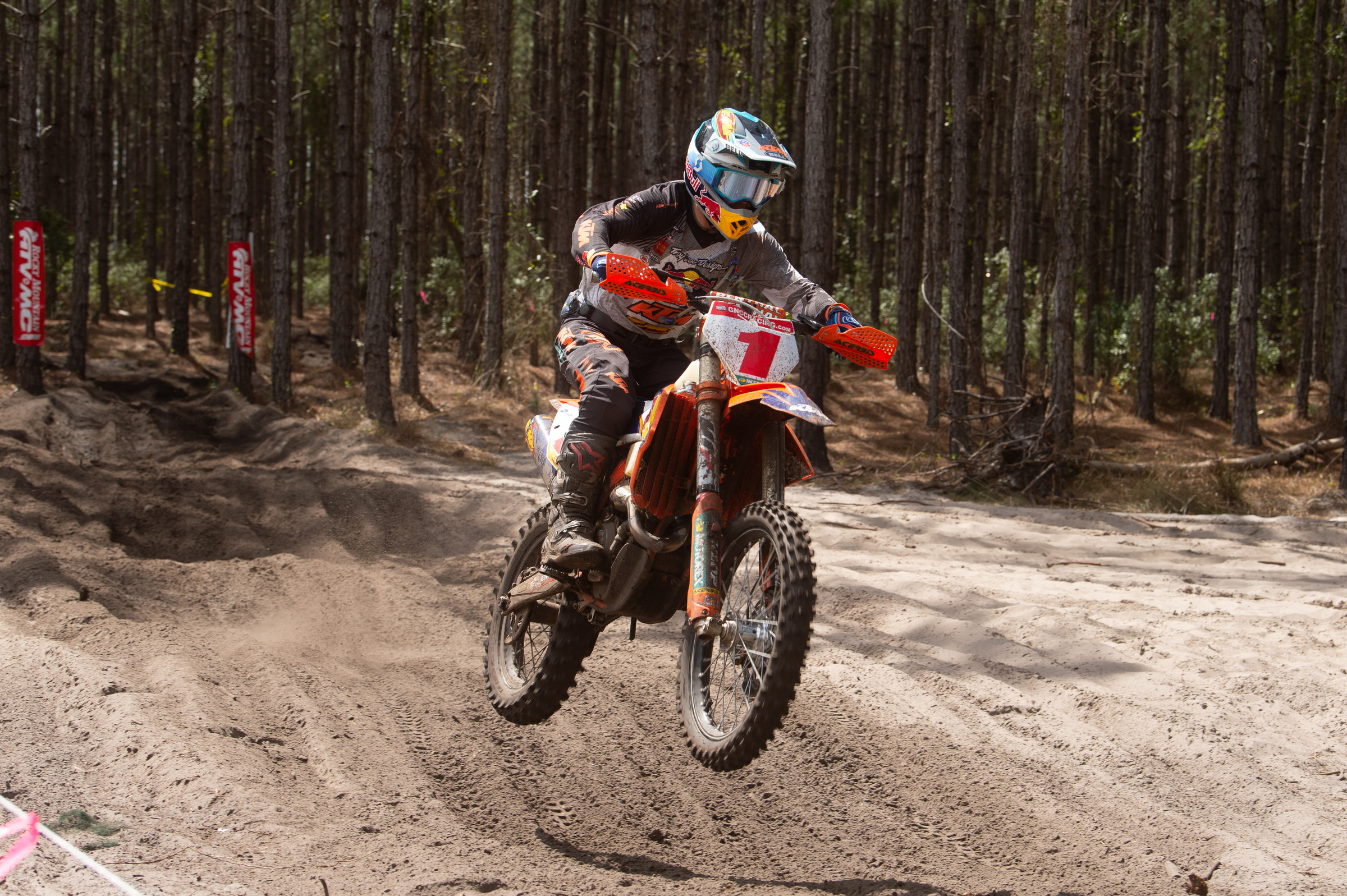 I know that your dad [GNCC Trail Boss Jeff Russell] is obviously is a big part of the series, but I don't think you're as insider as people expect. Do you know what hoops they've gone through to get this done, or are you just a racer like anybody else?
I wait until my buddy Johnny Gallagher [pro GNCC ATV racer] tells me. He's more in the know than me. I don't really care to be in the know. It doesn't really bother me. Just tell me when we're going to go and I'll be there.
So this was supposed to be your last season. But let's say the series really gets off the rails. Maybe that looked possible just a few weeks ago. Did this maybe change the retirement strategy? Had you thought about that?
Yeah. Let's not hope it comes to that because I don't think anybody wants it to come to that! Definitely I've thought about it. I can't say yeah, I'm definitely going to race again next year, but if we were to only have four races and it's not considered a championship to KTM, then I'd probably be racing next year. We'll see. Let's hope it doesn't come to that and we get the races in. And even if we do, it's not guaranteed that I even win the title. If this all gets shot down because of lack of races then I'll probably definitely want to get a little bit of redemption some way.
This year is already messed up because the guys that we expected to have some great battles this year between you and Thad Duvall and Trevor Bollinger, and you've got your rookie teammate, Ben Kelley, coming up. Everybody got hurt, so the whole season is all weird already, and now it just turned weirder, really.
Yeah, it's the craziest thing I've ever been involved with as far as pre-season. Everybody boom, boom, boom, one after another all within a week dropping out, basically. Then Stew [Steward Baylor] getting fired [from FactoryONE Sherco]. It's a crazy year, everything that's gone on. Let's hope we get this train back on the tracks and we get back to the races and we'll start there.
Yeah. It's the same thing that I get from all the riders. You do not fist pump when you hear that one of your main competitors is not racing.
Yeah. I want to win because I'm the best and I earned it. I don't want to win because those guys DNF'd or got hurt or are missing races. It's more rewarding when you have to earn things than when it's given to you.
When I last talked to you, your project during this break was to build a new motocross track. Take me through that whole process. What's that been like working on a moto track in North Carolina?
It's been good. It's given me the opportunity to kind of do it stress-free. I was a little bit stressed starting that project because I had it on the calendar to do it now. This break gave me time to do it stress-free and not have to worry about not focusing on racing. There's a lot that goes into it. I'm glad I've been able to have a little bit of a break, but we're ready to get things back rolling now.
So it's pretty legit? I don't know if it's done-done, but it's where you need it to be?
It's not done-done by any means. I don't think it will ever done-done. It's to a good stopping point for now. It's going to kind of go through its phases and how I'm building it out. But first it was like, get the track, get everything set up, get all my permits and everything good with the county. We're kind of working on phase two. Then I'm going to eventually build a building out there and be able to make a complex. It's a little ways out still.
Did I see Chad Reed even stopped by?
Yeah. Reedy came out. He had his brand-new 250 two-stroke and his mechanic, Benny, texted me like, "Hey, we want to come ride but we don't have a front axle." They got some 52 millimeter forks and they needed a big axle. I was like, "I got a couple in the drawer so just come on out." He came out and rode. It was cool to ride with him.
There's a nice moto scene here in North Carolina, and also a huge GNCC scene. Have you thought about that? If you get a building built and it becomes quite a motocross facility, I know you want to help GNCC guys, but there's probably a lot of moto dudes in the area that would be pumped to have another place to go to.
Yeah, I've thought about a lot of different ways to structure it and the direction I want to go. I've got some stuff in the works. Nothing's set in stone yet. That's going to hopefully be a sustainable future for me.
The sustainable future thing, everybody wants to know. Do you have certain plans after this season? This is your last full-time year as GNCC champ, if it all works out. What's next?
I've got some plans made to race part-time next year. Not part-time, I guess it would still be racing full-time, but it's not going to be GNCC. The '21 plan is [for] that to be my last year racing. But I can't really say what I got kind of planned the whole year for. We're still working on it. We're trying to sort out the details and stuff. Definitely still going to race the sprint enduros and most likely go to Six Days. But past that, I'm working on some cool stuff and maybe have some exciting news.
What about moto, man?
I'll say that's one of the things we're working on.
That's good news. Let's take a couple fan questions here. This is a good one. Can you give this secret away? What do you have in your hydration pack?
[Laughs] Water.
Come on. Seriously? That's it?
Water. I usually don't even drink it. The hydration pack, it's like mind over matter, in a way. It's a placebo effect. If you've got it on, you won't need it. If you don't have it, you'll want it. Most of the time I don't drink out of it. It depends. Florida GNCC I drink out of it because it's usually hot and grueling/ I would say there's probably three to four races a year that I even touch it. Past that it's just a waste of weight!
I know you guys usually get a bottle of water also when you come through the pits, and you just hold the straw in your mouth. Do you just use that and that's the little bit of hydration you get?
Yeah, pretty much. I always have Chandler [my wife] give me a bottle after second lap all the way to the end of the race. I get 16 ounces of water in me right there, and that's enough to last me each lap.
Any super-duper nutrition stuff in those bottles?
Yeah. I use some Hammer products in some of them, and then Mind Effects as well, too.
Not running the Pedialyte game?
Nope. No Pedialyte. Everybody used to think that was the best thing to do, and then come to find out it's not.
There is a commenter here who says he puts Coors in his. Do you do that?
[Laughs] No. I don't.
Fan question. Any particular race that really sticks out as your favorite?
It's hard to pick out a favorite race. I would say one of the toughest races I've ever done was probably Ironman back in 2013, my first championship racing against Charlie [Mullins]. I was able to win that day to win the title, but I lost the year before in the same exact fashion. Winner-take-all affair for the championship, last race, three points separating us. So I was able to win that year. It was a tough race. We beat each other down pretty hard. We smoked everybody else. We won by like five minutes.
How hard were you pushing? Second place doesn't even matter in a race like that. It really looked like you were really hanging it out. How hard were you going, risk-wise?
You don't think about the risk. It's everything you got. You don't think about getting hurt. You just send it. You're just processing what's in front of you. You're so tired and mentally drained you're just at a dead stare going through the motions. That's why we practice so much is get that repetition and that muscle memory so you can do stuff like that and hang it out when you really have to. It's not fun to do! I know that.
You can explain this again. You've said literally the last lap of a GNCC, a three-hour race, you call it blackout mode. Can you talk to people about this? It blows my mind every time I hear it.
I call it just blackout mode for the simple fact you get so tired and your body's drained, you're depleted, and you've still got to go fast, especially when you're battling. You're not comprehending what's going on around you. You're just literally, at least this is how I feel, I'm so zoned out I don't see anybody on the edge of the track. It's hard to explain, but you're just kind of blacked out. You're just reacting to stuff. It all comes pretty naturally.
Is this just you? Have you talked to other dudes about this?
No, not really. I would say a lot of guys have the same feeling because when you're that tired and depleted, you almost lose sense of direction, in a way. But those races, that only happens a few times a year. They're really not that fun. That's what happens. Me and Stew were that way, or at least I was, last lap in Georgia. Blackout mode. Eyes roll into the back of your head like, I got to run this guy down. I got to pass him.
Do you know anything about Stew's situation? No one's heard anything, except he's no longer on the FactoryONE Sherco team. Got any gossip there?
I've got a '91 KTM 250 that I offered to put him up on the enduro podium with, but we're trying to sort out the details. He wants a little too much money. And he's hard on brakes and we only have one of everything, so it might not work out.
So you would supply your competitor with a bike but it's 29 years old?
[Laughs] Yeah, 29 years old!
There's a race this weekend. How much of a relief was it to finally hear there is a date?
Yeah. It's good. It's awesome. We've heard talks about it for a couple weeks now. We could be racing the second weekend in May. I was like, okay… I'll believe it when we get there. So we have a date. I'll still believe it when the green flag waves, I guess!
I love asking riders this one. Are you one of those guys that, at the end of every day, you are like, "Did I do enough? Did I do this right? Should I have done this better?" Some riders are like that, and I'd imagine it's hard to turn that off during this break.
I've never had that problem. I've never been a worrier, in that sense. Just focus on yourself and control what you can control. I know what I've done but I'm not going to second guess and be like, did I do enough this week or too much? I have a different outlook on certain stuff like that. What I've done has been working, so why worry about it?