It's tough for the privateer 250 teams to line up against the factory squads and get into the mix. The budgets of teams like Monster Energy/Pro Circuit Kawasaki or GEICO Honda, etc. dwarfs what the smaller teams have and when horsepower=wins in the class and the best way to get said horsepower is money, well that's when it gets tough.
Thankfully though, one of the principals at the Nuclear Blast Rockwell Yamaha Racing team knows a thing or two about battling the factories. Ryan Clark was a successful privateer for a long time in the sport (view the results from his career) and parlayed that into starting up his own team, named Team Solitaire, for a while as well. Clark is also an OG Racer X staffer, writing his popular Solitaire column for this website and Racer X Magazine during his racing days.
After he retired in 2012, Clark stepped away from the industry and has moved into a successful career outside of racing. Once he had his post-racing career and finances in order, he began to dip back into the racing side, culminating with running this Nuclear Blast Rockwell Yamaha Racing team. Team rider Robbie Wageman has been one of the first non-factory riders in the main events in the 250SX West Region Championship.
For Clark it's a bit different these days, he's settled into life where he's got a real job and he's not so buried into the team like he was when he was owner, racer, sponsor-getter and all of that. In fact, he explains that he doesn't even take any money from the team. His real job pays the bills and racing is just a fun outlet. Team manager Chris Elliott helps out as well. Besides Wageman, the team's got Bradley Lionnet and Hunter Schlosser on board.
The team keeps operating almost as-usual despite the recent pause in racing.
"We have obviously a lot of flexibility in what we want to do because we're kind of self-managed, I guess," Clark told me in a recent podcast. "Robbie Wageman has still been riding, just going out in the hills. We got him a 450 about a month ago in hopes of doing some East Coast rounds, but obviously that's not looking like it's going to happen. Hunter Schlosser here in town is still riding with Justin Buckelew quite a bit. So we're plugging away and trying to keep developing on the bike and just be ready when the gate does drop again."
Ah yeah, that whole COVID-19 thing has put a hold on everything as of right now and although a very tentative plan is to get going May 31, the plans for which races will be 250SX East and 250SX West are up in the air.
Regardless, Clark has some perspective on it all. He collected some very impressive results as a rider without factory parts and he admitted that by the end of his time as a racer, the whole burden of running his own team and business and trying to compete simply wore him out.
"I took a long break from when I retired or quit, whatever you want to call it, back in 2012," he said. "Then I want to say it was 2016 we started back up with Slaton Racing and I helped that program to bring Cole Thompson down [from Canada]. Sort of ended up with a little bit more responsibility than what I was trying to do at first. But when you get your name tied to something you really want to see it not only succeed, but just not alienate people and just be a good presence. I tried to be as active as I could. I could see that long-term that wasn't really the place that I wanted to hang my hat. So I just figured I might as well do it again and started up the race team the following season with Chris Elliott. Chris handles the management side as far as a lot of the sponsorship type of things, the marketing, the social media, and I pretty much focus on the riders, the bike development, and that sort of thing. So it's been really, really good with him in that we both have our strong suits that complement one another.
"I think it's a really good foundation that we're building off of and we're both in it for the right reasons. We picked people up along the way that sort of fit in our ideals, I guess, and see the long-term, and also just the benefit of being involved in a program like ours that isn't a factory team. You have a lot of room to grow. You have the chance to be a really big part of it."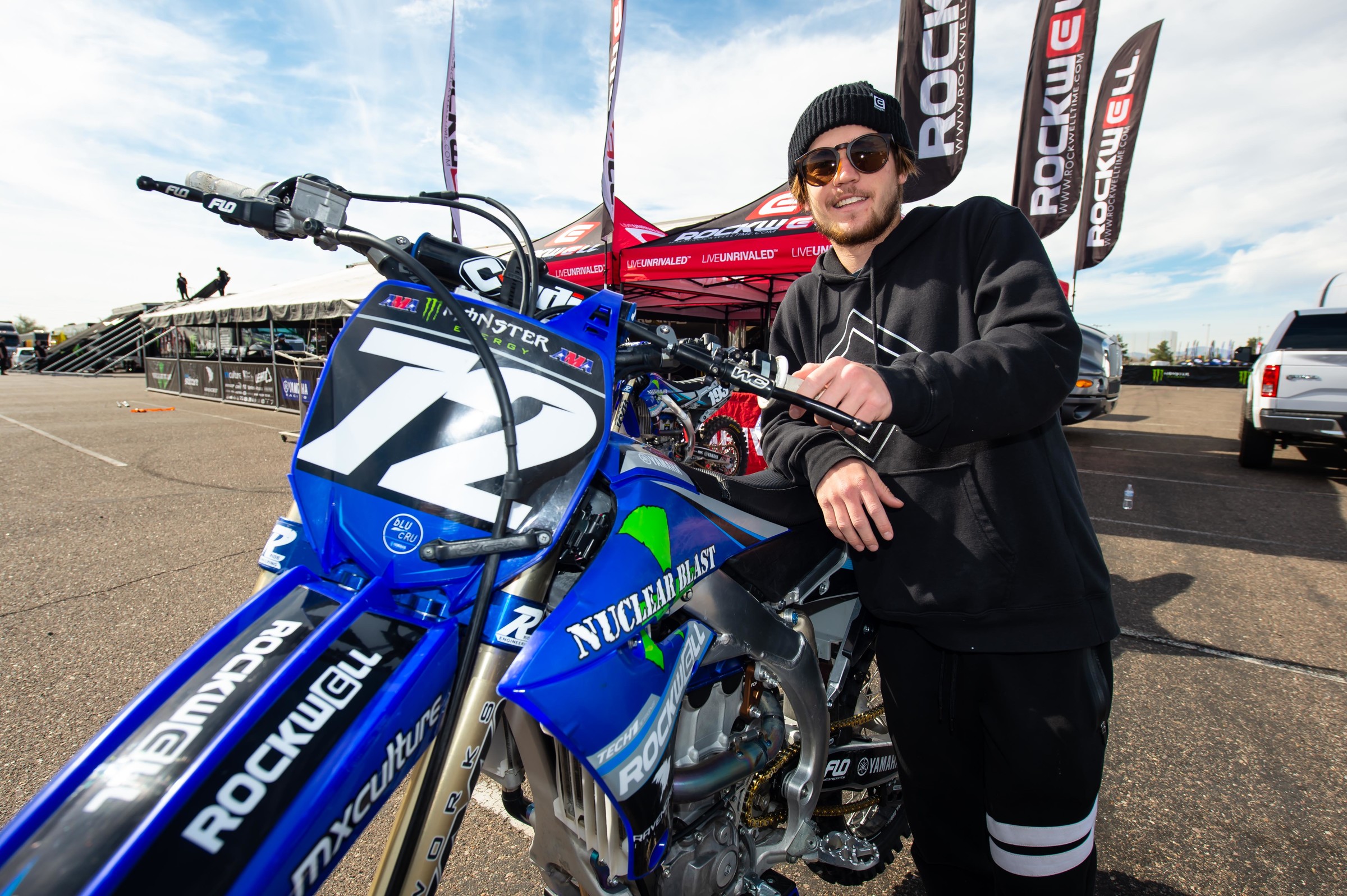 Clark was one of the first totally private teams in the pits with zero factory support as well as one of Fly Racing's first forays into big time team sponsorship. It paid off with a podium for 250SX rider Bobby Kiniry, and Clark himself was constantly in the hunt for Top Privateer honors in the 450 class, but, again times were tougher than they appeared to be behind the scenes.
"I'm in a totally different place in my life now. I've learned a lot of lessons. I made a lot of mistakes, as we all do when we're young. That's what life is about, making a mistake and learning from it," he says of those days. Sometimes it takes more than one time of making that mistake. It was tough to do it, honestly, back then. It was too personal. Everything was too personal for me back then, because there was no such thing as walking away at the end of the season with a profit. It was a passion project."
When Clark stepped away from racing, he promised himself he would find a living in another field. He had learned the hard way how difficult it is to rely on a small industry like this to make a living. He's been successful, starting in construction and now working with a company focused on light rail development in Arizona. That's his main job, but racing is still his passion.
Clark explains that as a racer, you're always looking for that next step, and if that means spending more on parts, testing or equipment, you'll always make that choice. It makes it impossible to actually bank any money, because if you make more, you just spend more to try to find another level.
"I don't take any money from the race team," Clark says of his current arrangement. "I do it for fun. We get a budget now and we spend what we have to spend and that's how we set our budget, whereas before it was like… We had awesome riders back then as well, like Kiniry. We got him on the podium and that was awesome, but we spent a ton of money that we probably shouldn't have spent and didn't really have to spend. In the end it kind of all caught up when the recession hit and people stopped paying their bills.
"I'm not saying that was not the reason why my career went bad. Kind of at that point I started trailing off. It's not really the reason why I got divorced either, but all those things just being so tied in together and intertwined, it was kind of a recipe, I'm not going to say to fail, but it wasn't a recipe for success."
Clark's current riders can learn a lot working with him, including how to keep your chin up when you're beating factory riders yet not getting the equipment you feel like you deserve. The sport's not always fair, but we need teams like Nuclear Blast Rockwell Yamaha Racing and people like Clark and Elliott in the pits to be healthy. Ryan Clark knows this better than most and for part two of his act, he's trying to find that balance.