As the rumor mill goes, there is a proposed plan to restart the 2020 Monster Energy AMA Supercross Championship in mid-May. This is far from a guarantee, just an idea. The attempt to wrap this series before the opening the Lucas Oil AMA Pro Motocross Championship round would require a furious three-week supercross bonanza, but there are big advantages to doing this. Supercross could try to wait a few more months and resume after the Lucas Oil AMA Pro Motocross Championship is complete but finding stadiums and TV time in the fall when so many other sports, concerts, and events might try to resume might be tough. America might see an entire year's worth of events trying to cram into the final quarter of the calendar. Also, teams and riders are likely much more comfortable finishing supercross before motocross begins. If supercross can finish by June, then this entire mess only somehow pushed the racing calendar back by a month or so. That's incredible. So, getting seven supercross races in before all of that has its advantages.
To do this, there would be seven rounds held over the course of three-ish weeks (perhaps the Lucas Oil AMA Pro Motocross Championship can shift back slightly more to allow a little more breathing room, but we've already lost about six weeks of racing, so time has to be made up somewhere). To fit in more than one race per week, the most likely schedule would be to hold races on Fridays and Mondays, giving teams and riders a chance to regroup. These rounds would all be held at State Farm Stadium in Glendale, Arizona, home of round four of the series this season. It would be a blitz of supercross, an unprecedented series of events. The May return would likely be without fans and allow very limited attendance for even the most relevant of industry staff. While details are unfolding even as of today, I have so many more questions than answers. Many of these have surely been addressed but they are worth asking. Let's take a look at a few I came up with.
Will they ask riders to remain in Glendale for three to four weeks?
Our series does not have a collective bargaining agreement like many of the big stick and ball sports, most notably in this case, baseball. I see it being very problematic to ask riders to stay in quarantined hotels as Major League Baseball is proposing. What's to stop Eli Tomac from hopping on a private jet after the race, spending a couple of days at home, and hopping back down to Glendale? Or maybe he just drives home to practice. The same goes for every staff member or rider within a six-hour drive of their California home. With travel comes exposure and a problematic chance of spread.
Who gets to race and who doesn't?
I simply can't imagine that they will allow open entries for these events. Reducing the number of people at the event is one of the most important factors, so I'm betting the event will be invite only. Where is the line drawn? Is it the top 22 in points for each class, guaranteeing a full gate for the main events? If there is only a limited invite, that's a tough pill to swallow for many privateers needing that racing prize money. I do believe the bigger picture will win out (some racing is better than none), but it's another hurdle to cross. There will be many compromises to getting racing back together this year.
What happens if a title contender's temperature is above the 100.4 threshold?
Rumor has it that temperatures will be checked for anyone allowed to attend this seven-race blitz. Anyone above the 100.4 threshold will be disallowed in fear of COVID-19 exposure. If Eli or Kenny catch the flu or worse, are they immediately out of the championship? That's a tough one to imagine.
What about blowback?
With most sports pushing their schedules back, will there be a negative view of this sport moving ahead first? The new eyeballs are certainly appealing but I wonder what the overall take would be? If it's safely executed, I think it's worth it to deal with the opinions of some detractors. It's still a debate that will be held, though.
How will the limited staff effect the riders?
To cut back on the numbers, rumor has it that teams will have to operate with a skeleton crew. The trainers, families, man-friends, etc., will all be watching from home. These teams have specific specialists for suspension, chassis, electronics, etc. Without their expertise, the sport will revert back thirty years where it was rider and mechanic against the world. I imagine that those technicians, if disallowed entry, would be brought in via Zoom to collaborate on adjustments. The practice video that riders and teams rely so much upon would likely be unavailable now. Teams will have to improvise, and the squad that does it best will have a big advantage over the competition.
How are series sponsorships appeased?
With dozens of series sponsors hoping for fan engagement every Saturday, how is that missing gap filled by Feld Entertainment? This plan would still grant television value, of course, but that's also not the letter of the contract. Would this value be rolled into 2021 extras or payment reductions in 2020? That's going to be a unique conversation with every sponsor. I would bet that some are in desperate need of any payment rollback where others would prefer increased value in future seasons. Let the negotiations begin.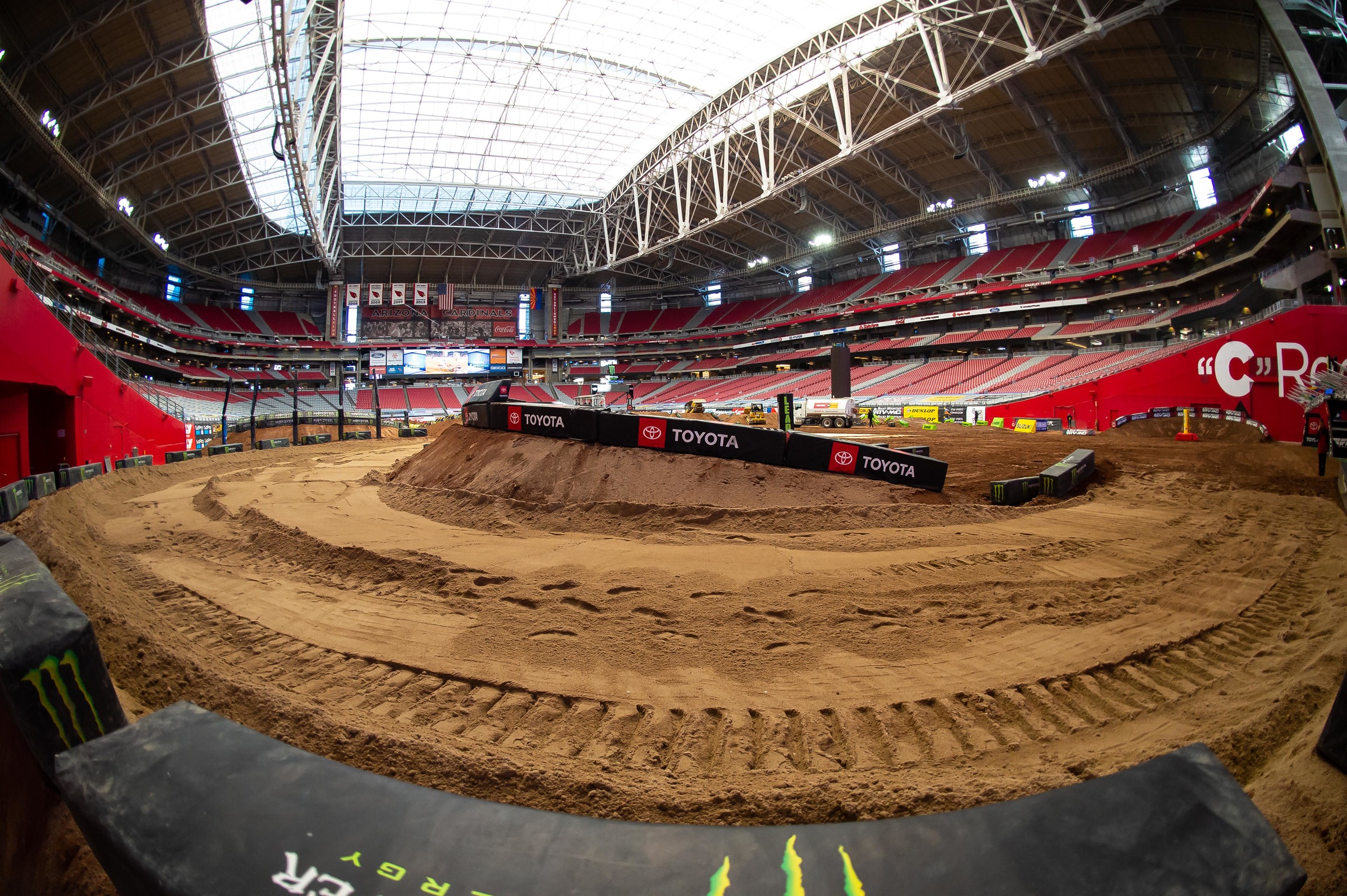 How are the 250 rounds handled?
With both East and West Region 250 rounds still to be run, how do they stagger these? I don't even have any guesses on this one. Asking East Coast riders to spend multiple weeks in Phoenix metro seems difficult. For the West Coast based riders, they could conceivably commute in between rounds if allowed. Do they discontinue the East/West showdown? It would seem like too many riders on hand if you double the 250 field.
Can Arizona maintain the downward trend for the needed timeframe?
Part of the rumored schedule hinges on a continuance of Arizona recovering from this outbreak. A consecutive 14-day downward trend is required for this plan to get a green light. We are several days into that trajectory necessity but one single day of bad news would reset the clock, and the 14-day process starts again.
Has Roczen signed off on this?
Ken Roczen has struggled with an immune system deficiency in recent years. Although we have learned the virus can impact anyone and everyone, including several top NBA and NFL stars, in short, Roczen is much more vulnerable to this pandemic than some. While I think many would be thankful for a quick return to racing, I would imagine that Roczen has a few reservations. Maybe I am wrong and he is comfortable with the situation but knowing how careful he is with his health, I am betting this is a hot topic at HRC.
Can this really happen?
This has been the question I have asked myself a few hundred times since hearing the proposed plan. There are so many variables to this. Many of those variables are beyond Feld's control. Can this happen? Yes, if everything goes perfectly. The margin for error is virtually nil. I am categorizing my stance as hopeful yet skeptical. I, like you, am starving for any sort of racing to resume. If it comes in May, great! If it doesn't work and the next race we see is the Lucas Oil AMA Pro Motocross Championship, that's great, too. We are in unprecedented times and there is no roadmap.