Welcome to Racer X Next, where we interview up and coming amateur racers. We'll check in with racers on topics such as their training program to qualifying for and competing at the Monster Energy AMA Amateur National Motocross Championship at Loretta Lynn Ranch, and much more.
This week, we talk with Orange Brigade KTM's Haiden "DangerBoy" Deegan.
Curent Age: 14
Hometown: Temecula, California
Instagram: @DangerBoyDeegan
Twitch: DangerBoyDeegan38
YouTube: The Deegan's
Team: Orange Brigade KTM, Thor, Monster Energy, 6D Helmets, 100% Moto
Classes: 85cc, Mini Sr.
Racer X: How's Quarantine going? What have you been up to to help pass the time?
Haiden Deegan: Quarantine has been going great; especially having a piece of land to go do motocross, supercross, some BMX stuff. I'm very fortunate to have some stuff to go do during quarantine, like other kids are probably stuck at home, not much to do. Anyway, it's been going great. Building BMX jumps. Quarantine has been good so far.
Has your school program changed any?
Yeah. I'm sure every single kid's program changed a little bit, I guess. Not going to school. Everyone does it at home now. It's a little stressful probably on those parents that usually send their kids off to school. It's definitely changed a lot.
In what other ways has this time at home time affected your normal program?
It's actually not affected it too much, because obviously I have a track here and I'm able to ride. I have a gym, so I go workout in my house. It's not like I have to go into town, or I don't have a track here to ride. So, it hasn't affected my program too bad. I like having all this stuff to do. My program has been better. I'm sure I'm capitalizing on a ton of kids right now that can't go riding because of the quarantine. Getting my pace up there. It's been fortunate to have a track at home.
Do you train with anyone? Any guys that you ride with regularly?
I ride with Noah and Bjorn Viney. I ride with the Hawkins, Talon Hawkins. So, it's actually a good amount of people, but so far during this quarantine I just have the three that I've just been riding with on our hills track and around the property.
We see you have been playing some video games, competing in this past weekend's GCSX— started by your dad. Any other games you have been playing?
My dad started the General's Cup a few weeks back. We're on round five. It's been going on for a decent minute. It's going pretty good. I've competed at a few of them. This next one I'm pretty sure I'm going to qualify. I've been putting my work in. I play a few other games. I play MX Simulator. I'm sure everyone that's reading this knows what MX Sim is. I play MX Sim as well.
You crushed it at Mini Os in supercross with eight wins, four championships, and then a crash in MX ended your week there. Can you tell us about what happened and the time coming back from that crash, and Spring a Ding Ding being your first race back?
The crash definitely threw the program off a little. I wasn't too pumped about that. Definitely wasn't looking forward to hitting a rock down a hill that's probably a waterfall. Healed up from that. We're feeling strong now. First race back went to Spring a Ding [Ding]. I rode my butt off there and I feel like I did some pretty good finishes, even though I didn't win one of the championships. But overall, it was pretty good.
What are your goals for this year?
I know Loretta's is happening, we just don't know exactly the time. When Loretta's comes around, obviously go there and pick my two classes and hopefully go dominate those two classes and just keep racking up titles, putting in the work, and just getting ready for the future.
So, this question might be obvious, as you are the protege, but how did you get into racing? When did you get your first bike?
I was three years old when I think I got my first bike. Two, three years old. I think I got on a PW50. Then I started racing when I was seven. I went to Barona Oaks and I remember racing. We got a KTM50, like a senior because I was a little bit bigger. I started riding that. I remember just having so much fun out there, throwing my tricks and stuff. I was doing little supermans and stuff over the tabletop. I remember going over and looking at these dudes, like Jett Reynolds, all the other big kids on seniors racing on that big track. Like, "Dude, they're so gnarly." That was so gnarly to me, but now I'm battling with those dudes.
Had you thought about taking up any other sports?
Here and there. Dirt bikes is definitely my main focus, but if something ever did happen with any dirt bike side, it would probably either be BMX… I can't think of any other one because I'm not the tallest person and every other sport you kind of got to be tall. I can't play football, and I like football. I'm small. I could but it's not going to work. So probably just BMX if I were to have a backup sport.
Last question. What do you envision for yourself in the next five years?
I'm 14 now. The plan is to go pro [at] 17, 18. Get on 250s, probably once I'm the right size and right weight. From there, just go out there and hopefully my first few years of pro I can go take home a title in supercross. My main goal is a supercross title because I feel like that's just cool, in an enclosed stadium. Outdoors would be sick too because that definitely takes a lot of work. Basically, take home titles in supercross and outdoors would be my future plan. Build brands. Some merch brands. Build tons of brands.
Brian, Haiden's dad, added some of his own questions:
Brian: Are you excited to go back to school?
Haiden: No. I'm sure most moto kids aren't excited to go. Most moto kids are homeschooled, so I guess the moto kids that aren't homeschooled, I don't know if they're looking forward to going back to school, but still no.
Do you think you're getting smarter being homeschooled or regular school?
I'm getting way smarter. I have so much more time to do what I want. Getting way smarter at what I want to do.
What is that extra time? Are you studying different subjects and stuff?
Studying the physics of Supercross 3 [Monster Energy Supercross - The Official Videogame 3] and MX Simulator. Physics, turning radius. The history of Supercross 3 the game, the science of how they built the bikes. Definitely getting smarter about it. The math of how they calculate the tracks. I'm getting pretty good, though.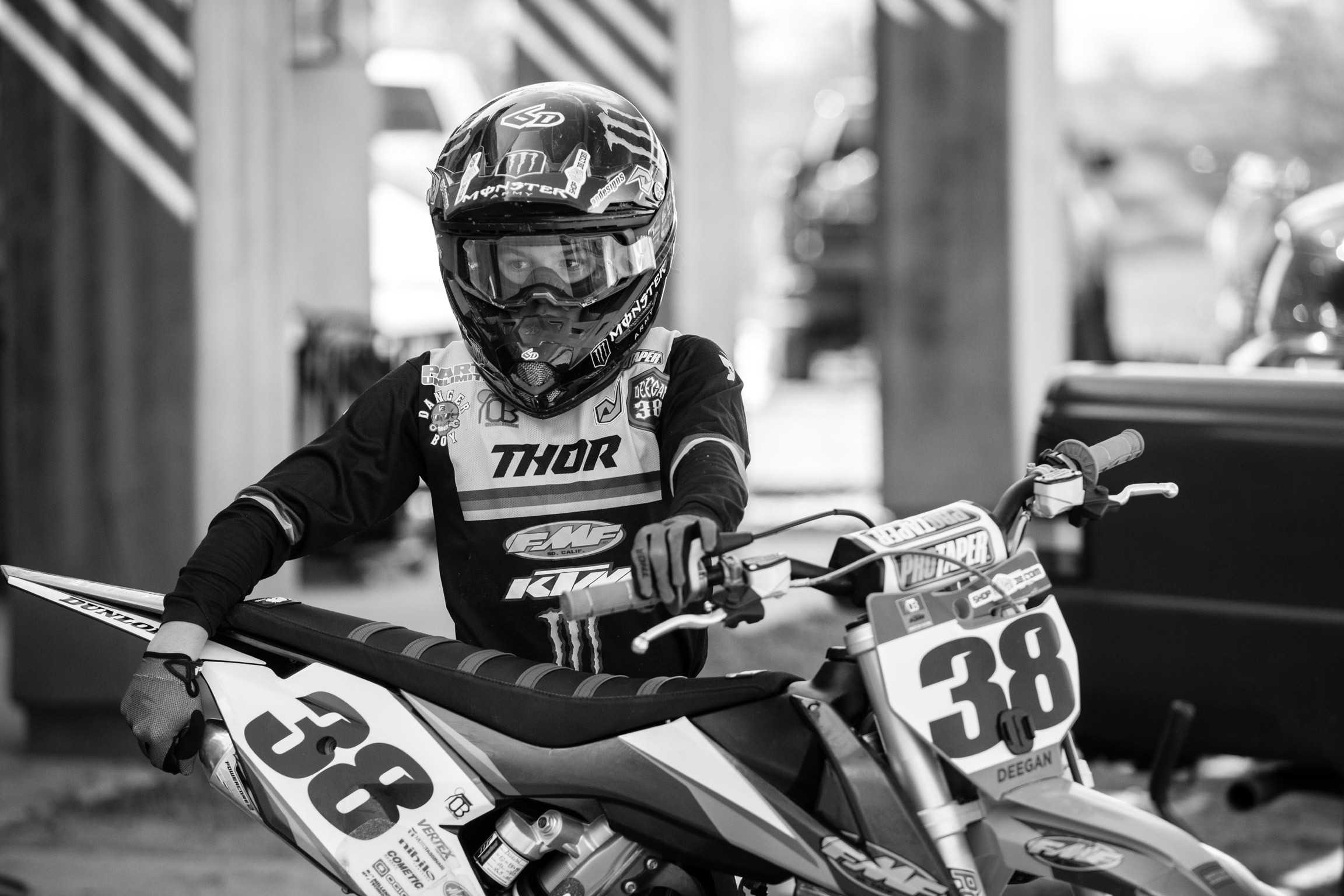 ---
Main Image: Spencer Owens