Brian Moreau was taking the final steps to achieving his dream of competing in AMA Supercross. It was Saturday afternoon, February 15, and the 18-year-old Frenchman was just a couple of laps into his first practice session at Raymond James Stadium in Tampa, Florida. The Troy Lee Designs/Red Bull KTM rider was navigating a rhythm section when he got some wheel spin and lifted off awkwardly. He was catapulted over the handlebars and into the next obstacle. He knew immediately he was hurt, and he has been fighting to recover ever since, first at a hospital in Tampa, and more recently at a rehabilitation center in France. That's where we caught up with Brian in order to see how he has been doing in the two months since his life-altering accident.
Racer X: (Background noise of a woman yelling in French at Brian) Uh oh, you're in trouble… What did you do?
Brian Moreau: I skipped a workout with my hands, I wanted to work my legs. I've been working a lot with the chair, but since I am getting sensation back in my legs, I feel I need to work them more.
So where are you at right now?
I am back in France at a rehabilitation center that works with spinal cord injuries [a rehab center in Nantes, France]. It's been pretty boring here with the virus going on, they have us pretty isolated. I'm ready to go back home.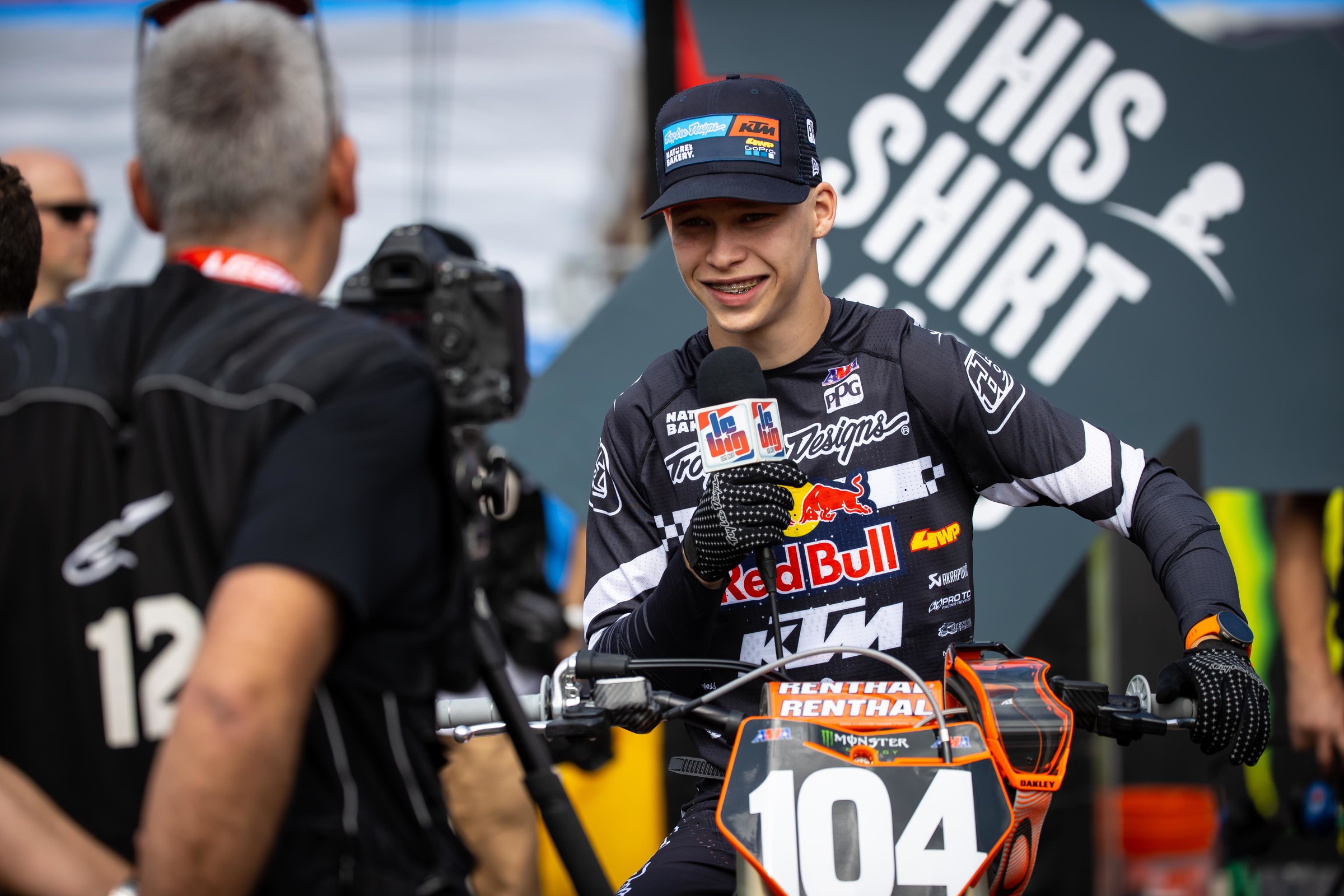 Home to the US or in France where you are from?
Wherever! Anywhere but here. I'd like to find a better rehab center in France soon, but I think once the virus calms down, I would like to go back to the US. I think I need intense rehab for my injury to make as much progress as I can, and I don't think I can find that here in France. I want to work my legs more and they tell me I can't, I don't believe that so…
Yeah, I think Europe makes some good medical research and technology, but it's not shown in their hospitals, sometimes the care can be lacking. But in the US, that type of intense rehab can be costly.
For sure, that's exactly what I am dealing with now. My legs don't have a price, I want to do everything I can to get them back. I didn't think that this was how my career was going to go or to have this type of injury at my age. I'm always trying to be positive, but when you don't see progress, when you are not able to work as much as you want, when they don't believe you that you can do more, and then being here by myself, not having anyone around - it's tough, you know? I was someone who was used to doing a bunch of stuff, being happy, laughing and now I can't do much, I'm sad a lot.
I don't think many people can begin to understand what it's like to be in your shoes right now, and I don't know you that well, but I do believe that people are dealt what they are built to handle, and you were dealt a pretty shitty hand in a really difficult time for the entire world. No one deserves an injury like that, but you seem to be tough and ready for this challenge.
Yeah, I'm not going to let this defeat me, it's been tough, and I have to be sad sometimes because it is just sad, but I agree with you. I know I can handle this and I'm ready to do the work. I just need to get somewhere where they will work me more than what I am doing right now.
So, you talked about coming to the US. Will your Road 2 Recovery fund help you get back here?
I don't know exactly. Mathilde [Musquin] and TK [Tyler Keefe] are helping me with all of that stuff. I have a visa until October of 2021, I think? But yeah, there is no way I stay here. I was pretty good there in the US. I know the way you guys think, how badly they want things - you guys are way more positive than people in France. I love the mentality in the US. Especially in my situation, I need that kind of positivity around me and therapists that are pushing me to push the limits and to work as much as I can. Every day here it's always the same thing, "Oh we don't know what's going to happen," but no one knows! We never know what is going to happen. They are not telling me, "Yes, you are going to walk," or, "No, you are not going to walk." They tell me nothing. I think that positive support and someone to push me helps a lot in what I'm doing because mentally is already so tough.
Yeah, trust me, I get that. I wish it were different for you. So, if you're ready, what do you remember about that day?
I remember everything. I didn't get knocked out. I was doing the double-triple section and slipped on the face of the jump and went on the side and touched the tuff block and went like this (hand gesture of a bike flipping) on the front so… yeah. I remember everything, how they took me off of the track, everything. That was bad. At first, I crashed, and I couldn't feel my legs and they came to me and I said, "Wait, I cannot move anything, I cannot feel anything, I'm paralyzed." I said it several times. I was so focused on not having feeling, not having anything that I didn't notice they were doing something wrong.
When I was going to the hospital and they cut my gear off, Mathilde took my gear away and when we got there, I asked her if they had taken it because I didn't know, I couldn't feel. At that time, I could tell that this was really serious. They rushed me into surgery, then I woke up and spent a week in ICU. I barely remember that week. I didn't have any strength. Once I was able to take my phone, I saw some pictures [of being taken off the track] and I said, "Well, there is a big, big problem now," you know? That sucked, they messed up really bad.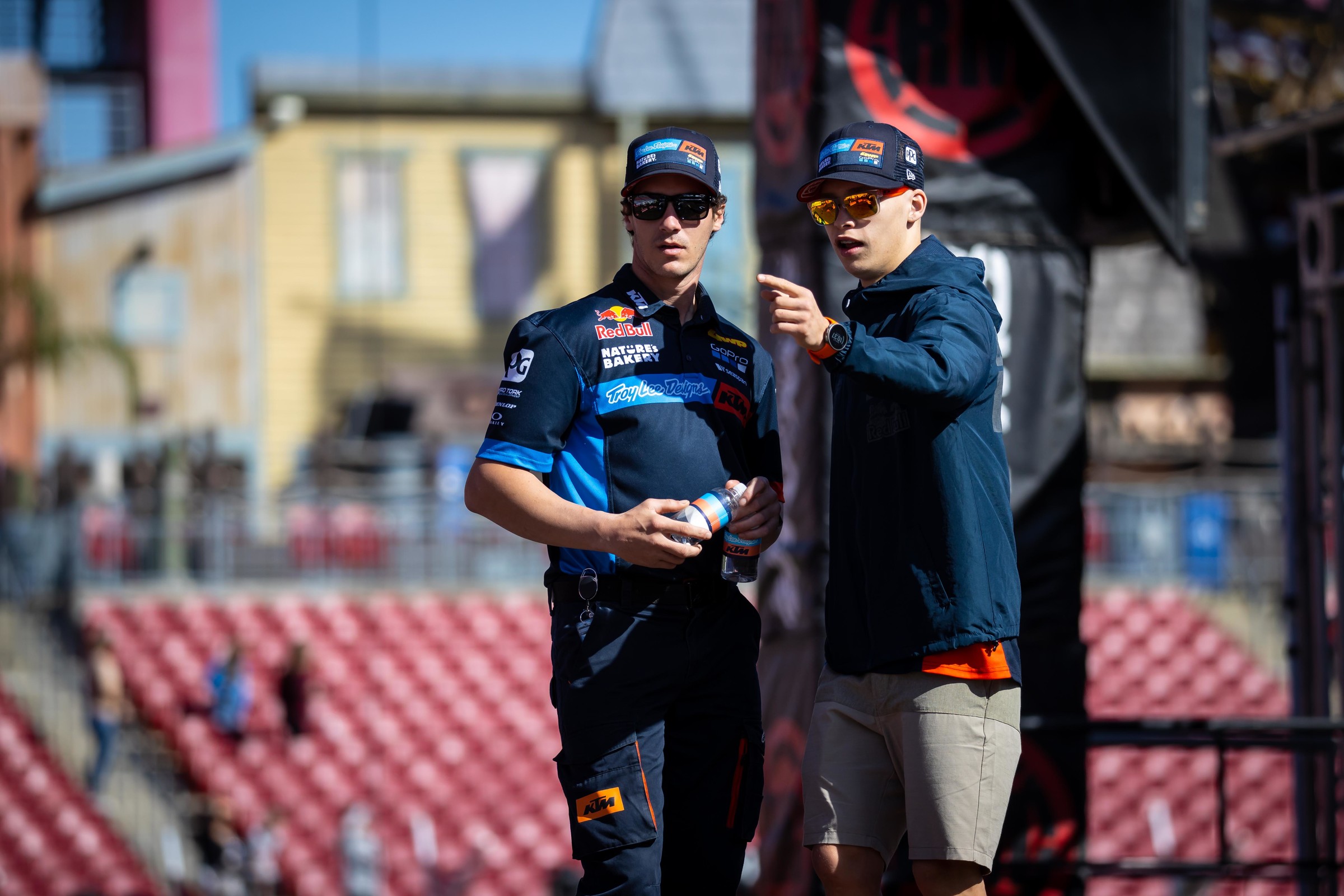 So, after that first week, what was next?
They got me in the chair, they brought me outside and I started crying. Everything was making me sad. I had to wait two weeks before I could get a flight back to France to get here to the rehab center where I am now.
How has the progress been since you have been in the rehab center?
To be honest it's going pretty good. I have more sensibilities on my legs. Like before I couldn't feel anything from under my arms all the way down. Right now, I can feel my chest more and more, my stomach, more on my ribs, definitely more on my butt. The feeling on my legs is in patches, it's not all my legs but some parts are waking up, some are not feeling anything. It's still early, I just want to keep working.
Talk a little bit about the Musquin's and your team. I know they were there with you and still are.
Yeah, Marvin and Mathilde have been there for me since I arrived in the US. I lived with them and yeah, they are still behind me, supporting me, helping me, they haven't let go. It's been great to have them. Mathilde was the first one there for me in the ambulance and at the hospital. How can I say, I don't really have words to describe how much they mean to me. Everyone on my team has been super great, TK, just everyone, every single one.
---
Road 2 Recovery has set up a fund to help Brian and his family with medical expenses. If you would like to help, click here to donate today.