You might think racing at the highest levels is much different than what normal people like us will ever experience. In a sense, you'd be right. Budgets, pressure, and intensity are all much, much higher than what the vast majority of dirt bike enthusiasts could even imagine. But that's not all there is to racing, and lately we've gotten some glimpses from the other side. Two new episodes of the Behind the Bars series show that whether you're a beginner or a seasoned pro, just having a good battle with your buddy is all that really matters.
Winning is always great, but we've all got that one friend we want to beat no matter what, and even finishing second to last is okay, so long as that one rival finishes last. That certainly seemed to be the case between Travis Pastrana and David Knight, who recently participated in a Behind the Bars episode in which they, and others, all watched the 2008 Triton GNCC from Florida via video conference. Yup, one time Pastrana showed up for a GNCC in the Florida sand, figuring his sand experience would be enough to help him beat Knight, the Grand National Cross Country Champion at the time. In addition to referring to Knight as a "Behemoth Ballerina" and "Tinkerbell in Andre the Giant's body," Pastrana explained that, while winning is always the goal, his main objective was just to beat Knight, no matter where he finished. Pastrana had already struggled big time against Knight in gnarly enduros like the Erzberg Rodeo. He thought he could take him in the sand, and he was succeeding early on too, until somehow getting off course and losing a ton of time.
"I had a pretty good lead and I got completely lost," Pastrana said. "I turned around, got going backward, and then I was in fifth!"
That's right, folks, even a National Champion like Pastrana can get mixed up. He also has the same kinds of rivalries with his pro friends that you do with your C-class cohorts.
"The goal was to stay ahead of Knighter," Pastrana explained. "I was hoping he'd hit a tree."
"If I remember right, it was somewhere near the end of the second lap that I passed you, Travis," Knight replied. "We went into the woods and it was quite muddy. I remember seeing you and I was like, 'I've got to get him!' I was just dying to shout a load of abuse at you but you shot off on a tree root or something and into a tree."
Being the one to literally hit a tree didn't stop Pastrana from more smack talk later in the race when he caught up to Knight, who'd pitted for more fuel.
"Then you were getting gas and I started shouting more abuse at you," Pastrana laughed. "Anytime I go by, even if you're pitting, is an opportunity to talk crap."
Later, Knighter revealed he had a lot more sand riding experience than anyone realized.
"I mean, is there even sand on Isle of Man?" Travis reasoned.
Later, Knight said there was a sand track just minutes from his house, and he rode it for hours on end.
"Well I wish you would have told me that before we raced!" responded Pastrana.
The back-and-forth hilarity continued throughout the session, with highlights including Pastrana explaining how, when his chain came off during the race, he was actually happy because he was so exhausted and just wanted to be done.
"I was really hoping it [the chain] was broken, but Rodney Smith happened to be right there and got it back on for me."
Additional highlights include the duo having a chuckle over Jeremy McGrath struggling at the Erzberg Rodeo, Knight relishing in rubbing it in when making passes on his friends and teammates, Pastrana joking that he started crying when he realized there was no way he was going to beat Knight, and much more.
Another episode featured Jalek Swoll and Hunter Lawrence reviewing a 2019 Open Pro Sport A moto, in which the two had the closest finish in the history of the Loretta Lynn's Amateur National Championship. There's a common thread of how satisfying it is to be part of an exciting race.
The two had gotten terrible starts and had pretty much held their own private race between them as they battled their way to the front. When the checkers flew it was so close nobody even knew who'd won, including the timing screen, which showed a tie down to the thousandth of a second. (Swoll took the win by the tiniest of margins, six ten-thousandths). What you find out though, is that neither rider cared who won. They were just pumped to be in such a legendary battle.
"When we went over the line we both looked at each other and we were just confused. It was like, 'Who got it'?" Lawrence recalled. "If I got first I would have been more pumped, but still getting second in that moto, I knew I was riding good. I was pretty happy with how my riding was, and to be in that finish together was pretty cool. I wasn't bummed at all."
"Whether I got second or I won, it would have been a sick moto," Swoll confirmed. "I asked my mechanic Brandon who won, and he was like, 'I don't know, did you not win?' I was like, 'I don't know.' It was sick!"
Added Lawrence, "We got enjoyment out of racing the track and having a good race. We got more excited with that than getting a trophy."
Learn more about Jalek Swoll in the June 2020 issue of Racer X magazine below:
The June 2020 Issue of Racer X Illustrated
2 Tribes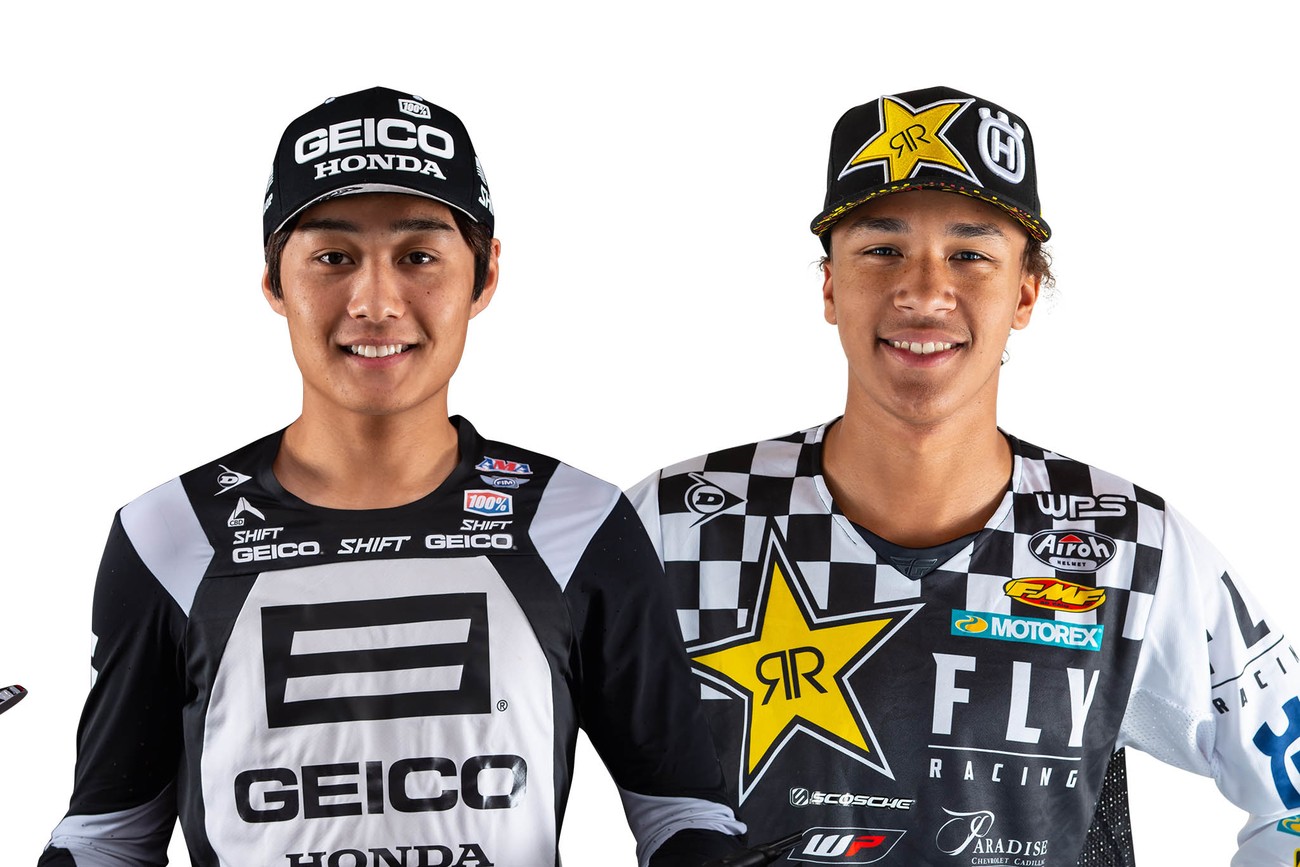 Rookies Jalek Swoll and Jo Shimoda battle it out in this month's 2 Tribes.
Read Now
Preview Now
*Hero image courtesy of Simon Cudby.