Last week we checked in with Honda HRC crew chief Lars Lindstrom, Monster Energy/Star Racing Yamaha team manager Wil Hahn, and pro trainer Seth Rarick to see how the outbreak of COVID-19 has impacted their programs, and what they're doing to react in these difficult times. All three provided us with interesting and enlightening answers, check it out if you missed it, which prompted us to reach out to more key industry figures this week to learn more. This time around we're hearing from trainer Aldon Baker, Troy Lee Designs/Red Bull KTM team manager Tyler Keefe, and JGRMX/Yoshimura Suzuki team manager Jeremy Albrecht.
Racer X: How has your personal day-to-day work routine changed because of the coronavirus?
Aldon Baker: One benefit here in Florida is the restrictions have not been as bad and we are pretty well isolated here and at the facility anyway, so not much has changed in that regard. I really hope it does not go into a full lockdown, but for sure we will do our best with what is available to come back to racing.
Tyler Keefe: Instead of working from the KTM Headquarters right now we are all mostly working from home and at the track.
Jeremy Albrecht: It has slowed down a bit but we always have work to do. Alex Martin has been riding motocross and we have more riders coming back soon, so we're prepping for that. The staff has been building bikes for Joey Savatgy and Fredrik Noren to ride soon. We also have had some prototype bikes we need to put back together to give back to Suzuki by the end of the season so we're knocking that out too.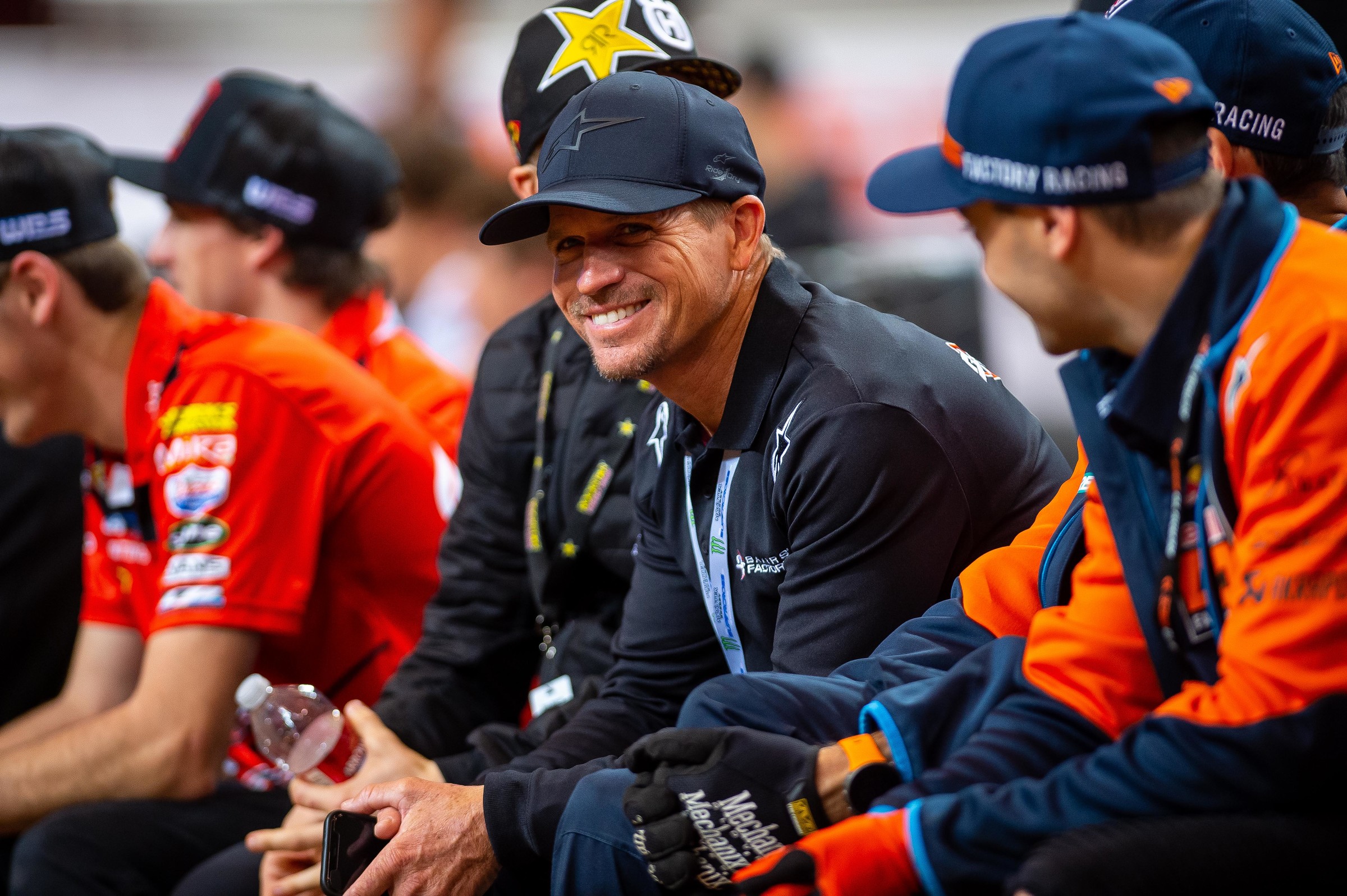 How has the situation affected the work you normally carry out with your riders? Is it business as usual or have things scaled back with their activity? What's a "normal" day like right now, as far as rider activity?
Baker: The actual riding part is less. We need to align ourselves here in Florida with the situation with the teams in California and the drop in productivity and the temporary work restrictions. That will be week by week until this situation gets back to some sort of normality. In this situation we can always be working on other areas of cardio and strength fitness.
Keefe: Right now most of California has been quarantined, so for myself and some of the internal staff, we've been working from home. I myself will try and go out to the track to get out of the house at least once a week but right now we are trying to comply with the government rules.
Currently, the only real adjustment we have made is going from three days a week riding to two days a week. With everything being unknown and up in the air at the moment, as to when things will go back to normal, we're just having the guys keep fitness levels up while we continue to stay prepared to race. As of right now it's looking like our next race back will be outdoors, so we've been continuing to work on getting outdoor bike setups ready while also keeping fresh with supercross riding in case we're able to jump back into racing here soon.
Albrecht: Alex has been riding like normal so we just need to make sure we have engines and suspension to rotate out. I did have Charles Lefrancois go back to France last week when we knew the races were postponed [he was going to fill in on the 450 at select supercross rounds]. The hardest part for everyone is not knowing how long this will all take to get under control. We will do our best to stay away from big groups and hopefully we can get back to normal soon.
With the future uncertain, where's the focus right now? Are you working toward getting a jump on the nationals or working hard on being ready to surge for a possible return of supercross at the end of April or early May?
Baker: This has been a crazy time, but we have been pretty normal with training and riding. The only difference is not traveling. It has been a little tough to figure out how much time to still dedicate to supercross or move to motocross, but now that we have a better idea we will move to motocross training. My guys have had a rather rough time lately and I can use this negative time in a positive way to get them healthy again and back to decent fitness. It has been for sure a weird deal, but it's been great to see how the whole group has put their best foot forward in coming together to make the best of it.
Keefe: If I'm being honest, we really don't know what's going on right now with the world so it's hard to plan for anything long term at the moment. With no racing on the horizon, we are using this time to keep our riders fresh and healthy, so they are able to continue to push themselves at the track. It's hard when you go from racing every weekend to a complete stop, and that goes for everyone on the team—managers, riders, and mechanics—so you have to continue to push everyone during times like this when there really isn't that carrot to chase.
Albrecht: We are now planning on just motocross, for now, but the hardest part is not knowing. We will have a few weeks' notice if supercross will have a race so we will just work on getting ready for the nationals on June 13th.