Tampa, FL
Tampa
Monster Energy AMA Supercross Championship
Welcome back to 3 on 3, where we ask industry vets burning questions, this week with Ryan Sipes and Kris Keefer. We also hit up current AMA Kicker Arenacross Series leader Kyle Peters, who logged a solid seventh in Tampa's 250SX East opener on his Phoenix Racing Honda CRF250R, to see what his schedule will look like for the rest of the year.
First, here's Keefer and Sipes.
1. We assume supercross bike setup is pretty far away from sand setup. Then you get to a track like Tampa, where so much is gained and lost in the sand. What is it like to hustle a supercross bike through there, and what would make it work better if you could actually set it up for sand?
Ryan Sipes: Supercross suspension settings are unbelievably stiff. Like, if you've never ridden supercross, you really wouldn't believe it could ever work on anything if you push on it in the pits. But it has to be that stiff to not kill you on traditional supercross obstacles. At a track like Tampa, with a true sand section, and it probably wasn't ideal. The problem is, if you set it up for the sand at all, it won't work on the other 94 percent of the track. So guys just have to bulldog it and make it work the best they can. To make it any better for the sand you would want to soften it up some like most guys do at Daytona. Just a little plushness in the suspension would have helped, but that wasn't possible at a track like Tampa. That's why the fans love, and riders hate, the sand sections on supercross tracks. You never know what the bike is going to do.
Keefer: When I went around the pits in San Diego and sat on the factory bikes I noticed that the forks on these bikes DO NOT move. Except for Ken Roczen's. Roczen had a little movement in his forks, so to me his set up would be decent in the sand. However, to get these bikes to work properly in SX you have to have a stiff set up and not worry too much about the sand. If you watch the main event again, watch how most riders were using the outside/inside. They used this line in to try and jump in as far as they could and then jump out into the start of the left hand corner, so they didn't have to touch the sand as much. The inside/outside line got blown out quickly so riders started cutting across the track to form an inside/inside line, but that proved to be slower because you were in the sand too much. There is an old saying that goes "don't hit anything you can fly over." I am sure Marvin Musquin is somewhere reading this and smiling.
2. Shane McElrath dominated his heat and the main on Saturday night. What do you see in his riding style that works so well? What other 250SX East guys are fun to watch?
Sipes: Shane was on it at Tampa. We've seen him win the opener out west a few times, but this one looked different. He just took command of both his heat and main and pulled away from everyone. He looked way more aggressive than I've seen him in the past, more willing to push the edge. I know he's on a different bike, but even his riding style looked different. If I had to guess, I'd say the guys at Monster Energy/Star Racing Yamaha have been putting in overtime to get that bike really dialed in for him and make his transition to the Yamaha smooth as easy as possible. And I'd bet money that Shane is extra motivated to make this his year to finally get that championship. He looks like he knows where he belongs and has put in the time to make it happen.
Other guys…Chase Sexton looked really good all day, and I think with a better start, we would have seen a good battle between he and Shane. Just going off what I saw at Tampa, I think those two have a slight edge on everyone else. Jeremy Martin's speed was a surprise after being off so long. He looked great. Garrett Marchbanks was better than I thought he'd be too. He passed some legit guys to get where he finished. Pretty sure RJ Hampshire had the fastest lap of the main but crashed, so he might be a guy to keep an eye on as well. It's gonna be fun to watch.
Keefer: Breaking News!!! The Monster Energy/Star Racing Yamaha YZ250F is fast. If you really study Shane's technique, watch how he rides similar to Eli Tomac. Watch how he has a blend of finesse and strength around the track. In my eyes, Shane has an underrated style/technique. He's not flashy, but he's always centered on the bike and is in the attack position. I knew Shane would be tough to beat, but we will see how good he is come rounds three and four, before I am totally sold on him. He usually comes a little unraveled later in the season, but maybe this switch to the Blu Cru has done him some good! The only other rider I love to watch ride in this East Coast class is Sexton. Smooth as butter and his posture on the bike is unmatched. If you want to be a smooth rider, watch Sexton's foot placement and back posture when he enters and exits corners and copy that! Thank me later.
3. Now he has the red plate. Could this, possibly, maybe be the year Eli Tomac gets this title?
Sipes: It could, but the same could be said about 2017, '18, '19… he had these moments in all those years too, where he looked a level above everyone else, but then something weird would happen or he'd crash. We will see if he can change the narrative. Either way, I don't think it will be a runaway if he does win the title. There are too many good guys in that class to let that happen. Kenny has had a few off weeks, but I would never count him out. It seems like he is good at forgetting the last race and pushing forward to the next one. AC will win this year, at some point. And Cooper Webb is still rolling. I can't wait to watch Dallas this weekend!
Keefer: Here we go... Ehhh boy! Tomac looks great, but he always looks great, until he doesn't. Then next week we will have a 3 on 3 question about what's wrong with Tomac? I literally DON'T KNOW if this is his year, but I am going to say yes, in fact it is his year, because his #Homelife is in order. That's what I am going with. That's all I got, I apologize, I am exhausted just thinking about answering this question, over and over and over. For the love of all things holy, please, oh please, win this title Tomac.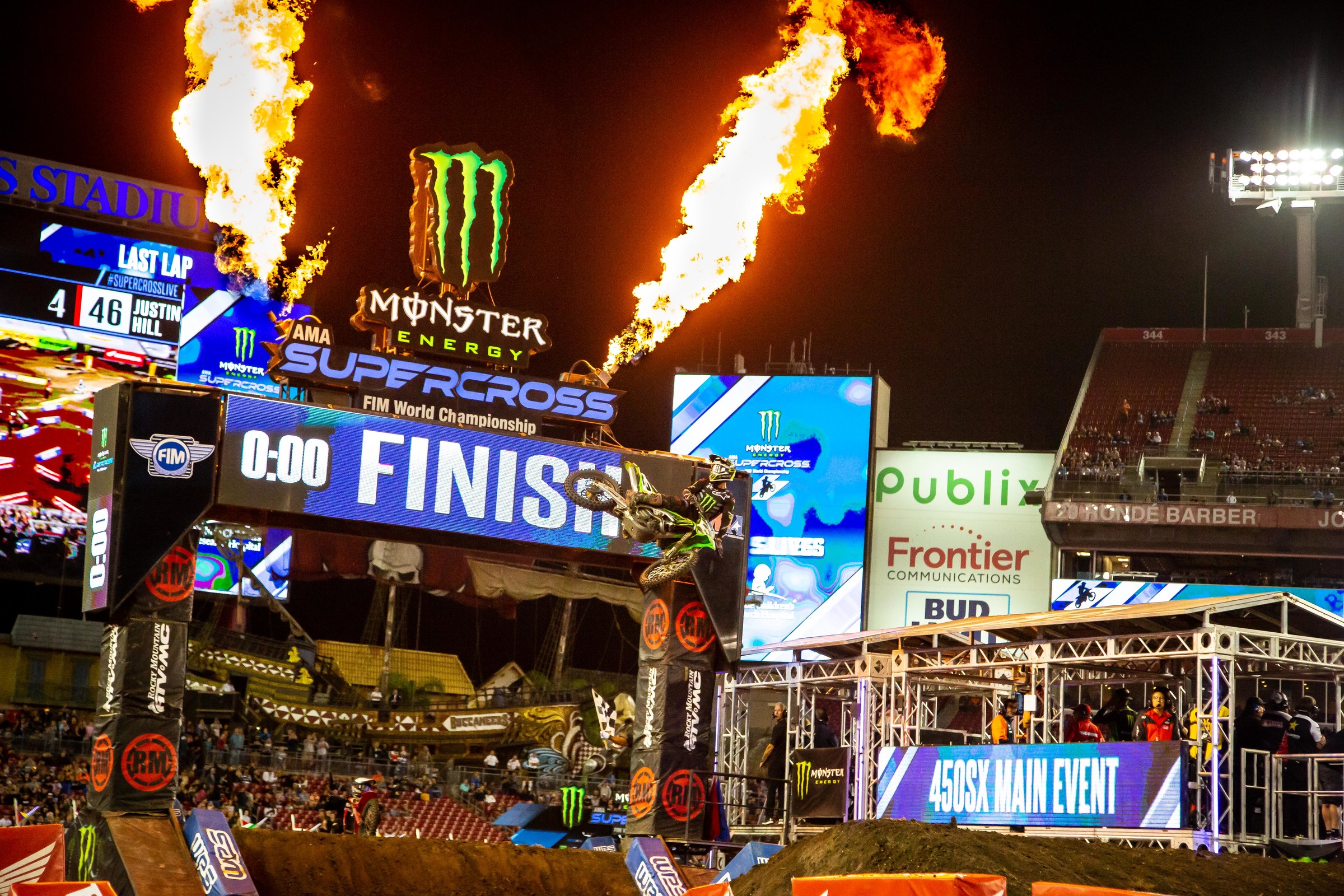 1. How was Tampa?
Kyle Peters: Tampa SX went pretty well, I struggled a little bit with my starts and setup throughout the day and I wasn't quite on my game like I should've been. In arenacross, we start on dirt instead of the grate, so I've done a lot of grated starts this week and will be better come Dallas! I was kind of disappointed with seventh place, I expect to be in the mix fighting for the podium. Overall it was something to build off of and I'm excited for Dallas this weekend!
2. How's the transition to arenacross going?
The transition to AX has been a lot of fun, obviously I had to set my bike up a little differently than I do for SX and the racing is a lot tighter, but I think has improved my race craft. I've had a lot of gate drops before the SX season started and that never hurts!
3. Is arenacross your main focus and supercross is a side gig? How do you balance the two? What will you do when the two series' conflict?
Supercross is a big focus for me, it's the bigger stage and where I really want to be successful. My trainer Cory has been a huge help with believing in myself and knowing what I'm capable of. I've been training just like I would for any other SX season and just making sure I'm ready.
Arenacross has been a lot of fun though, I've been able to improve on being more aggressive along with building my confidence and knowing where I belong! The plan of now is to go to Salt Lake City AX the weekend of the 29th and hopefully wrap up the championship there so I would be able to skip the last round and be at Daytona SX. I'm excited for the rest of the season with my team, Phoenix Honda. I want to show what I'm made of!