Tampa, FL
Tampa
Monster Energy AMA Supercross Championship
They can't all be barn burners in Monster Energy Supercross, and tonight's race at Raymond James' Stadium in Tampa, Florida proved that even with the #deepfield in the 2020 Monster Energy Supercross Championship, sometimes dominant runs are going to happen.
In the 450SX class, it's no surprise who put that run in: Eli Tomac. Besides an off-song seventh at the season opener in Anaheim, Tomac has been fast and comfortable in every race this year, which makes him a threat to run away at any time. On this night, he coupled his speed with good starts and slick maneuvers in the first turn. In both his heat and the main, Tomac emerged with the front pack, and then went to work. In the main event, it was Tomac's Monster Energy Kawasaki teammate Adam Cianciarulo who held the early lead, but Tomac was soon into second and patiently stalked his teammate. After making the pass, he rode smoothly en route to the win, which also allowed Tomac to take over the points lead.
"In practice I was still getting buried, in the practice starts, it was driving me crazy, because I was still off the back," said Tomac. "I think I picked a better gate [in the night show], and that helped. So much better to have that clean air."
Even with the good start, Tomac had to pass his teammate Cianciarulo, and that turned into a strategy session in the very tricky sand section, the most challenging part of the track. They used different lines throughout, but a hook formed to the inside line in the 180 degree turn, so when Cianciarulo went there to protect the lead, the hook slowed him, and Tomac was able to rail the outside and get by.
"Early on it was just following him," said Tomac. "Early, you don't want to go too hard, and I felt our pace was pretty good. Really, the one thing I changed was my line in the sand. Where can I make up time on him? One lap, I darted to the inside and it really worked out, especially if you could get the double before the triple. The inside rut in the lefthander got big hook in it. It just worked out at the right spot, right time."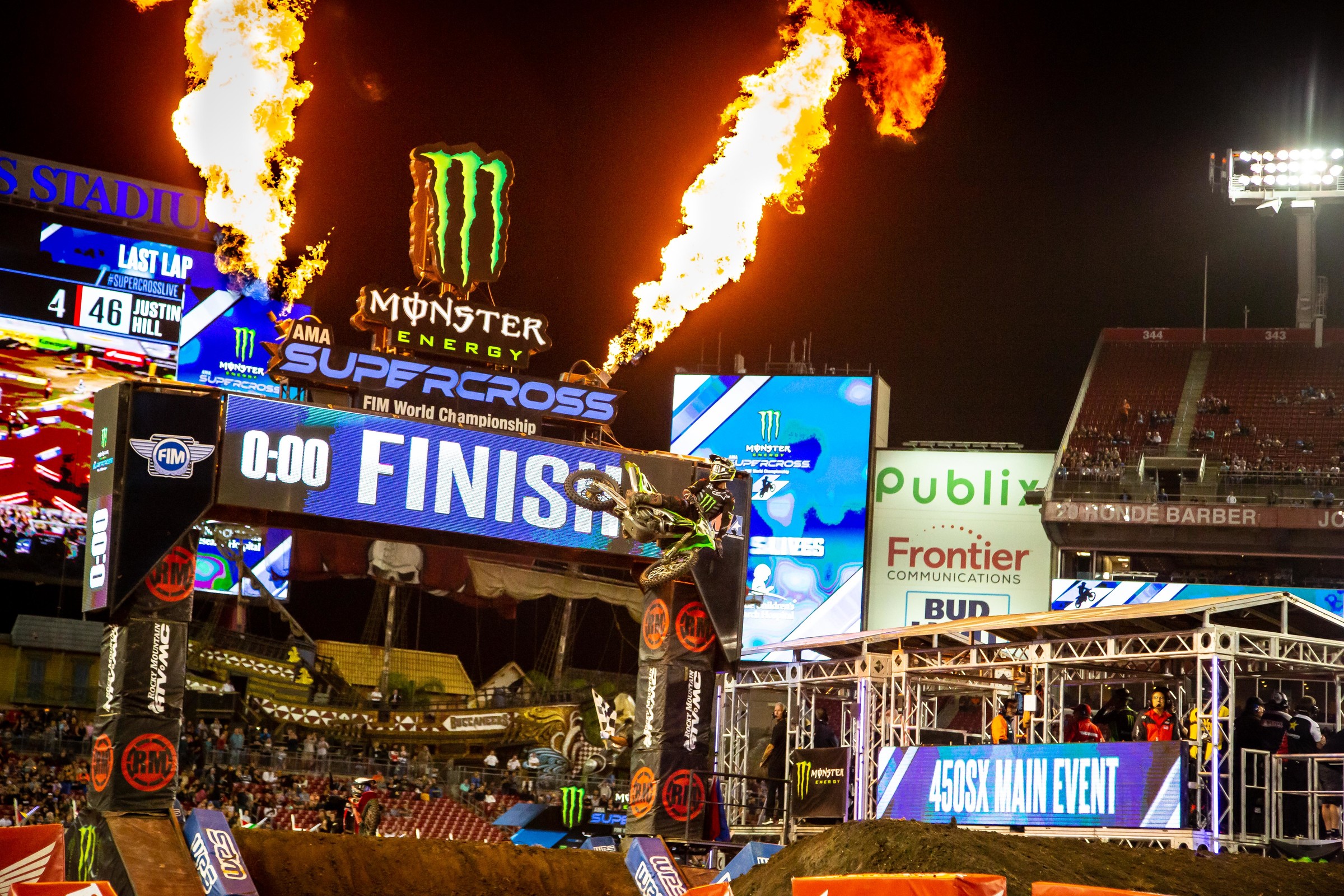 Tomac was smooth from there, while some chaos broke out behind him. Cianciarulo crashed in the whoops while running second, pushing him back to ninth at the finish. Malcolm Stewart ran third but faded back in the second half of the race, allowing the Cooper Webb/Ken Roczen battle to move toward the podium. Roczen was chasing Webb, but he crashed, and the defending champ was able to bring his Red Bull KTM home in second.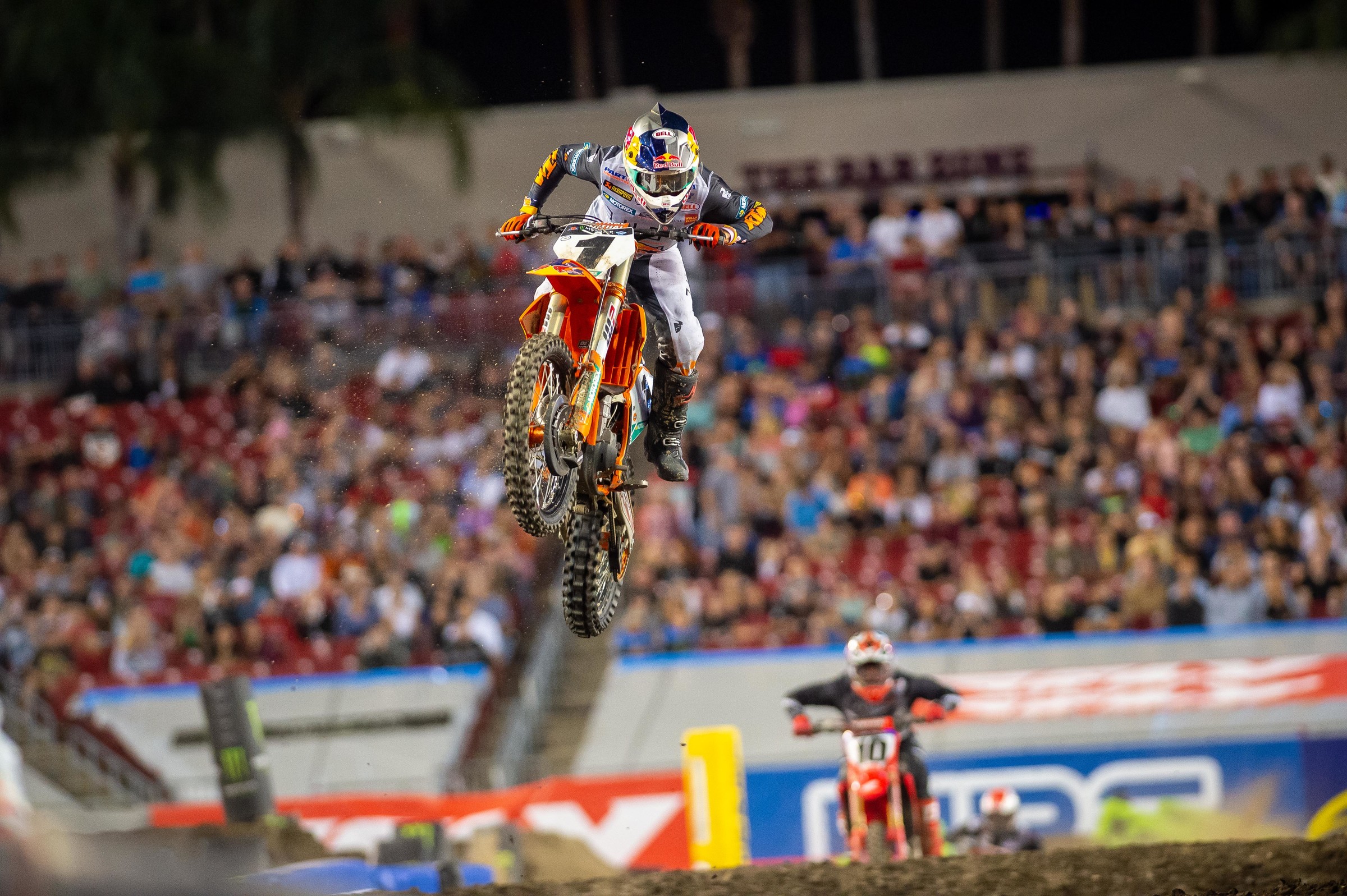 "It was tricky all day and it was easy to make mistakes out there," said Webb. "I'm happy with a second, obviously I wanted to be up there for that win tonight, I felt great all day but it's a good night overall. I felt like I rode good and I just need to be better on my starts."
Roczen, despite the fall, recovered for third.
"Of course it's a bummer, but we have a lot of racing left," said Roczen. "I was happy how my day went, I just didn't get the starts tonight, I think I lifted my body up too early and was deeper in the pack. I just tucked the front after that triple. That cost me some time. I'm just really happy to be third place on the podium, I appreciate being back up on the podium, because of week's like last week. No red plate right now, but I'm just going to work forward and keep a positive mind set."
Roczen loses the red plate to Tomac, who now leads the championship by four points.
"It's a nice place to be, you know?" said Tomac. "I know the red plate has a lot of pressure, but we sure would like to have it. I've been chasing the thing for like three years now. At the same time, it's a long season. I know everyone says it, you just have to take it race by race."
Yes, Webb and Roczen's starts prevented them from battling Tomac, and Roczen's crash prevented him from battling Webb. Behind them, though, the #deepfield was still in tact, and the battles were close. Stewart started falling through the pack, and he was met by several battles, including his Bullfrog Spas/SmarTop/MotoConcepts Honda teammate Justin Hill, turning in his best ride of the season. Hill didn't get a good start but battled forward, but then so did Monster Energy Yamaha's Justin Barcia. Hill made moves, got to fourth, but then Barcia caught him with a lap to go and the battle was on. They went at it, hard, down to the final lap. Barcia made the pass, Hill made multiple strikes to get around, and Barcia held him off to take fourth by a bike length. Hill was fifth, his career 450 best.
Right behind them came Dean Wilson in a strong ride, just ahead of Jason Anderson (who got held up early when his teammate Zach Osborne tried an early pass and crashed) and Cianciarulo. Justin Brayton rounded out the top ten. After the race, Anderson was penalized two spots for cutting the track, which pushed the Rockstar Energy Husqvarna rider to tenth, and moved Cianciarulo and Brayton to eighth and ninth, respectively.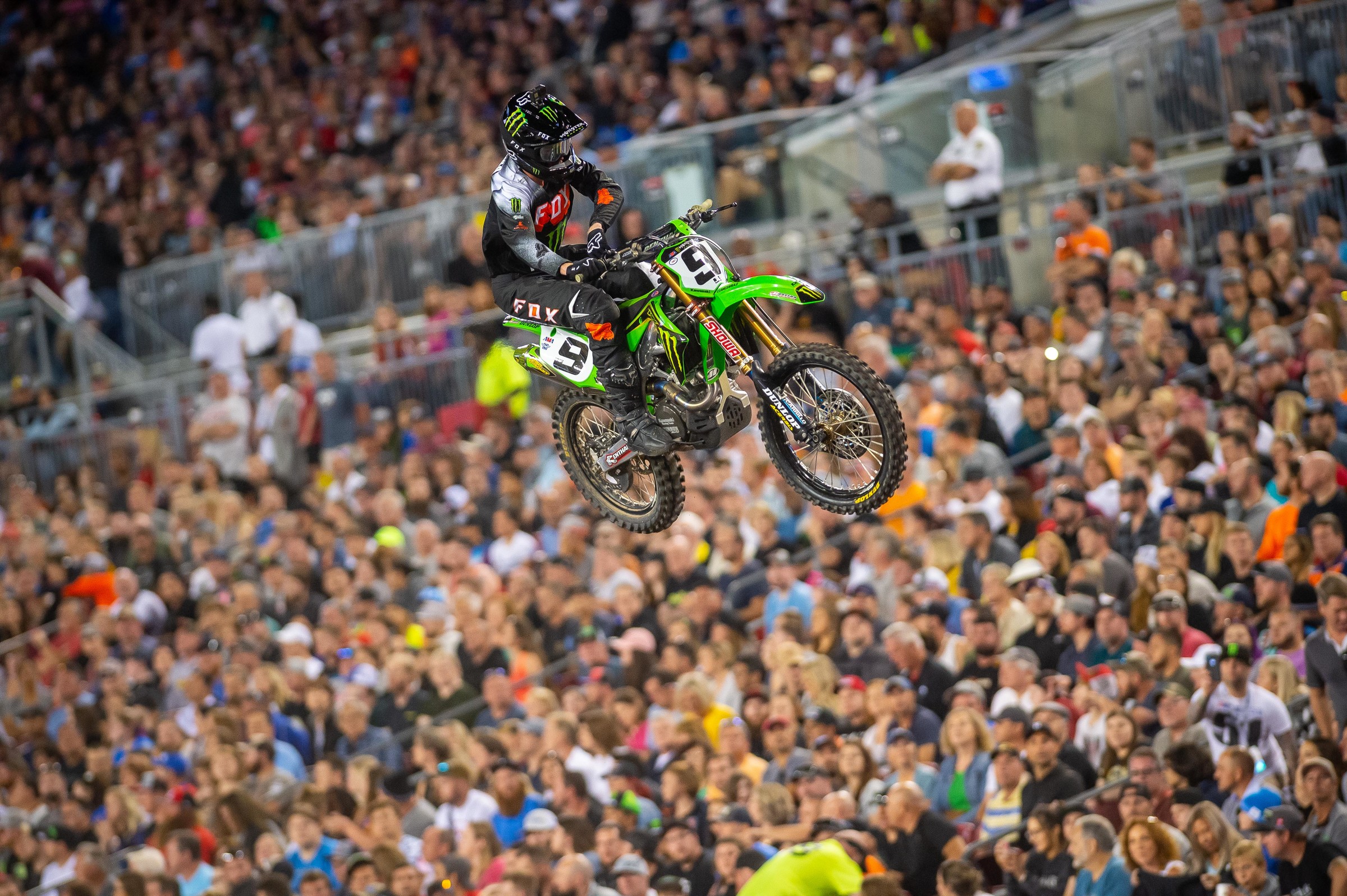 The 250 class promised even more intrigue than the 450s. This was the opening round of 250SX East! Yet, the battle for the win wasn't much of a battle, as new Monster Energy/Star Racing Yamaha recruit Shane McElrath marked his debut for the team with a win. McElrath simply dominated his heat and main event from start to finish.
"We took a step of faith to change everything when everything was okay, but I still felt we needed a change," said McElrath. "The team took a chance on me. I really think that everything is still fresh from the off season. We've been working on a lot and on a night like this, it shows. We've made a lot of progress, but it's only three months. I'm looking forward to making more progress. I haven't touched my bike in two and a half months, but after this race we learned some things."
Behind McElrath came a five-way battle between five other title contenders: GEICO Honda's Chase Sexton and Jeremy Martin, Monster Energy/Pro Circuit Kawasaki's Jordon Smith and Garrett Marchbanks, and Rockstar Energy Husqvarna's RJ Hampshire. Sexton and Martin battled past Smith to get to second and third.
There's obviously a weight to the number one plate, but to me it's an honor that I dreamed about when I was little," said Sexton, who brought his number-one bike to second. "You just want to perform for the people that support you, and we made by strides this off season. Last year at the opener, I didn't feel good at all. This year, the bike feels really good. I just want to leave my bike, focus on myself and my riding. Feeling a lot better going into Dallas (next week) than I did after the first round last year."
Martin's podium was a big one as it marked his first race since missing an entire year-plus of action due to a scary back injury. He was even the fastest qualifier.
"It's been a long time, being back up here," said Martin, who went through multiple surgeries. to fix his back. "I didn't expect to be fastest qualifier! I just wanted to be top five, honestly, I was like dang! Sitting on the line before the main, I thought about, 'Man, you had a job a year ago at this time, working at a buddies' dealership.' I thought I had an appreciation for this before, but I appreciate it even more now, having what I consider a second chance."
As for Smith, Marchbanks and Hampshire, they had different stories to tell. Smith got good starts but couldn't hang with the pace set by the lead three. Marchbanks had speed at times, coming through the traffic to get Smith and even run down Martin…but then his charge lost steam just as Hampshire picked up the pace. Hampshire even made a late run at Martin for third until he crashed in the whoops. He recovered for sixth.
Current Kicker Arenacross series' leader Kyle Peters was seventh on his Phoenix Honda. Club MX privateer Joey Crown was a sensation on his Yamaha, taking eighth. Last year Crown was having a tough time just making main events, this was a huge improvement. Jimmy Decotis was hurting badly with a leg/hip injury but salvaged a ninth, and Jo Shimoda was tenth in his supercross debut.