Oakland, CA
Oakland
Monster Energy AMA Supercross Championship
Once again, we've fired off questions at our resident former pro Jason Thomas. This time, it's track-focused topics from round five of Monster Energy AMA Supercross from Oakland, California.
Roczen and Cianciarulo suddenly started busting out the 3-3 before the finish in the main event. It then became a preferred line. Why did that develop in the main event the way it did?
Ehh, I think the story started in the heat race when Blake Baggett first jumped it. No one had done it all day until that point. With most of the elites, it's more of waiting for someone to show that the section is doable. Once Blake jumped that section in the heat race and it was on film to analyze, Pandora's Box was open. That's a line that a guy like James Stewart would have probably saved for the main event and wowed everyone. It's always a guessing game as to when and if someone pulls the proverbial trigger but I think maybe Blake showed his hand prematurely.
What did you think of the track overall?
I thought it was pretty good when judging on a season long comparison. I don't love the short, zig-zag layout but I thought the jump combinations were pretty original. The biggest variable was the softer dirt and how those ruts would cause mistakes. Luckily for the riders, the Dirt Wurx crew was on their game, constantly tidying up the jumps and corners.
Tight tracks like this can be more tiring than high-speed tracks. Explain why that is. (Riders always tell me turning then sitting then standing then turning takes a lot of energy. Maybe this is right or wrong, I don't know.)
You're on the right track here. All of that movement and input by the rider requires energy. Setting up for corners, leaning in and out, accelerating and braking, etc. all take a toll. Further, the soft dirt allows for aggression on the throttle and brakes, which is also tiring. Open, hard packed tracks require finesse and patience. Tight, high traction tracks require aggression and high energy exertion by default.
Everyone talks about getting out front and sprinting early, but Eli Tomac has more of the diesel-like style where he starts rolling about five minutes into the race. Any theories as to why he operates this way? Does he just rely on his fitness? Does he not want to take chances early? Is this just the confidence of knowing he can reel guys in regardless of how the first few laps play out?
This is usually just a rider trait uniquely tied into that rider's DNA. I don't know if it's a fast twitch/slow twitch thing but some riders are just better at finding peak performance quicker than others. I would bet that Eli wouldn't be able to pinpoint exactly why, either. I was very much like the diesel engine, too, albeit on a lesser scale than Tomac obviously. I struggled to find my best pace early but as things warmed up, I got better and better, often turning in my best lap times near the end of the race. The key to that dynamic is being close enough to the front when the glow plugs are ready. If you allow the sprinters to check out, it's almost impossible to catch up before the checkers. Eli did just that on Saturday.
How the hell is Cooper Webb able to make up this much ground late in races?
I believe he rides better as the track gets more difficult. Kenny is a thoroughbred, built for speed, and is almost in a class of his own on a perfect track. As the track gets worse, though, I think his edge becomes less notable. He is still great, of course, he just becomes a bit less invincible. Webb finds his pace when others are struggling, late in the race on a beat-up racetrack. They are built differently from the inside out.
Any alarm for Roczen to lose that much ground late?
No, not for me. I didn't really see a collapse, per se. I think he has proven a couple of times this year already that he has the fitness for 21 minutes. He wasn't able to fight off Webb's late push but it wasn't the full meltdown we saw in 2019.
Video courtesy of Feld Entertainment
If you're Adam Cianciarulo (running the pace early, fourth at the finish), are you happy with the night?
After last week's crash, he is absolutely happy. He probably didn't do much this week and was more hoping for a positive weekend above all else. He had the pace early and was right in the mix. This entire 2020 season should be a building/learning experience. Learn what it takes to outduel those key competitors, learn your own weaknesses and begin to apply countermeasures. The AC train is coming but maintaining patience for its arrival is incredibly important.
Blake Baggett was going as fast if not faster than Roczen and Tomac in the heat race. He was good in practice. Then he was ninth in the main. How much money would the "keys to unlocking Baggett" be worth if it were available on the black market?
The keys are pretty simple. Get a better start and don't get stuck behind the gaggle of riders he has repeatedly been stuck behind. He is ruining his chances on the first lap. Speed is great and he is riding better than ever but if he can't put himself in a position to succeed, the frustration will continue.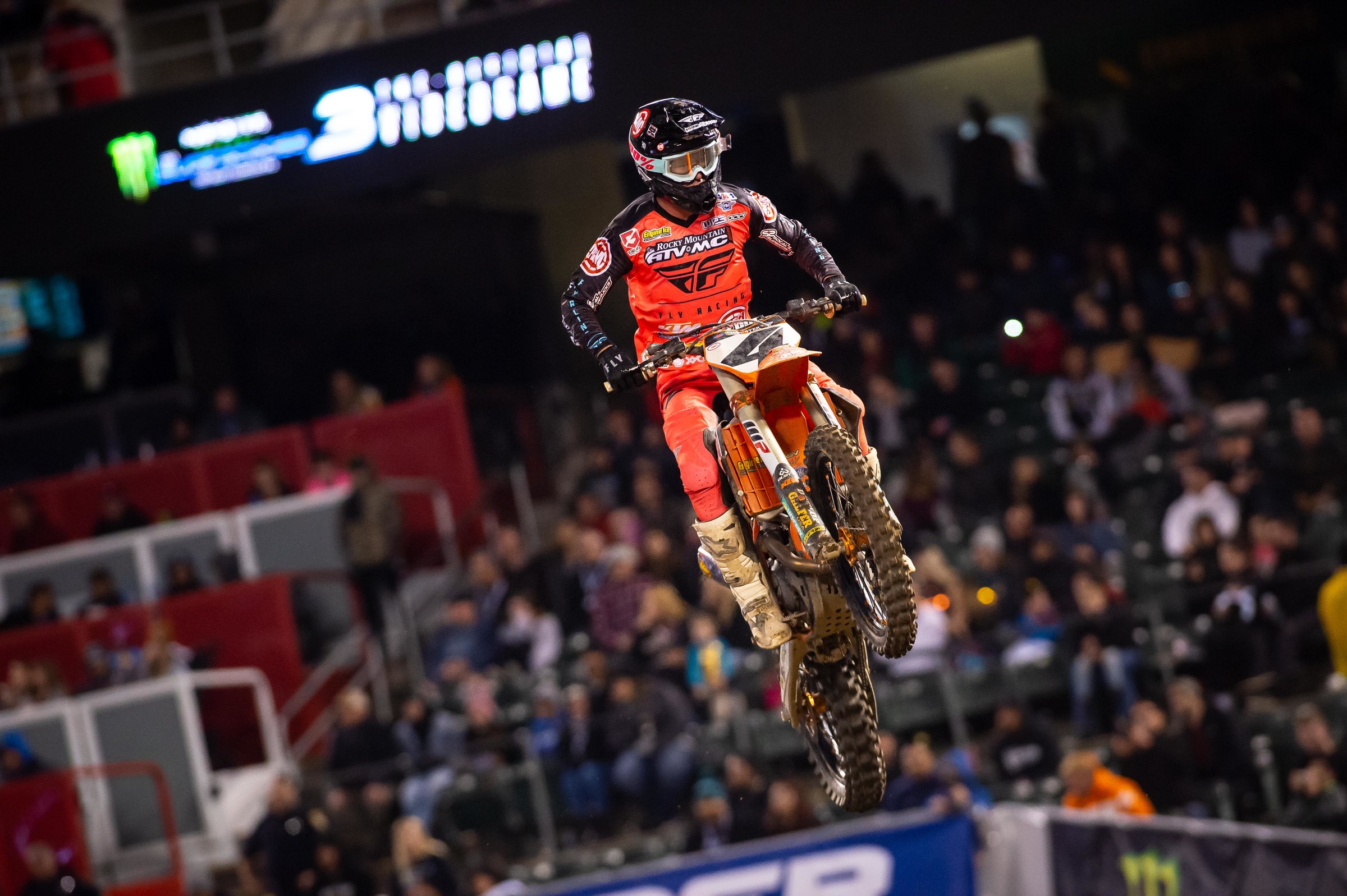 What did you see in the gnarly pack of Hill/Barcia/Anderson/Baggett/Wilson/Osborne (and maybe more) in the main?
It was awesome to watch but it was pretty calm for what could have transpired. I was most impressed with Justin Hill. He didn't back down and looked to be comfortable in that mix. I am still not completely sold on his fitness for 21 minutes but I will admit he rode much better for much longer than I expected.
Is that a huge statement win for Dylan Ferrandis to get Austin Forkner? Forkner chalked it up to lappers and making a mistake in the whoops. Was it close or was it massive victory for Ferrandis?
Yes and no. I felt Ferrandis was easily the best rider of the day. The lap times were pretty clear on that. Forkner would surely have seen the data and known that Ferrandis was going to be tough to beat that particular night. This series looks to be a back and forth swing of momentum and even more important to winning is making sure that the non-winning nights are still podium finishes. Imagine if Forkner hadn't made that huge mistake at A1 and had a huge crash at A2. Remove those incidents and this series looks much differently. That's the takeaway for me. Whoever wins this title will be the one who can avoid the big mistakes that have already been so prevalent.
I don't know if you had Alex Ray on your fantasy team in Oakland, but can you describe the emotional roller coaster of having A-Ray on your team?
A-Ray is one of those riders that you can never really exhale with. He rides loose and fast, always on the edge of a mistake. That willingness to take chances is a big reason as to why he has improved so much in recent years, though. He isn't scared of pushing the edge. It's turned him into a main event level rider but it also leaves him on the ground more times than he would prefer, too. I personally don't pick A-Ray because his chances of a crash are too high but I do understand the lure.
Fantasy winners/Fantasy killers?
I have one word for you. Koga. Beautiful, glorious, magnificent Koga. The Japanese stallion of a man came through for his faithful team owners. I have never been so nervous, entertained, and deathly afraid. If you could bottle Taiki Koga's qualifying saga, you would never need to work again.