Oakland, CA
Oakland
Monster Energy AMA Supercross Championship
The JGRMX/Yoshimura Suzuki Factory Racing squad hasn't had the best luck. Its newest rider Joey Savatgy getting hurt in Australia and then his fill-in, Fredrik Noren, suffered an injury as well when he broke his leg at round two. So it seems the rumor mill has been churning that former Red Bull KTM rider Broc Tickle will be getting a shot at the Suzuki when he's eligible to return from his FIM suspension at the Tampa Supercross. We caught up to JGRMX team manager Jeremy Albrecht at Oakland to talk about how this deal came together.
Racer X Online: New addition to the team. Kind of came out of a little bit of a surprise, I think. Broc Tickle is going to ride for you.
Jeremy Albrecht: Well, it's not final yet, but we're working through it. We had him come ride this week. It's a complicated deal. We have an Answer gear deal. He has his own gear deal. Just working thorough details and seeing if we can make it happen. So far Answer has been really cool about it. A couple other things we've got to work through and make sure he's happy and feeling good. We'll try to make it happen.
A lot of guys to pick from when it comes to a fill-in ride. We know Tickle can't race until Tampa. Did you look at some other guys? Why did you want to wait until then for Broc?
There are some options. Even the first time when Savatgy got hurt, I talked to Tickle. I just couldn't wait until Tampa, and he had a gear deal. So it wasn't really going to work. We had Noren. I thought he did good outdoors, so we just went with him. He definitely improved at supercross, which was cool to see. Then it was weird. He broke his leg without even crashing. Just a freak deal. Savatgy just got released to put weight on his leg, so he's starting to do things now. Hopefully he'll be back during supercross. Everyone should be healthy by outdoors. Just need someone for supercross. The field is so stacked that I don't want to just put anyone on there. I just figured we'd take our time. Really since Tickle can't race until Tampa, it kind of made it easy to try him out and see what he thinks. I only really want him to do it if it's good for him. If it's good for him, it's good for us. If it isn't good for him, then we'll do somebody else. I just felt like it gave us a little more time to really work it out and not rush and stick someone on there. Sometimes when you do the fill-in thing, you rush it. They only ride the bike for two days, then they come here…so let's really think it out and try to make a plan, so that's what we're doing.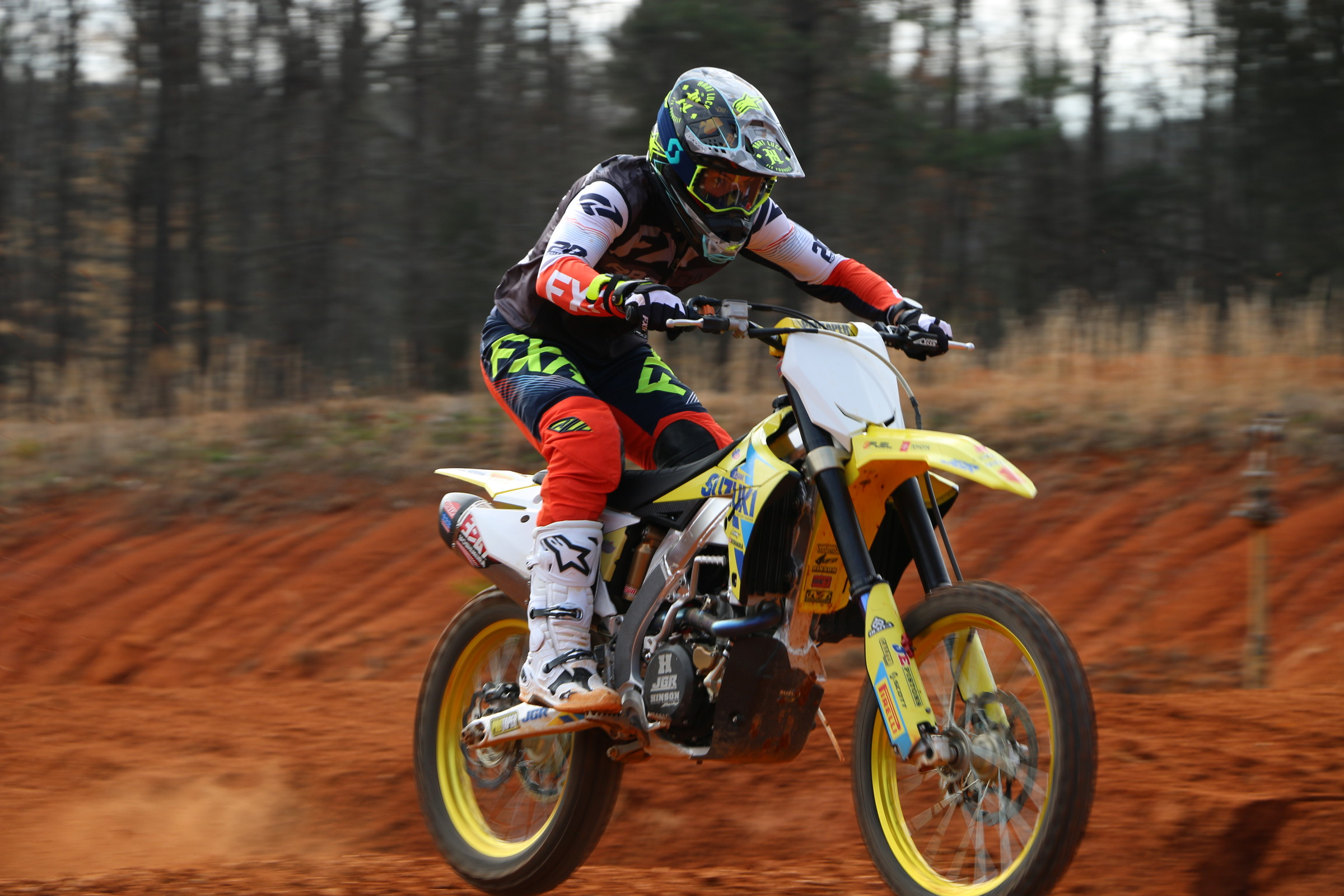 When I heard he was going to stay in FXR, pretty cool of Answer to do that. They probably didn't have to, right?
Yeah, they don't have to. They were definitely really cool about it. Arai, I just asked last week if we did this if it'd be cool and they were cool. We still have a few things. He has some other sponsors that aren't cleared yet through us. So that has to happen for it all to happen. We're getting closer, though. Everyone's being pretty cool and supportive. We definitely feel like Broc kind of got a bad deal with all this. I don't think that his suspension was from him legitimately trying to cheat the system. It's not the Lance Armstrong thing. All these guys honestly so far that have got busted, it hasn't been performance-enhancing. That's kind of a bummer with this whole thing.
Cade Clason thought his TUE [Therapeutic Use Exemption] was good. Stew didn't fill one out, but was prescribed it. But maybe his was a little bit the worst. Christian Craig and Broc were simply caught with that small, little, non-performance-enhancer stimulants.
It's almost like something in a powder or a drink or something. Two years I think is a crazy suspension. That's why we wanted to come see him ride. See how he rides. See what his lap times are. See if he's going fast. See if he likes the bike, which he rode Suzuki quite a bit.
Are you impressed with his skills after so much time off?
Yeah. He rides a little stiffer than I remember, but after I watch him, he's fast. Super smooth, actually. Carries really good speed. Really a cool dude. When he was the one that got busted everyone was bummed, because everyone likes Broc. Even Coy [Gibbs, team owner]. He's like, "Man, I like that guy." So I don't think anyone's thinking anything bad if he ends up on the team.
I think it's good that you guys are giving him a shot. Obviously, he had a factory ride taken away from him when he tested positive. So it's cool that you guys are giving him a hand and giving him support.
That's it. Just not racing for a while, we'll see how that goes. He should be hungry, for sure. We need it and I know he needs it. That's what we're hoping for. It's definitely a tough class. People say this every year, but for real, this is the most stacked it's ever been.
Do you sometimes get a little frustrated with the bad luck you guys have had recently?
I do. I get frustrated. It's even worse when everyone thinks it's only us all the time. It does seem like it is more than most, but I don't know. Is it because we have so many riders all the time? I don't know what it is. We definitely, I feel like, get the bad end of the stick here. It's just bad luck, honestly. It's nothing anyone's doing. Those races over there [off-season international races], you can say don't go, but they make such good money. Nowadays the salaries aren't what they used to be, so it's kind of hard to hold a guy back. Definitely if we ever go to those races again, I think we just need to go with a different mindset. Just go there to make the money. Don't go there to impress anyone. We always check the results. We want our guys to do good. We want them to prove that they're the guy. But at those races, they're all just getting used to their bikes, except for [Weston] Peick. His was a super freak accident. But going back to that, Peick was great for our team. He was awesome. He improved ever year.
Even when I first hired him, I didn't know he would turn out to be what he was. So it was pretty cool to watch him grow and be the guy he is. Even now, still being involved in the sport with Fly, it's pretty cool. He still rides our bike as well right now. We worked on his bike last week. Gave him a new motor. It's a bummer that he got hurt too, but his was obviously way worse than the rest of these guys. Just bad luck. I don't really know what else to say.
Joey should be back by the end of supercross, do you think, or is that an outdoor thing?
It's hard to say. He thinks supercross, so I hope. But it's really up to him. I told him don't rush. Even though we need him, I would say more desperately than normal, I'm in no rush. It's his career. He needs to do good as well. We did a one-year deal with him where we were lucky to get a guy like him as late as we were doing it. I told him to come back when he is really ready to be in a spot like where we expected him to be. Don't come back and not make the main. That would be terrible. Don't rush it.