Oakland, CA
Oakland
Monster Energy AMA Supercross Championship
Monster Energy Kawasaki's Adam Cianciarulo came into Oakland off a rough week. After a hard crash in the final Triple Crown main event from Glendale, Cianciarulo had a limited schedule of riding and training coming into the fifth round of the series. The 450SX Class rookie still persevered with a fourth-place finish on the evening. We caught up with AC after the race to talk about his night.
Racer X: Good race. When Coop [Cooper Webb] got you and you cased that thing, you were just like, "Hey, I'm going to bring this thing home."
Adam Cianciarulo: [Cased it] So bad! [Laughs] I felt super good riding with Ken [Roczen] and Eli [Tomac] for a while there. I passed Eli the third turn and I'm like, if I don't pass Ken, Eli is going to pass me eventually. You just know. He's not just going to ride in third. Then I saw Eli come up along the side of me on that on-off. I'm like, f*** it. I'm going to try him. I'm going to make him put me off the track. He did. He bumped me, and I deserved it for sure. From there, I felt good behind him. Obviously, he got Ken. I felt really solid until 14 or 15 minutes and my arm… It's the tightest my arm has ever felt in my life.
Left or right?
Right arm. Throttle side. Not good. I didn't ride a lot this week. I rode like ten minutes on Thursday and just did some starts. I think that had something to do with it. Not flushing my arm out or whatever, I don't know. So, that's the best I could do. I basically let Coop by. He was way behind me. I just watched the replay.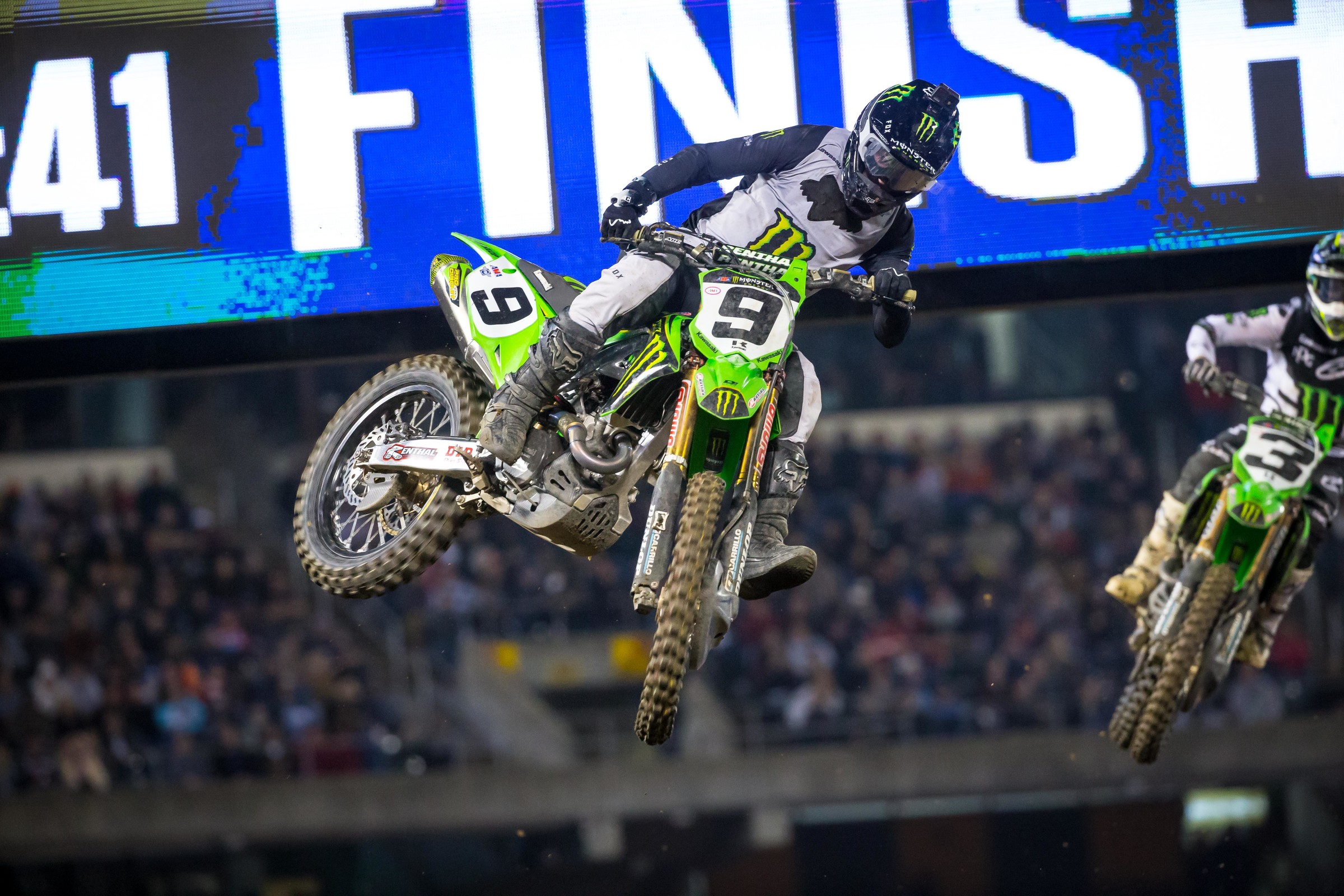 He rode really well. You just got to tip your hat to him.
Absolutely. He was crushing it. Even when I was kind of up front with Ken and Eli, he was four or five seconds behind me. I'm like, I know he's going to be there in 17 minutes. You just know how he is. He always adapts really well. He was going by me. Then after that, my hand was so tight I think I whiskey throttled. I went three in three corners. I was looking down. It was one of those times you look down in the air and you're going to overshoot or case something. You're like, I'm done. Just brace for impact. So, I just squeezed my bike as hard as I possibly could.
That late in the race too it's tough.
Tough. Then my right arm damn near blew off the bar. So, after that I'm like, let's ride it in.
It was good, man. You and Eli and Kenny going at it. You had to have been feeling good. You guys were kind of yo-yo-ing. You were like, this is where I want to be. I can do this.
For sure.
Confidence.
It seems like people, the general vibe, I don't know if they're not that stoked on my fourth. Not from the team. The team is sweet with it, but I'm like, that's awesome. When you come up short in a 450 race, you're like, there's the peak. There's the top of the mountain, right in front of me, right there. So, if I'm better in the last five minutes of the race, who knows? Maybe I win the thing. Maybe I get second. Those are the best guys. All respect to the 250 class. Obviously, I spent damn near a decade there. But when you lose in the 250 class, that's not the top of the mountain.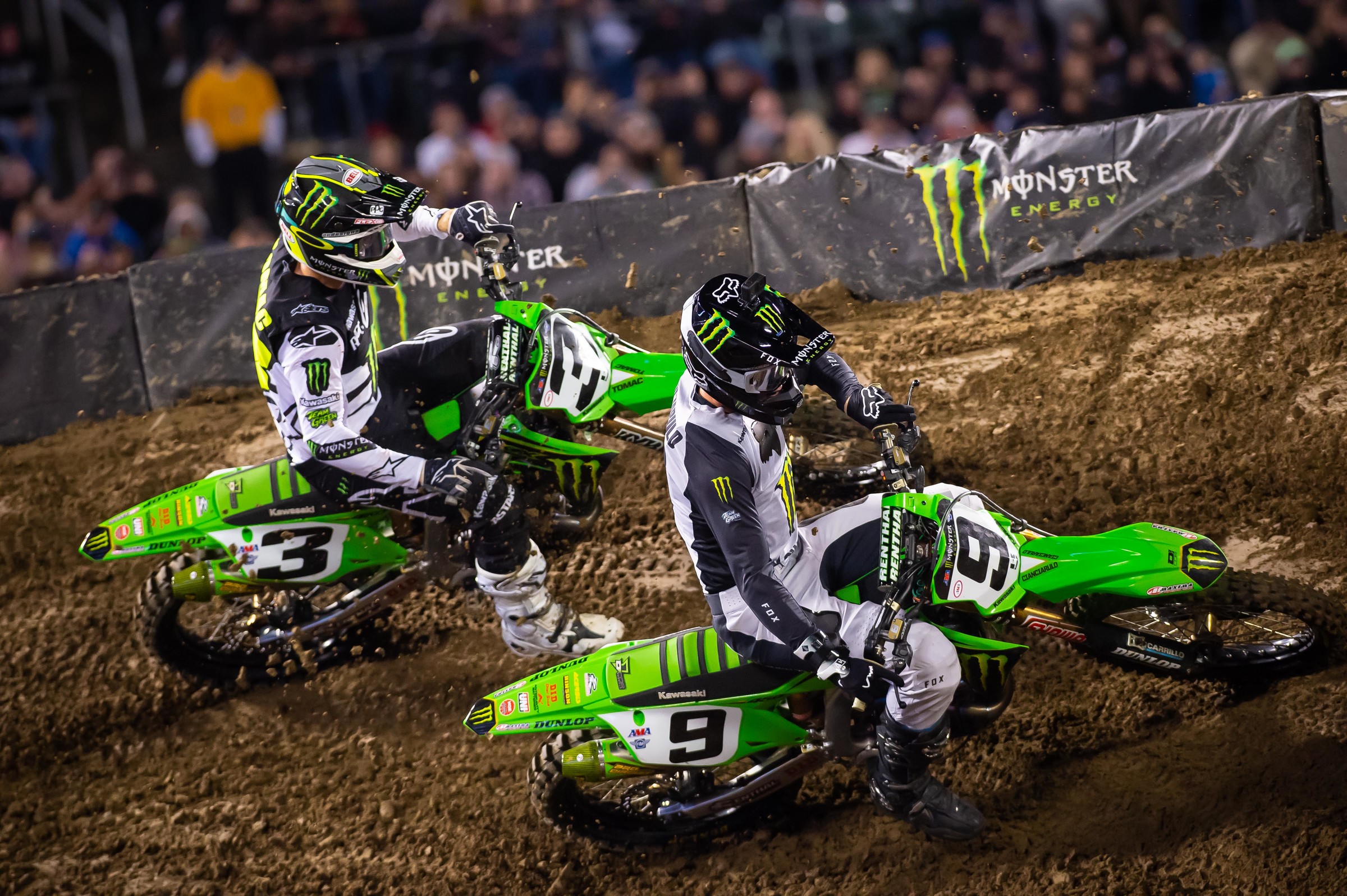 You passed Tomac. You ran away from him a little bit. You caught Kenny a little bit. It's all good.
It's just… be up there and give yourself chances. I told Justin [Shantie, AC's mechanic] on the way back, we just get starts like that, we give ourselves chances and chances. I'm going to figure it out one of these times. Then you just got to know you can do it and it just steamrolls.
How was pulling the trigger on that three-three?
It was funny. I honestly laughed in my helmet going over the finish line because I went into the corner and I said, "I'm three-ing out." Before I even saw Ken do it. It had nothing to do with the fact that Ken did it. Then I saw Ken do it. I did it. It's just funny that it clicked in our minds at the same time. We're like, we got to three this. It's funny how a racer's mind works like that.
Deano [Dean Wilson] said it was really easy. He was surprised how easy it was.
That was the first time they really cleaned up that corner all day. It was crazy easy.