After getting the call to fill in for the injured Max Anstie at HEP Motorsports Suzuki right before the Anaheim opener, Ryan Breece has had a whirlwind couple of weeks. After just narrowly missing the main event at A1, Breece then flew to Dortmund, Germany the next weekend to finish off his German Supercross Series campaign with the Meyer Racing Yamaha team. Breece was able to capture the ADAC title and we caught up with him to see what his last month has looked like.
Racer X: Ryan what's up, how are you?
Ryan Breece: Good! Just flew back [from Germany] yesterday, tried to get as much sleep as possible, you know how it goes.
Right. Now go get ready for A2!
Exactly. Scramble, hop on a different bike, go for it!
What could go wrong?
I know. [Laughs]
So you wrapped up the German [ADAC] Supercross Championship. Congrats on that! I heard there was a bomb scare, some unexploded bombs from World War II discovered in Dortmund over the weekend. Did that affect things for you?
Yeah, they closed all the trains, all the restaurants, everything. I guess half the hotels were closed too so you had to go out the back doors. Bombs from WWII!
Well I guess it makes sense, we dropped thousands and thousands of bombs over there. I guess they all didn't explode.
Right. I saw a couple pictures of them and they're pretty bulky. They looked scary! [Laughs]
What are the odds!? Were you trying to leave at that point or were you still racing?
Oh, we were still racing. We didn't get done until like 8 p.m.
How'd you even get to the stadium?! I'm surprised they didn't shut it down!
I was surprised too. We just walked out the back of the hotel. People were saying they couldn't get out of their hotels but we didn't have any problems. The stadium didn't shut down and nobody was really scared about it.
I guess it's not like it was a terrorist thing.
Right. There was a certain area where everything was shut down and they were asking people from their homes to stay in shelter and all that. I think it was a mile, or half a mile, from the stadium. The stadium didn't warn anyone, we just heard about it on our phones and crapped our pants.
Holy hell dude! What a crazy weekend for you. And you just signed with HEP Motorsports Suzuki!
Yeah, I had four days on a Suzuki not riding much. No testing, just trying to get a baseline feel for the bike because I haven't ridden one in like six years since the Mexican National Championship. Just kind of rushing it to find some flow and come up with something to get myself into the main event at A1. I was a late fill in [for Max Anstie]. I know it's stacked this year, but with a solid team and good equipment it's doable. So I was just trying to manage that, and at the same time making sure I stayed healthy because this [ADAC] Championship has been on my mind for three years now. I was in the rankings, from the past two rounds, to win it with a 12-point lead.
It had to be strange going back and forth between the Suzuki and the Yamaha. And now you're back on the Suzuki for A2.
It's a completely different bike! The power band is completely different. The Yamaha hits way differently. That's been the hardest transition. The suspension, yeah, it's been difficult, but the power differences are the hardest.
Let's talk about you wrapping up the championship in Germany.
Yes, with that out of the way I can now focus on these next 15 rounds, which are really crucial to my career. I'm just starting out in the 450 Class. I got one year under my belt as a fill-in rider with Cycle Trader [Rock River], and my best finish was a 14th. This is a crucial year for me—I want to step up and be one of those top-ten contenders. The whole HEP Suzuki team is functioning really well together and they're providing me with the best equipment and materials they can, which means I can be competitive in the mains.
Well, you did almost holeshot your heat race at A1.
[Laughs] Yeah! My mechanic, Blake McCarthy and I have just been studying Justin Bogle's performance on the line. Even his outdoor starts, he has the most proper position in my view, to where he can get out front and manage the bike. My mechanic has actually worked with Bogle in the past and has given me a few hints and tricks. Obviously, BMC won't tell me Bogle's whole program, but what he has told me has worked quite well. I got it somewhat dialed in and I hope we can just keep digging form here.
Let's get into the racing in Germany. Talk about how it unfolded and clinching the championship.
We got a good start in the heat race, and once I qualified into the main event for the first night I knew I was going to be able to wrap it up. That's when things got a little bit easier for me. It took the pressure off. It was like, "Okay, you just need to ride the main event. Don't do anything stupid and go do your best. Use the time to get used to the Yamaha again, there's still three days of riding." I just wanted to perform for the Meyer Racing Yamaha team, I didn't want to worry about anything else. I did want to be King of Dortmund though. I don't think anyone has been King all three times in the series. But I am battling a little injury so I just ended up tiptoeing through the main event.
What injury? What are you battling?
My hand is sore but I'm working through it.
What was the feeling inside when you realized you'd wrapped the whole thing up?
It was such an accomplishment. A big heavy load was lifted off. My family that was around me, they knew what my goal and vision has been the last three years with the Meyer Racing team, and to finally know that we took the title from someone else who has been winning over there, and to be consistently on top, was a big accomplishment. It fueled my fire.
I saw some video somewhere of Tyler Bowers throwing some Tuff Blox in your way in Chemnitz. What was up with that?
It was funny. I don't really know what his problem is. I guess he was seeing red. I just told him to look at the video after I block passed him. I just think he's getting pissed off because he's got a younger dude who's giving him competition. It's not easy for him to win anymore. When I block passed him in Chemnitz, he said, "I would have let you by." But we all know Tyler Bowers would never do that. He's got into it with [Justin] Barcia, [Cooper] Webb, and I'm tight with Webb, I know the history.
Well he doesn't necessarily have a reputation of letting people by.
No, he doesn't. He tried to play mind games on me. I've been in a title hunt in arenacross before so really it's not a new thing for me, but this past weekend he tried to get really mental with me. He was saying really inappropriate things and giving me death threats.
What!?
Yeah! After the heat race, I'd won the heat race, he came up to me like he was going to T-bone me and all of a sudden he slammed on his brakes to scare me and it moved my feet off the bike. There's video. I wanted to call him out, but Karma sucks, it'll get back to him.
Wait, death threats though? Can I write this? Can this go up or should we leave this out?
I don't really care. [Laughs]
He said he was going to kill you?
Yeah, he did!
I'm sorry for laughing, but this is too much. [Laughs]
No it's okay, it's funny. I laugh too. What's crazy is, the second main event of Dortmund I was winning and checking out and Bowers was behind me. I fell and wrecked pretty good and was lying on the ground trying to regroup and three seconds later he comes by and passes me and yells, "[Expletive]!!!" I just have to laugh about it. He's a good competitor, but at the same time, nobody needs that in our sport. And I think teams are starting to see that in him. I think that's why he's having to work on his own.
Well I know it's not the best but selfishly I wish we had a little more of that in our sport.
[Laughs] I know, fans do love it. I was getting tagged in numerous posts, Tyler Bowers and Breece battle in Germany.
I know it can't be WWE, but I do like a little bit of that sometimes [Laughing].
I told him if he wanted to put some gloves on and go outside the arena we can. That was in Chemnitz.
What'd he say?
He just stayed on his bike and didn't want to do anything.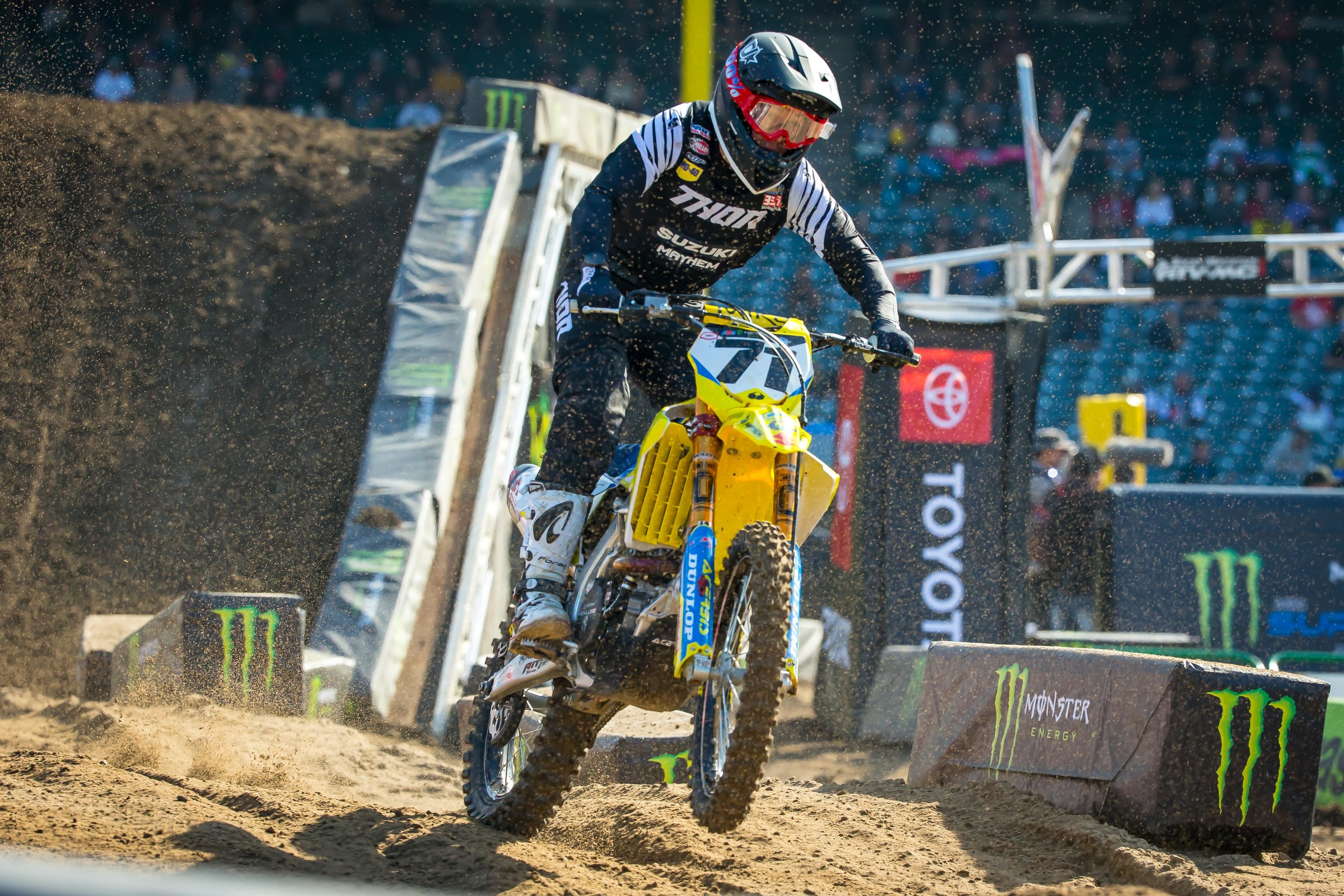 I think we've gone as far as we can with this. Congrats again on wrapping up the title. Does that free you up to focus more on Monster Energy Supercross?
Yes. Now I have the mental and physical focus I need to capitalize on the results I'm looking for. I know how stacked the class is right now, so with that championship being wrapped up I can really look 100 percent forward toward working with this team [HEP Suzuki] and getting the bike dialed in so I can be a top-ten guy. I think in the near future that's what my goal is.
Perfect, thanks for your time and look out for Bowers this weekend.
[Laughs] Right? I think he's got a reputation so he's probably on watch.